Everything needs a bit of spring cleaning, including this blog. I'm going through all of my old posts, picking some of my favorite recipes to make into videos, and these baked tortilla chips were high on my list. Then again, I was probably eager to find another excuse to make chips and guacamole again.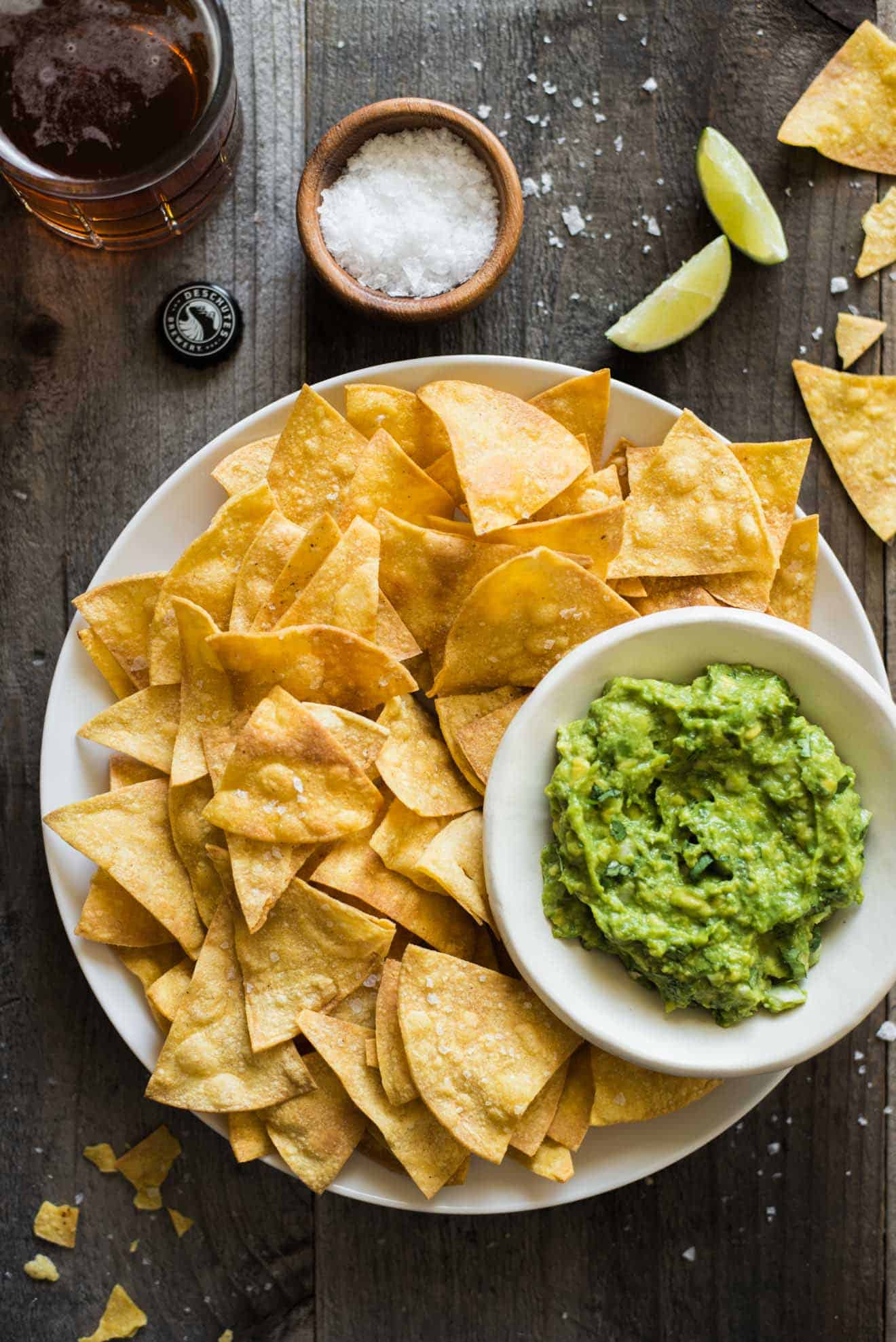 COOKING NOTES FOR BAKED TORTILLA CHIPS
WHEN ARE THE CHIPS DONE?
I like my chips on the crispier side, so I left the chips in the oven until the edges were golden brown before pulling them out, about 11 to 12 minutes.
Do note that the chips cook faster if you are reusing a baking sheet that's already been heated. For example, if you have already baked one or two batches of chips in the oven already, the third batch shouldn't need as much oven time.
DARK VS LIGHT BAKING SHEETS
I noticed that when I used dark colored baking sheets, like the one pictured above, the chips cooked faster. If you're using dark baking sheets check the chips for doneness at around 8 or 9 minutes.
LIME JUICE
The lime juice in this recipe is optional, but I like the additional flavor. If you want the chips to taste more tangy, add another tablespoon of lime juice to the recipe. You can also squeeze lime juice over the finished chips. However, the chips will lose a bit of their crisp when you use more lime juice.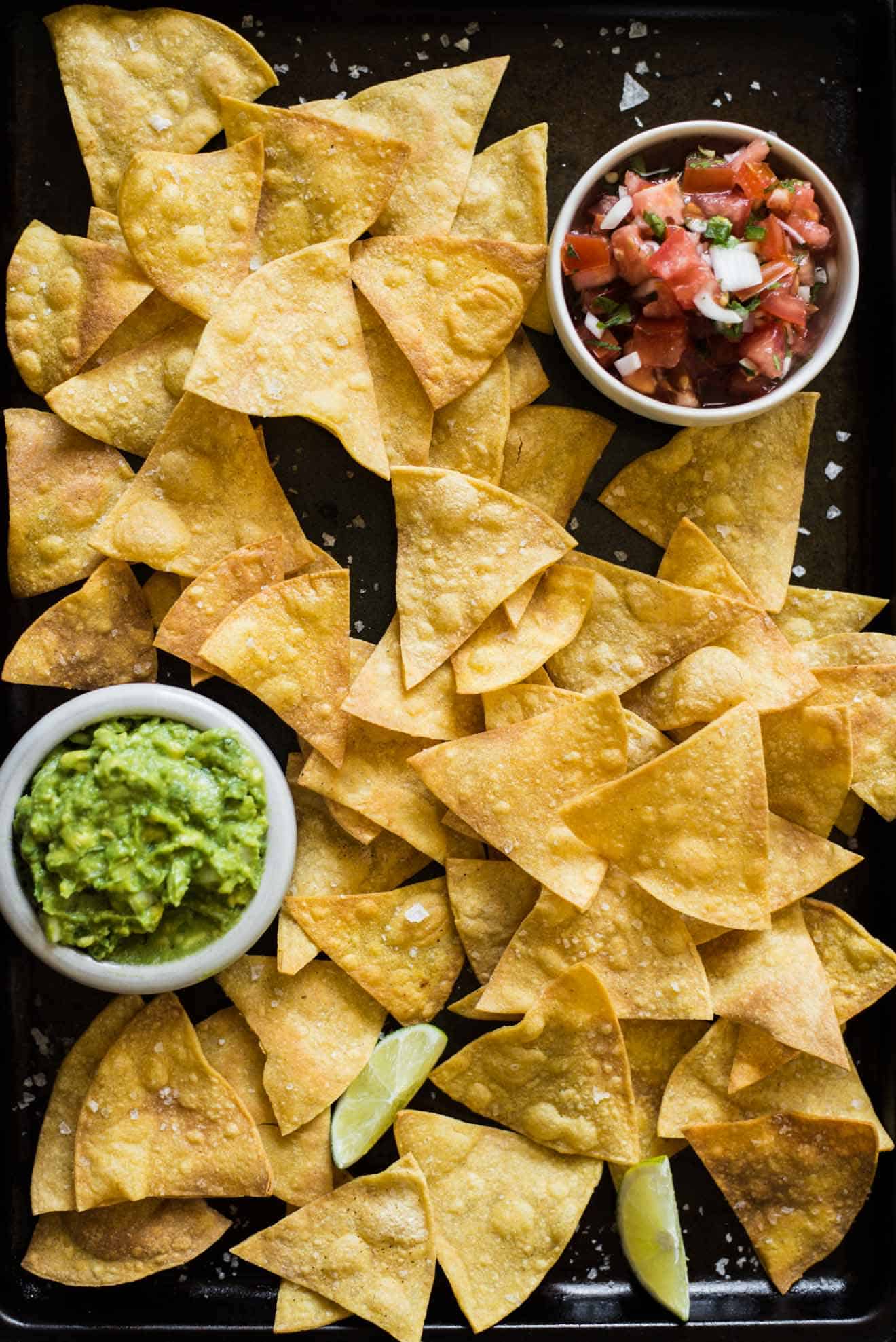 TOOLS USED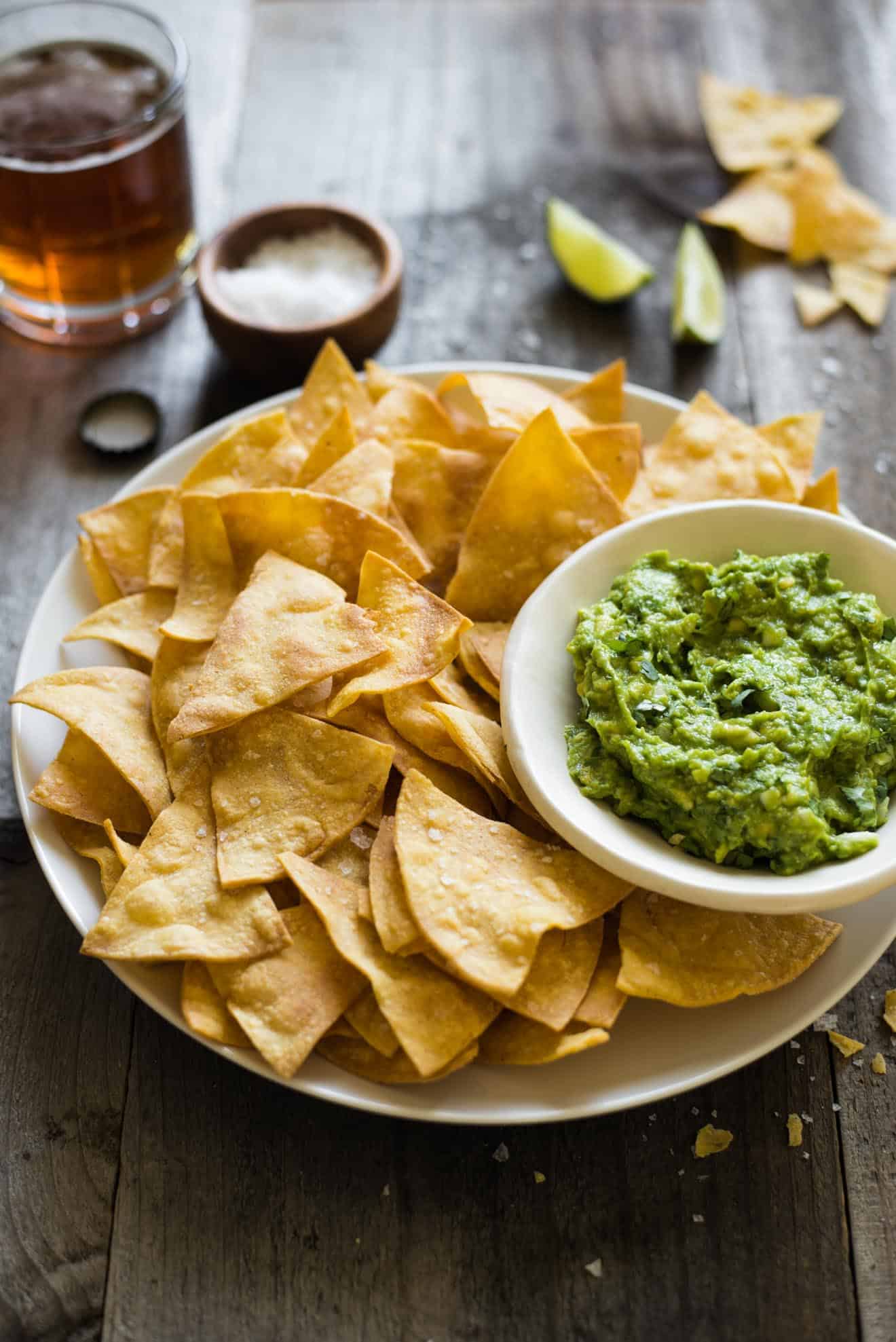 TORTILLA CHIP PAIRINGS
How to Make Baked Tortilla Chips
This recipe yields about 4 to 6 cups of chips. Do note that the chips cook faster if you use a dark baking sheet or if you are baking them in a well-heated oven. Check the chips at around 8 or 9 minutes to see if they're done. Also, give the chips 5 to 10 minutes to cool before you start eating them. The chips will continue to crisp up as they cool.
Ingredients
15

yellow corn tortillas

2

tablespoons

olive oil

,

more for greasing baking sheet

1

tablespoon

lime juice

salt
Instructions
Preheat oven to 375ºF (190ºC). Brush two large baking sheets with olive oil or use cooking spray.

In a small bowl, mix 2 tablespoons of oil and 1 tablespoon of lime juice together. Brush oil on one tortilla, making sure to cover the entire surface. Stack another tortilla on top and brush on oil mixture. Continue until you get have about 7 or 8 tortillas in a stack. Cut tortillas in half. Cut each half into small triangles. Set aside. Brush oil on remaining tortillas and cut into triangles.

Arrange tortilla pieces on baking sheet in a single layer. They can be lined right next to each other as they'll shrink once baked. Sprinkle salt all over tortilla pieces.

Bake for 8 to 12 minutes, or until the chips are golden. Depending on the size of your baking sheets, you may need to bake everything in two batches.

Let chips cool before serving. Store chips in an airtight container. They should stay crispy for 1 to 2 weeks.
Notes
NUTRITION INFORMATION: Amount for 1/6 of recipe: Calories: 171, Total Fat 6g, Saturated Fat: 1g, Sodium: 27mg, Cholesterol: 0mg, Total Carbohydrate: 27g, Dietary Fiber: 3g, Sugar: 1g, Protein 3g
Did you make this recipe?
Tag @hellolisalin or leave a star rating and comment on the blog!