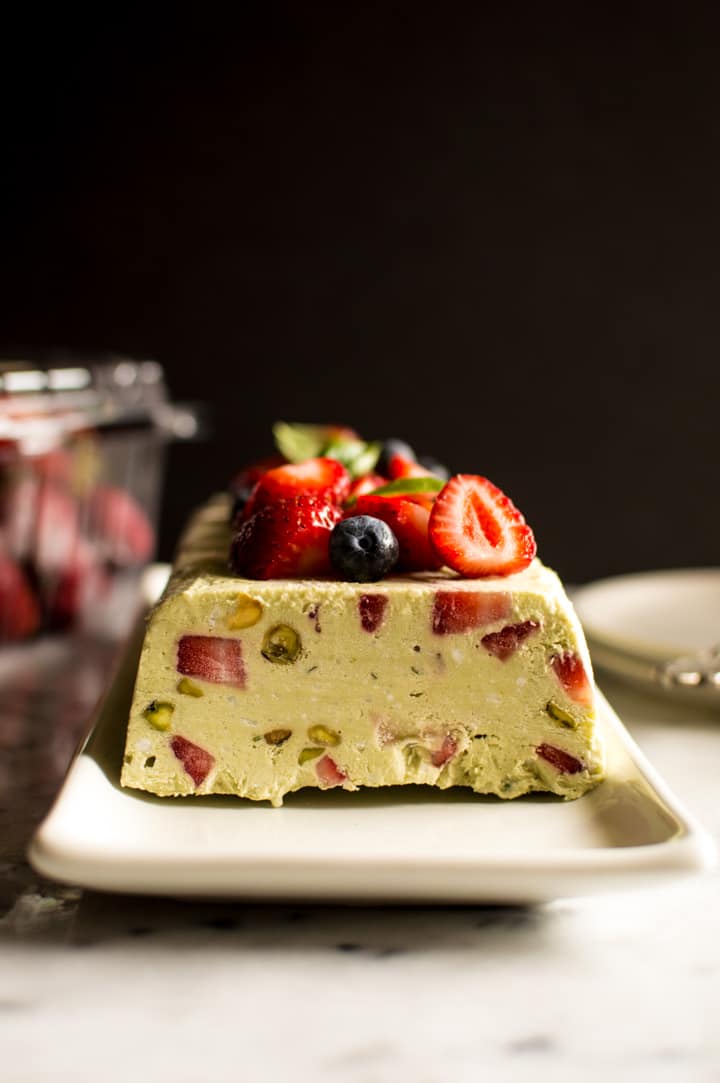 A big virtual hug to Naturipe Farms for sponsoring this post!
For me, the dog days of summer are about parking myself right in front of the fan and eating a huge bowl of fresh strawberries all afternoon. It's a wonderful feeling.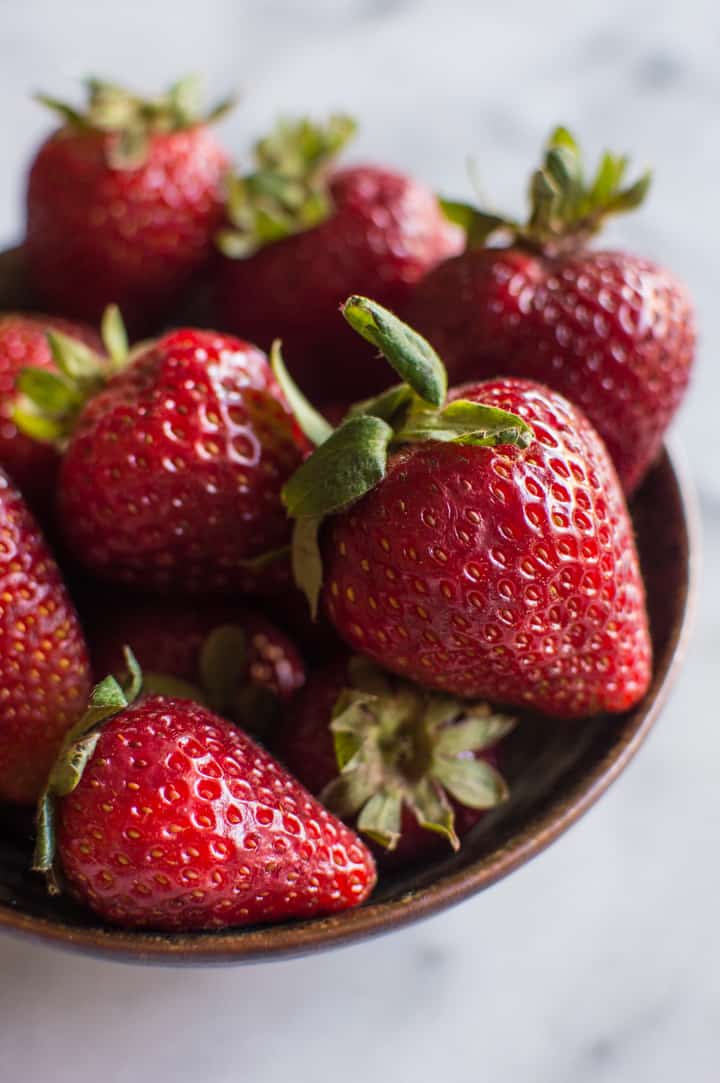 I'm lucky enough to say that I see strawberries available at the supermarket year round. (Thank you, California.) But we all know that these ruby darlings are at the peak of their glory and sweetness during the summer. I think the phrase "nature's candy" was coined when someone bit into a ripe strawberry. Just like candy. Let's make the most out of these beautiful ruby fruits while they're still in season!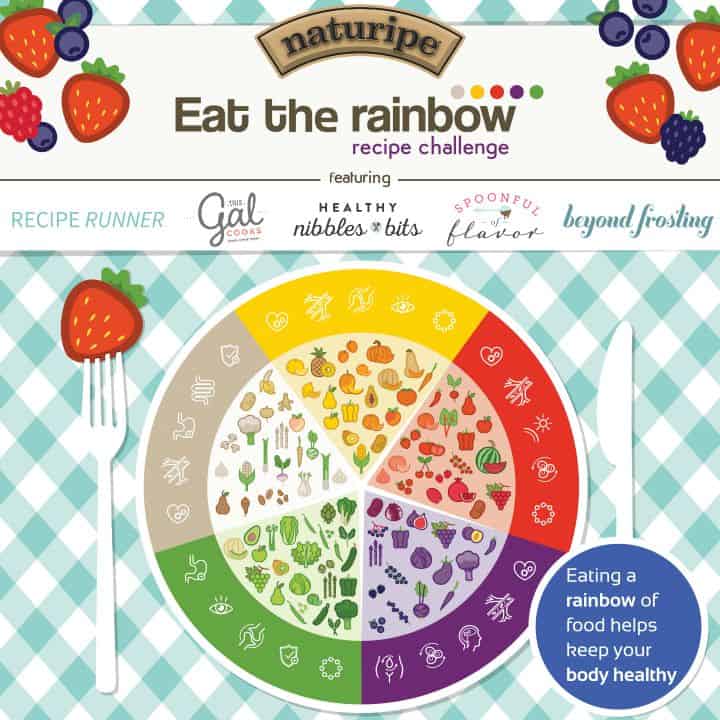 Today, I'm teaming up with Naturipe Farms to bring you this DEE-licious semifreddo for their #EatTheRainbow Challenge! Along with four amazing food bloggers, we're encouraging you to #EatTheRainbow with some unique berry-inspired creations. My challenge is to create a green dessert recipe that features these oh-so-sweet strawberries. Look at what I'm bringing to the party!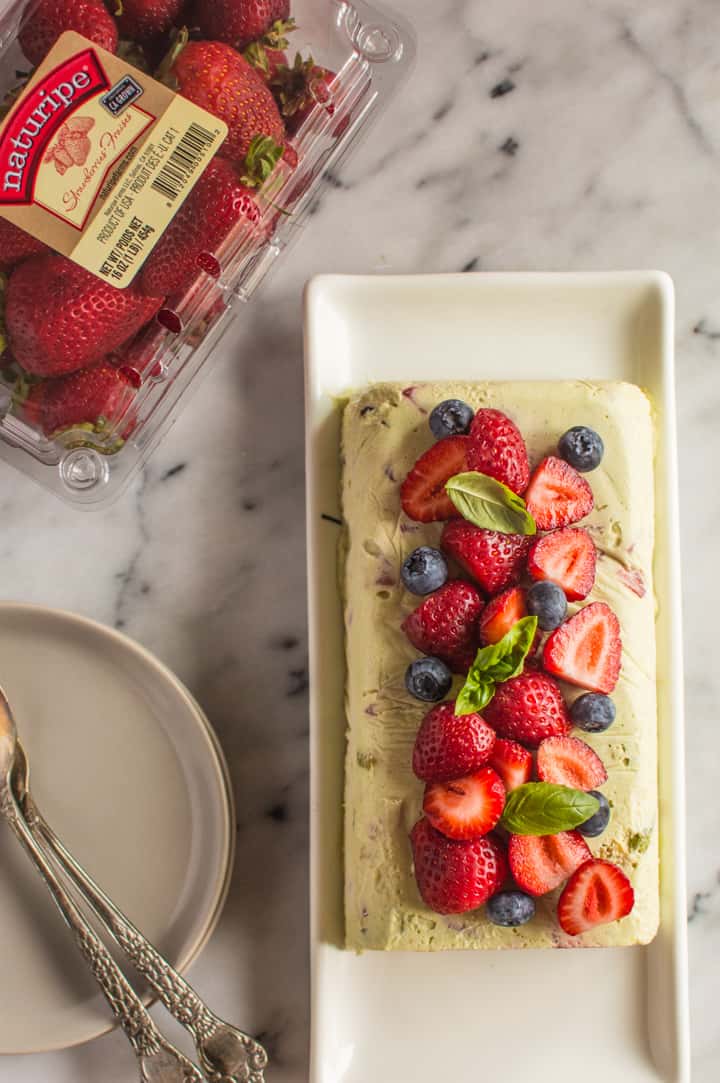 I was going through the dessert recipes I've posted this summer, and I noticed something BIG was missing: a COLD treat! Friends, how did I let that happen? Don't let me get away with that again.
Because I'm still doing the Whole30, I wanted to create a vegan paleo dessert. I don't own an ice cream machine, so any dream of a vegan ice cream recipe can just go out the door. Sorry friends, this one isn't going to be Whole30 compliant because of the maple syrup, but it is one fantastic creamy dessert. (And for those of you who are curious, I tested and photographed this recipe before I started my Whole30, so I am still on track!)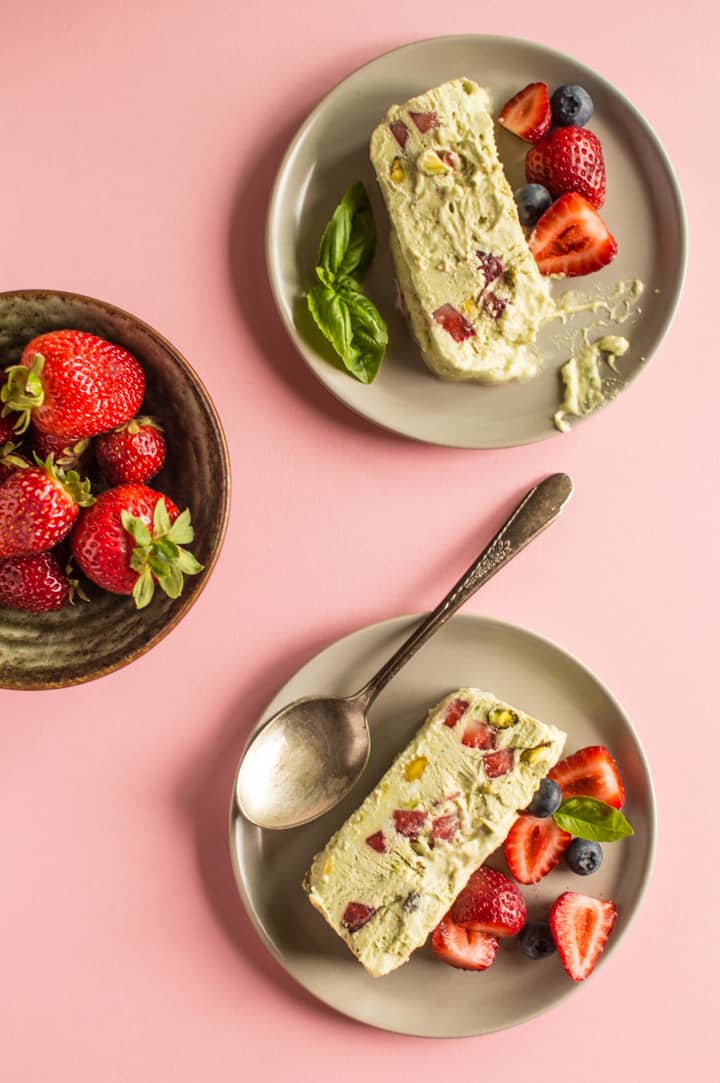 The avocado semifreddo is not too sweet, which is just the way I like my desserts. The strawberries in here give lightness to the dessert and the pistachios are there for texture. There's also a touch of basil to make your friends and family go, "Is that basil I just tasted?" so that they keep digging in to figure out what's the secret ingredient.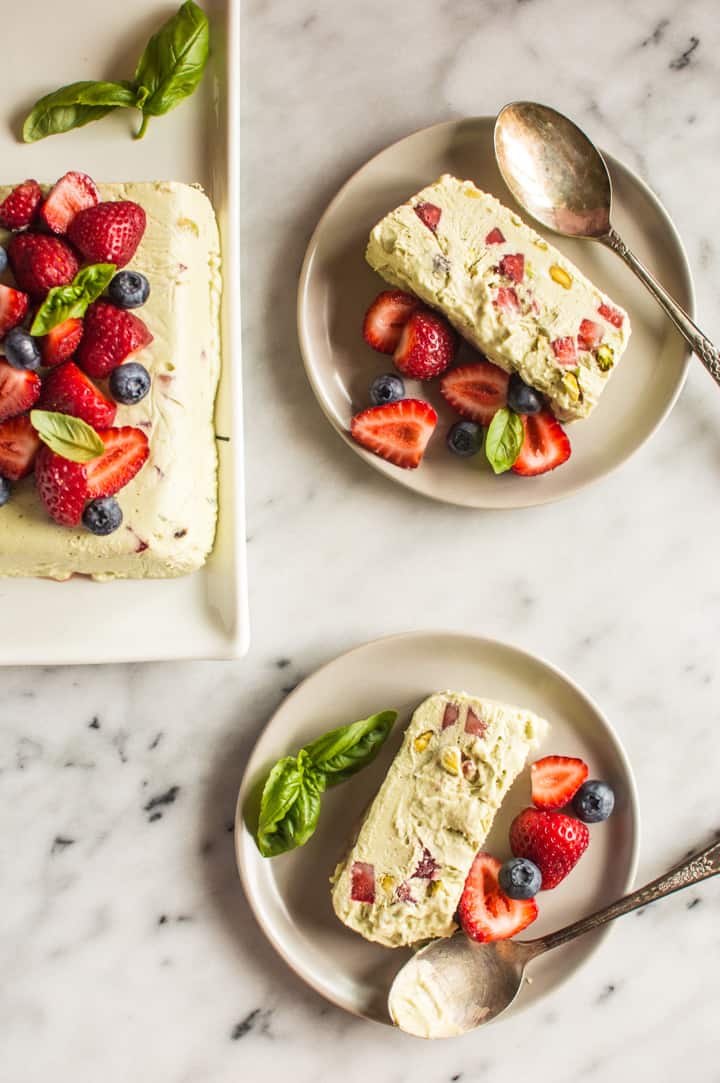 Cooking Notes:
Coconut cream vs. coconut milk: coconut cream has a more consistent creamy texture than full-fat coconut milk. Just know that coconut cream usually contains more stabilizing ingredients, and in the spirit of the Whole30, I decided to go for full-fat coconut milk instead.
Extracting the cream: You'll need to chill the cans of coconut milk in the refrigerator overnight. (I think A Taste of Thai and Native Forest (organic) delivers the best results for this recipe.) When the coconut milk is chilled, you'll find the milk has separated into three layers: the water, coconut cream, and a disc of coconut solids. (I'm not quite sure what that disc is, so if you know, please leave a comment below!) Make sure to drain the coconut water and take out the cream ONLY. Leave the solids behind.
Whipping the cream: Whip the cream until it is pillowy soft, like whipped cream. It takes about 2 minutes on medium-high speed.
Friends, what do you think? Did I meet the challenge? If so, follow Naturipe on Facebook and vote for this recipe in the head-to-head #EatTheRainbow Recipe Challenge later this month. Also, if you're looking for more berry-inspired recipes, visit Naturipe's Field Notes Blog and follow them on Twitter and Pinterest!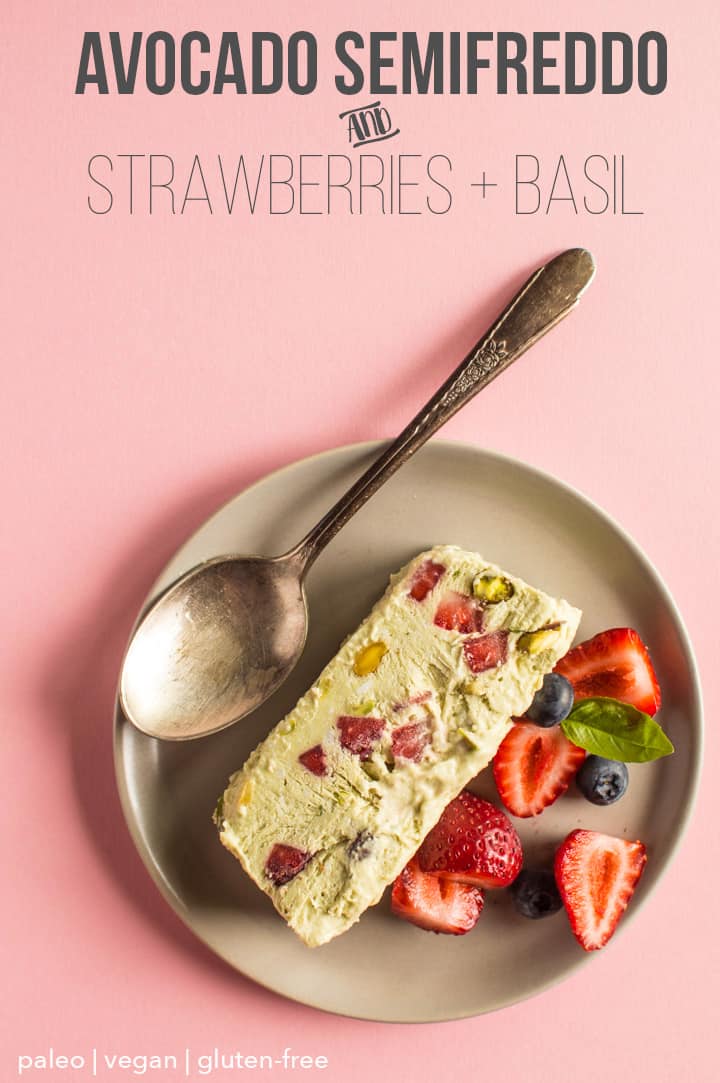 Avocado Semifreddo with Strawberries and Basil
This creamy avocado semifreddo with strawberries and basil tastes luscious and decadent without being overly sweet. It's perfect for summer! Serves 12.
Ingredients
3

13.5 oz cans

(400ml) of full-fat coconut milk (or 1 can of coconut cream and 1 can of coconut milk)

,

refrigerated overnight

1

large haas avocado

,

halved and pitted

1/3

cup

(80ml) maple syrup

2

tsp

chopped basil

2

tsp

lemon juice

2/3

cup

(125g) chopped strawberries

2 1/2

TBS

raw pistachios
Instructions
Grease a standard loaf pan with oil and line it with plastic wrap. Make sure that there is about 3 to 4 inches of overhang along length of the pan.

Open the cans of coconut milk and drain the liquid. Scoop out the coconut cream, but leave out the hard disc of coconut solids. Save the coconut water for smoothies or

sauces

.

Using a hand mixer or a standing mixer, whip the coconut cream at medium-high speed for 2 minutes. The cream should turn into a whipped cream consistency. Set aside.

Scoop out the avocado flesh. In a blender or food processor, mix the avocado, maple syrup, basil, and lemon juice until smooth. I used an

immersion blender

.

Fold the avocado mixture to the coconut cream until well-combined. Fold in the strawberries and pistachios.

Pour the mixture into the loaf pan and smooth out the top. Use the overhang of the plastic wrap to cover the top of the pan.

Freeze for 6 hours or overnight, until the semifreddo firms up.

When you're ready to serve, tug at the plastic wrap gently to see if you can release the semifreddo. If it is stuck, fill a large baking pan with about 1/3 inch of hot water. Dip the loaf pan inside for 30 seconds to a minute. This should help release the semifreddo.

Slice and serve immediately. If you want the semifreddo to be creamier, let it sit in room temperature for 5 to 10 minutes after slicing. Top with additional strawberries and other berries of your choice!

Freeze leftovers. Try not to refrigerate this for too long, as the color of the semifreddo will change.
Notes
1. Coconut cream vs. coconut milk: Coconut cream has a more consistent creamy texture than full-fat coconut milk. However, coconut cream usually contains more stabilizing ingredients.[br][br]2. Extracting the cream: When the coconut milk is chilled, you'll find the milk has separated into three layers: the water, coconut cream, and a disc of coconut solids. Make sure to drain the coconut water and take out the cream ONLY. [br][br]3. Don't use light coconut milk. It doesn't separate the same way as full-fat coconut milk.[br][br]4. If you want more basil flavor, you can infuse the basil with the maple syrup. Heat maple syrup in a saucepan with 4 to 5 basil leaves. When the syrup starts to bubble, turn off the heat and let the syrup cool to room temperature, about 15 to 20 minutes. Leave 3 basil leaves with the maple syrup and blend with avocados and lemon juice.
Did you make this recipe?
Tag @hellolisalin or leave a star rating and comment on the blog!
Note: This post contains affiliate links for the coconut milk and immersion blender—the ingredients and tool I used to make this recipe. There is also an affiliate link for The Whole30 book.