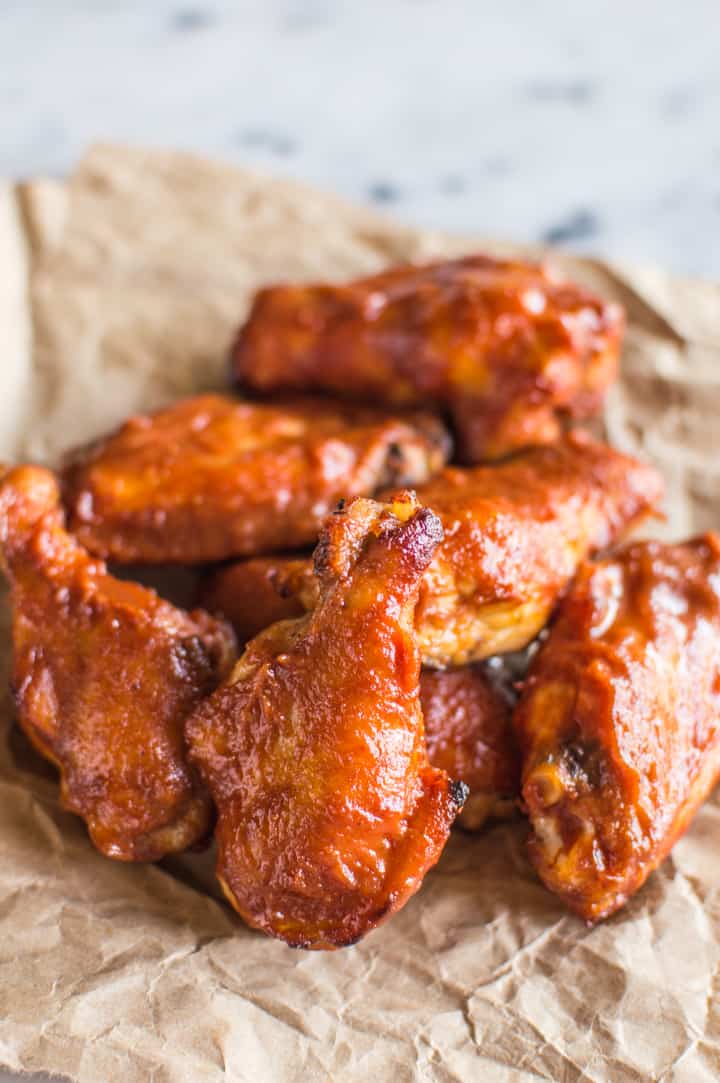 That's what we got going on here. The things required for maximum peach barbecue chicken wing enjoyment:
a pile of napkins (or 2 sturdy paper towels)
your appetite (duh)
a hair tie if you have long hair (there's nothing worse than trying to brush your hair away from your face when your fingers are covered in awesome BBQ sauciness)
a glass of water to cleanse the palette before tearing up more wings (optional)
Did I miss anything here?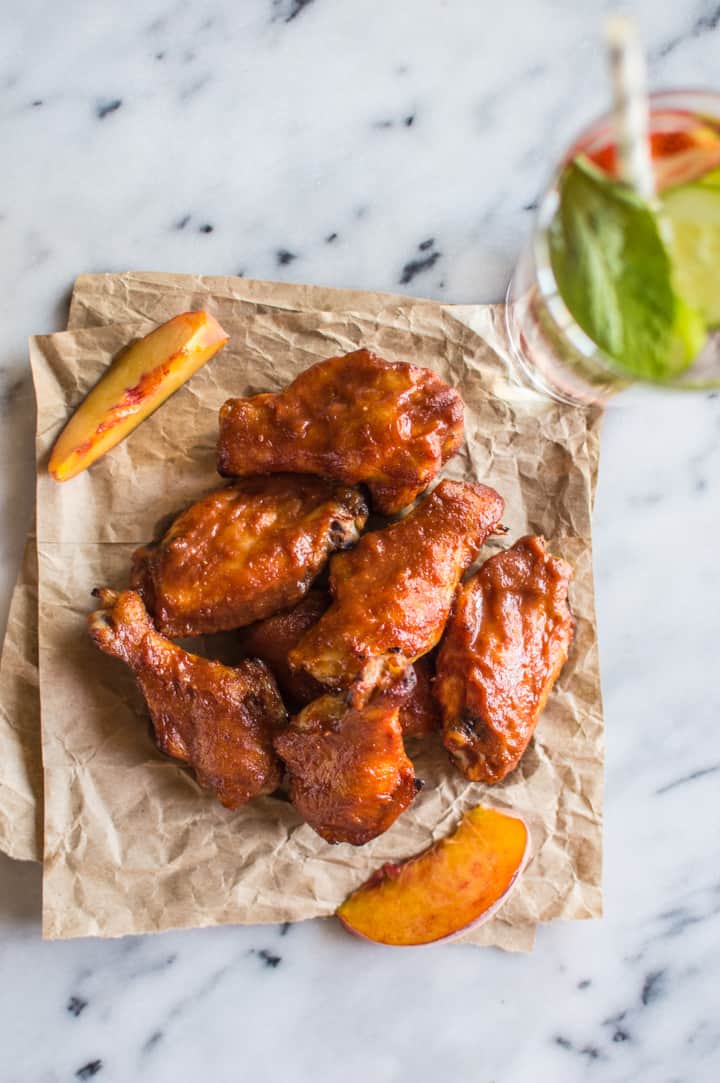 I know a lot of you are into grilled wings, but we're not going to do that here today, and there's a good reason for that. I sort of lack the most important thing for making grilled wings: the grill. Maybe some day, when my cookery receives a proper graduation. But not today. Instead, we're going to bake these beauties.
I picked up this awesome chicken wings cookbook by Nagi at Recipe Tin Eats last week, and it's full of mouth-watering baked wings recipes. I may have cooked an epic ton of wings since getting my hands on her e-book. Also, I may have licked a lot of saucy fingers since then, too. Yummmm! You should pick up a copy of her chicken wings cookbook if you want more recipe ideas!
I've baked my fair share of wings before, but there's usually one side where the skin ends up quite soggy. No one wants soggy wings! The baking technique that Nagi uses in her recipes helped me solve the soggy wings problem. The trick is to lay the chicken wings on a rack and position the rack above a jelly roll pan. That extra inch of space between the chicken and the pan is the difference between a soggy disappointment and some mighty fine wings.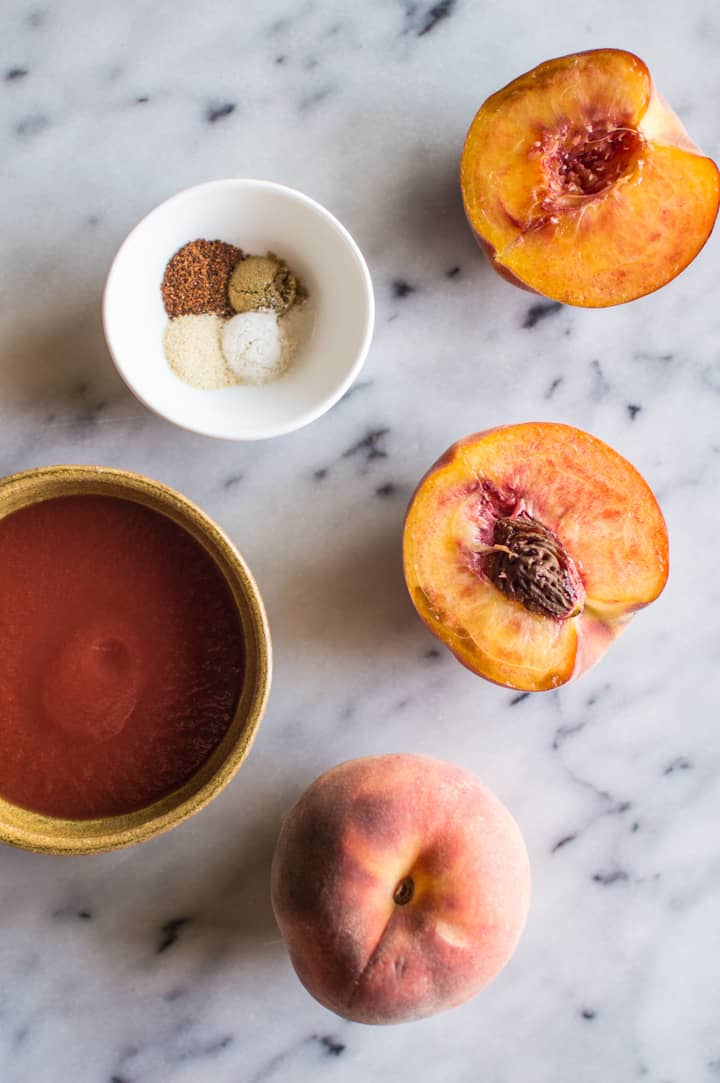 Did you know, August is National Peach Month! We're going to throw in a ton of peaches into this barbecue sauce because we can. In fact, we should. The sauce naturally sweetened with peaches and apple cider ONLY, friends! Less sugar, more healthy grub.
These are truly some peachy keen waaaangs! Grab a couple of fresh peaches for this recipe while they're still in season! Oh, and get those napkins ready!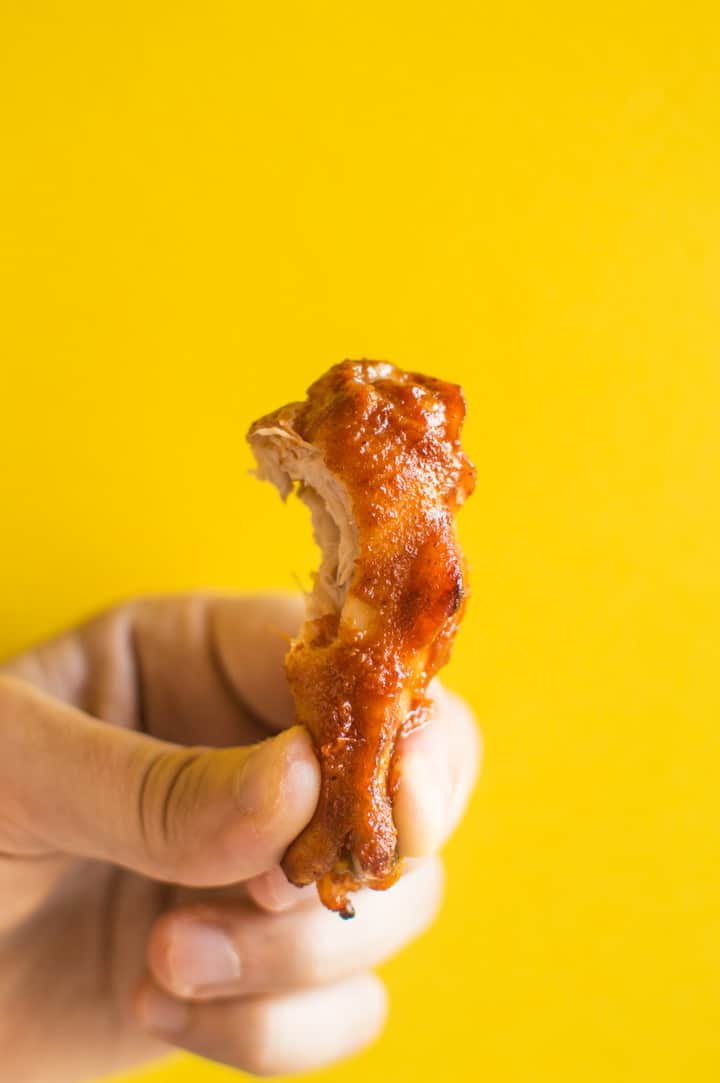 Baked Peach BBQ Chicken Wings
Juicy baked chicken wings with a sweet and slightly tangy peach BBQ sauce. They're naturally sweetened and finger-lickin' good! Serves 5 to 6.
Ingredients
1 1/2

lbs

(680g) chicken wings

salt

oil for greasing baking rack
Peach BBQ Marinade
1

cup

(175g) peeled and chopped yellow peaches (about 1 1/2 large peaches)

6

TBS

tomato sauce

2

TBS

double-concentrated tomato paste

1/2

cup

+ 2 TBS (125g) TBS unsweetened apple cider

2 1/2

TBS

fish sauce

2

TBS

coconut aminos

1

tsp

chili powder

1

tsp

ground cumin

3/4

tsp

onion powder

1/2

tsp

granulated garlic

1/2

tsp

salt
Instructions
Chop the chicken wings into three pieces, along the joints. Keep the 2 meatier sections for the baked wings. Sprinkle a pinch of salt over them. Set aside. I usually save the wing tips for making chicken broth.

Blend the peach BBQ marinade ingredients in a blender until smooth. Pour the marinade into a bowl. Add the chicken wings and mix everything together. Cover bowl with plastic wrap and refrigerate for 2 hours.

Preheat oven to 375 degrees F (190 degrees C). Line a jelly roll pan with foil. Place an oven-safe cookie rack on top of the pan. Brush oil on the rack so that the chicken wings don't stick to it.

Shake excess sauce from the wings and place them on the rack. Save the marinade. Bake wings for 25 minutes.

While the wings are baking, take the leftover marinade and cook it in a saucepan over medium-high heat. Once it boils, reduce the sauce to a medium-low and let it simmer for 8 to 10 minutes, until the sauce thickens. You should see small bubbles bubbling in the sauce. Turn off the heat and use this as the basting sauce.

After 25 minutes is up, baste the wings, flip them over and baste the other side.

Bake for another 17 minutes. Baste wings again, flip, and baste the other side.

Bake for another 3 minutes. Turn off the heat and remove the wings from the oven. Brush additional sauce on the wings.

Let the wings rest for a few minutes before serving. Refrigerate leftovers for 4 to 5 days.
Notes
1. This recipe also works with mangoes, too. I defrosted some frozen mango chunks and used it in place of peaches.[br][br]2. Have extra basting sauce left? Use it to flavor baked chicken or salmon!
Did you make this recipe?
Tag @hellolisalin or leave a star rating and comment on the blog!
If you make this recipe, make sure to share your creation with me on Twitter or Instagram and hashtag #hnbeats! Also, be sure to follow me on Facebook and Instagram for more Whole30 recipes.
Disclosure: This post contains affiliate links to the cooling rack, jelly roll pan, and coconut aminos that I used for this recipe.