Before the party, my mother pulled me aside to give me some advice on how to maximize my eating experience:
"Stick to seafood because that is more expensive. Stay away from food that you can normally get elsewhere. And most importantly, DO NOT fill yourself up with rice! Just dig out the meat and vegetables from the sushi, and leave the rice on the plate."
Sound familiar? Heeding my mother's advice, I decided to grab pieces of shrimp tempura. Mmm, it was love at first bite.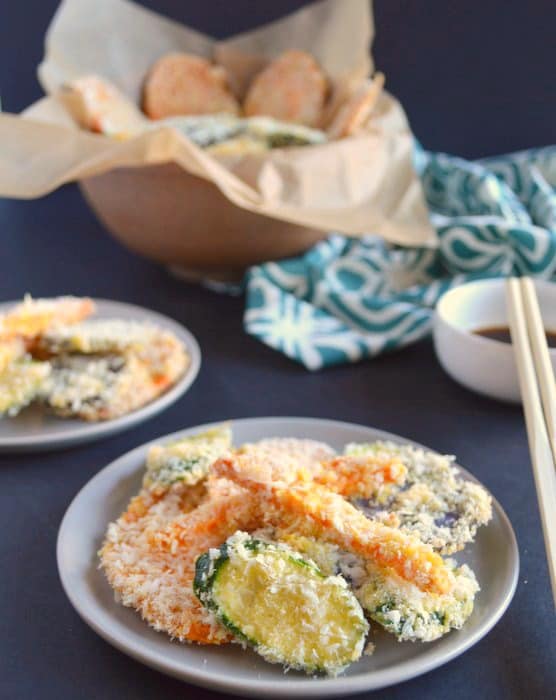 Although it is difficult to pinpoint the date when tempura first appeared in Japan, it is believed that the dish was influenced by Spanish and Portuguese explorers. At around the sixteenth century, Spanish and Portuguese missionaries and traders introduced deep-frying as a method of food preparation in Japan. Over time, tempura gradually emerged as a staple of Japanese cuisine.
There are many theories about the origins the word "tempura" (天ぷら). "Tempura" has been linked to the Latin word tempora (time or time period), the Portuguese word tempero (cookery), and têmporas (a food that Catholic priests ate when they did not eat meat). Today, tempura is widely recognized as a dish of lightly battered and deep-fried vegetables or seafood.
For my interpretation of this dish, I decided to bake battered vegetables instead of deep-frying them. I also added coconut to the tempura to give the vegetables a hint of sweetness.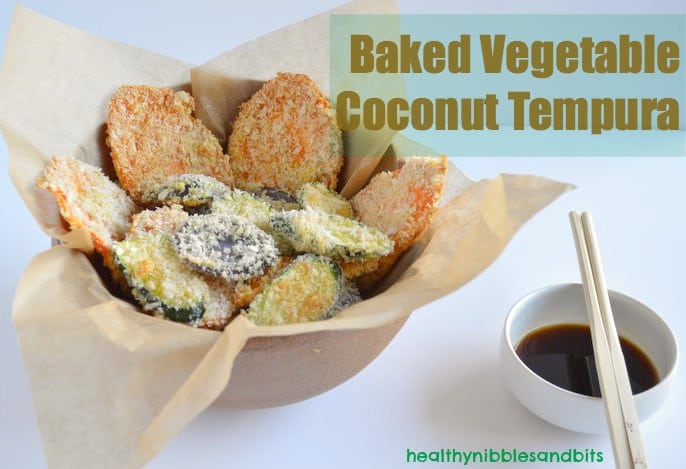 Baked Vegetable Coconut Tempura
A modern take on a classic Japanese dish. Shredded coconut adds subtle sweet flavor to the vegetables.
Ingredients
2

small zucchini

,

thinly sliced

1

large sweet potato

,

peeled and thinly sliced

2

small purple potatoes

,

thinly sliced

3

large eggs

2 1/2

cups

panko bread crumbs

1 1/2

cups

shredded coconut

1 1/2

tsp

granulated garlic

1 1/2

tsp

salt

small pinch of white pepper powder

,

optional
Instructions
Preheat oven to 400ºF. Line two large baking sheets with parchment paper or silicone mats.

Whisk the eggs in a small bowl.

In a medium-sized bowl, mix the panko bread crumbs, coconut, garlic, salt, and white pepper together. Pour about a third of the mixture onto a plate for breading the vegetables. Add more of the bread crumb mixture onto the plate once it is running low.

Dip each piece of vegetable in the whisked eggs. Be sure to shake out the excess egg mixture to prevent clumping.

Bread both sides of the vegetables and place them on the baking sheets in a single layer.

Bake the vegetables for about 15 minutes, or until the vegetables are easily pierced with a fork.

Enjoy them on their own or with tempura sauce!
Notes
1. Feel free to drizzle about 2 tablespoons of oil on top of the vegetables to give them additional crisp.[br]2. You should be able to find panko bread crumbs in the Asian cuisine section of your grocery store.[br]3. If you only have flaked coconut available, blend it in a food processor so that you have smaller coconut bits.[br]4. Feel free to substitute the purple potato with regular potatoes.
Did you make this recipe?
Tag @hellolisalin or leave a star rating and comment on the blog!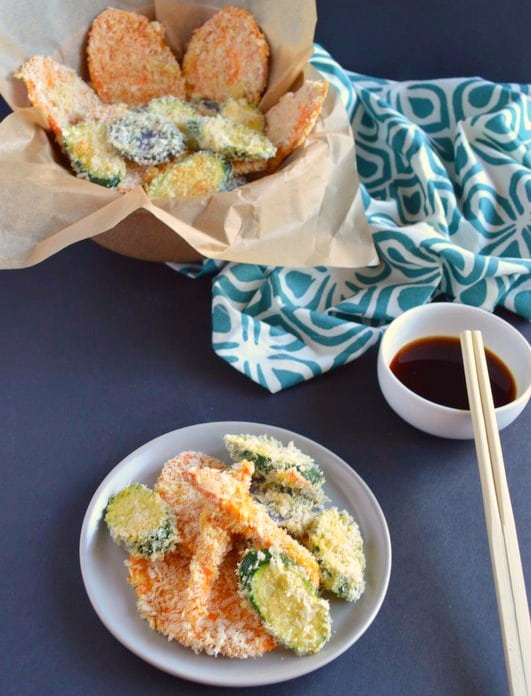 For more information about the history of tempura, check out this quick read on the Kikkoman website.
Q: What is your favorite Japanese dish?