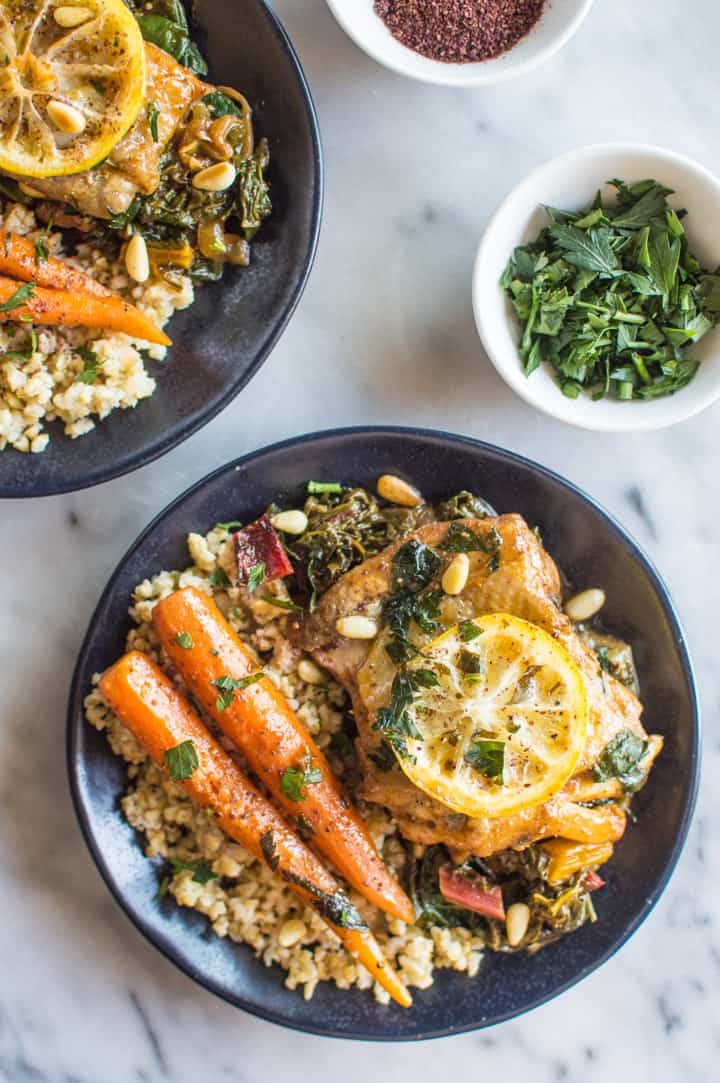 It all started when I met Michelle last year. She taught my friend Jackelyn and I how to make some seriously delicious cracklin' chicken. She also showed us how to make her incredibly versatile magic mushroom powder (which I frequently use to season meat and roasted potatoes). Then, she talked paleo, particularly how the paleo diet changed her lifestyle and how it improved her overall energy level. When she first told me about her paleo journey, I was very curious about trying it too, but I was quite skeptical about my ability to stick with it. I mean, how can I give up grains, beans, and cheese?? But trying the paleo diet was always something that stuck to the back of my mind.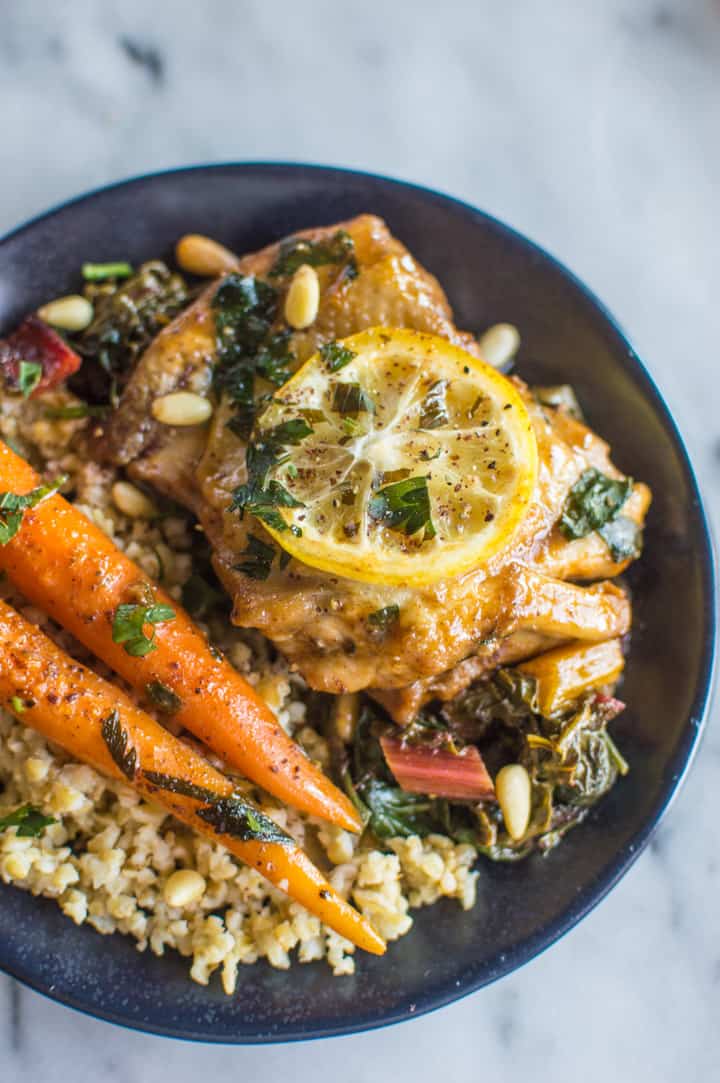 Fast forward to a year later, Alice announced on her blog that she was going to go on the Whole 30. (By the way, you should all cheer her along on her Instagram.) When I read her post, I thought, if ever there was a time for me to try this paleo reset, it would be now. At least I know who I can turn to advice/support. Okay, so maybe I won't be starting until next month. I have some family visiting for 2 1/2 weeks, and I'm planning to travel to Alaska over July 4th. It's just going to be too hard, and I don't want to set myself up for failure.
Why the heck do I even want to do the Whole30, you ask? I want the challenge, and I'm just plain curios. Under The Whole30 diet, I won't be able to eat any grains, dairy products, legumes, and additional sugar. I want to see what kinds of tasty bites I come up with that would be paleo-friendly. I can't believe I'm saying this, but I am quite excited to see what life is like without adding sweeteners to my diet. I may become a miss cranky pants without sugar, but I still want to learn how to deal with it. Most of all, I'm just curious about how my body responds to these dietary changes. Will I feel more energized like Michelle has? Will my body hate me? I'm eager to know!
Before I dive head first into this culinary adventure, I'm going to a bit more research over the next few weeks. I've already picked up copy The Whole30 book, and I'm beginning to test out recipes that I will want to wolf down during that 30-day period. Let's start with this braised chicken.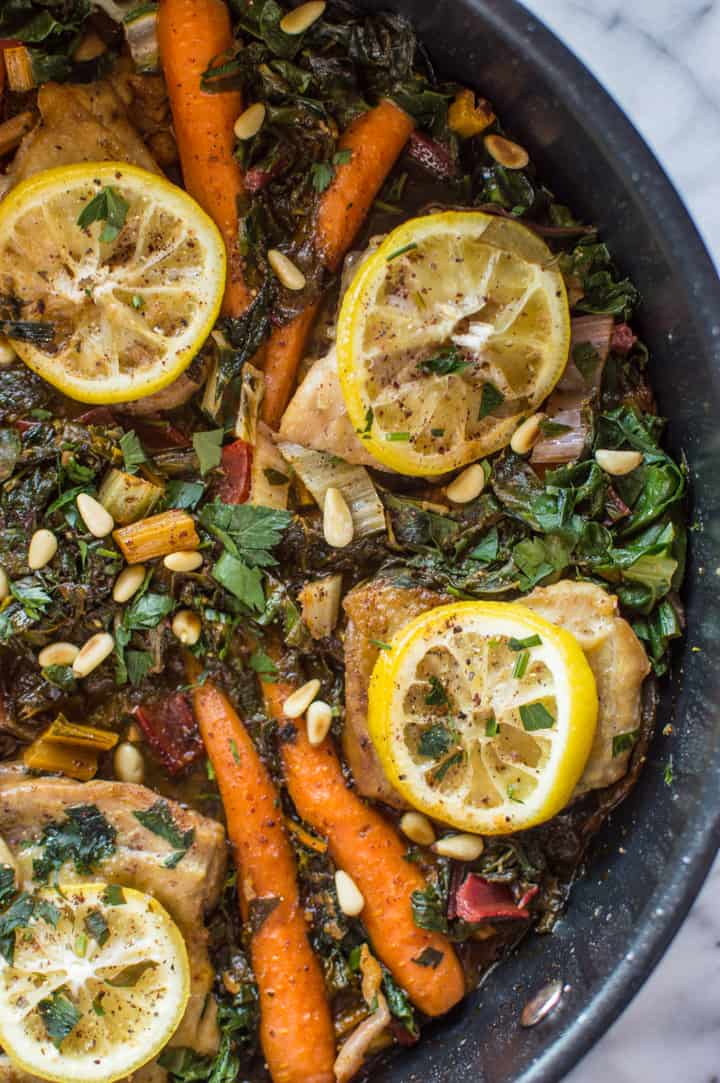 The dish is inspired by one of the meals I got from Sun Basket, an online cook-at-home meal delivery service. I've added more spices and more vegetables to the dish (of course). I have also cooked many variations on the dish, using chicken breasts and chicken thighs, and the thighs win out on more flavor. Not even debatable. Yes, there is a more fat when cooking with skin-on chicken thighs, but I feel full after eating one piece of chicken.
I definitely will make this braised chicken again during my Whole30 journey, but maybe sans freekeh on the side. Just maybe.
One-Pan Braised Lemon Paprika Chicken with Sumac
This one-pan braised lemon paprika chicken is bursting with flavor and ready in 30 minutes! Perfect for weeknights. Serves 4.
Ingredients
4

skin-on chicken thighs

1

tsp

olive oil

1

small red onion

,

thinly sliced

2

garlic coves

,

minced

1

tsp

smoked paprika

1

tsp

sumac

1/4 to 1/2

tsp

ground cinnamon

1

cup

(240ml) chicken broth

8

oz

(225g) carrots, peeled

1

small lemon

,

thinly sliced

4

large stalks of swiss chard

,

chopped

3

TBS

chopped parsley

,

more for topping

salt and pepper to taste

toasted pine nuts

,

optional
Instructions
Sprinkle kosher salt on both sides of the chicken.

Heat a large pan with olive oil over medium-high heat. When the pan is hot, add the chicken and sear each side for 2 to 3 minutes. Scoop the chicken onto a plate and set aside.

Add sliced onions into the hot pan and cook until translucent. Add minced garlic and a pinch of salt and cook until browned, about a minute. Add paprika, sumac, and cinnamon. Stir for 30 seconds. Pour in the broth, add another a pinch of salt, arrange place carrots and chicken into the pot. Lay lemon slices on top of the chicken. Cook covered for 8 minutes.

Add 1/2 cup of water, a pinch of salt, chopped swiss chard and parsley and cook for 4 to 5 minutes, or until the thighs are no longer pink. Turn off the heat.

Season with salt and pepper, to taste. Sprinkle some more chopped parsley and pine nuts, and serve with roasted potatoes or your favorite grains!
Notes
1. This recipe works very well with chicken breasts but you may need to cook them longer, depending on how thick the meat is.[br]2. I usually start out with bone-in chicken thighs that I snip away with kitchen shears. I freeze the bones for bone broth excitement another day. [br]3. You want to cook whole carrots in the pot, you want to work with small, thin carrots. If you are using large carrots, just slice them up before you put it in the pot.
Did you make this recipe?
Tag @hellolisalin or leave a star rating and comment on the blog!
NOTE: This post contains affiliate links.