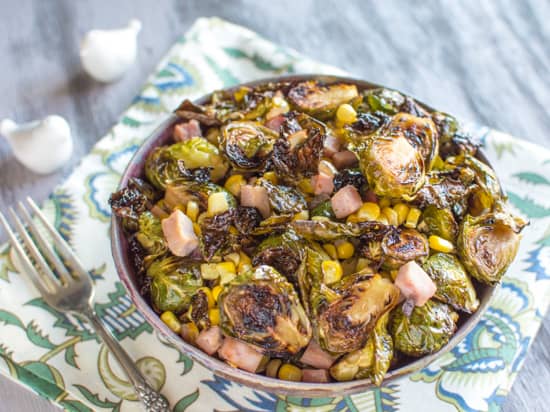 When I was in preschool or pre-kindergarten (I can't remember which), my daycare served steamed, unseasoned brussels sprouts for lunch. What were they thinking? Children despise bitter vegetables! Even a drab carrot-raisin salad would have been a better choice. I still remember those awful sprouts after all these years!
It wasn't until I started cooking for myself did I learned about the beauty of maple-glazed brussels sprouts. Then again, I'll always meet people who flat out refuse the sprouts, even when they're glazed or tossed with some bacon. It's ok, I understand.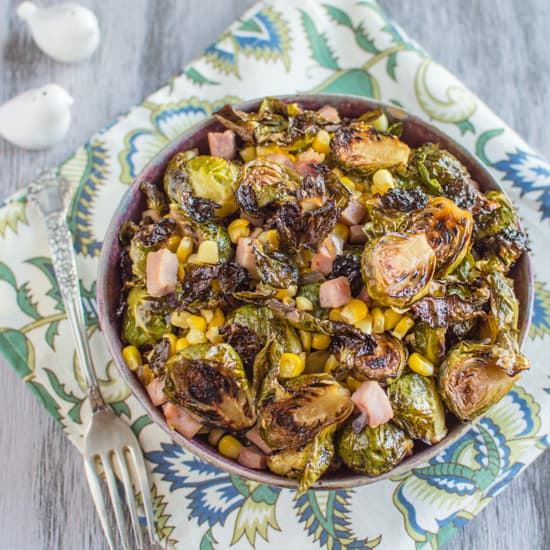 I know that many of you have seen recipes for roasted brussels sprouts with bacon, but I have a confession. I don't particularly like bacon. I'll eat it if it is served to me, but you won't find me going out of my way to make it. The flavor (and the smell) is just much too overpowering. I know people who swoon over a whiff of frying bacon, but I'm not in that club. Am I weird for not liking bacon?
My favorite part of roasted brussels sprouts are eating the leaves that fall off the sprout during the chopping process. The caramelization on those leaves are out of this world. They're extra crispy, but they're at their prime fresh out the oven. I burn my tongue every time, but nothing will stop me from picking at them when they're still scalding hot.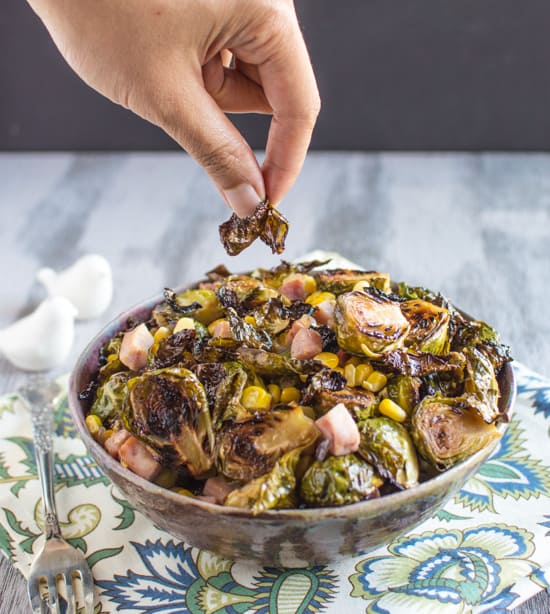 Oops, guess I got caught in the act!
Maple-Glazed Brussels Sprouts with Ham & Corn
Ingredients
1

pound

(~450g) brussels sprouts

2

TBS

olive oil

,

divided

1

TBS

maple syrup

2

tsp

balsamic vinegar

3

TBS

chopped red onion

2

oz.

(55g) ham

,

chopped

1/3

cup

(45g) fresh yellow corn kernels

pinch

of salt
Instructions
Preheat oven to 425 degrees F (215 degrees C). Line a large baking sheet with parchment paper.

Rinse the brussels sprouts and dry them thoroughly with paper towels. Chop off the bottom of the brussels sprouts and then chop them in half. There will be many leaves that fall off, but save them! They're the best part.

In a medium bowl, mix the brussels sprouts with 1 tablespoon of olive oil, the maple syrup, and balsamic vinegar. Toss until everything is well incorporated. I like using my hands to rub all the flavor into the sprouts. Spread them on the prepared baking sheet in a single layer. Bake for 20-23 minutes or until the leaves are browned.

Heat a small skillet over medium-high heat. Once the pan is hot, add the remaining tablespoon of olive oil. Pour the chopped onions into the skillet and let it cook until the onions start to turn translucent (about a minute or two). Add the corn, ham, and a pinch of salt and stir everything. Cook for about 3-4 minutes, until the corn starts to turn into a vibrant yellow color.

In another medium bowl, mix the roasted brussels sprouts with the corn and ham. Serve as a side dish.

Refrigerate any leftovers in an airtight container.
Did you make this recipe?
Tag @hellolisalin or leave a star rating and comment on the blog!