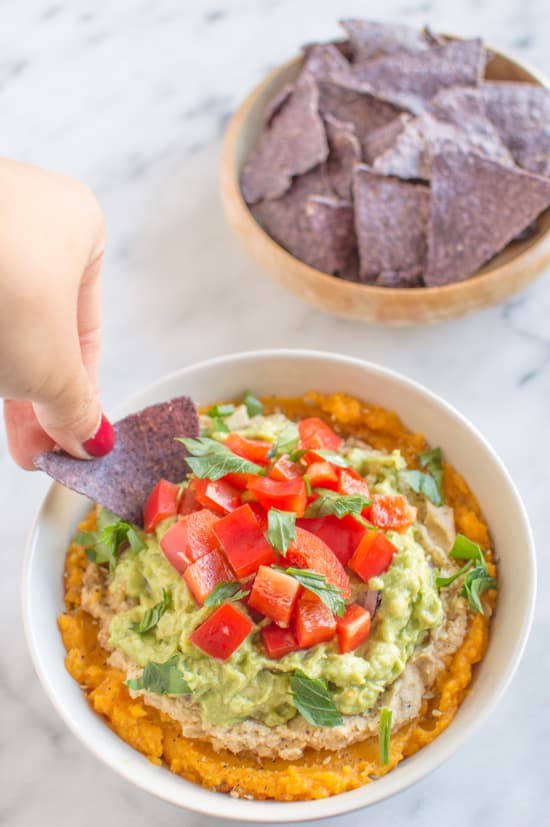 Disclosure: I received the Nutri Ninja | Ninja Blender System for review, and I was not otherwise compensated. As always, all the opinions in this post are my own. Thanks for supporting the brands that allow me to bring more delicious recipes to you!
Do you have a Thanksgiving day strategy? I'm sure you do. Some people like to starve all day before the big Thanksgiving feast. I, on the other hand, prefer to ease my way into dinner and let those stretchy pants expand gradually throughout the day. We're talking breakfast, light lunch, and light snacks. Nothing more, nothing less.
When it comes to snacks, I'm all about that dip. From hummus to vegetables spreads to guacamole, I am a big fan of anything that's spreadable on a cracker (minus the cheese whiz). Now that we are getting into the holiday season, anything that we cook needs to be glam-ed up ten times. Mashed potatoes needs to be adorned with fresh sage, gravy needs to be made with turkey drippings, pumpkin pie needs to be topped with pecan praline (according to Joy the Baker), and tableside butter needs to be sprinkled with spices. Even fruit cakes need to be flambéd. A one-note dip just isn't going to cut it. That's why we have FIVE LAYERS going on in this dip.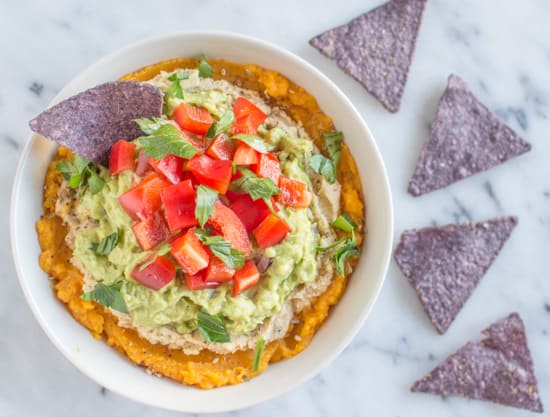 My impatience got the better of me, and I couldn't stop eating this dip while I was taking photos of it.
I prefer homemade dips to store-bought ones any day. With my own dips, I'm the master of the flavor, and it's usually a good thing. The only problem is texture. I have made dips in my conventional blender and my mini food processor before, but the hummus always ended up quite lumpy. I couldn't quite get the smooth texture that store-bought versions have. Enter the Nutri Ninja Blender (affiliate link).
For the longest time, I owned one of those cheap conventional blenders with a glass bowl in my apartment. I can't count the number of times I tried to make hummus or pesto in that thing, only to watch the ingredients get stuck in there. One day, I was trying to make a smoothie, and I turned around for a few seconds to grab more ingredients. All of a sudden, I heard what sounded like a waterfall splashing onto my kitchen floor. Guess what? The liquids seeped through the bottom of the blender! It was a sure sign that I needed an upgrade.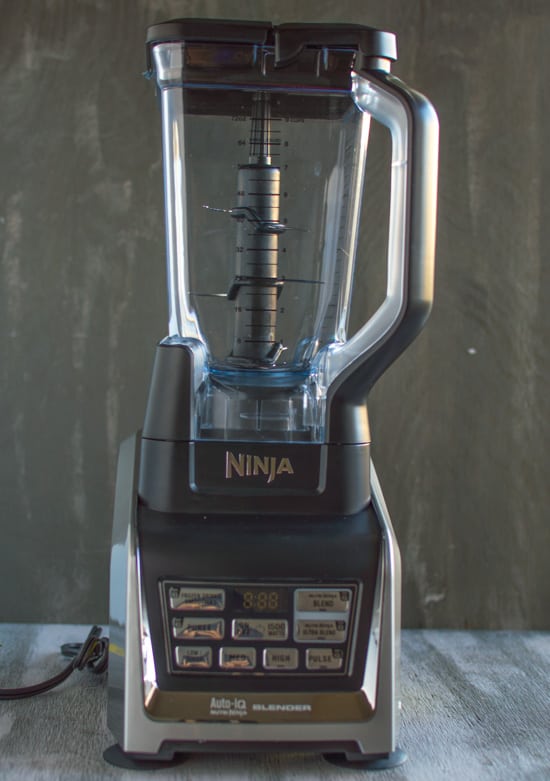 The lovely people at Ninja sent me a Nutri Ninja | Ninja Blender System with their new Auto iQ Technology, and I could not be happier. First, let's talk about the dip I made with the blender. I made the smoothest hummus EVER with that blender, and I'm not being hyperbolic. I put the blender on the puree setting, and off it went! It starts off at a slower speed, and gains steam as it goes. The result was one creamy hummus, my friends! It doesn't get better than this. Remember the fresh pomegranate juice I whipped up not too long ago? That was made with this blender!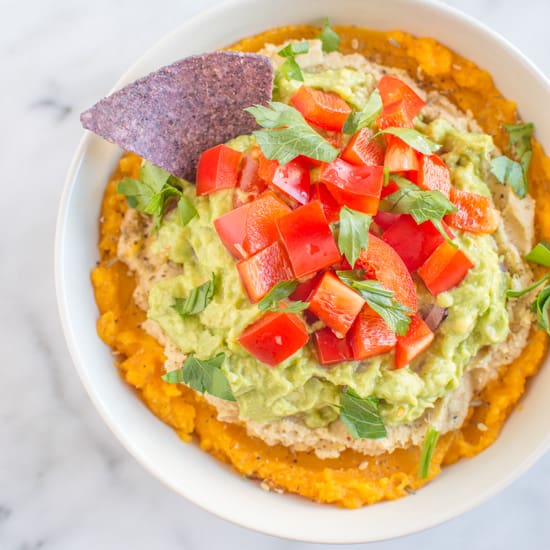 After acquiring this new kitchen toy, I developed an obsession for green smoothies. For smoothies, I use the Nutri Ninja Cup and turn on the ULTRA BLEND program, which sets the system into a one-minute blending and pausing pattern. Yes, the system stops on its own! The programs are super useful when you're trying to do several things at once in the kitchen, like I usually do.
Finally, the Food Processor Bowl. As much as I love my mini food processor, I always found it a hassle to prepare everything in batches. Try making a pesto in 4 batches! That was my life. The Ninja system actually includes an 8-cup food processor bowl, which I have already used to make a cookie batter! (I still don't own a hand mixer yet. I know, shame on me.)
As with most power blenders, this system does make a bit of noise when it's on a higher speed setting. Even then, I am so happy that these new kitchen tools, and I can't wait to use it to make more tasty creations!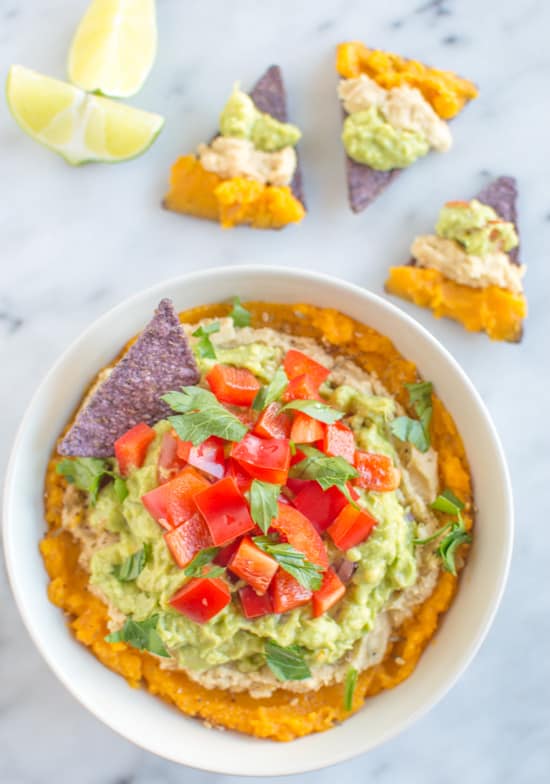 For those of you who are looking for last-minute Thanksgiving appetizer ideas, you should definitely give this dip a go. Most importantly, I hope you all have a fabulous Thanksgiving! Pace yourself, but eat a lot! We'll hit the gym the next day.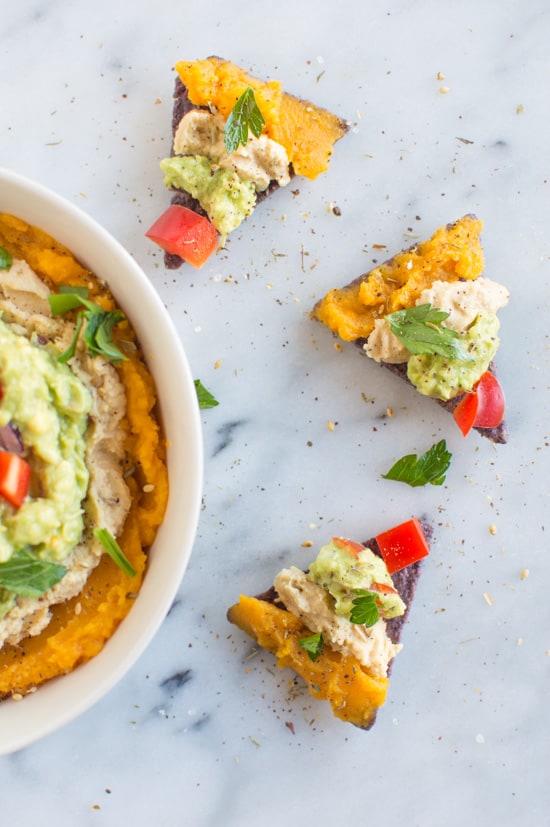 Butternut Squash, Hummus & Guacamole Dip
Serves 5-6
Ingredients
Butternut Squash Layer
2 1/2

cups

cubed butternut squash (about 1 pound/450g unpeeled squash)

1

TBS

olive oil

3

TBS

water

1/2

tsp

curry powder

1/2

tsp

salt

,

add more to taste

1/2

tsp

paprika

1/2

tsp

ground cumin
Hummus Layer
1 15-

oz

(425g) can of chickpeas, drained and rinsed

1

TBS

water

1

TBS

tahini

1/2

TBS

olive oil

1/2

TBS

lemon juice

1

tsp

salt

1/2

tsp

garlic powder
Guacamole
2

medium ripe avocados

1/3

cup

chopped tomatoes

,

about 1 small roma tomato

2

TBS

chopped red onion

1/2

TBS

lemon juice

1/2

tsp

salt

1/2

tsp

garlic powder

1/4

tsp

cumin
Additional Toppings
1/2

large red pepper

,

chopped

chopped parsley

za'atar

,

optional
Instructions
Preheat oven to 385 degrees F (195 degrees C). Line a baking sheet with parchment paper or a silicone mat. Toss the peeled and cubed butternut squash with olive oil and a pinch of salt. I chopped the squash into 1/2-inch cubes to make them cook faster. Bake for 20 to 25 minutes, or until the cubes are easily pierced with a fork.

While the butternut squash is baking prepare the other layers. Blend all the hummus ingredients together until smooth. I mixed the chickpeas on low for 20 seconds and finished it in the medium speed. Add water one tablespoon at a time if you want the hummus to be creamier. Set the hummus aside.

In a small bowl, mash the ripe avocados with a fork. Mix in all the other ingredients for the guacamole and set aside.

When the butternut squash is done cooking, blend all the butternut squash dip ingredients until smooth. Add water one tablespoon at a time if you want the squash layer to be creamier.

In a bowl, spread a layer of the butternut squash mixture. Next, layer on the hummus, and then the guacamole. Top with chopped red peppers, and parsley. Sprinkle some za'atar if you like.

Refrigerate leftovers in an airtight container.
Did you make this recipe?
Tag @hellolisalin or leave a star rating and comment on the blog!
Looking for more ideas for dips? Try this 5-ingredient caramelized onion hummus!