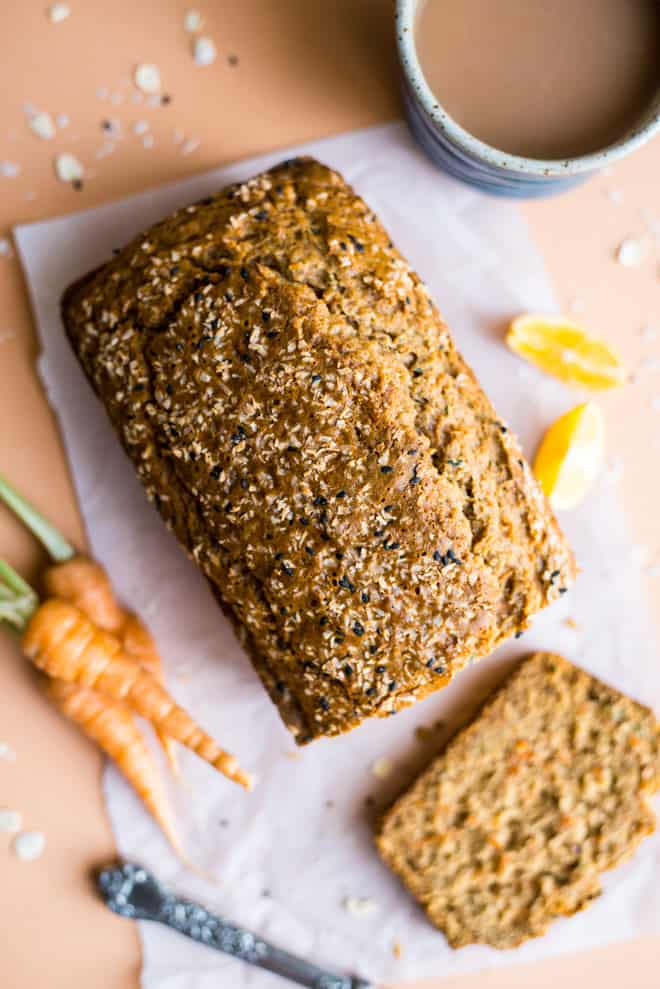 First confession: I desperately wanted to give this thing a meyer lemon glaze. Those orangey-yellow citrus orbs are in peak form right now, and a nice shot of the meyer lemon glaze drizzling down on the cake would have been epic food porn. Then, I took a step back and asked myself, does this bread really need more sugar? I think you know the answer. This cake was great just the way it is with maple syrup and a shredded fuji apple as the primary source of sugar. You see . . . exercise in restraint. Don't worry, the meyer lemon did come into play with this recipe. Inside one of these slices are tiny flecks of lemon zest, which brightens up the flavor of the cake.
Second confession: I added carrots and zucchini to this cake mainly to trick the hubs into eating more vegetables. I've been doing that to smoothies with great success, so I figured I could push my luck with cake, too. And he fell for it. Mission accomplished.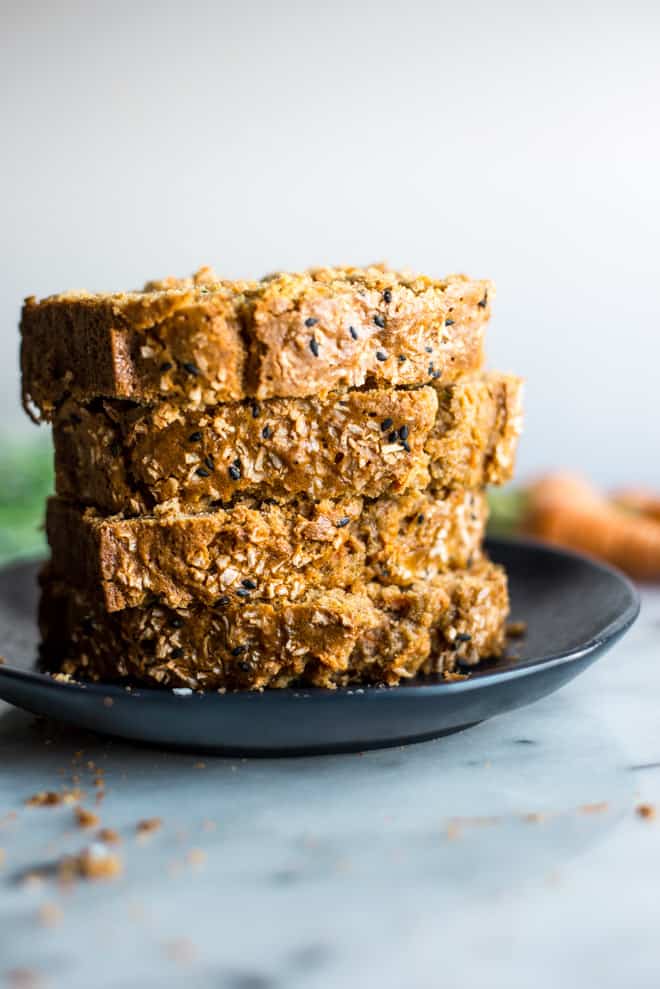 MASTER MY MISTAKES / COOKING NOTES
Getting the Right Amount of Sweetness: I tried so many different combinations of sweeteners for this recipe. First, I started with honey/muscovado/grated pear, then I tried honey/muscovado/applesauce, and finally settled on maple syrup/grated apple. The versions with applesauce were my least favorite—the cake tasted bland compared to the other loaves I made with grated fruit. I quite enjoyed the honey/muscovado/grated pear, but for the sake of simplicity, I stuck with maple syrup/grated apple.
Texture of the Cake: Because this cake is made with gluten-free flours, it will be more crumbly than those made with all-purpose or other wheat flours. It cut nicely into 1/2-inch slices, but the cake gets quite messy when you're trying to cut them into smaller pieces for sharing.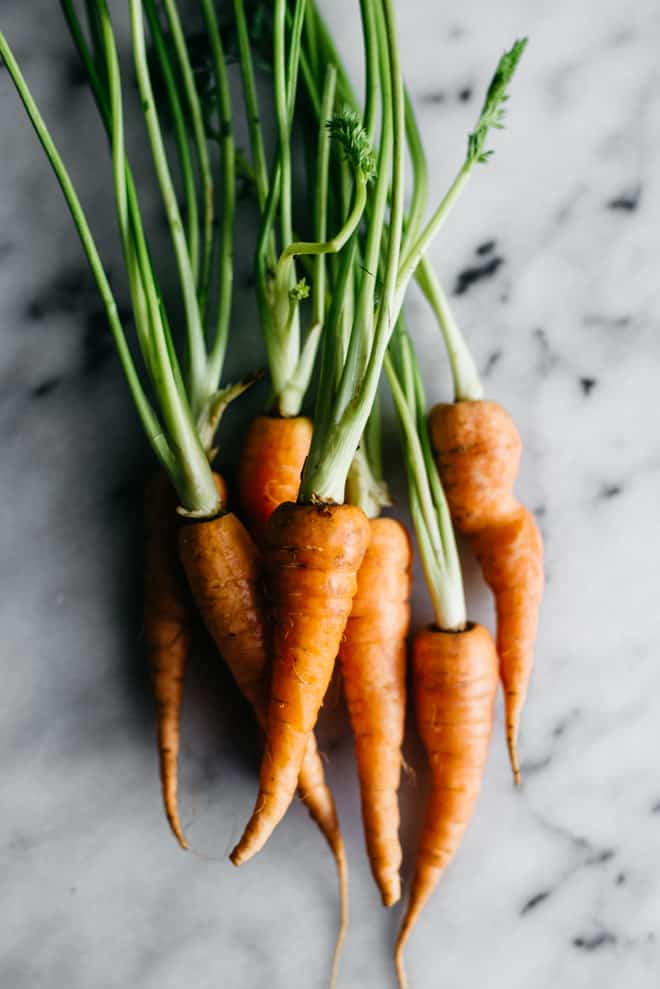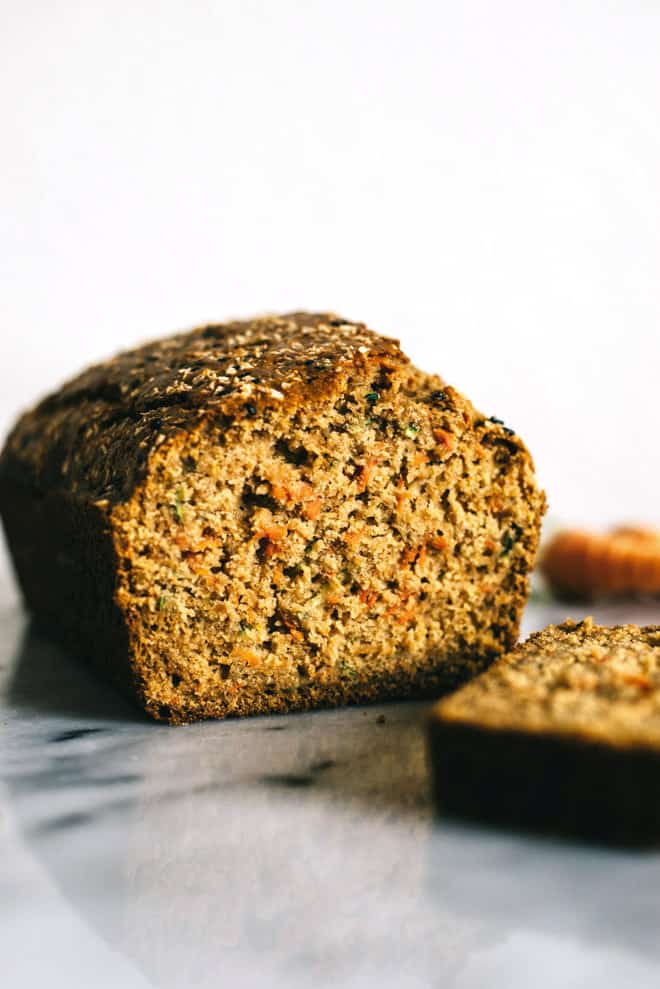 If you try this recipe, let me know how it goes by leaving a comment or sending me a message! Or take a photo of the food and tag me on Instagram so that I can give you a fist bump. I love seeing your creations!
Carrot and Zucchini Olive Oil Cake (Gluten Free)
This cake is phenomenal with a cup of tea or coffee!
Ingredients
2

large eggs

1/4

cup

(60m)l olive oil

2/3

cup

(155ml) maple syrup

1

tsp

vanilla extract

1 1/3

cups

(180g) gluten-free all-purpose flour*

1/4

cup

(30g) millet flour

1/4

cup

(35g) oat flour**

1 1/2

tsp

ground cinnamon

1/4

tsp

freshly grated nutmeg

1

tsp

baking powder

1

tsp

baking soda

1/2

tsp

salt

1

cup

(105g) grated carrots

3/4

cup

(95g) grated zucchini

1

medium fuji apple

,

about 85g, peeled and grated

zest of one lemon
Optional Toppings
shredded coconut

black sesame seeds
Instructions
Preheat oven to 350ºF (175ºC). Position an oven rack to the middle position.

In a large bowl, whisk eggs together. Stir in olive oil, maple syrup and vanilla extract. In another bowl, mix flours, cinnamon, nutmeg, baking powder, baking soda, and salt. Pour flour mixture into bowl of wet ingredients and stir until everything is just combined. Let batter rest for 5 to 10 minutes.

Spray a 9×5-inch loaf pan with cooking spray. I like adding a small sheet of parchment on top so that the bread is easier to release later. I usually spray the parchment with oil lightly. Set aside.

Fold in grated carrots, zucchini, apple, and lemon zest to batter. Pour batter into prepared loaf pan. Sprinkle shredded coconut and sesame seeds on top, if you like.

Bake for 50 to 55 minutes, rotating halfway. A toothpick inserted down the center should come out clean. Let cake cool in pan for 10 minutes before removing it and cooling on a rack. Let cool for at least 45 minutes to an hour before cutting into it.
Notes
1. *You can always use all-purpose flour or store-bought gluten-free flour for this recipe. I used the gluten-free blend in America's Test Kitchen's How Can it be Gluten Free, and I omitted the non-fat milk powder.
2. **You can use 1/2 cup of oat flour instead of 1/4 cup millet flour and 1/4 cup oat flour. I thought the texture of the millet and oat flour blend was slightly better.
Did you make this recipe?
Tag @hellolisalin or leave a star rating and comment on the blog!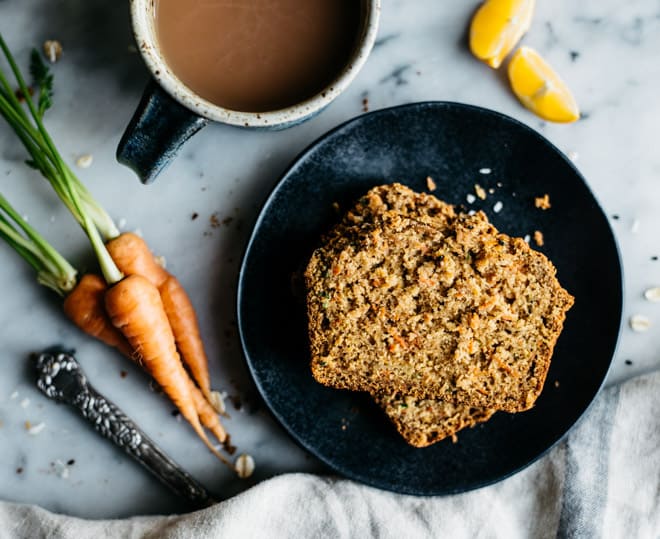 Disclosure: This post contains affiliate links