Whenever I go to my local farmers market, I'm always interested in finding new fruits and vegetables to try. Last weekend, I bought several small celery roots but had no clue what to do with them. By the way, contrary to what the name suggests, celery roots don't actually grow at the bottom of bunches of celery. I know, the name fooled me, too.
I got to work looking for recipes and found several for cauliflower celery root purée on Foodista and Gourmande in the Kitchen. Based on these recipes, I decided to make my own version of the purée. The flavors of the purée were delicious! It's definitely a great alternative to regular mashed potatoes.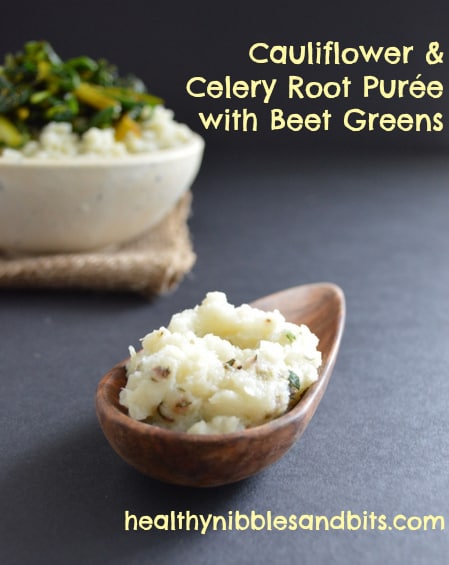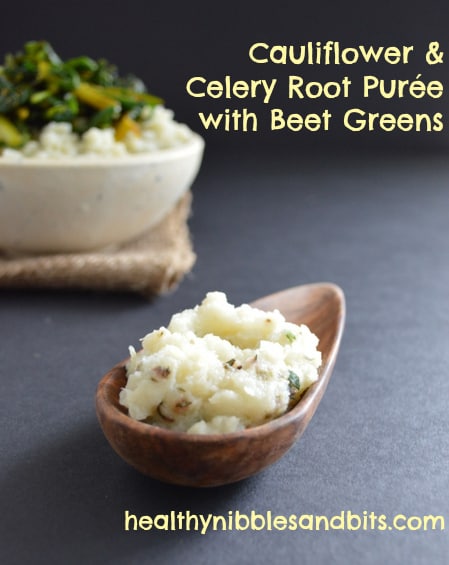 Cauliflower & Celery Root Purée with Sautéed Beet Greens
Makes 3 Servings
Prep Time: 10 minutes | Cooking Time: 20 minutes
Ingredients
1/2 pound of celery root
1/2 large cauliflower head, about 5 cups
4 cloves of garlic, pressed or minced
2 TBS fresh sage, chopped
1 TBS olive oil, divided
6 cups loosely packed beet greens, rinsed and chopped
1/4 cup yellow onions, diced
salt and pepper to taste
Directions
Preheat oven to 375º F. Grease a pie dish or other small baking pan with olive oil or cooking spray.
Peel the skin of the celery root and chop it into small 1/2-inch cubes.
In a small bowl, toss the celery root with 1/2 tablespoon olive oil and a dash of salt. Pour the celery root onto the pie dish and bake for 15 minutes.
Rinse the cauliflower and chop the florets into small pieces. Place them in a microwave-safe bowl and microwave on high for 4 minutes. Check the cauliflower and see if it is cooked. If it still looks raw, microwave it at 1-minute intervals until the cauliflower is cooked through or easily pierced with a fork.
When there are only several minutes left in the baking, add the minced garlic to the celery root and stir everything together. Continue baking the celery root until it can be easily pierced with a fork.
When the celery root is done baking, combine it with the cooked cauliflower. Using an immersion blender or food processor, purée the vegetables until smooth. Mix in the chopped sage and season with more salt and pepper to taste.
Heat the other 1/2 tablespoon of olive oil in a sauté pan over medium-high heat. Place the onions in the sauté pan.
When the onions start to brown, add in the beet greens and sauté for about 3-4 minutes. Season with salt and pepper.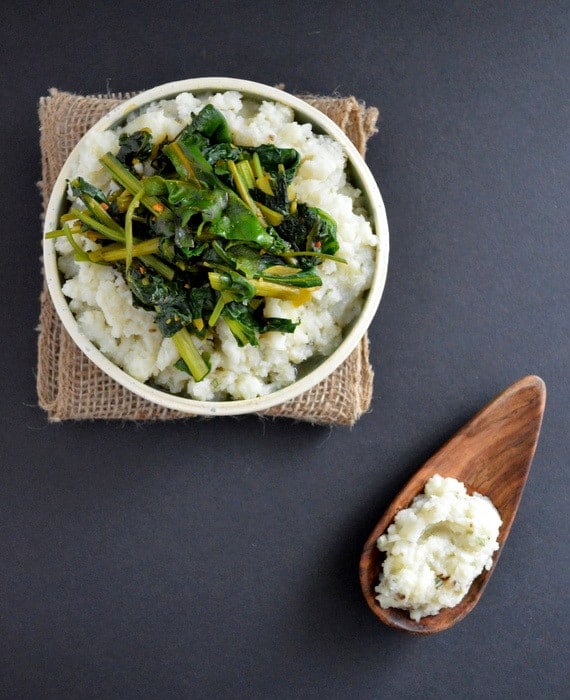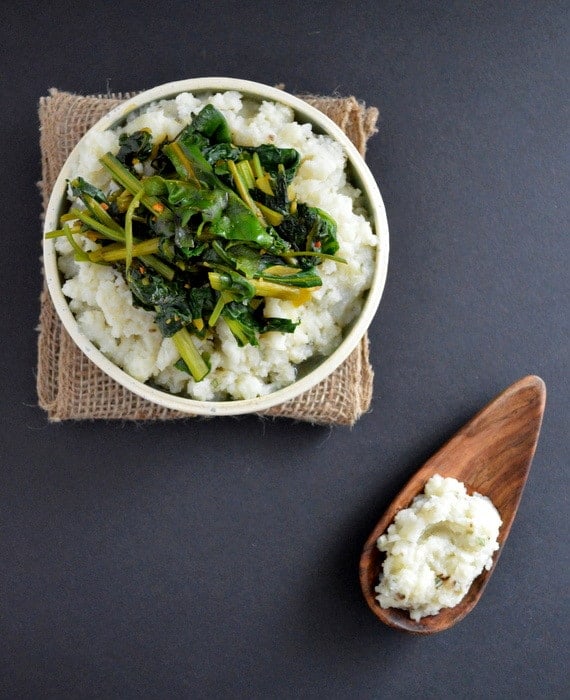 Notes
Feel free to add your own herb blend to this recipe.
If you want a creamier dish, add a bit of milk to the purée.
Here are some additional resources and recipes for cooking with celery root: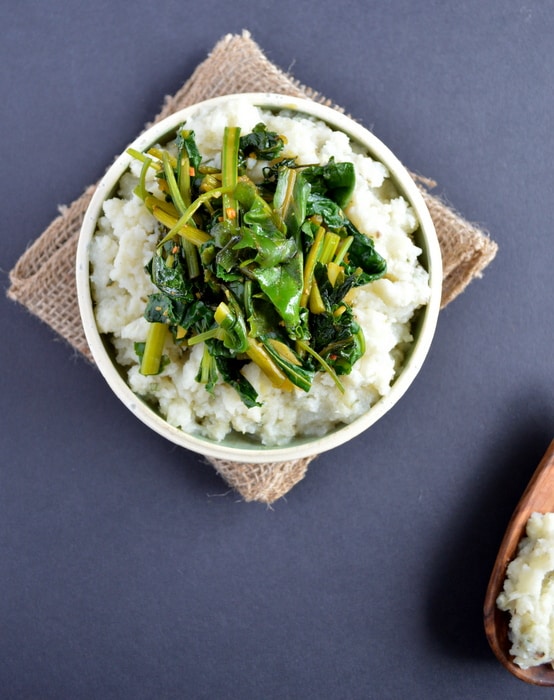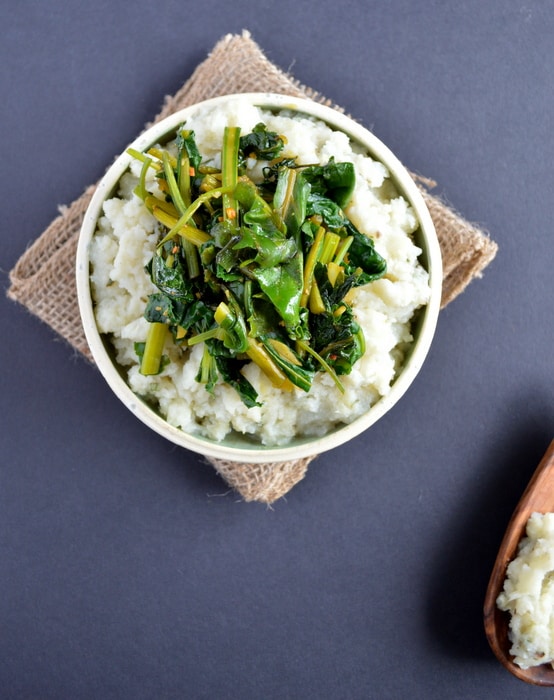 Q: Have you cooked with celery root before? Any ideas on other recipes I should try?