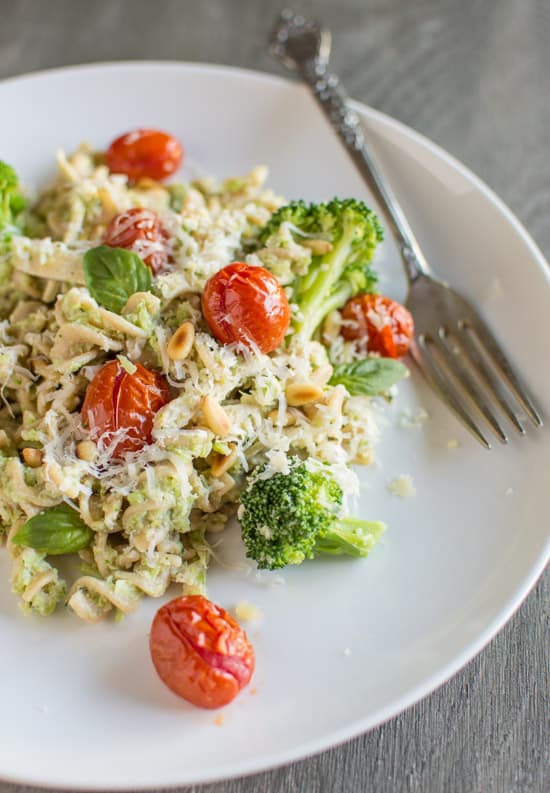 By posting this recipe I am entering a recipe contest sponsored by the National Pasta Association and am eligible to win prizes associated with the contest. I was not compensated for my time. All opinions are my own.
I have my good and bad days with numbers. Sometimes, I can do sizable multiplication problems in my head. On other days, simple subtraction flusters me. Sorry for not perpetuating the stereotype that I should be good at math (or "maths" if you speak English the silly way).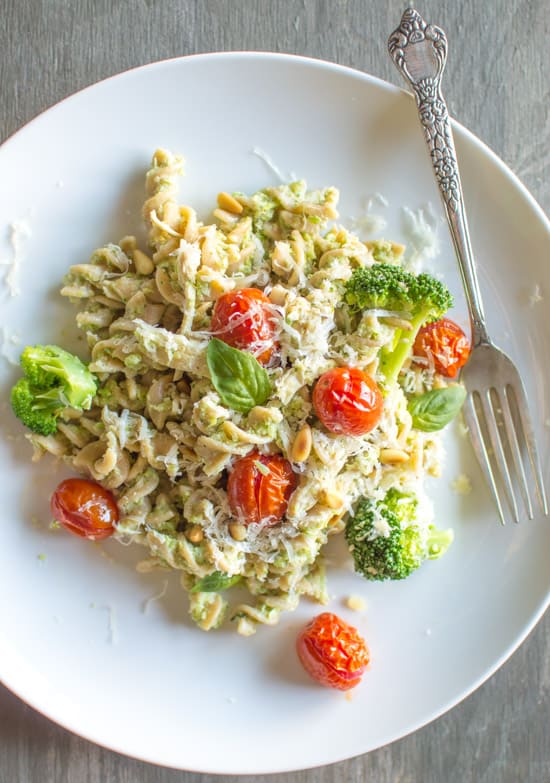 Given my aversion to numbers, you can imagine how much I hated counting carbs and calories. Alas, even I succumbed to the vagaries of dieting trends and hopped on the low-carb bandwagon. Sure, diets may be great for some people. Me? Not so much. I need my bread, granola, pizza, potatoes, and most of all, PASTA! Don't worry, I came to my senses during law school.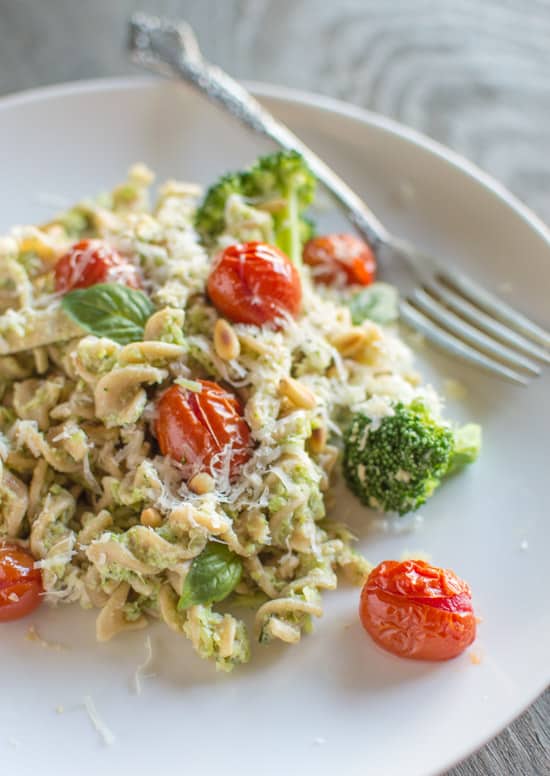 Every Sunday afternoon, I spent hours in the kitchen doing meal prep for the week. I made big portions of two or three main dishes and several sides, and then I play a little mix and match with the dishes throughout the week. Pasta was on heavy rotation during my Sunday meal prep because:
It's a cheap meal: the cost of higher education is no joke, and I saved my pennies whenever I could. Whole wheat pasta is a cheap source of whole grains. Needless to say, it was a frequent item on my shopping list.
It's so easy to cook: I had hundreds of pages to read every day, so time became my most valuable resource. I could always whip up a balanced, filling meal with pasta quickly. More time for studying!
It's versatile: even though I cooked pasta nearly every week, I never got bored. Pair it with a new sauce, vegetable, or protein, and MAGIC, you get a different dish.
It's portable: pasta into tupperware, into my bag, into the microwave, into my mouth. Perfect brown-bag lunch.
You'll be happy to know that I ditched my overly (and often times irrational) carb-conscious ways during this time in my life. All I cared about was a quick meal that fueled my body and pacified my constantly growling stomach. Pasta and I were a match made in heaven.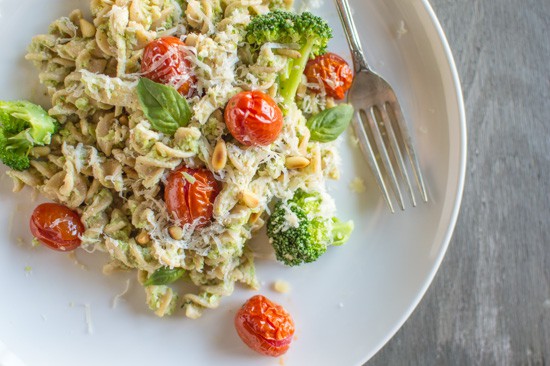 In honor of National Pasta Month (and my days as a student), I decided to make this fusilli dish with broccoli pesto. My one rule for cooking with pasta is this: SHOVE IN AS MUCH VEGETABLES AS POSSIBLE (AMVAP)! Are you with me on this?
Making a pesto sauce out of vegetables is a sure-fire way to get your 5 a day. For this pesto, not only did I use the florets but I also used the broccoli stalks! Being resourceful with my food: huge check.
Chicken Fusilli with Broccoli Pesto and Roasted Tomatoes
Serves 4
Ingredients
2 1/4

cups

(126g) dry whole wheat fusilli pasta

2

cups

(10g) plum tomatoes

2

TBS

olive oil

,

divided

1/3

cup

chopped sweet onions

1.5

lbs

(675g) broccoli, chopped into small pieces

1/3

cup

(~80g) shredded gruyere cheese (parmesan works well also)

3

TBS

non-fat or low-fat sour cream

2

garlic cloves

large pinch of salt

4

large basil leaves

,

more for garnish

1

large cooked chicken breast

,

about 2/3 lbs/310g, shredded

toasted pine nutes for topping

,

optional
Instructions
Fill a medium saucepan with about 3 to 4 inches of water. Salt the water and bring it to boil. Pour in the pasta and cook for 12 to 15 minutes, depending on how you like the texture of your pasta.

While the pasta is cooking, preheat the oven to 425 degrees F (220 degrees C), and line a baking sheet with parchment paper. Toss the tomatoes and 1 tablespoon of oil together with a pinch of salt. Roast for 15 to 18 minutes, or until this skins of the tomatoes start to shrivel. Some of the tomatoes may have burst at this point, but that's ok.

Caramelize the onions by heating 1 tablespoon of olive oil in a small pan. Once the pan is hot, toss in the onions and cook until they are well browned. Set aside.

In large saucepan, bring 3 to 4 inches of water to boil. When the water is boiling, pour in the broccoli and let it cook for 2 minutes only (unless you like mushy broccoli). This will remove the bitter bite of raw broccoli. After 2 minutes, pour the broccoli into a nice, cold ice bath to stop if from continuing to cook.

In a food processor, mix the onions, 2 and 1/2 cups of cooked broccoli, cheese, sour cream, garlic, salt, and basil leaves together until you get a creamy sauce.

In a large bowl, mix the pasta, broccoli pesto, the remaining cooked broccoli, tomatoes, and shredded chicken together. Serve with more shredded cheese and toasted pine nuts. Enjoy!
Notes
1. Broccoli stalks are perfect for this pesto, so don't throw them away![br][br]2. Don't have any plum tomatoes? Skip it and add another fall vegetable!
Did you make this recipe?
Tag @hellolisalin or leave a star rating and comment on the blog!