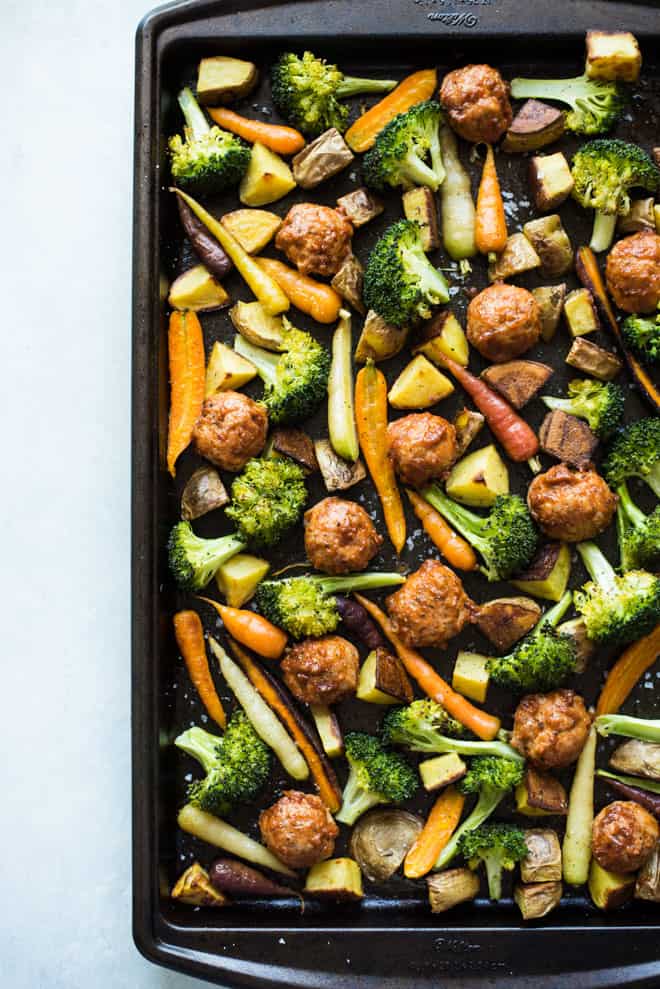 Okay, friends, welcome to my first budget dinner post! Each week, I'm posting at least one dinner recipe that costs under $25 to make. Actually, most of them should be under $20, but I'm giving myself some wiggle room in case I want to feature more expensive ingredients, like seafood. I am getting positive feedback on the idea, so I hope you enjoy these recipes!
Here's a dinner that I whipped up a few weeks ago. I bought raw sausage that my local co-op makes in the store and I chopped it up into 1-inch pieces. I then removed the meat from the casing and shaped the meat into meatballs. This is what i do when I'm too lazy to make meatballs from scratch, which is quite often, I might add.
While the chicken sausage is great, the real star of the show are the potatoes! My word, I LOVE roasted potatoes. My mother-in-law makes the best ones—extra crispy on the outside and soft on the inside. However, they usually take about an hour to make, and I ain't got time for that on a weekday! So here's what I do for weeknight roasted potatoes. Start by roasting the potatoes in the oven first. They'll need extra oven lovin' to get them nice and crispy. The rest of the ingredients will come in later.
This sheet pan dinner is constantly on repeat at my house now because my husband loves it so much! Meat and potatoes, what can you say?
By the way, aren't those baby carrots cute?
Price of the entire meal: $12.82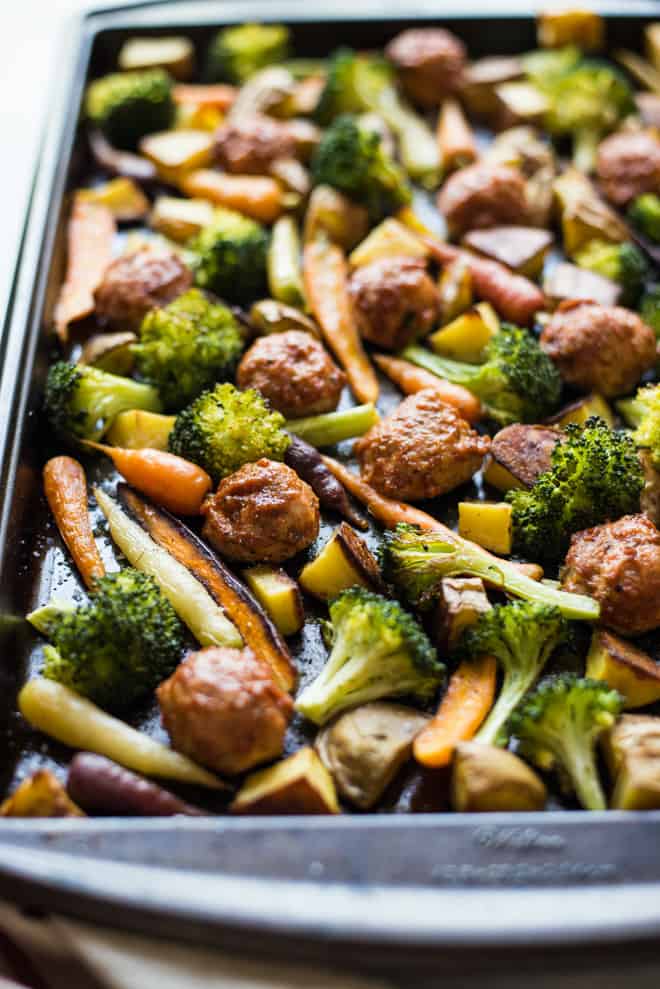 MASTERING MY MISTAKES / COOKING NOTES
Use 2 pans for roasting: I highly recommend using 2 pans for roasting this, even if you can fit everything into one pan. The extra room gives the vegetables space to breathe and caramelize. If you jam the vegetables too closely, the vegetables will start steaming instead of roasting.
Finishing the meatballs with sauce: The meatballs looked quite naked once they were done cooking, so I brushed a bit of my enchilada sauce all over them. You can also use pasta, marinara or teriyaki sauce, too.
Baking time for the potatoes: If you want really dark brown and crispy potatoes like the ones in my photos, roast them for 25 minutes before adding the other ingredients. Otherwise, stick to 20 minutes for golden brown potatoes.
Save time on cleaning: Lining the sheet pans with parchment paper before roasting everything will help save clean-up time because the food won't stick to the pan. For the purposes of taking better looking photos, I roasted everything directly on the sheet pans. I greased the pans so that the meat and vegetables won't stick as much.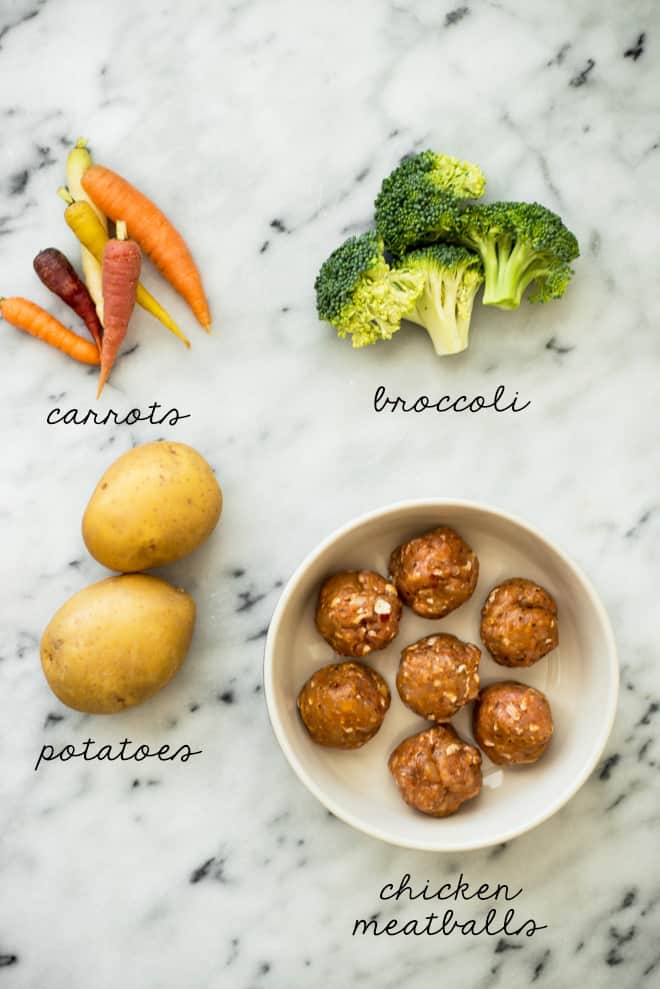 If you make this recipe, let me know! Take a photo of your creation and tag me on Instagram so that I can give you a fist bump!
Chicken Meatball & Roasted Vegetable Sheet Pan Dinner
Ingredients
4

tablespoons

olive oil

,

divided

1 1/4

pounds

(565g) yukon or golden potatoes

1

pound

(450g) chicken meatballs (raw or cooked) OR raw chicken sausage

1

pound

(450g) broccoli crowns

1

pound

(450g) carrots

salt and pepper

,

to taste

enchilada or pasta sauce for brushing on meatballs,

optional
Instructions
Preheat oven to 400ºF (205ºC). Slide oven racks into the upper and lower third positions. Grease 2 rimmed baking sheets with 2 teaspoons of olive oil on each pan. Alternatively, you can line both baking sheets with parchment paper. You wouldn't need to grease the parchment paper.

If you are using raw or cooked chicken meatballs, set them aside. If you are using raw chicken sausage, chop them into 1-inch chunks. I like digging the ground meat out of the casing and shaping the meat into meatballs.

Chop broccoli browns in to florets. Slice carrots into 1/4-inch thick sticks that are about 3 or 4 inches long. You can also use baby carrots for this. I recommend slicing the thicker carrots in half. Chop potatoes into 1/2-inch chunks.

Toss potatoes with 1 tablespoon of olive oil and a generous pinch of salt. Spread the potatoes over the 2 baking sheets. Slide the baking sheets onto the upper and lower third oven racks and bake potatoes for 20 to 25 minutes.

Toss broccoli florets with 1 tablespoon of olive oil and a pinch of salt. In a separate bowl, toss carrot sticks or baby carrots with 2 teaspoons of olive oil and a pinch of salt.

Remove baking sheets from the oven, and give the potatoes a stir. Spread out the broccoli, carrots and meatballs onto both baking sheets. Bake everything for 15 minutes, until the meatballs are cooked through. The meatballs should register at 165ºF (75ºC). (NOTE: If you are using cooked meatballs, you only need to bake them for 8 to 10 minutes. Add cooked meatballs onto the baking sheet last.)

Remove baking sheets from the oven and season everything with salt and pepper to taste. Brush some sauce on the meatballs, if you like.
Notes
NUTRITION INFORMATION: Yields 4 Servings. Amount per serving: Calories: 484, Total Fat 24g, Saturated Fat: 5g, Sodium: 201mg, Cholesterol: 98mg, Total Carbohydrate: 45g, Dietary Fiber: 10g, Sugar: 10g, Protein 27g
If you are using cooked meatballs, just bake them for 10 minutes instead of 15.
Did you make this recipe?
Tag @hellolisalin or leave a star rating and comment on the blog!