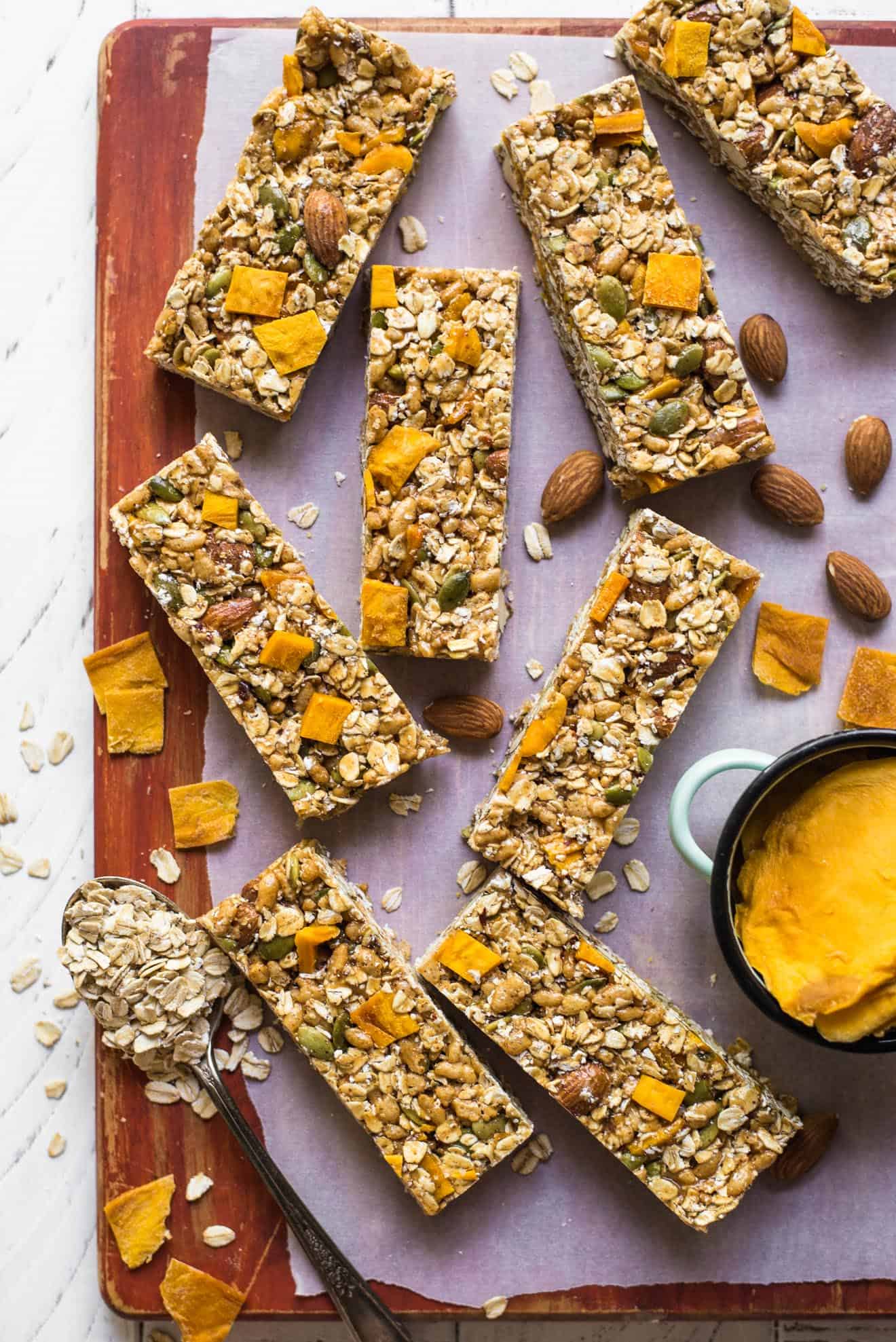 This is an updated version of the chili mango snack bars recipe first posted in August 2014. The recipe is now gluten free.
When I was young, I loved eating those chili mango lollipops that you would find in Mexican grocery stores. The candy is shaped like a mango, and it is covered in a layer of chili powder. Clearly, my attraction to spice developed at a young age. Having long outgrown the desire to eat lollipops, I decided to make a healthier version of a favorite junk food from my childhood. By chopping up bits of dried mango and adding a pinch of red pepper flakes, these granola bars are a grown-up version of the chili mango lollipops I loved.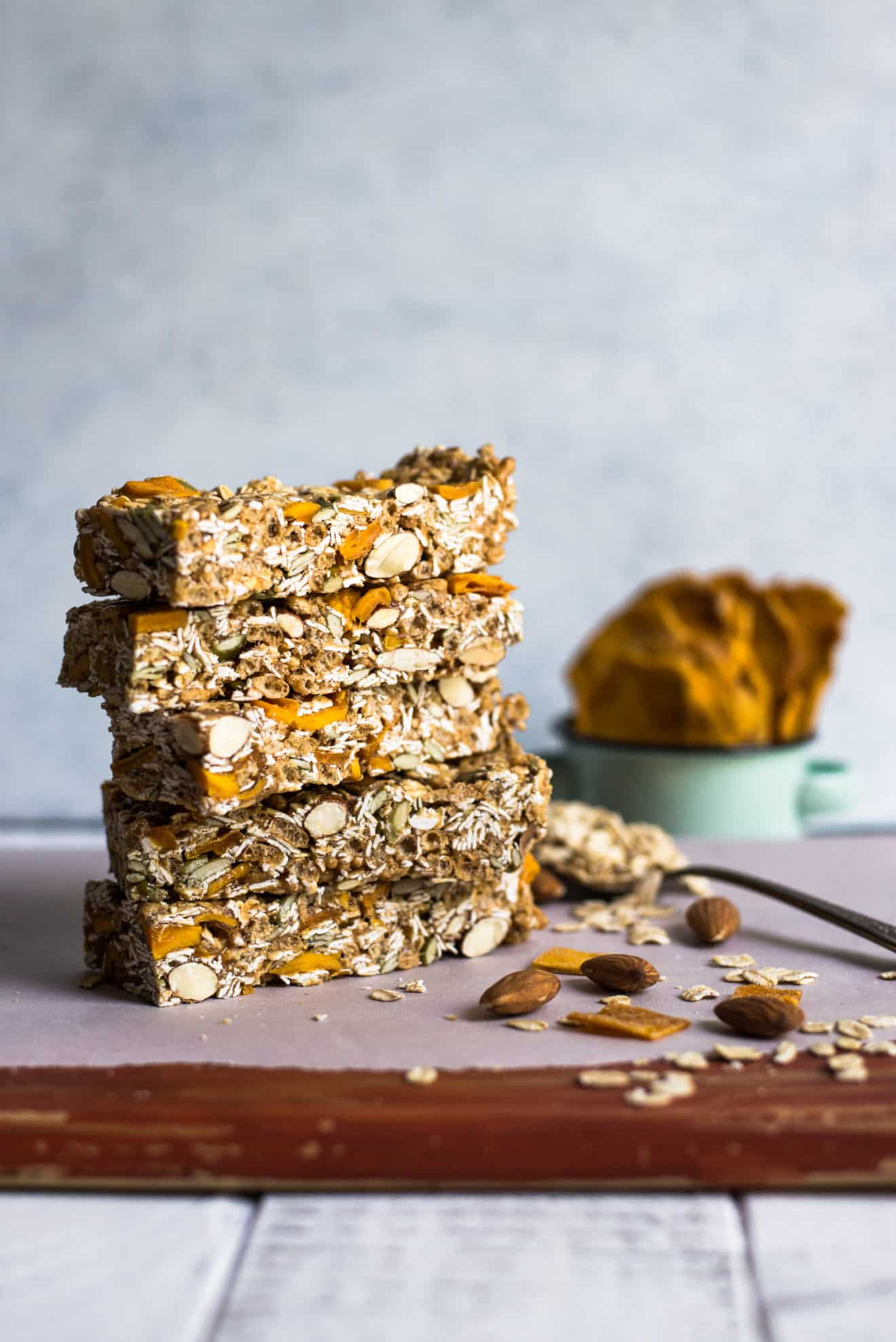 MASTERING MY MISTAKES / COOKING NOTES
Peanut butter vs. Almond butter: I tried this recipe with peanut butter and almond butter, and I preferred the batch made with the latter. I found the peanut butter overpowered the flavors of the mango.
Red pepper flakes: I decided to use red pepper flakes instead of chili powder for the recipe because I liked the heat coming from the flakes. If you want to try the recipe with chili powder, I would substitute 1/4 teaspoon of it for the red pepper flakes. You may need to add a tiny bit more brown rice syrup to balance out the sweet and savory flavors.
SUBSTITUTIONS: I usually find brown rice syrup in the baking aisle at my local grocery stores. If it is difficult for you to find, use honey instead. Do note that honey is slightly sweeter and stickier than brown rice syrup. The bars will still taste great!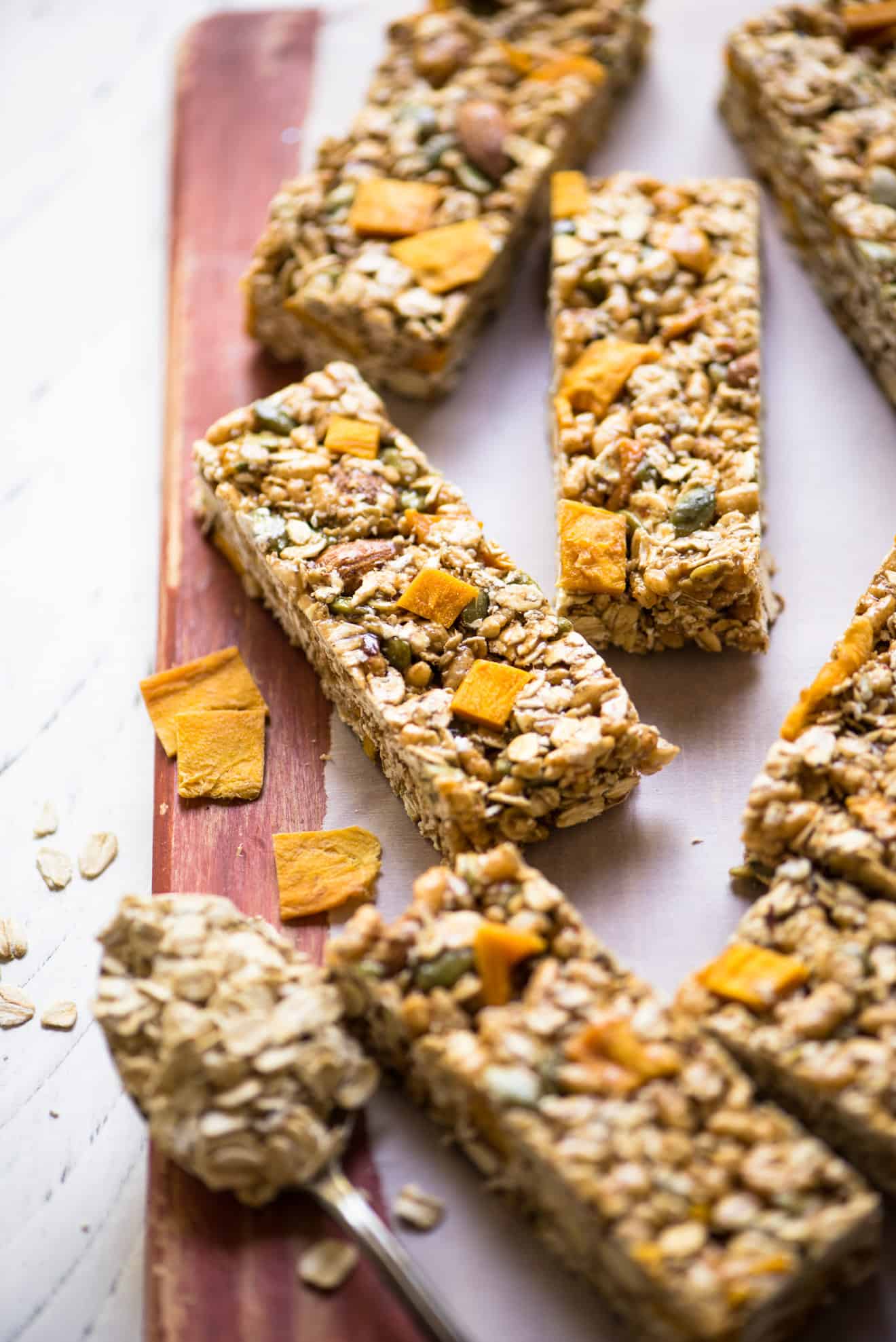 If you make this recipe, let me know how it goes in the comments! I'd love to see your creations on Instagram or Twitter – be sure to tag me!
Chili Mango Snack Bars
Ingredients
1

cup

(80g) rolled oats

1

cup

(35g) crispy rice cereal

1/2

cup

(80g) raw almonds

2/3

cup

(85g) chopped dried mango

1/3

cup

(60g) pumpkin seeds

3/4

teaspoon

red pepper flakes

2/3

cup

(160ml) brown rice syrup*

1/4

cup

(65g) almond butter

1

teaspoon

vanilla extract
Instructions
Preheat oven to 325ºF (160ºC). Arrange the oven racks to the upper third and lower third position. Line a large baking sheet with parchment paper or a silicone mat. Spread the oats on top. Pour the almonds onto a pie dish. Place the pie dish in the upper third rack and the oats in the lower third rack. Bake for 10 minutes, then remove the almonds and oats from the oven.

Line a 8×8 square pan with parchment paper. The bars will come out of the pan much easier when you line it with parchment paper. Set aside.

In a large bowl, mix the oats, cereal, almonds, mango, pumpkin seeds and red pepper flakes together.

In a small saucepan, heat the brown rice syrup and almond butter over medium heat. Once the brown rice syrup bubbles, about a minute or two, start stirring the almond butter and brown rice syrup together. Reduce the heat to low and stir until you get a smooth sauce. Remove saucepan from heat and stir in the vanilla.

Pour the syrup mixture into the bowl with the dry ingredients. Use a wooden spoon to mix everything until well incorporated.

Empty everything into the prepared baking pan. Using a sheet of parchment or wax paper, press and spread the oat mixture evenly throughout the pan.  The parchment paper keeps the oats and nuts from sticking to your hand. Press down on the oat mixture so that it is pretty tightly packed.

Let everything cool for 30 minutes before slicing into 10 bars. Store in an airtight container.
Notes
NUTRITION INFORMATION

: Yields 10 bars.

Amount per bar

: Calories: 219, Total Fat 8.5g, Saturated Fat: 1g, Sodium: 4.6mg, Cholesterol: 0mg, Total Carbohydrate: 33.5g, Dietary Fiber: 3g, Sugar: 17.6g, Protein 5g
*If brown rice syrup is difficult to find, use honey instead. Maple syrup doesn't work as well because it's not sticky enough to hold the ingredients together.
Use 1/2 teaspoon red pepper flakes if you want less heat.
If you want these bars to be more substantial, use 1 1/4 cups of rolled oats.
Did you make this recipe?
Tag @hellolisalin or leave a star rating and comment on the blog!