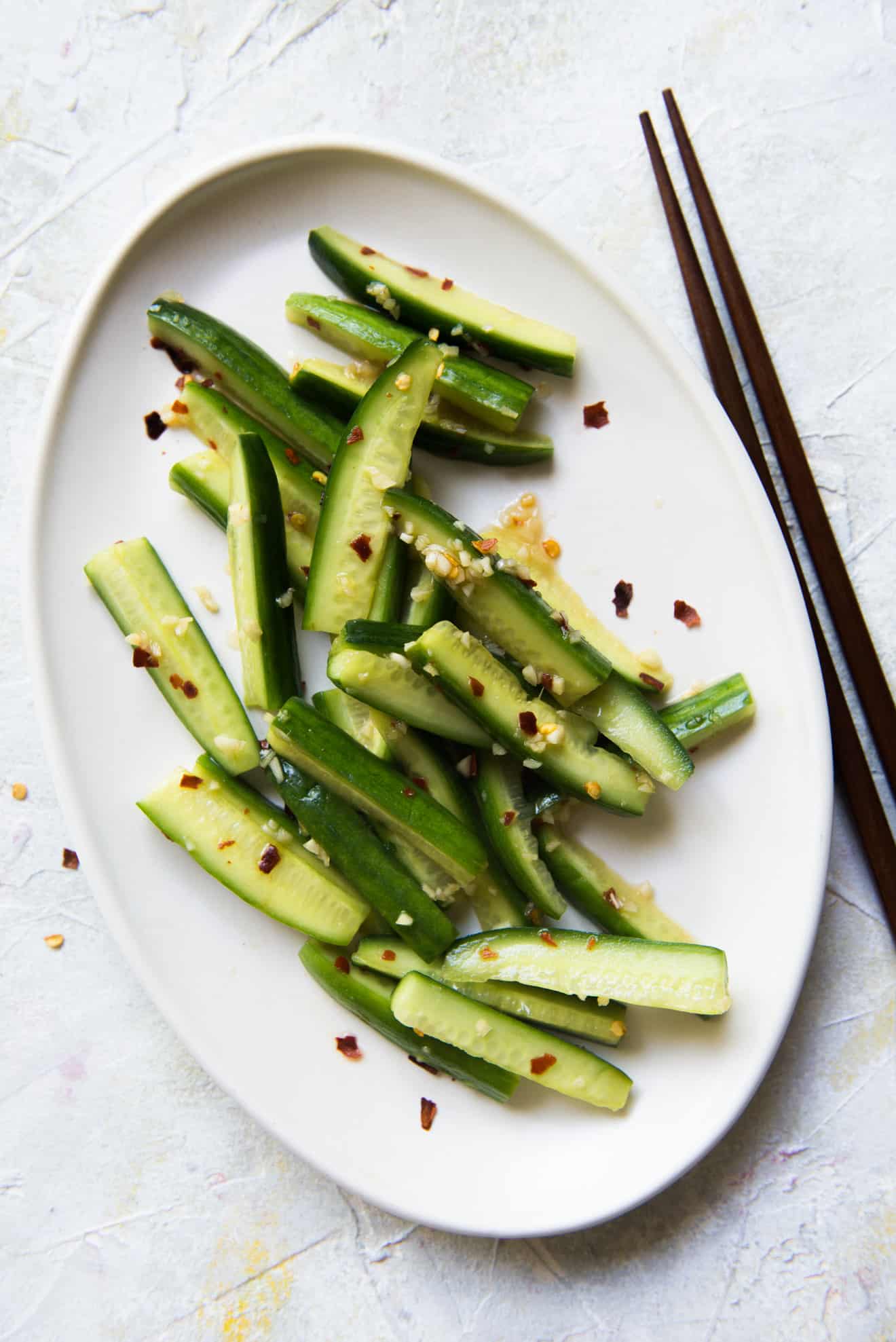 When I lived in Nanjing nearly 10 years ago, I was introduced to a delicious garlicky cucumber dish known as 涼拌黃瓜 (liang ban hua gua). It was a very simple dish, merely cucumbers tossed with a marinade of garlic, vinegar, soy sauce, and salt. What surprised me was how addictive such a simple dish could be. I loved those cucumber chunks in all of their garlicky splendor.
In China, this dish is often prepared with chunks of cucumber that are smashed with a meat cleaver. I decided to slice the cucumbers instead because I like eating them as delicate slivers. Many recipes I've seen also use Chinkiang (or Zhenjiang, 鎮江) vinegar, which you can find in Chinese supermarkets. I used rice vinegar here instead because it is much easier to source. The standard rice vinegar you find at supermarkets won't have the same malty notes as Chinkiang vinegar, but it still works well in this recipe.
In terms of the variety of cucumber, I used Persian cucumbers because they're thin-skinned, and they don't have tough seeds like conventional cucumbers. English cucumbers are great substitutes if Persian cucumbers are difficult to find. Because English cucumbers are longer and thicker than Persian cucumbers, you'll probably need only one of them.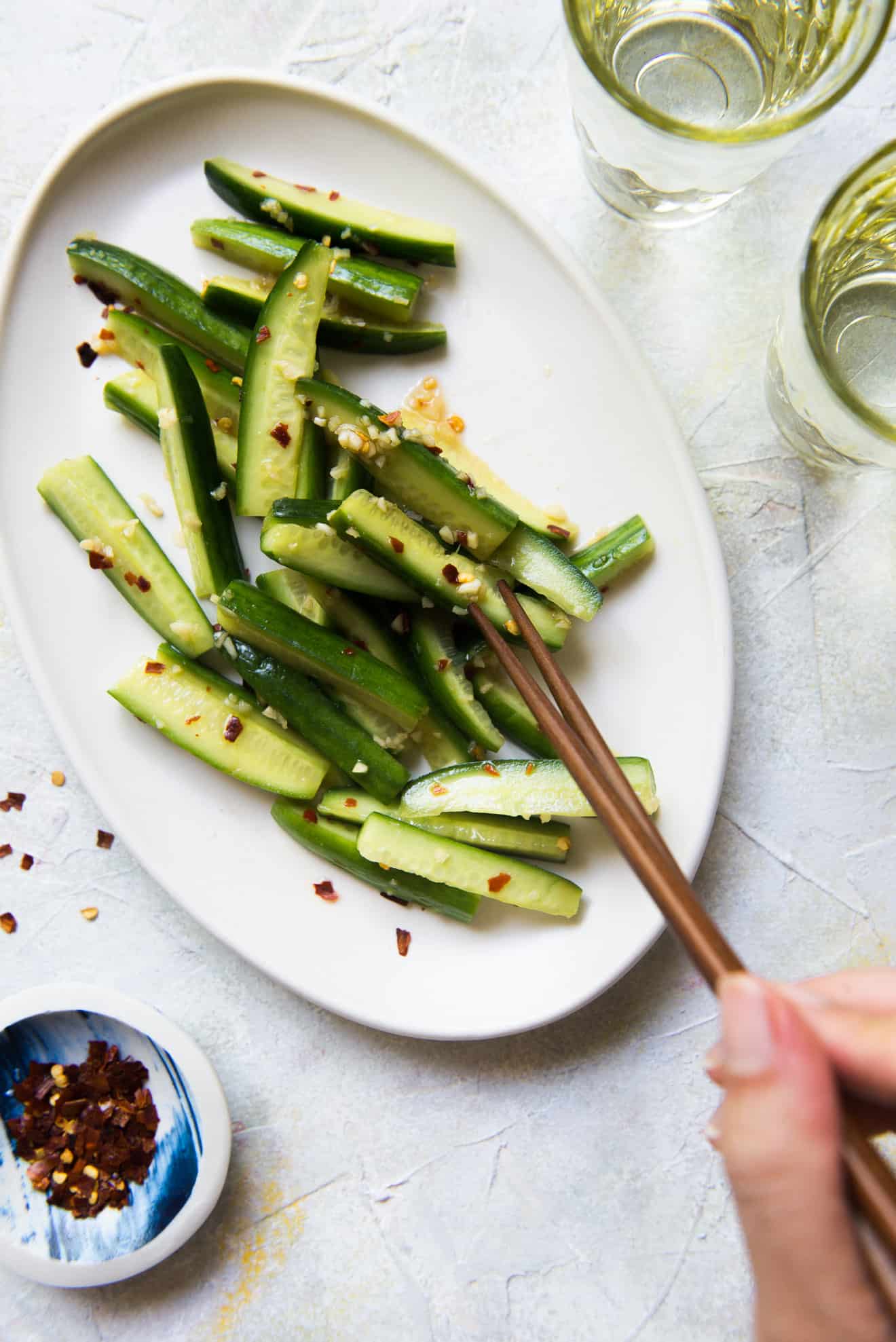 Served this cucumber salad with my coconut rice, egg fried rice, or teriyaki noodle stir fry!
Garlicky and Spicy Cucumber Salad
To make a larger batch, double the recipe. 
Ingredients
1/2

tablespoon

minced garlic

,

about 2 large cloves

1/2

teaspoon

sea salt

1

tablespoon

rice vinegar

2

teaspoons

soy sauce

1 1/2

teaspoons

sugar

1/2 to 1

teaspoon

red pepper flakes

4 to 5

Persian cucumbers

,

about 11 to 12 ounces*
Instructions
In a small bowl, stir the garlic, sea salt, rice vinegar, soy sauce, sugar, and red pepper flakes. Adjust the amount of red pepper flakes to taste. I used 1 teaspoon of it. Let the marinade sit for 10 minutes.

Trim the edges off the cucumber. Slice the cucumbers in half and slice the cucumber halves into thin slices. Transfer the cucumber slices to a bowl. Drizzle the garlic marinade over the cucumber and toss everything together.

Serve the cucumbers immediately, or you can prep the cucumber salad a few hours ahead. I don't like preparing it overnight because the cucumbers won't look as fresh.
Notes
NUTRITION INFORMATION: Amount for 1/2 of Recipe: Calories: 51, Total Fat 0.3g, Saturated Fat: 0g,Cholesterol: 0mg, Sodium: 148mg, Total Carbohydrate: 11.6g, Dietary Fiber: 1.1g, Sugar: 6.5g, Protein 1.8g
*You can also use English or Japanese cucumbers for this.
Did you make this recipe?
Tag @hellolisalin or leave a star rating and comment on the blog!