Years ago, Mama Lin learned how to grow chayote from her friends. She sprouts the seed inside the chayote and then plants the squash (with sprouted seed) into soil. Once the vines start growing, she builds a makeshift trellis to facilitate growing her chayote crop. You can see how her garden looks in the video above.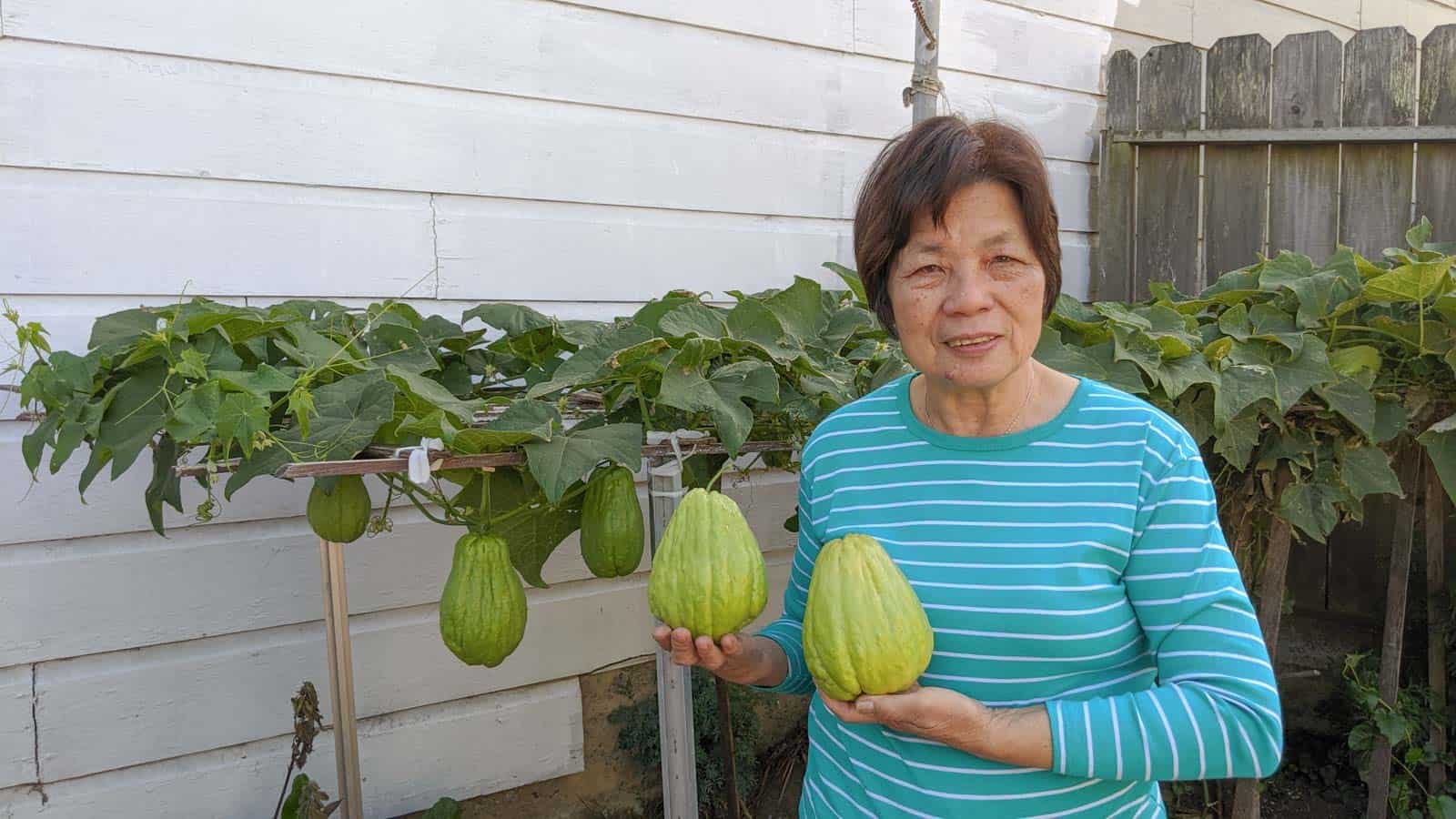 Mama Lin usually cooks the squash or gives them away to friends and family. Whenever she gives me some chayote, she'll peel the skin for me so that I don't have to deal with the thorns on the squash. It's so sweet!
My mom loves cooking stir-fried chayote for dinner because it's easy to make. In general, she eyeballs the ingredient amounts. The chayote recipe below is a more streamlined version that I developed based on my mom's rough recipe.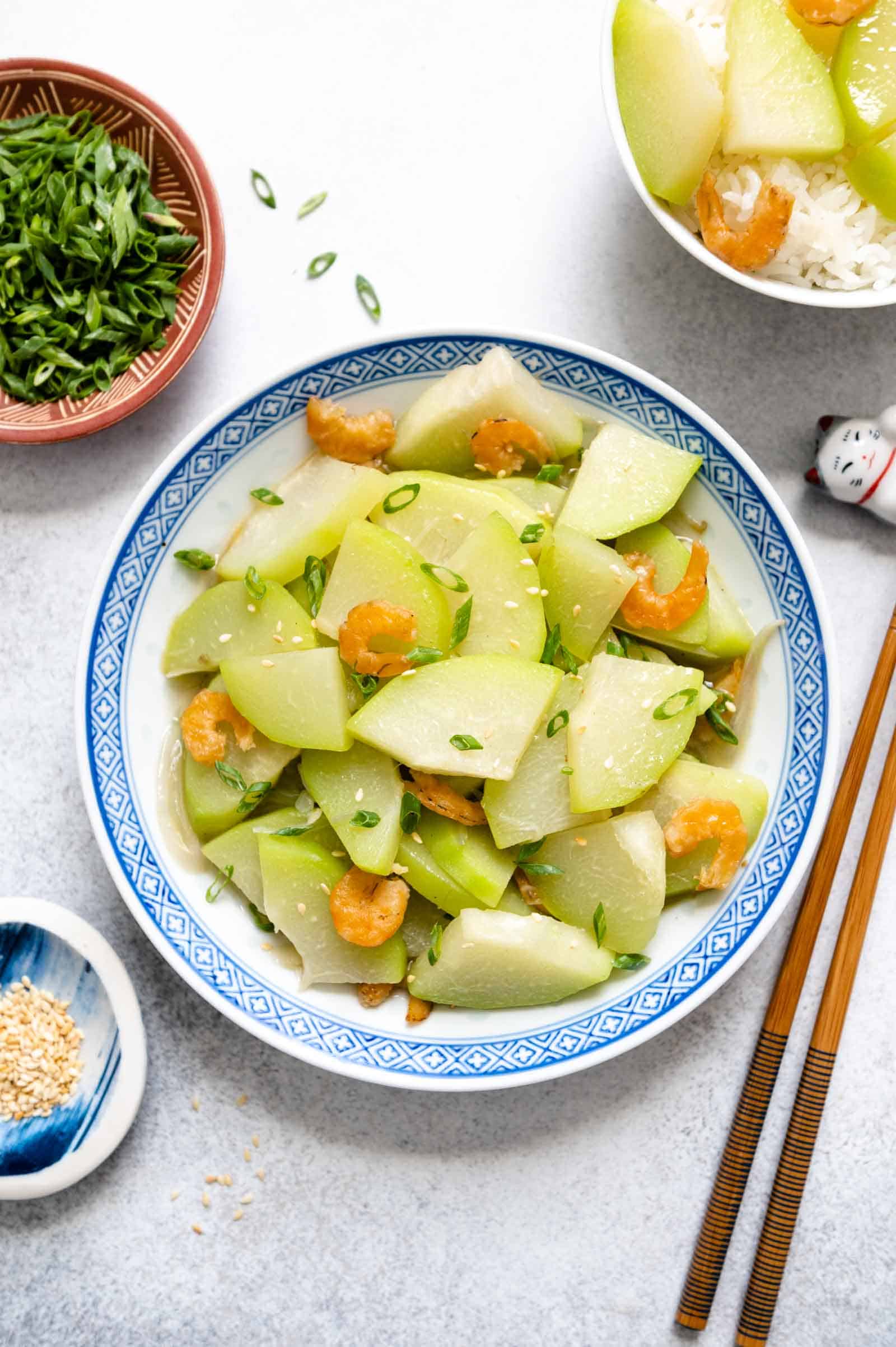 WHAT IS CHAYOTE?
Before getting into the recipe, let's talk about the actual squash. Chayote is a squash that has light green skin on the outside. The inside consists of lighter green and white flesh that is crisp and succulent. Chayote grows on vines and they're packed with antioxidants and nutrients, such as vitamins B & C.
There are many varieties of chayote. Some are covered in thorns. The variety that Mama Lin grows has a few thorns and ridges along the side of the chayote. When shopping in grocery stores, I tend to find chayote that are completely smooth on the outside. Despite the differences in appearances, these varieties of chayote taste practically the same.
Chayote is a common ingredient in Latin American and Asian cuisines. The word "chayote" comes from Spanish and the name you'll most often see in American grocery stores. In Chinese, chayote is called 合掌瓜 (hup jeung gua in Cantonese) or 佛手瓜 ("Buddha hand squash," fo shou gua in Mandarin). A few people have told me that they're called chuchu (or xuxu) in Brazil! Because "chayote" is the most commonly used name in America, I will use that name throughout this post.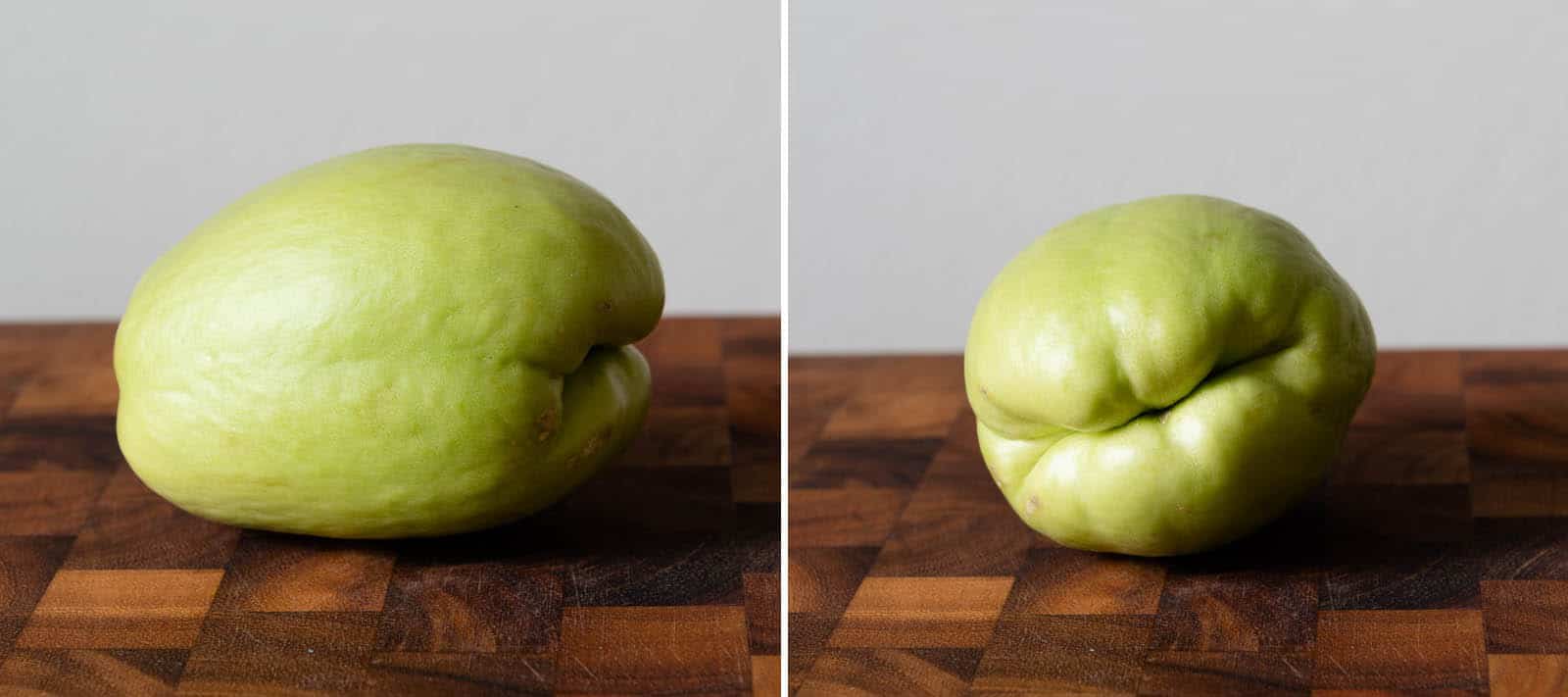 HOW TO PICK CHAYOTE
When buying chayote, pick ones that have an even shade of green on the outside. Try to avoid squash with a lot of deep yellow patches on the surface. It's an indication that the squash is not very fresh. In the photo collage above, the chayote has a few imperfections on the bottom of the squash. That kind of dryness on the skin is fine.
COOKING NOTES FOR STIR-FRIED CHAYOTE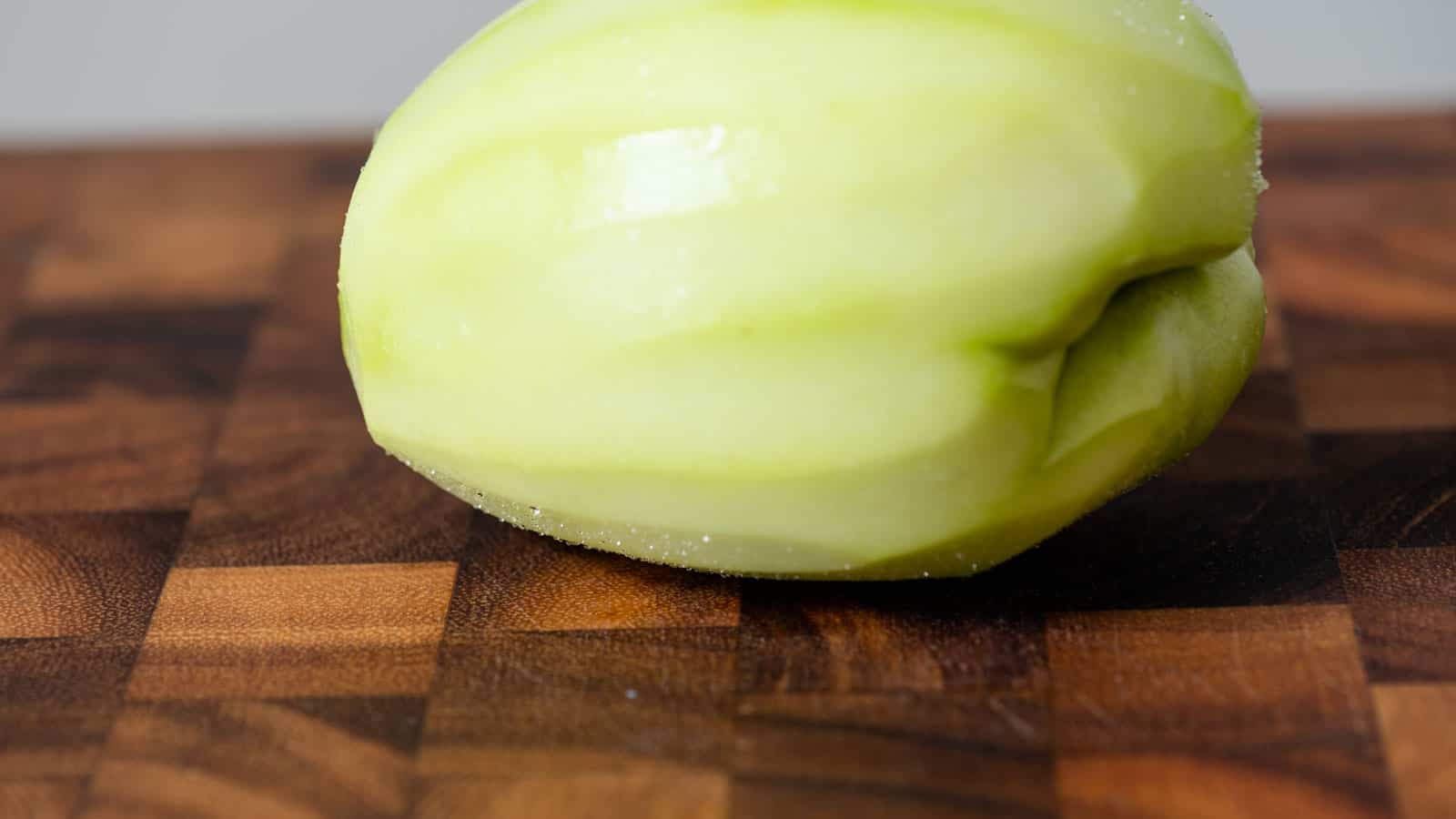 PEELING CHAYOTE
Like butternut squash, chayote releases sap when you peel the skin. The squash releases a sap whenever its skin is pierced or damaged. The sap leaves a funny feeling on your hand, almost as if a dry film is coating your hand. I don't mind it because it usually goes away after I wash my hands a few times. Some people like to wear gloves to keep the sap from getting onto their skin.
The skin along the ridges of the chayote (on the body or bottom of the squash) can be difficult to peel. Try your best to use a paring knife to peel the skin as it can be tough to eat.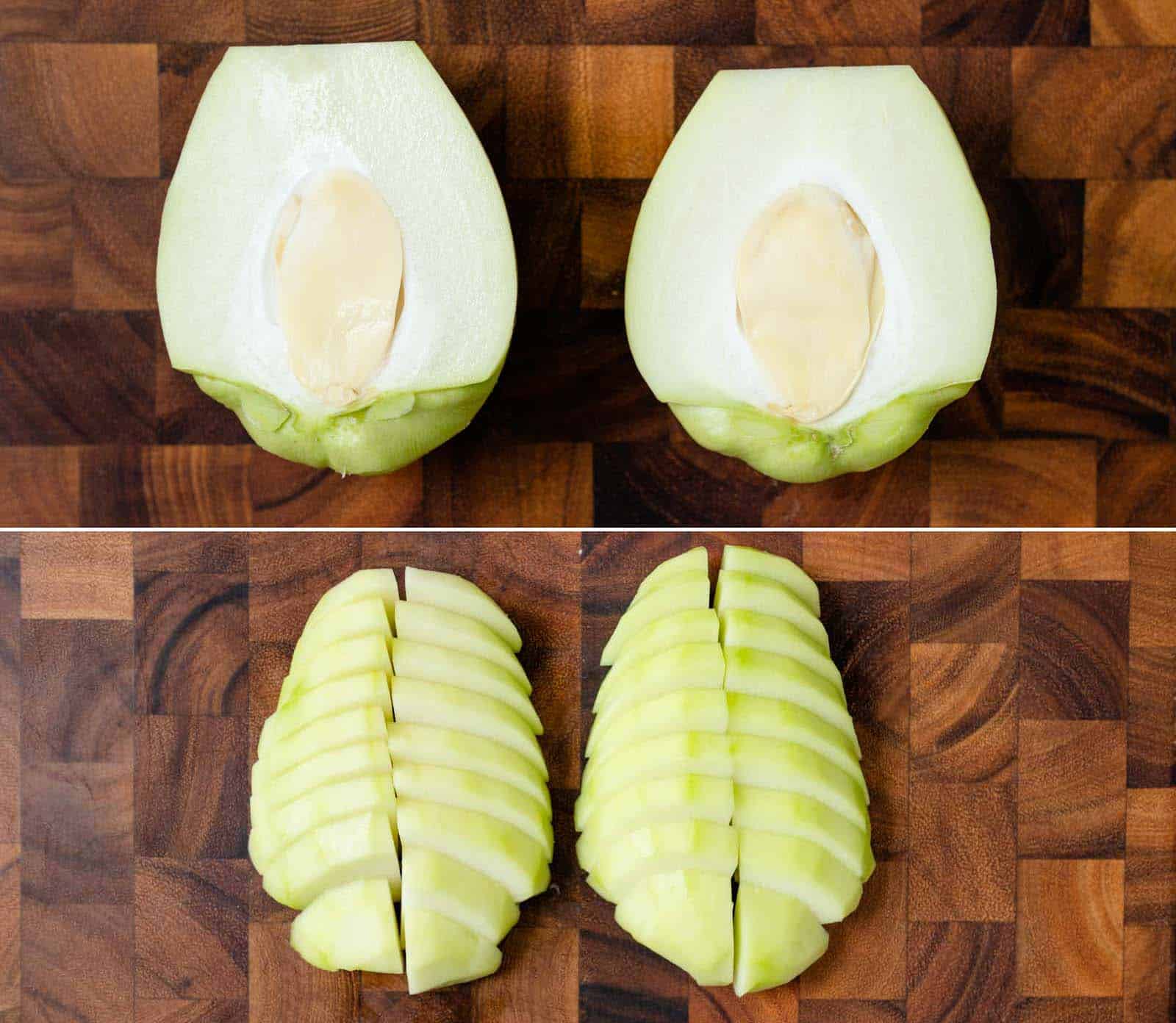 INNER SEED
Mama Lin always removes the inner seed from the chayote before cooking. However, many people have told me that they eat the seed. Because you're only cooking the squash for 7 to 8 minutes, I don't think the seed will break down enough for it to be pleasant to eat. That's why I recommend removing the seed for this stir-fried chayote recipe.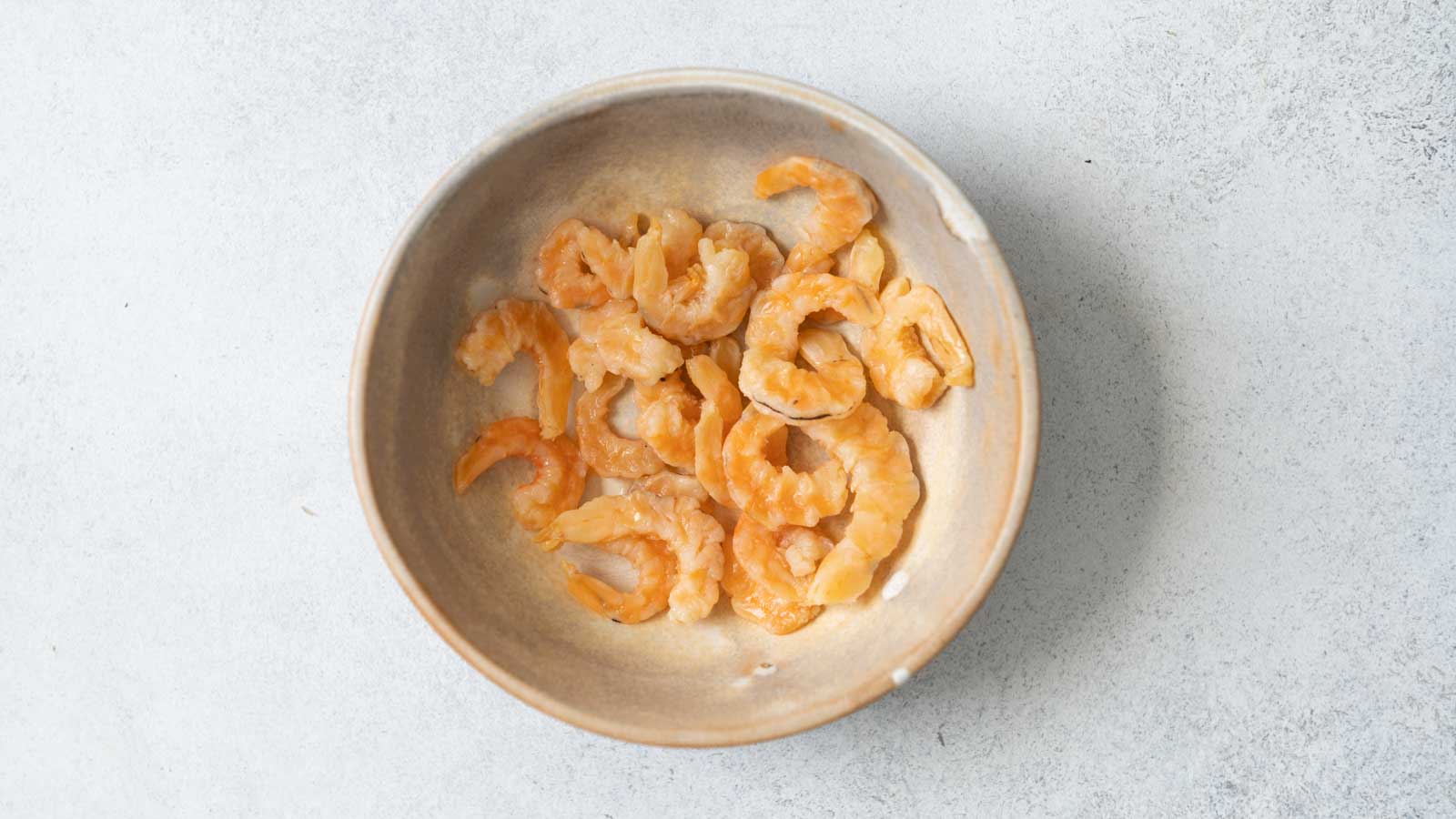 USING DRIED SHRIMP
Dried shrimp adds excellent umami flavor to the chayote. Mama Lin taught me to soak the shrimp for about 30 minutes before cooking with it. Admittedly, I forget to soak them sometimes. It's not the end of the world if that happens. The dried shrimp will soften slightly during the cooking process.
You can find dried shrimp in Asian supermarkets, online delivery services like Say Weee! and Yamibuy, or Amazon.
MORE CHAYOTE RECIPES
Chinese Stir-Fried Chayote Recipe
This stir-fried chayote is a great side dish for dinners. You can easily double the recipe if you are cooking for more people. See note 3 for a vegan option.
Ingredients
24

grams

dried shrimp (2 tablespoons)

600

grams

chayote (21 ounces)

1 1/2

tablespoons

canola, vegetable, or almond oil

35

grams

shallots or onions

,

sliced (1/3 cup)

2

cloves

garlic

,

smashed

a few slices of ginger

1 1/4

cups

water (300ml)

,

(see note 1)

1/2

teaspoon

kosher salt

,

add more to taste

1/4

teaspoon

chicken bouillon powder (optional)

,

(see note 2)
Garnish
sliced scallions

toasted sesame seeds
Instructions
Rinse the dried shrimp and soak them in water for 30 minutes. Once soaked, drain the water.

Using a vegetable peeler, peel the skin off the chayote. If your chayote has ridges on the sides, you may need to use a paring knife to cut off the skin from the ridges.

Slice off the top of the chayote. Place the cut side down and slice the chayote in half. Slice off any skin that's still stuck to the bottom ridges of the chayote. Dig out the seed with a knife or spoon.

Slice each half of the chayote lengthwise, so that you now have 4 sections. Slice each section into 1/4 to 1/2-inch slices. Give the chayote slices a quick rinse and drain them.

In a wok (or a sauté pan), heat the oil over medium-high heat. Add the shallots, garlic, ginger, and dried shrimp. Cook for 1 to 2 minutes. Then, add the chayote.

Add the water (or broth), salt, and chicken bouillon powder, if using. Stir everything together.

Cover the wok with a lid and continue cooking the chayote for 7 to 8 minutes, until the chayote is fork tender. I like to bite into a slice to make sure the texture is to my liking. I want them soft but still a bit firm (i.e., not completely mushy). Be careful if you do this as the chayote is very hot. Taste the broth and add more salt, if necessary.

Transfer the chayote to a serving bowl. Garnish with sliced scallions and sesame seeds.
Notes
I often like to add more water when cooking chayote so that I can eat the broth like soup. I usually add a bit more salt when I do this. You can also use chicken or vegetable broth instead of water.
Chicken bouillon powder is packed with umami flavor. That's why I like adding it to chayote. Knorr or Lee Kum Kee are brands that I use.
Vegan Option: You can sauté the chayote with a few diced shiitake mushrooms. I highly recommend using vegetable broth instead of water for more flavor. You may need to adjust the levels of additional salt, depending on the broth you're using. For more umami flavor, you can add a few teaspoons of mushroom powder (like ground shiitake or porcini mushrooms).
Nutrition
Serving:
1
serving
|
Calories:
135
kcal
|
Carbohydrates:
20.3
g
|
Protein:
7.3
g
|
Fat:
4.6
g
|
Saturated Fat:
0.6
g
|
Cholesterol:
19
mg
|
Sodium:
337
mg
|
Fiber:
6.8
g
|
Sugar:
7.4
g
Did you make this recipe?
Tag @hellolisalin or leave a star rating and comment on the blog!