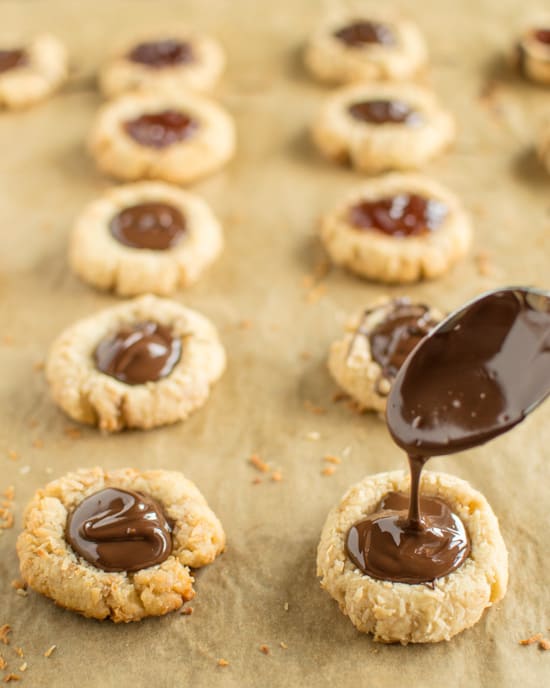 Now that our turkeys are roasted, potatoes mashed, puréed pumpkin dressed in cinnamon and sugar and nestled in a buttery crust, it's time to turn over a new leaf and embrace the gingerbread, cinnamon, and all things Christmas. My apartment is beyond tiny, so there won't be a Christmas tree or 3 million tiny lights that flash constantly. I hope you can forgive me. I'll need that space to continue taking photos for all of you!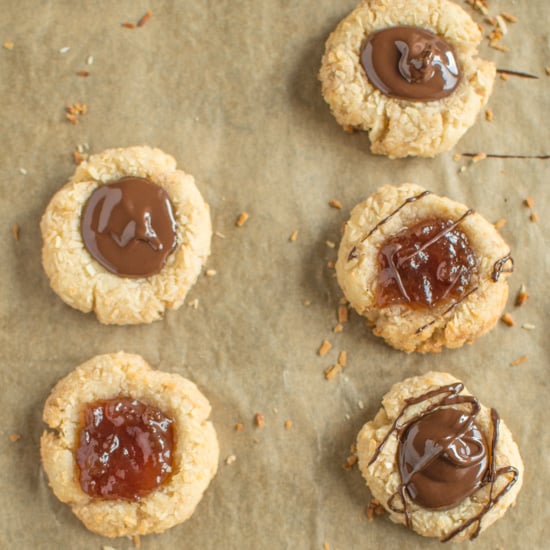 However, I just bought bag of mixed nuts for roasting, a sure sign that the holiday spirit is starting to get serious over here. All I need are my knee-high toe socks, a steamy cup of peppermint cocoa, and a fresh batch of cookies.
Thankfully, Kelly over at The Pretty Bee just gave me 25 delicious (and vegan) ways to get bring out my holiday cheer: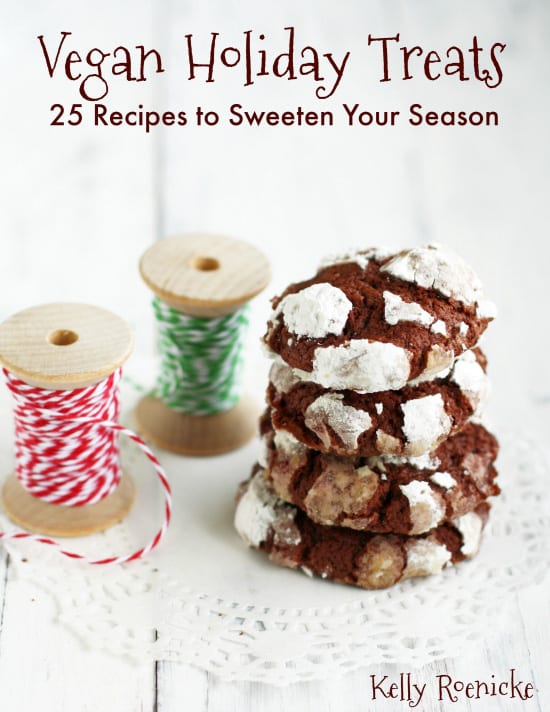 Vegan Holiday Treats: 25 Recipes to Sweeten Your Season
Kelly comes up with yummy vegan and gluten-free recipes on her blog all the time, and her new vegan holiday treats e-book does not disappoint. In the e-book, you'll find:
25 recipes for cookies, cupcakes, muffins, quick breads, candies, and more!
18 recipes that are naturally gluten-free or can be made with a gluten-free flour blend successfully.
printable holiday gift tags designed by Kelly that are adorable!
Here's a peek at all the delicious recipes you'll find in there:
Chocolate Chip Pecan Cookies
Coconut Chocolate Thumbprints (<—-YUM)
Chocolate Drizzle Cookies
Cherry Chocolate Chip Oatmeal Cookies
Pinwheel Cookies
Candy Cane Sugar Cookies
Peanut Butter and Jelly Thumbprints
Chocolate Crinkle Cookies
Pumpkin Chocolate Chip Oatmeal Cookies
Chocolate Chip Shortbread
Old Fashioned Molasses Cookies
Chocolate Chip Coconut Banana Bread
Pumpkin Bread
Glazed Orange Walnut Muffins
Chocolate Cupcakes with Pumpkin Spice Frosting
Frosted Gingerbread Donuts
Coconut Clusters
Peanut Butter Pretzel Bark
Rosemary Garlic Chex Mix
Chocolate Cherry Muddy Buddies
Chocolate Pudding
Pumpkin Cheesecake Dip
Vanilla Bean "Reindeer" Drink
Cinnamon Sugared Almonds
Peanut Butter Chocolate Chip Granola
All the recipes in there are very easy to follow and look fantastic. I've tried the Coconut Chocolate Thumbprints, which were absolutely delicious. The entire batch was gone in a day!
Get ready to bake a storm this holiday season and get the e-book for $7.99! Check out the details here. But wait, I'm also giving away a copy of this e-book to one lucky winner! Enter below by December 10th.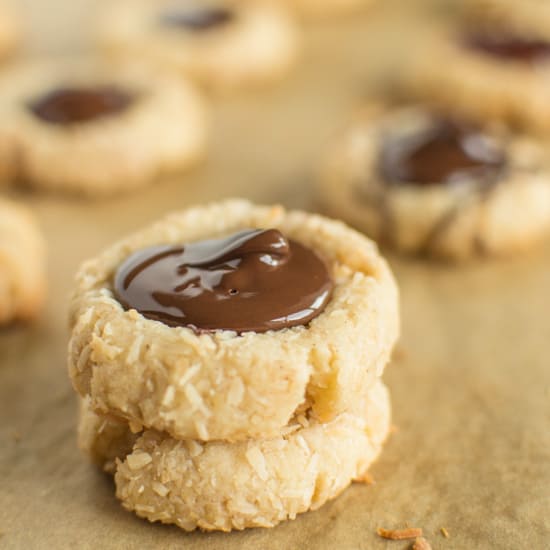 Kelly is letting me share her Coconut Chocolate Thumbprints recipe with you all, just so you can get a taste of the yummies from the e-book. Hope you enjoy this as much as I did!
Coconut Chocolate Thumbprints
Ingredients
1/2

cup

(95g) sugar

3/8

cup

(65g) vegan buttery spread

2

TBS

unsweetened applesauce

1

cup

(120g) all-purpose flour

1/2

cup

(40g) unsweetened shredded coconut

1/4

tsp

salt

1/2

tsp

pure vanilla extract

2/3

cup

(50g) unsweetened shredded coconut for rolling

1 1/4

cups

(300g) dairy-free chocolate chips
Instructions
Mix the sugar and vegan buttery spread together with a hand mixer or in a food processor. Mix in the applesauce.

Add in the flour, coconut, salt, and vanilla extract until a dough forms. Shape it into a large mound and refrigerate the dough for 30 minutes.

Preheat oven to 350 degrees F (175 degrees C). Line two baking sheets with parchment paper or silicone mats.

Pour 2/3 cup of shredded coconut in a small bowl. Form a 1-inch ball of dough, and roll it in the coconut. Flatten the cookie out a little on a baking sheet, and make a thumb imprint in the center of the cookie. You are going to fill chocolate in that imprint later.

Bake for about 10 to 12 minutes, or until the edges of the cookies turn a little golden brown. Some of the imprints may lose a little bit of shape during the baking process, but that's okay. Let the cookies cool while you prepare the chocolate filling.

In a microwave-safe bowl, melt the chocolate chips. Microwave it for a minute, and continue microwaving at 10 to 15 second increments until all the chocolate chips are glossy. They don't need to be completely melted. Stir the glossy chips to get a smooth pool of liquid chocolate.

Fill the center of each cookie with chocolate. I filled some with strawberry jam and drizzled chocolate over a few cookies for some extra fun. The chocolate will harden when it cools.

Store them at room temperature in an airtight container. Enjoy!
Did you make this recipe?
Tag @hellolisalin or leave a star rating and comment on the blog!
Enter the giveaway to win yourself a copy of Kelly's awesome vegan treats e-book!
This post contains affiliate links, which means that I earn a small commission when you buy a product through the links above. Thanks for supporting Healthy Nibbles & Bits!