This coconut Kahlúa hot chocolate recipe is a great way to stay warm during the winter!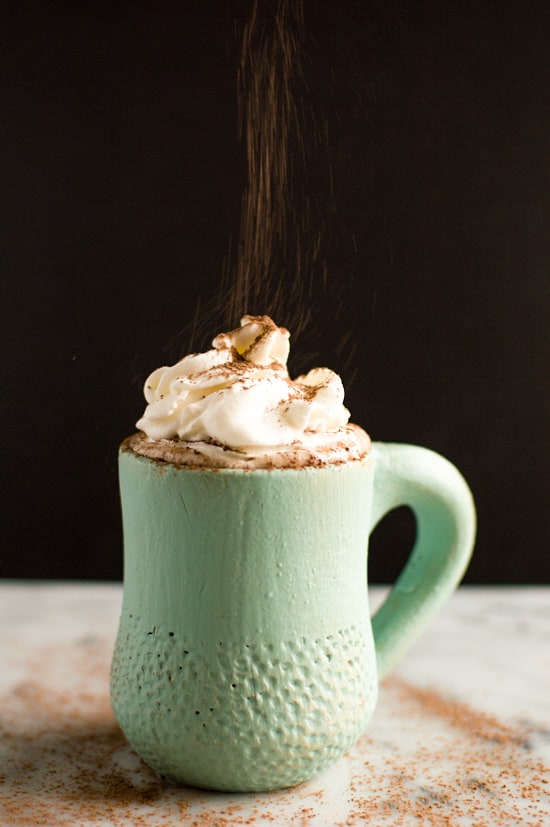 Happy new 365 days, everyone! While many of you were busy sipping away your New Year's Eve champagne, I was busy getting my Indian food on. And while you were getting ready to count down the last seconds of 2014, I was waking up from my curry-induced nap just in time for the countdown. Is that a sign of me getting old?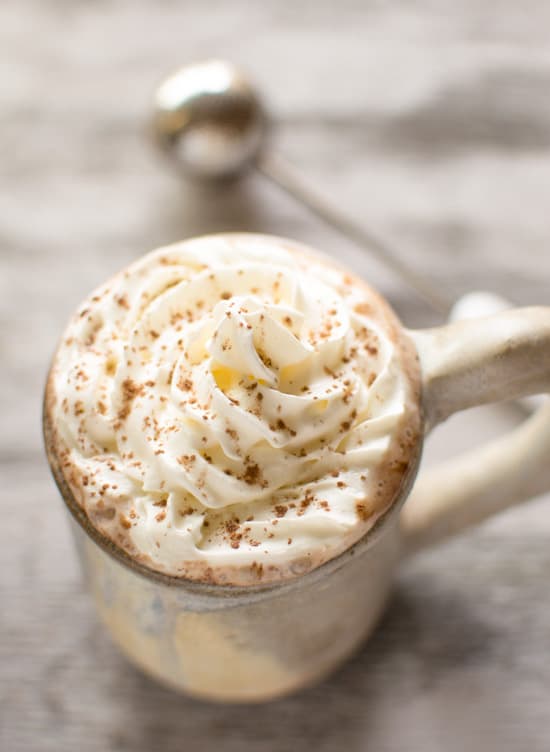 As it's the new year, we need to talk food resolutions. I've come up with a few:
try a new recipe from a cookbook twice a month (and possibly host a cookbook club?)
cook more Middle Eastern food
eat out once a week (because I need to try new flavors)
find Indian Chinese food
get going with bread-making
cook with alcohol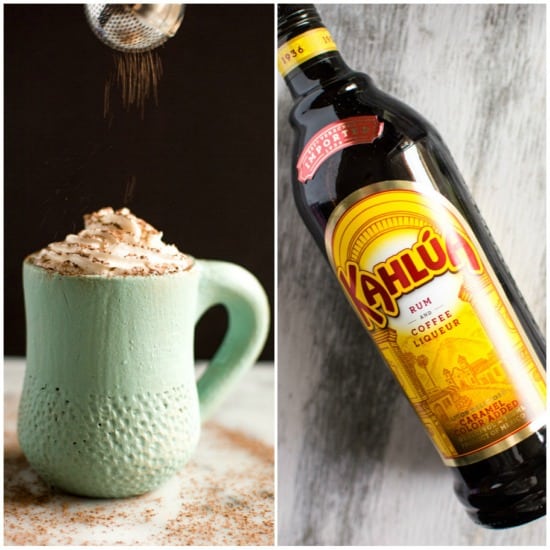 Cooking with alcohol is one of those things that I don't do enough of. Yes, I know I did just come up with some Kahlúa snack bites recently, but that's about it! In the new year, I want to experiment with a few more mixed drinks, steep some meats in good ol' wine, and bake some fantastic rum desserts. Where should I begin?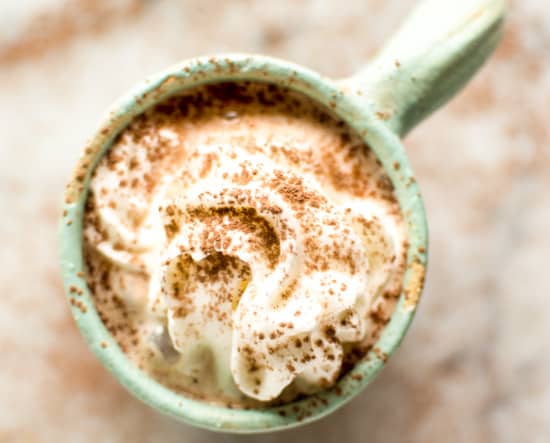 I think the first time I feel like I "graduated" during my drinking career was when I added small amounts of liqueur to my coffee. Gone were those days of drinking Keystone Light and shots of very cheap alcohol. Drinking became a tasteful venture, and I didn't just drink to get drunk. Admit it, we've all been through that phase. Adding a dash of Kahlúa to my hot chocolate not only tastes good, but it reminds me how much my taste for adult beverages have evolved.
Cheers to the new year and fulfilling my food resolutions!
Coconut Kahlua Hot Chocolate
Ingredients
2

cups

unsweetened coconut milk

,

not canned coconut milk

2

tablespoons

Kahlúa

2

tablespoons

sugar

2

tablespoons

unsweetened cocoa powder

dash of ground cinnamon

coconut whipped cream

,

optional
Instructions
Bring the coconut milk to boil in a small saucepan. When the milk starts bubbling, stir in the sugar and cocoa powder until the sugar is dissolved and cocoa powder is well mixed.

Remove the milk from heat, and stir in the Kahlúa. Add a dash of cinnamon and stir.

Serve in two cups and top it with whipped cream if you like.
Notes
Adapted from Damn Delicious.
Feel free to use any other type of milk if you like.
Make sure that you are using coconut milk that comes in a carton. The canned kind of coconut milk is a bit too rich for this.
Did you make this recipe?
Tag @hellolisalin or leave a star rating and comment on the blog!