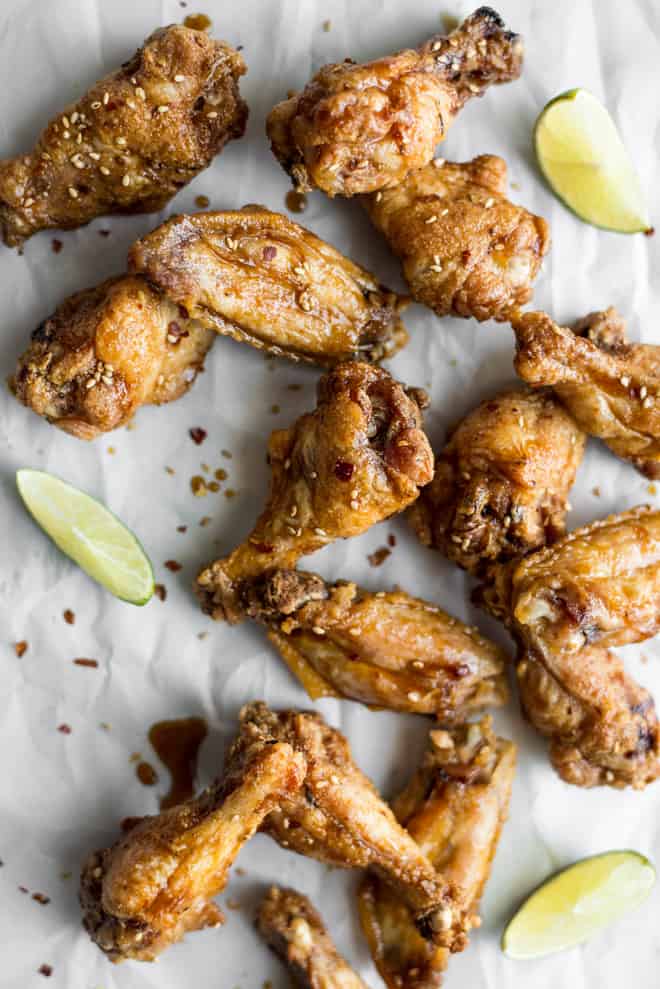 When I was in 5th grade, about 10 years old, Mama Lin decided to put me in afternoon Chinese school. For an entire year, after I got out of day school, I hopped on the bus and made my way to Chinatown for 2 hours of Chinese lessons. I did this FIVE times a week. You can see why I needed something comforting to get me through those long days.
For those of you who aren't familiar with Chinese fried chicken, here's the scoop. It's not just your run-of-the-mill fried chicken that you would find at a KFC. The outer skin is thin and crisp. The flavors are heavy on garlic, salt, five-spice and, undoubtedly, that old reliable MSG. Whenever you finish eating a fried drumstick, expect to see your fingers covered in grease, a sign that you just ate a decent piece of chicken.
I can't get away with eating that amount of grease anymore. Age does funny things like that. That's why we're making baked fried chicken instead. It's based on Nagi's Crispy Oven Baked Chicken Wings, a genius recipe for making crispy wings with significantly less fat than frying. You bake the wings at low heat first, then bump it up to give the wings that nice crunchy exterior. Be ready for the crackle as these babies are baking away in the oven. It's a beautiful sound.
I'm pairing these wings with a simple sweet and tangy honey chili lime sauce that's truly finger-lickin' good. Get those towels ready for these cracklin' chicken wings! You'll need it.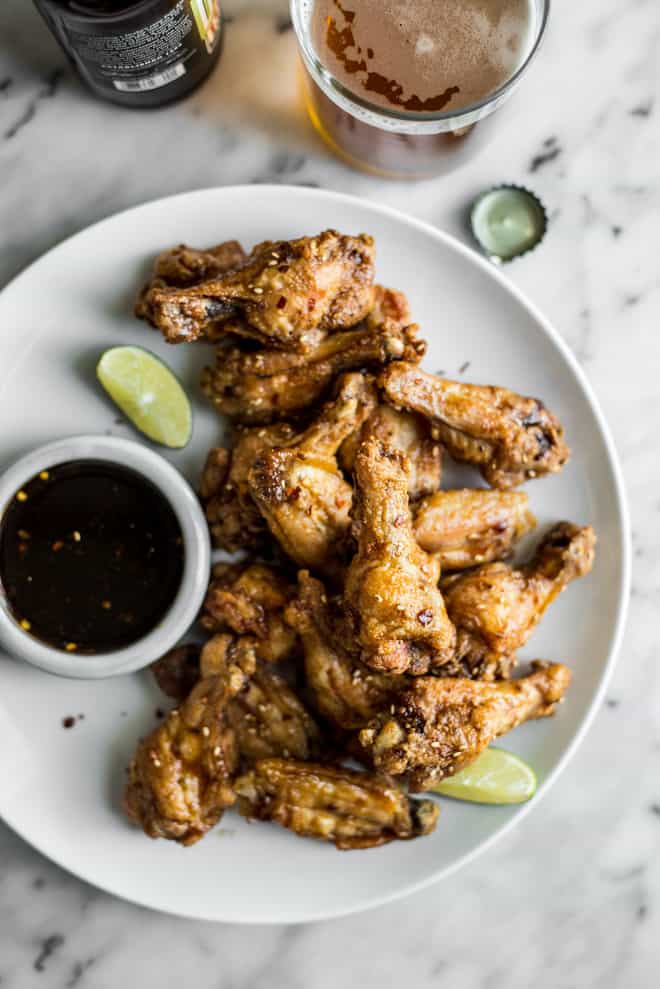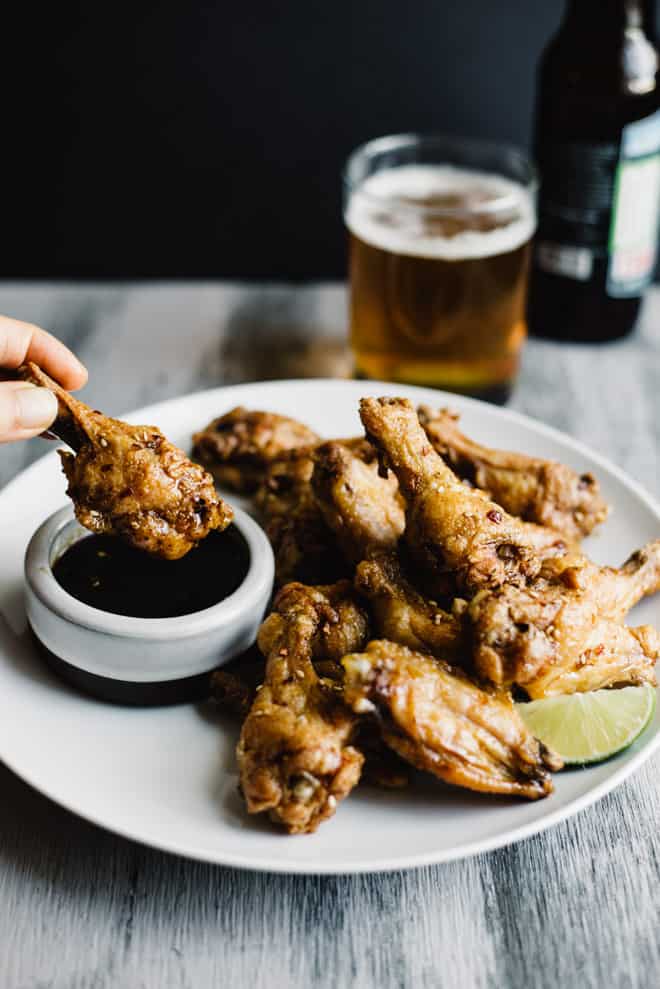 MASTER MY MISTAKES / COOKING NOTES
Turn on Those Kitchen Fans: Maybe it's the overly sensitive smoke detectors in my house, but I set off all 5 smoke alarms the first time I baked these wings. I suppose burning hot animal fat in the oven can do that. I don't want the same thing to happen to you. The solution to my problem was leaving the windows open and the kitchen fan on when I'm baking the wings at 425 degrees F (220 degrees C). You may want to consider doing that, too.
Honey Chili Lime Sauce: The sauce is a bit runny when you first make it, which is why I suggest making it when there's still about 30 minutes left in the cooking process. The sauce thickens as it cools. The recipe below will probably yield more sauce than you actually need for the wings. Save it for your next stir fry!
How Long Will the Wings Stay Crispy? These wings are best served warm, soon after they're out of the oven. Once they cool to room temperature, they'll lose their initial crisp, but they will still taste great.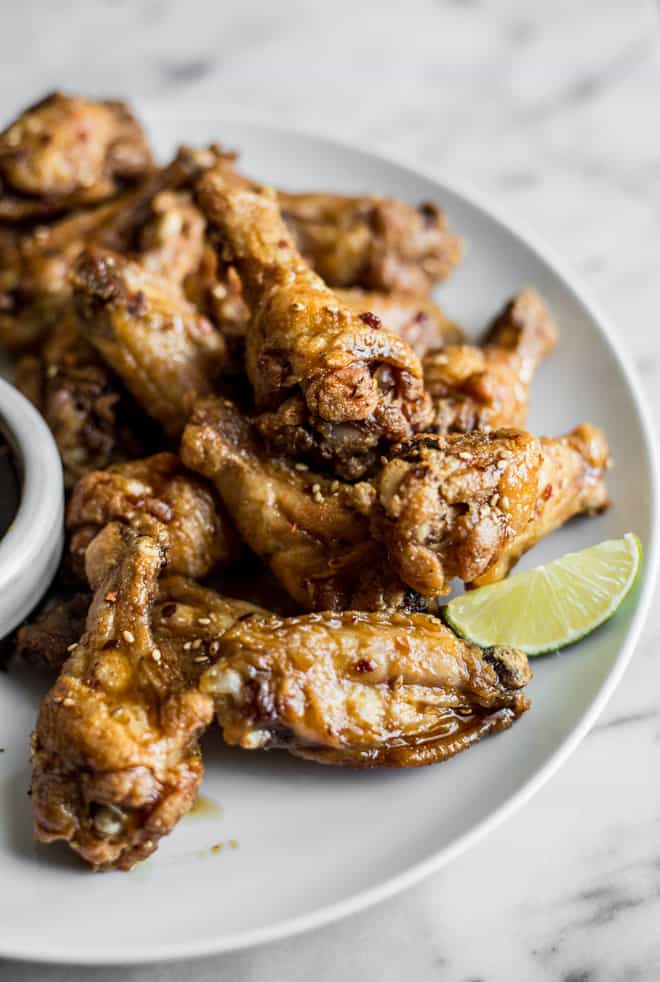 Cracklin' Honey Chili Lime Baked Chicken Wings
Recipe adapted from
Recipe Tin Eats
. Be sure to check out the original recipe! It's delicious!
Ingredients
Chicken Wings
3 1/2

lbs

(1.6kg) chicken wings

2

TBS

baking powder

1

tsp

kosher salt

2

tsp

seasoning of choice

, optional; I used Michelle's Magic Mushroom Powder

cooking spray
Honey Chili Lime Sauce
6

TBS

honey

4

TBS

low-sodium tamari

,

or soy sauce, if not gluten free

4 to 6

TBS

lime juice

,

adjust to your taste

1/8 to 1/4

tsp

red pepper flakes

1/8

tsp

granulated garlic

1

TBS

coconut aminos,

optional

1

TBS

fish sauce

,

optional
Instructions
Preheat oven to 250 degrees F (120 degrees C). Arrange your oven racks so that one is in the upper third slot (just above center), and one is in the lower third slot (just below center).

Line a large baking pan with foil. Place an oven-safe cookie rack on top of pan. Spray cookie rack generously with cooking spray. Set aside.

Chop the chicken wings into three pieces, along the joints. Keep the 2 meatier sections for the baked wings. I usually save the wing tips for making chicken broth. Using paper towels, pat dry chicken pieces.

In a gallon-sized plastic zippered bag, mix baking powder, kosher salt, and seasoning, if you're using it. Throw in chicken wings and drumettes. Seal bag and shake everything up until chicken pieces are coated with powder mixture. Place chicken pieces on top of greased cookie rack. Don't worry if the wings are close together.

Place wings in the lower third slot and bake for 30 minutes. Bring the heat up to 425 degrees F (220 degrees C), and bake for another 45 to 40 minutes, rotating the pan halfway through baking.

While wings bake, prepare dipping sauce. In a saucepan, bring sauce ingredients to boil and simmer for a few minutes. Remove from heat and let cool for 20 minutes.

When wings are a nice golden brown, take them out of the oven and let them rest for 5 to 10 minutes before serving. Brush sauce on wings or use it for dipping.
Did you make this recipe?
Tag @hellolisalin or leave a star rating and comment on the blog!
Disclosure: This post contains affiliate links.