Sweet, crispy tofu strips are the main attraction in these fun, flavorful vegan sliders that are topped with quick pickled vegetables and a miso aioli.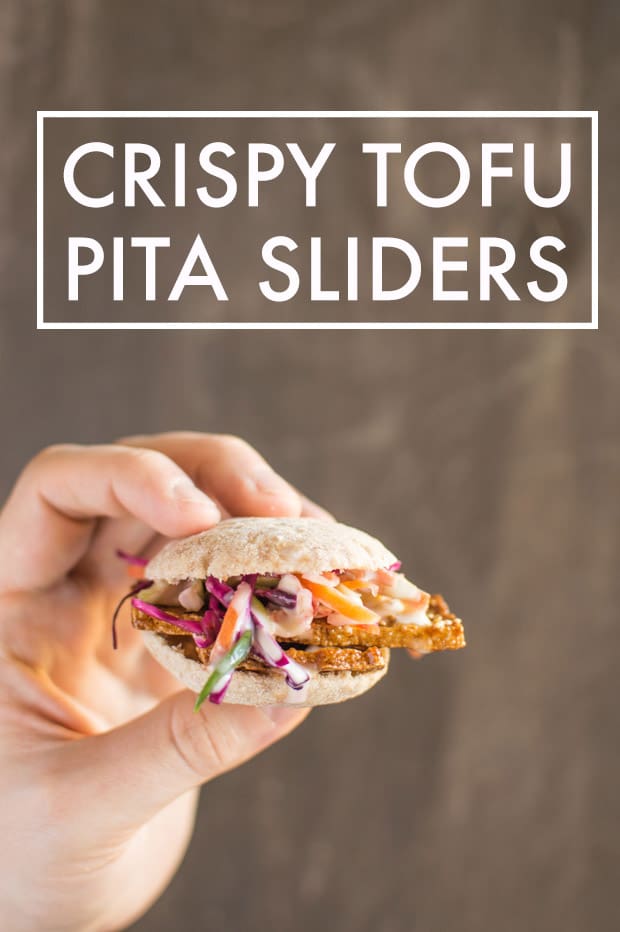 Thank you House Foods for sponsoring this post! Having used their soy products for a while now, I'm excited to bring this recipe to all of you!
Someone once asked me why sliders are called "sliders." Of course, I had no clue. The best thing to do during these situations is to make up something and be very confident in your delivery. Well, I'm not sure if it's the best thing to do, but that's what I did.
"Oh, I think they're called sliders because the cooks used to just slide it across the counter to the customer when the dish was ready."
My friend detected my nonsense in a heartbeat.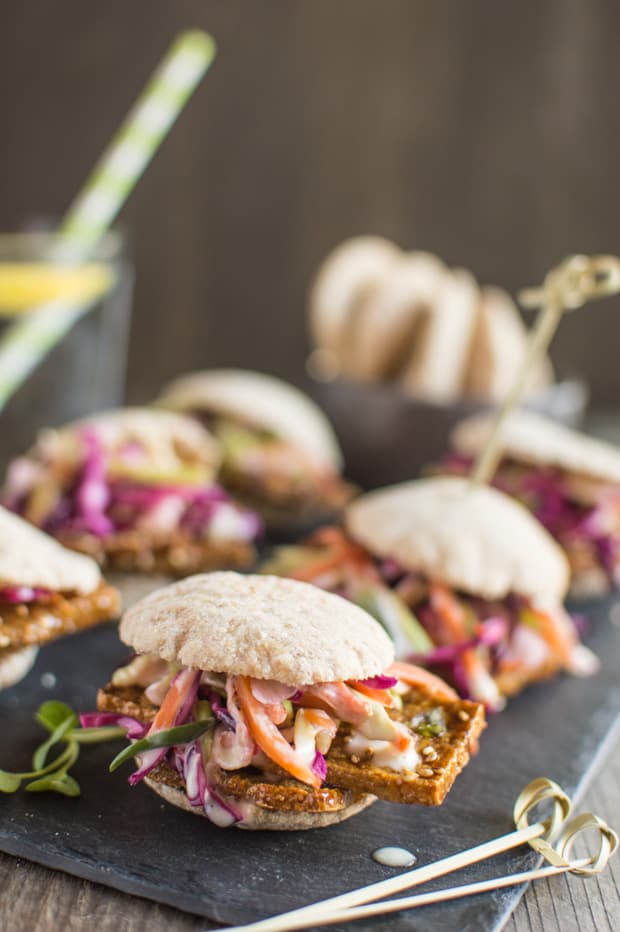 Legend has it that the word "sliders" was coined by the U.S. Navy to describe how easily those small greasy burgers slid right off the griddle. Wherever that word came from, we're going to take the concept of a slider and turn it right on its head. Starting with tofu.
It's National Soyfoods Month, so we're going to make tofu the highlight of our sliders instead of the traditional greasy mini beef patty. I know some of you are thinking it's blasphemous for me to sub the beef for tofu, but believe me, these the crispy tofu we're about to make is so delicious, you'll forget about the beef. Plus, let's ditch the cholesterol and lower that saturated fat for a day.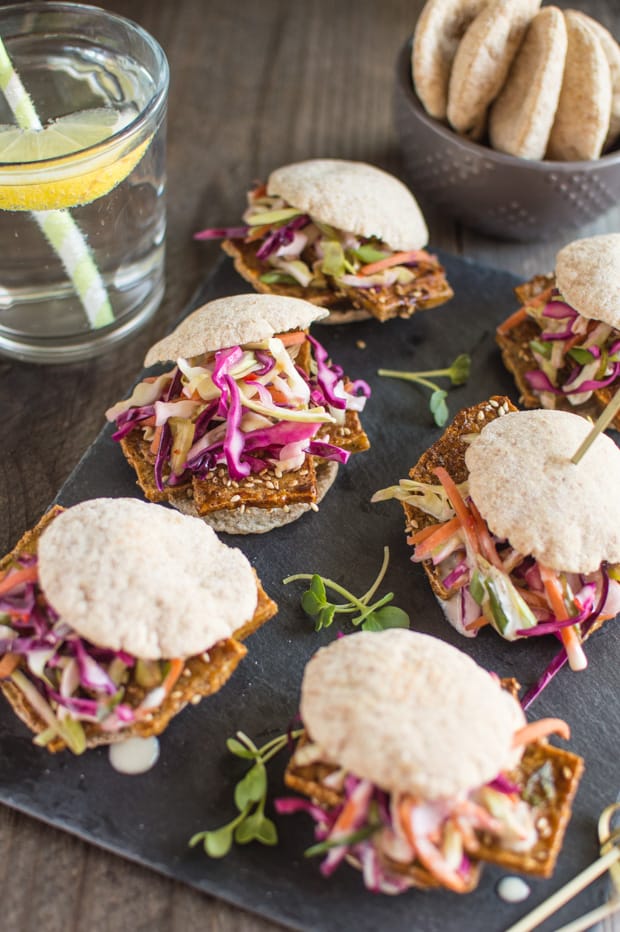 First, you're going to want to use some firm or extra firm tofu. Drain the water and wrap the entire block of tofu with paper towels. We just want to get rid of the excess water before we pan fry the tofu. Then, slice the tofu to about 1/3-inch thick, and we're ready to go!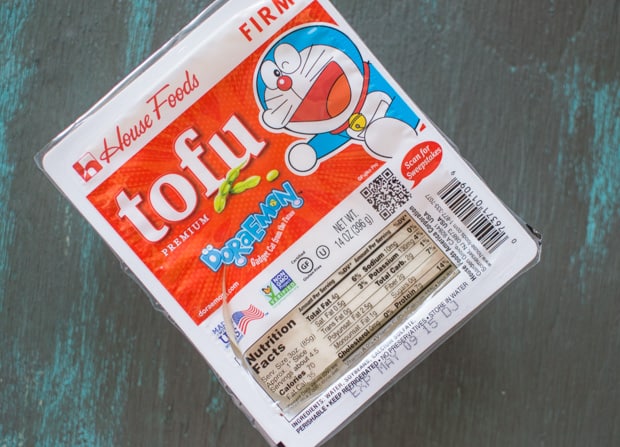 Print
Crispy Tofu Pita Sliders with Miso Aioli
Author:
Prep Time:

20 minutes

Cook Time:

20 minutes

Total Time:

40 minutes

Yield:

8

1

x
Crispy Tofu Strips
14

-ounce package of House Foods firm tofu

2 tablespoons

sesame oil

3 tablespoons

maple syrup

3 tablespoons

low-sodium soy sauce
sesame seeds for topping (optional)
Quick Pickled Vegetables
2 ounces

shredded cabbage (I used a mix of red and green cabbage)

1.5 ounces

(

1/2 cup

) shredded carrots

3

green onions, sliced

1/4 cup

rice vinegar

2 tablespoons

sugar

2

Thai chilis, thinly sliced

1/2 teaspoon

sesame oil
pinch of salt
Miso Aioli
1/4 cup

vegan mayonnaise

2 tablespoons

lemon juice

1 tablespoon

white miso paste

1/4 teaspoon

garlic powder

8

mini pitas
Instructions
Drain the water from the package of tofu, and wrap the tofu in paper towels. Set aside for 10 minutes.
In the meantime, prep the vegetables. Mix the vegetables together in a medium bowl. In a small bowl, mix the rice vinegar, sugar, thai chilis, and sesame oil together until the sugar is dissolved. Pour over the vegetables and stir until combined.
Mix all the miso aioli ingredients in a small bowl. Set aside.
Slice the tofu into 1/4-inch slices. Heat 1 tablespoon of sesame oil in a large saute pan. When the pan is hot, add half of the tofu slices in the pan and let it fry for about 5 to 6 minutes before flipping it over. Make sure that the tofu is golden brown before flipping. Fry the other side for another 5 minutes. Pour the pan-fried tofu strips on a plate. Heat another tablespoon of sesame oil, and finish pan-frying the rest of the tofu.
While the tofu strips are cooking, mix the maple syrup and soy sauce together.
When the second batch of tofu strips is done, add the rest back to the pan. Pour in the maple syrup mixture, and mix everything for a minute or two. Turn off the heat.
Split open the mini pitas. Top one half with 2 tofu strips, pickled vegetables, and miso aioli. Top with the other half of the pita. Serve immediately.