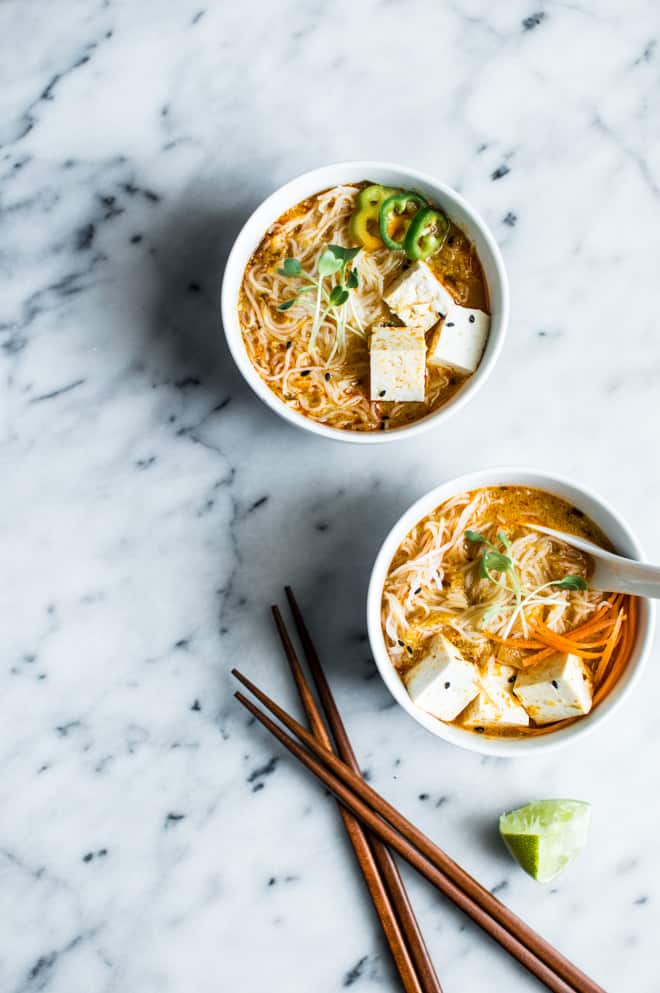 Hello, friends! How many of your are still digging into your mashed potatoes and turkey from Thursday? As for me, I'm almost done polishing off Mama Lin's classic sticky rice. Yes, sticky rice. It isn't a true Chinese Thanksgiving without a rice cooker full of seasoned rice, and I'm okay with that. Much to my relief, I only had to cook for 11 on Thanksgiving, and Mama Lin took care of the turkey. That was a HUGE load off my back, I tell ya! She rocks my socks.
This was also the first time my family visited me at my new place, and I'm glad it passed Mama Lin's inspection. She kept commenting that my house was so clean that she couldn't find a single hair anywhere and that my kitchen was very organized. I scored so many "trophy Asian daughter" points that day. Maybe my clean house will distract her from nagging me about getting a "real lawyer" job. Hah!
Thanksgiving has come and gone, and chilly weather is finally settling in to Sacramento. I've dusted off the space heater, fuzzy boots, puffy jackets, and moccasins, which means I'm only half ready for the cold weather. I've been daydreaming about the curry laksa from Yotam Ottolenghi's Plenty More for a long while, and the seemed like the perfect thing to make to help me deal with the brisk weather.
As I was cooking this, the lovely fragrances of soup base swirled around my kitchen, and it will make your kitchen smell wonderful, too. I know that the ingredients list looks lengthy, but it comes together very easily. All you need to do is blend ingredients to make a paste, boil the broth, and cook noodles. That's it! And this laksa totally hits the spot on those frigid nights when you can barely feel your toes. So let's grab some chopsticks, and get ready to slurp!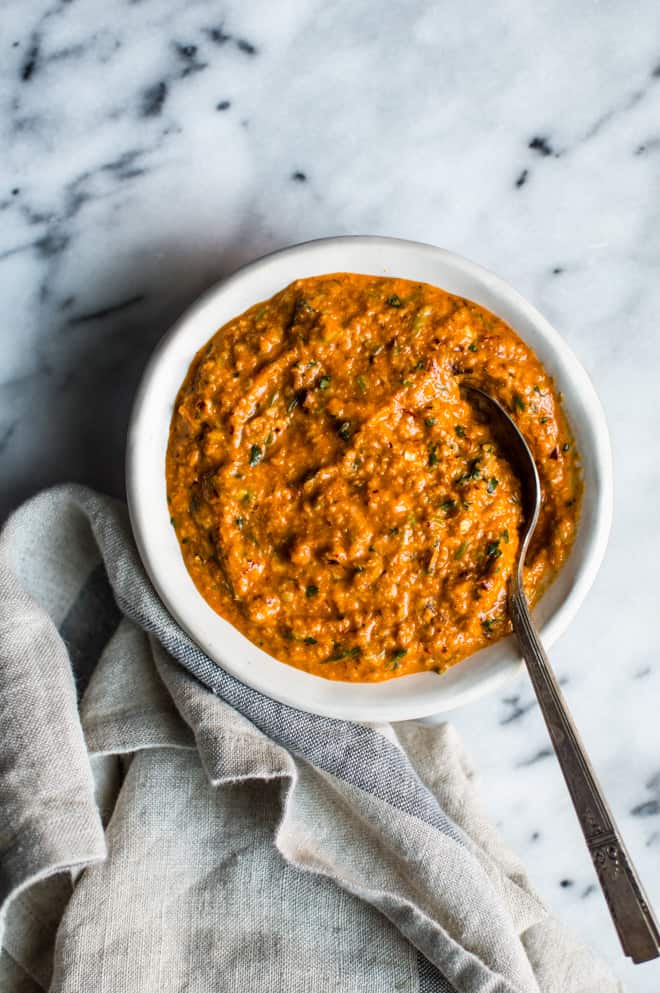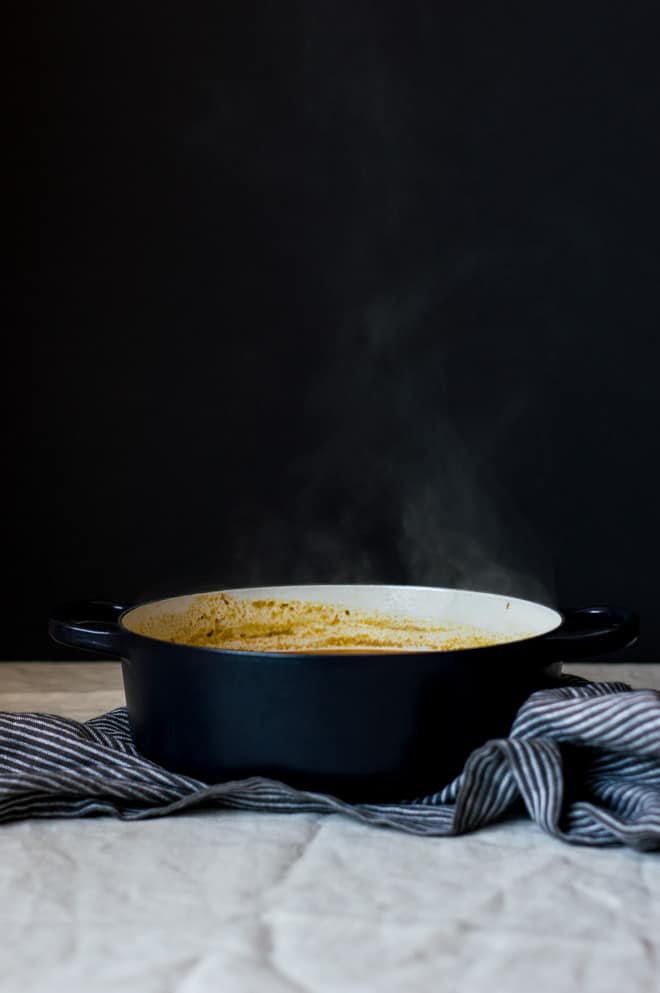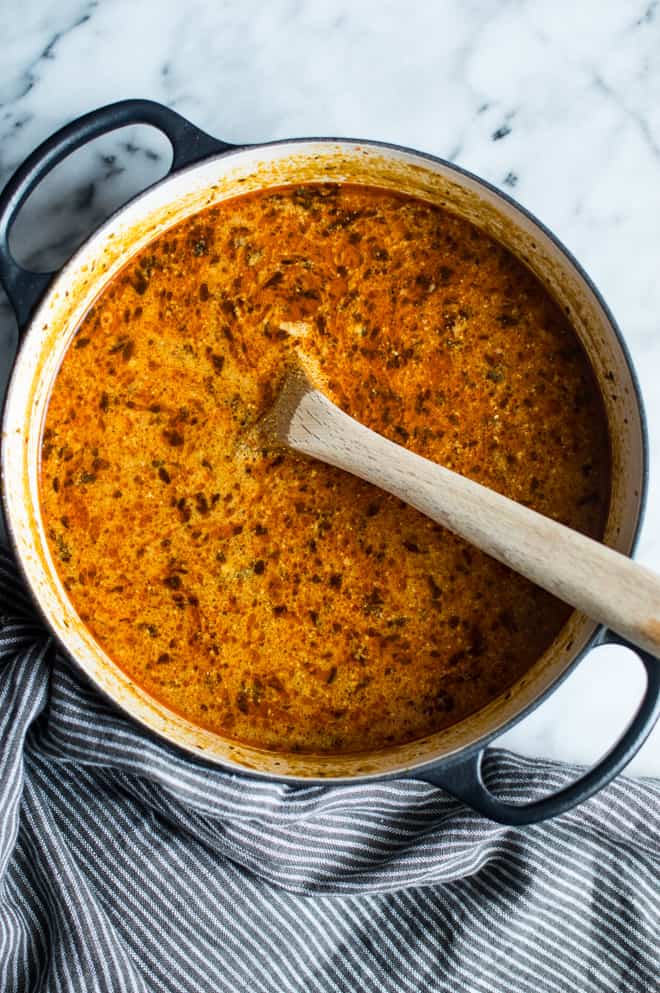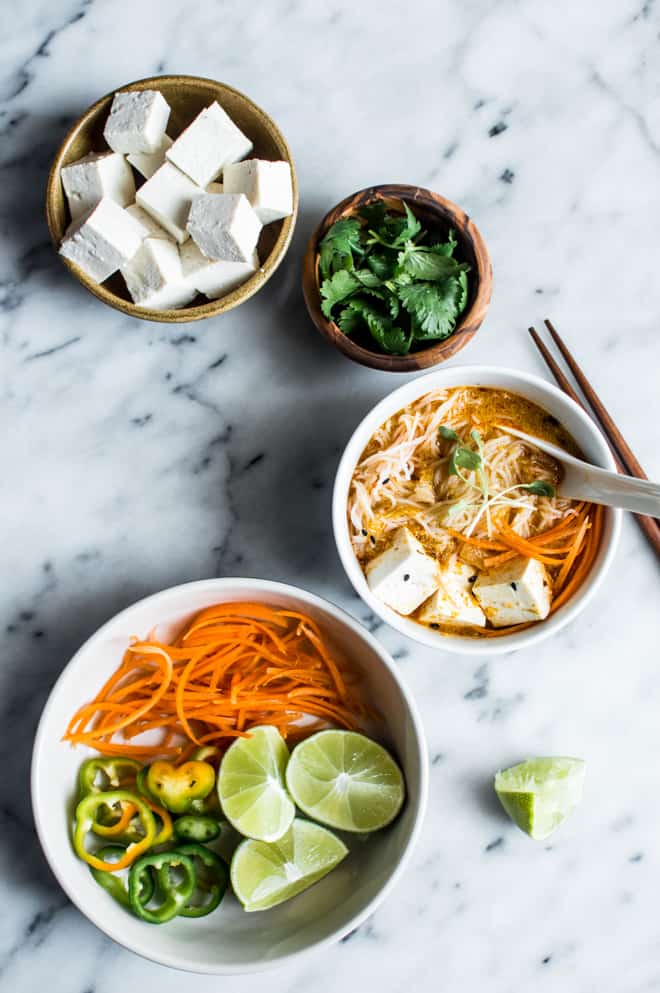 MASTERING MY MISTAKES / COOKING NOTES
Cook Rice Noodles Separately: I used to always make the mistake of cooking noodles in the soup. The noodles absorbed a lot of liquid as it cooked, and there wouldn't be enough soup for my slurping needs. Don't make the same mistake, and cook your noodles separately! If you are making the noodles ahead, I suggest keeping the noodles submerged in cold water until you are ready to serve the laksa. The noodles will stick together if you let them rest on your counter.
Adding Broccoli: I didn't photograph it here, but I ate this with steamed broccoli, and it was amazing. The broccoli florets soaked up the laksa broth, and biting into them was a delightful flavor explosion.
Spice it Up or Down: This recipe will yield a pretty spicy laksa. Feel free to skip the Thai chilis or harissa if you don't want that much spice.
Lemongrass Paste: I know that fresh lemongrass can be difficult to find, which is why I suggest using Gourmet Garden's lemongrass paste. It comes in a tube that's refrigerated, and lasts for a while. It's great if fresh lemongrass is not readily available, or if you don't have time to prep it. You should be able to find the lemongrass paste at a major supermarket. For those of you who are vegan, do note that this paste contains whey.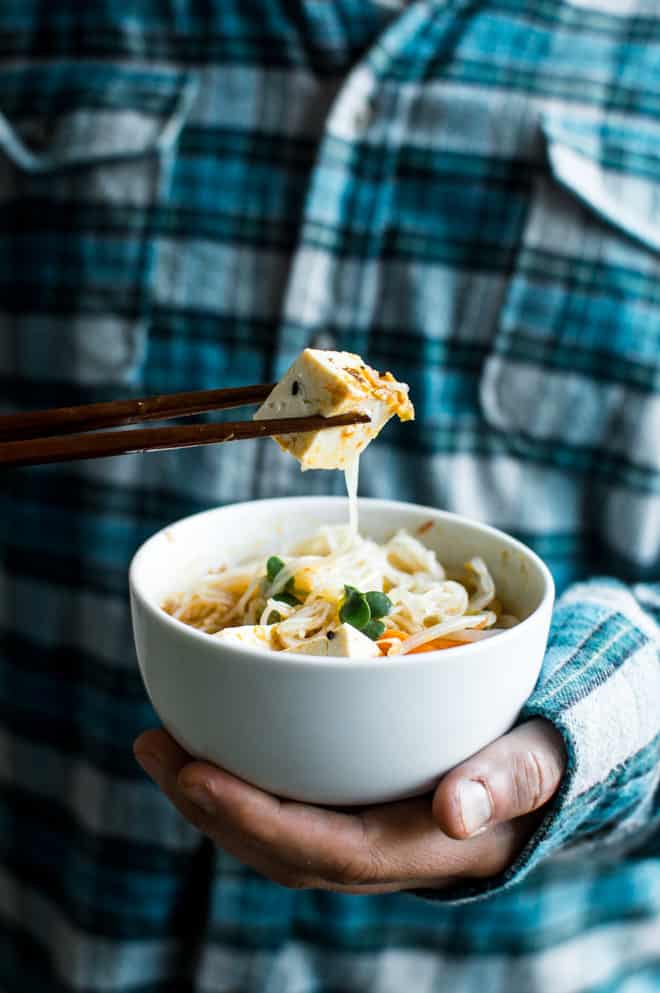 Curry Laksa with Tofu
This curry laksa with tofu is perfect for those cold fall or winter days! Check out the notes for a simplified version of the recipe! Adapted from Yotam Ottolenghi's Plenty More. 
Ingredients
1/2

cup

(100g) chopped onions

8

cloves

of garlic

,

peeled and roughly chopped

1 1/2

inch

piece of ginger

,

peeled and sliced

3

tablespoons

lemongrass paste,

or 1/4 cup, 15g, chopped lemongrass

2

teaspoons

ground coriander

2

Thai chilis

,

sliced

2

tablespoons

harissa paste

2

tablespoons

safflower oil

,

any vegetable oil works

15

sprigs of cilantro

,

about 30 grams, chopped in half

5

cups

(1.2 liters) vegetable stock

1 1/4

cups

(300ml) canned lite coconut milk (or 1/2 to 2/3 cup full-fat coconut milk)

2

teaspoons

curry powder

2

tablespoons

maple syrup

,

or any sweetener of choice

4

kaffir lime leaves

,

optional

kosher salt

,

to taste

4 to 8

ounces

(115 to 225g) vermicelli rice noodles

14-

ounce

(400g) package of medium-firm tofu, drained

2

limes

,

sliced
Optional Toppings
3

cups

(300g) bean sprouts

julienned or shredded carrots

microgreens

black sesame seeds

sliced peppers
Instructions
In a food processor, blend onions, garlic, ginger, lemongrass, coriander, chilis, harissa paste and oil together until a paste forms. Add the bottom halves of the cilantro and blend until it is incorporated. Save rest of cilantro for topping later.

Heat a dutch oven or a large sauté pan over medium-low heat. Add paste and cook for 5 to 7 minutes, stirring frequently to keep the paste from burning.

Raise the heat a little and add stock, coconut milk, curry, maple syrup, kaffir lime leaves and a teaspoon or two of kosher salt. Let broth simmer, partially covered, for 20 minutes.

In a separate pot, bring 8 cups (1.8 liters) of water to boil. Be sure to add a few pinches of salt to the water. Once the water boils, add rice noodles and cook for 3 minutes. Drain noodles and rinse with cold water. If you are nearly ready to serve the laksa, divide noodles into bowls. If you are waiting at least 15 to 20 minutes before serving, keep noodles submerged in cold water to prevent them from sticking.

Slice tofu block into 6 slices, lengthwise. Chop each tofu slice into 8 cubes. Set aside.

When the soup is ready, fish out the kaffir lime leaves, if you're using them. Add salt, if necessary.

Divide noodles into bowls. Add tofu cubes and spoon soup into the bowls. Squeeze a tiny bit of lime juice over each bowl of noodles. Top with carrots, microgreens, sesame seeds, and sliced peppers, if you like.

Store leftover noodles and soup separately.
Notes
NUTRITION INFORMATION

: Makes 4 Servings. Amount Per Serving: Calories: 455, Total Fat 17g, Saturated Fat: 5g, Sodium: 181mg, Cholesterol: 0mg, Total Carbohydrate: 63g, Dietary Fiber: 4g, Sugar: 9g, Protein 12.6g
Quick version with red curry sauce: I made a quicker version of this recipe while I was in England, and simplified the curry paste for the broth. I blended a few tablespoons of a Thai red curry sauce, 1/2 cup diced red onions, 4 teaspoons of garlic paste, 4 teaspoons of lemongrass paste, 4 stalks of green onions, and 1 1/2 tablespoons of oil to create the paste. I cooked the paste on medium-low heat for about 5 minutes, then added broth and coconut milk. Although the original version was more flavorful, this quick and dirty version was quite tasty, too!
If you want to serve the laksa as a small appetizer, I suggest cooking 4 ounces of noodles. However, if you want to make this into a main dish, I would cook about 8 ounces of noodles. There should be enough broth for both options.
This laksa will be a bit spicy. If you don't want that much spice, take out the Thai chilis.
Did you make this recipe?
Tag @hellolisalin or leave a star rating and comment on the blog!
Disclosure: The link to Plenty More is an affiliate link, which means I earn a small commission if you decide to purchase the book through that link. This helps me keep the website going and pay for the groceries for these recipes! Thanks for your support!