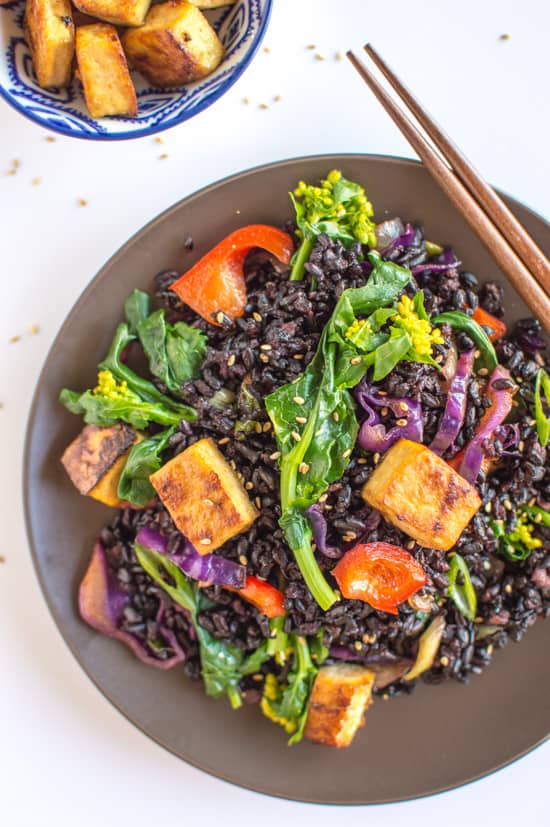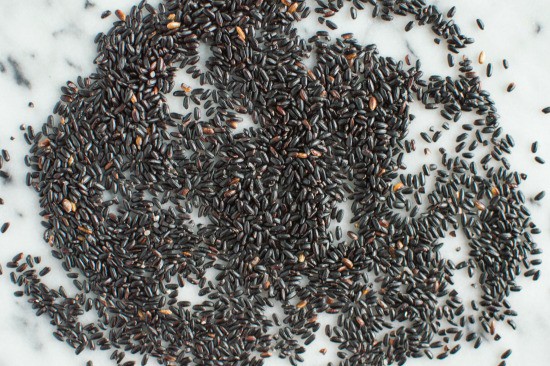 If you asked me 10 years ago, what a perfect bowl of rice should look like, it would be far from this. Growing up, a good bowl of rice was long-grained, white, and fluffy. Then, the whole brown rice revolution swept the healthy food world, and I went along for the ride. Gone were the days when I coveted plain jane white rice for dinner. I became obsessed with maximizing grams of dietary fiber per serving and found myself reaching for colored rice at the supermarket. Of course, Mama Lin had a few choice words for me when I dared to refuse white rice at her dinner table.
"Are you on a diet?
You can lose a few pounds, but don't starve yourself.
Eat your rice so you can stay full.
You want brown rice? Why? It doesn't even taste good.
Here, let me scoop some of this [white rice] up for you."
Mothers. Don't ever try to argue with them.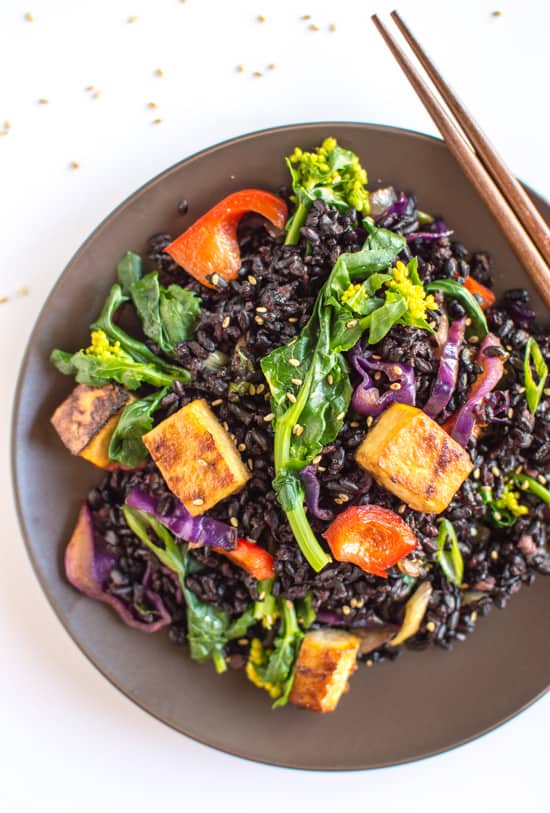 Under normal circumstances, I would toss in some beaten eggs and five-spice powder into my fried rice. Let's throw that idea out the window because we're about trying new flavors today. Gochujang. Many of you know about this Korean red pepper paste already, but this is my latest obsession. Stir some with a bit of scrambled eggs, noodles, or potato hash. Oh my. What can't I have gochujang with?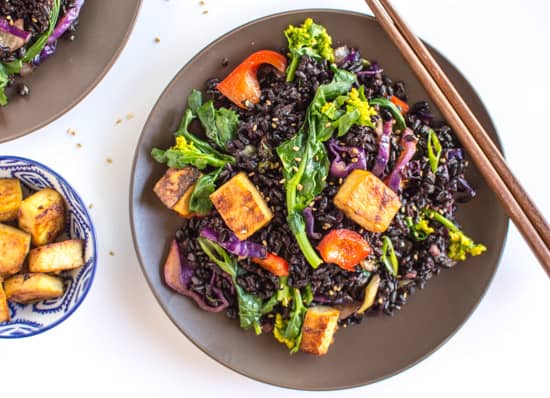 This stir-fry is a full on wham, bam, pow of flavor. Are you ready for some gochujang and forbidden rice in your life?
Forbidden Rice Stir Fry & Baked Teriyaki Tofu
Serves 4.
Ingredients
Forbidden Rice Stir Fry
1 1/3

cups

(270g) forbidden or black rice

3

cups

(725ml) water

1

TBS

olive oil

1/2

medium yellow onion

,

diced

1/2

small red cabbage

,

thinly sliced

1

medium red pepper

,

diced

2

TBS

gochujang,

Korean red pepper paste

1

TBS

MSG-free oyster sauce

1/2

TBS

low-sodium soy sauce

1

stalk of green onion

,

sliced

1

bunch baby gai lan

,

or any other Asian greens, trimmed
Baked Tofu
1

15-ounce (425g) package of extra firm tofu

1

TBS

olive oil

1 1/2

TBS

teriyaki sauce

pinch

of salt
Instructions
Place the rice and water in a medium saucepan and bring it to boil. Once the water starts to boil, reduce the heat to medium-low, and let it simmer for another 15 to 20 minutes minutes, or until all the water is evaporated. Turn off the heat, and put a lid on the saucepan for the rice to finish cooking.

While the rice is cooking, drain the water from the tofu, and wrap it with two paper towels. Press the tofu by setting it between a plate and a heavy object on top. I usually put a saucepan on top of the tofu and weigh it down with a bag of sugar or flour. Press the tofu for 15 to 30 minutes.

Preheat the oven to 350 degrees F (175 degrees C). Line a baking sheet with parchment paper or a silicone mat.

Chop the tofu into 1/2-inch cubes. Toss the tofu with one tablespoon of olive oil, teriyaki sauce, and salt. Arrange the tofu on the baking sheet in a single layer. Bake for about 10 minutes, or until the tofu has browned, and flip the cubes to another side. Continue flipping the tofu every 10 minutes until all the sides are browned.

In a large saute pan, heat one tablespoon of olive oil over medium-high heat. Add the yellow onions, and stir until they start to brown. Add the cabbage, and let it cook for 3 minutes. Next, add the red peppers and let it cook for 2 minutes. Add the cooked rice and stir for 2 minutes. Season the rice with gochujang, oyster sauce, and soy sauce. Stir to combine. Mix in the green onions, saving a little for garnish. Let everything cook for another minute or two and turn off the heat.

In a small pot, bring about 4 cups of water to boil. Once the water is bubbling, add the baby gai lan and cook it for 2 to 3 minutes, or until it turns into a vibrant green color.

Serve the fried rice with some gai lan and baked tofu on the side. Garnish with more green onions, if you like.
Did you make this recipe?
Tag @hellolisalin or leave a star rating and comment on the blog!
Looking for more fried rice recipes?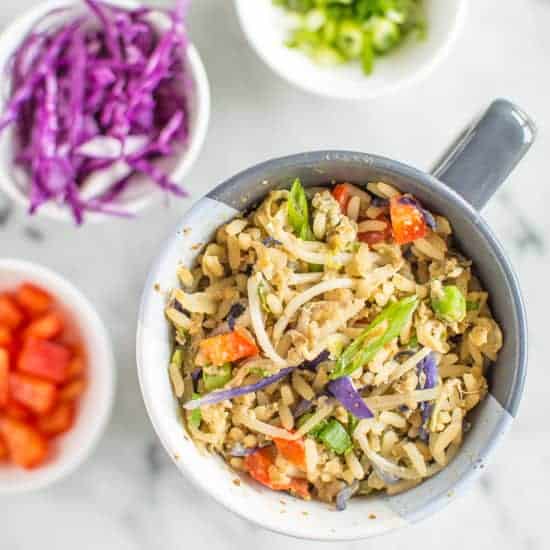 Affiliate notice: This post contains affiliate links. That means when you buy something through the links, I make a small commission at no additional cost to you. Thanks for your support!