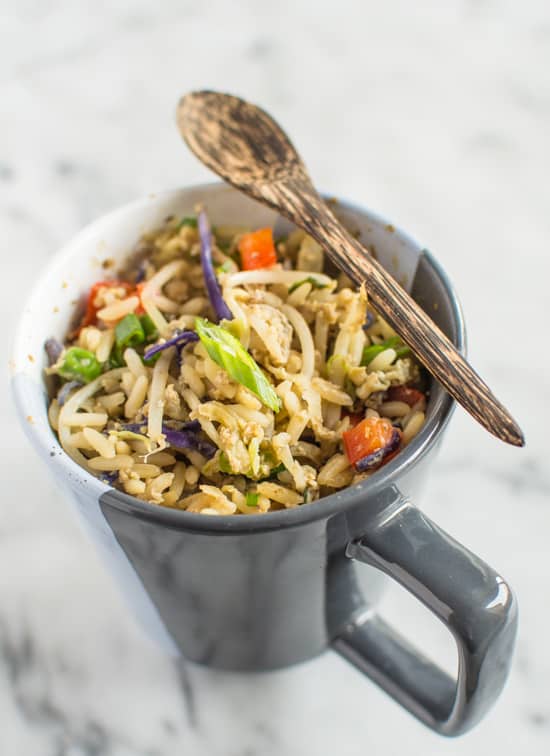 Fried rice has a special place in my heart.
When I was about 11 or 12, I was sent home from school because I had some serious girl pains. Ladies, you know what I'm talking about. I was home alone, and there was no ready-made food at my house except for a loaf of bread. I think any teenager would have just scrounged up some pb&j, toasted the bread, and called it a day. I was feeling a bit ambitious.
At the time, I had never cooked on my own. Sure, I helped Mama Lin with random tasks in the kitchen, but cooking from scratch was an "adult" thing to do. Maybe I felt like pretending to be an adult on that rainy day. I can't remember anymore, but I was determined to cook rice for myself. I had seen my grandmother do it a thousand times. Rinse the rice, set the rice cooker, and ta-da, lunch would be ready. Or so I thought.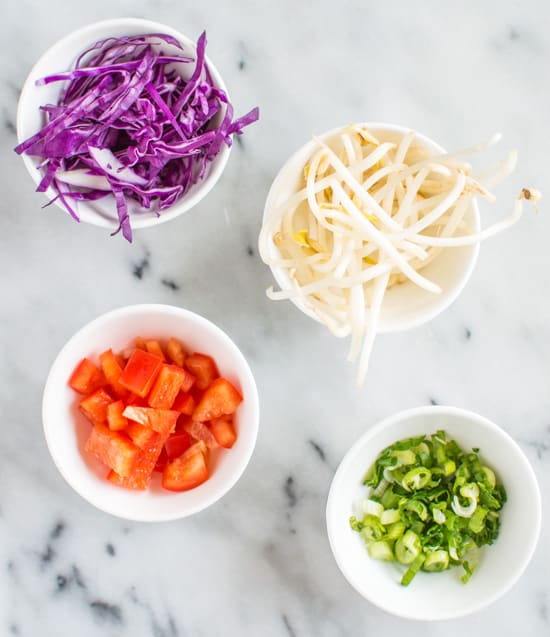 It didn't take long for me to realize that I was in over my head. Goopy would be the best way to describe that rice I made. The pre-teen me didn't realize that the numbers etched inside the rice cooker bowl actually meant something. They told me how much water I should put in there! Even though I was making my way into uncharted territory in the kitchen, I was so sure that I could just eyeball the amount of water. Enter goopy rice.
Then, genius idea #2 came along—fix goopy rice by making it into fried rice. I was convinced that the heat from a wok would help evaporate moisture from the goopy rice and I would be left with perfectly fluffy fried rice. I'm sorry to report that things really don't work like that. I was so ashamed by my efforts that I made sure to clean up the kitchen before anyone got home. No reason to turn this episode into a lifelong family joke.
And that, my friends, is my experience cooking fried rice for the first time. If only I had known that I could cook fried rice in the microwave 17 years ago . . .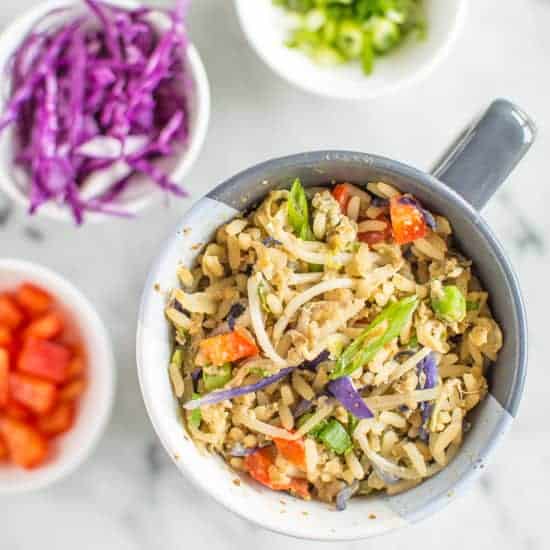 One of my Christmas presents was this Meal in a Mug cookbook—80 single-serving recipes that you cook in a microwave. The Egg Fried Rice recipe immediately caught my eye because everything about it flies in the face of conventional wisdom. The funny thing is, the recipe actually worked! I changed up the original recipe by adding much more vegetables (of course) and spices—five-spice powder, onion powder, and white pepper. Fried rice just isn't the same without a ton of spices.
I wonder what Mama Lin would say to this microwaved fried rice. Probably something to the effect of, "You silly American child."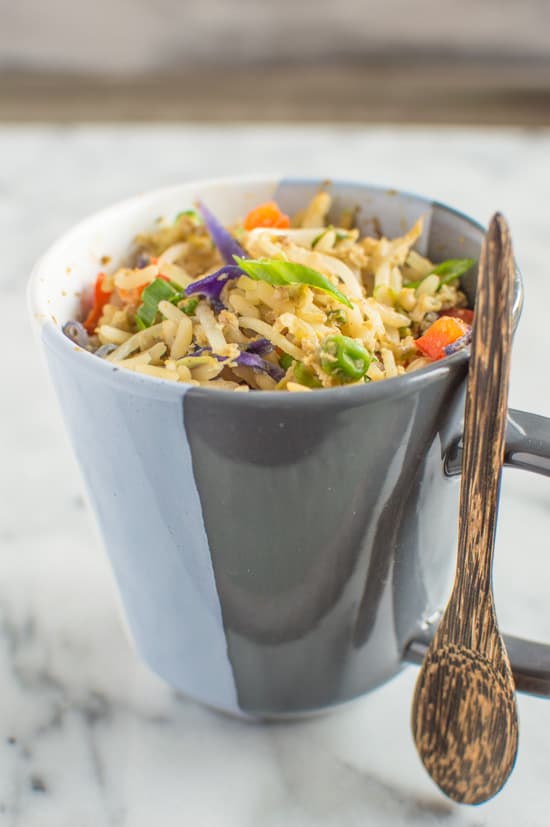 MASTERING MY MISTAKES / COOKING NOTES
All microwaves are different so the cooking time may vary a tiny bit.
When you're microwaving the rice, you're going to cover the top with cling film. Make sure to puncture a hole in the film! You don't want to scald yourself when you remove the film. Trust me, it does not feel pleasant.
I would use a pretty big mug for this. You are making a small meal, after all. Save the teacups for tea.
If you are looking for a regular fried rice recipe, try my 15-minute Egg Fried Rice!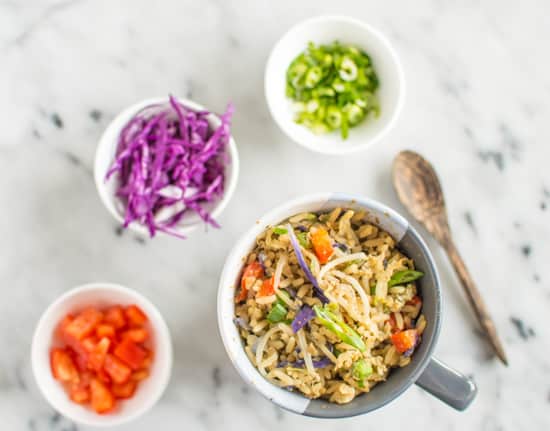 Here's a video of how to make a gluten-free version of this dish! While you're at it, subscribe to my YouTube channel!
Egg Fried Rice in a Mug
This egg fried in a rice is a great single-serving meal for days when you feel too lazy to cook.
Adapted from Meals in a Mug. 
Ingredients
1

cup

cooked jasmine rice

2

tablespoons

frozen peas

2

tablespoons

chopped red pepper

1/2

stalk of green onion

,

sliced

small pinch of mung bean sprouts

small pinch of shredded purple cabbage

1

large egg

1

tablespoon

low-sodium soy sauce

1/2

teaspoon

sesame oil

1/2

teaspoon

onion powder

1/4

teaspoon

five-spice powder
Instructions
Place the rice into a large mug. Lay the peas, red pepper, green onion, mung bean sprouts and cabbage on top. Cover the mug with cling film. Using a knife, puncture one or two small holes through the film. This step is important! You don't want to scald yourself. Microwave on high for 1 minute 15 seconds.

In the meantime, beat the egg and mix in the seasonings (soy sauce, sesame oil, onion powder and five-spice powder). Pour the egg mixture into the mug, and stir with the vegetables and rice

Cover the mug with cling film again, and microwave for 1 minute 15 seconds to 1 minute 30 seconds. Take the mug out of the microwave, and give everything a good stir. Let the fried rice stand for a minute to finish cooking. Use a fork to fluff up the rice and serve.
Notes
NUTRITION INFORMATION: Amount Per Serving: Calories: 344, Total Fat 9g, Saturated Fat: 2g, Sodium: 616mg, Cholesterol: 186mg, Total Carbohydrate: 53g, Dietary Fiber: 6g, Sugar: 4g, Protein 15g
Did you make this recipe?
Tag @hellolisalin or leave a star rating and comment on the blog!