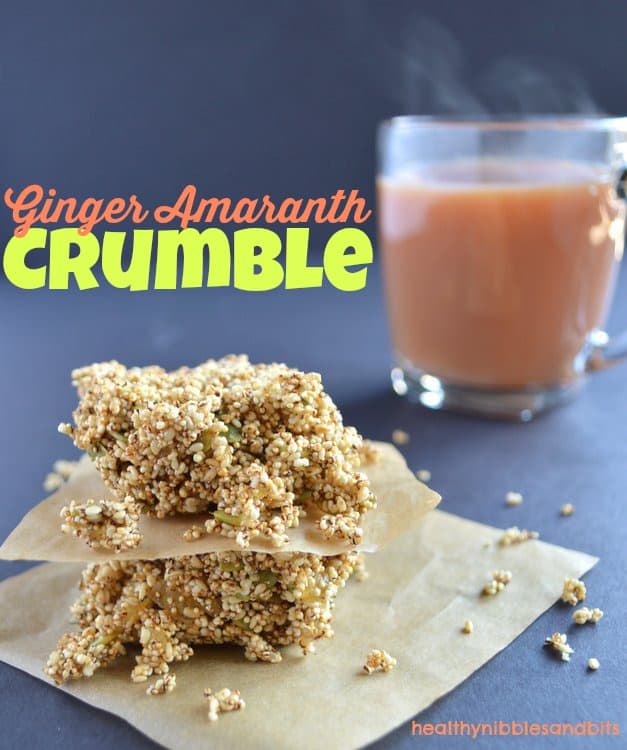 Come to think of it, this will be the first time in 5 years that I have been with my family to celebrate Mother's Day! Oy, my present better be special. At this point in my life, the best gift is dedicating a recipe to her (as well as a fresh batch of the actual goods).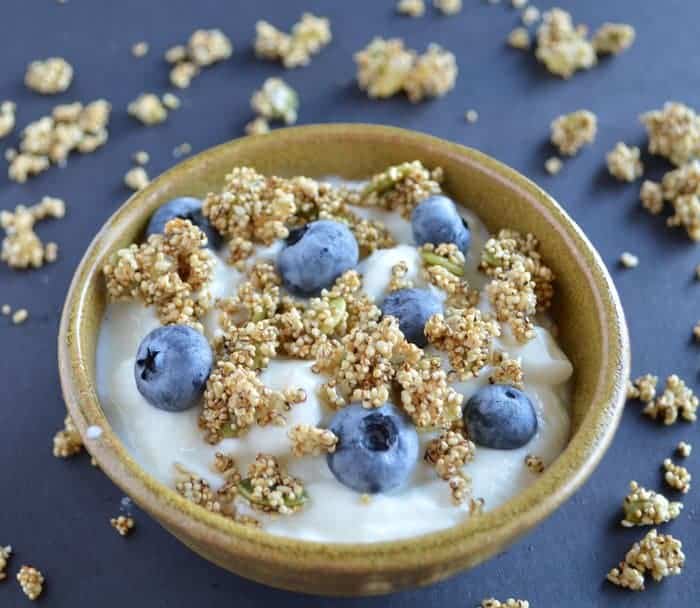 My mother loves candied brittle. LOVES IT! Peanut, sesame, almond–you name it. Growing up, I always found pieces of candied brittle stashed away in cookie tins. And there were many cookie tins in my house. I suppose that's why I have such a penchant for snacking. But I digress.
She's not supposed to eat as much sweets anymore and prefers food with a softer texture. Less sugar + crumbly texture = this ginger amaranth crumble.
Ginger Amaranth Crumble
Ingredients
1/4

cup

+ 1 TBS brown sugar

1/8

cup

honey

3

TBS

water

1

TBS

coconut oil

1

tsp

pure vanilla extract

small pinch of salt

1/4

tsp

baking powder

2/3

cup

amaranth

, popped

1/2

cup

toasted sesame seeds

1/2

cup

pumpkin seeds

1/4

cup

candied ginger

,

finely chopped
Instructions
Heat the brown sugar, honey, and water in a medium-sized saucepan over medium heat.

Stir the mixture occasionally until the mixture bubbles.

Mix in the coconut oil, vanilla, and salt and stir until the mixture turns into an amber color (about 3-5 minutes).

Turn off the heat and mix in the baking powder.

Mix in the popped amaranth, sesame seeds, pumpkin seeds, and ginger to the saucepan until everything is well incorporated.

If you want to eat the crumble like a chewy cereal bar, pour the mixture into a greased 8-inch baking pan. Press the mixture firmly to the bottom, and refrigerate for at least an hour before cutting into it. Store refrigerated.

If you want to eat the crumble as a topping on yogurt or other dishes, pour the mixture onto a baking sheet lined with a silicone mat or parchment paper. Spread the crumble into a thin layer. Let the crumble cool for 30 minutes before serving. Store in an airtight container or refrigerated.
Notes
Inspired by Simply Recipes.[br]Measure out 2/3 cup of amaranth, and pop the amaranth 1 tablespoon at a time.
Did you make this recipe?
Tag @hellolisalin or leave a star rating and comment on the blog!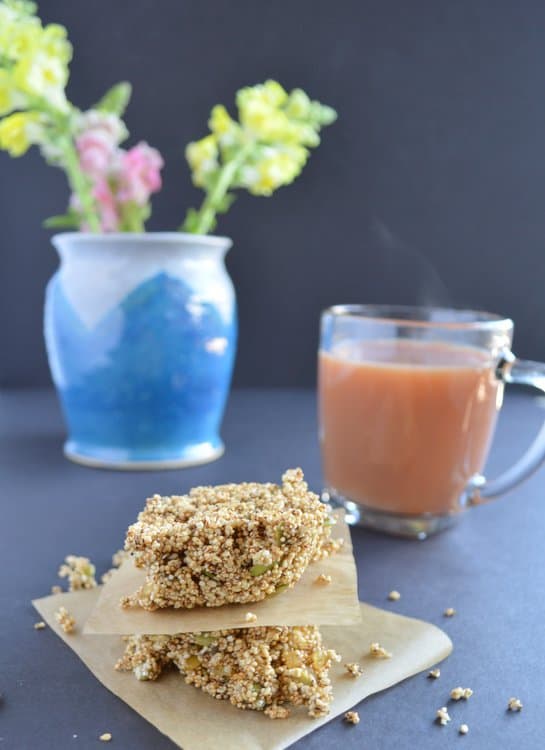 I hope she enjoys this when I give it to her next week!!