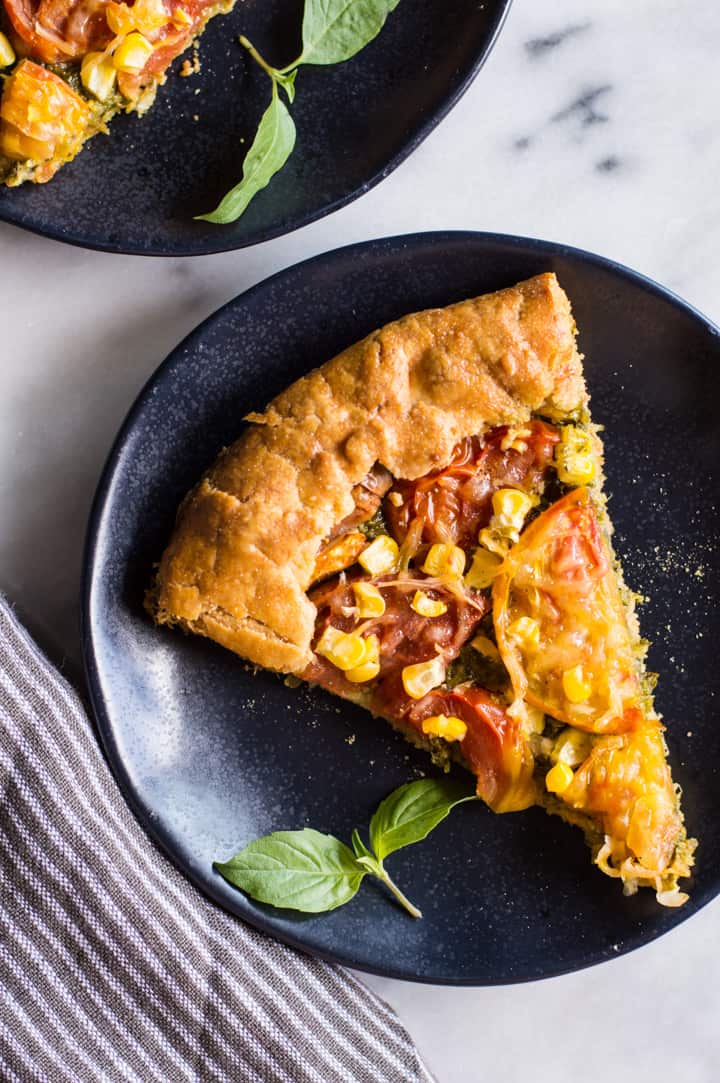 All I wanted was to sink my teeth into a BIG tomato galette. A galette with a crust so flaky, it would leave golden brown crumbs all over my lips. I don't pretend to be a dainty eater.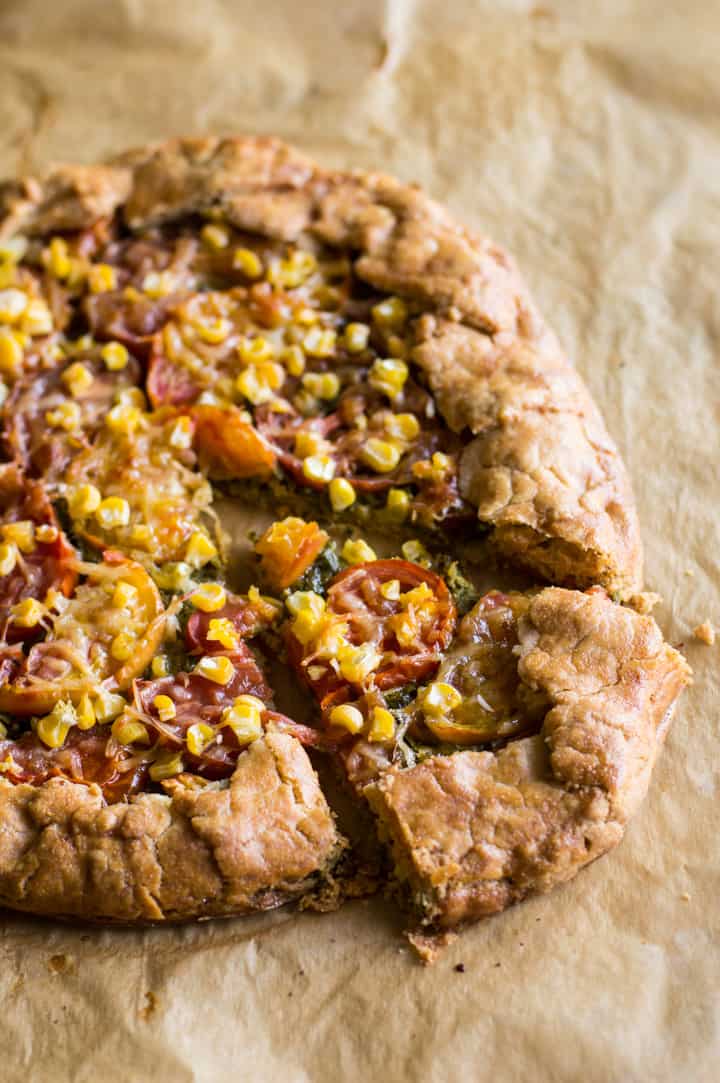 Now that the Whole30 is in the rearview mirror, my food porn daydreams can finally come to life. So let's grab all the lush, ripe heirloom tomatoes that we can get our hands on and have a baking party!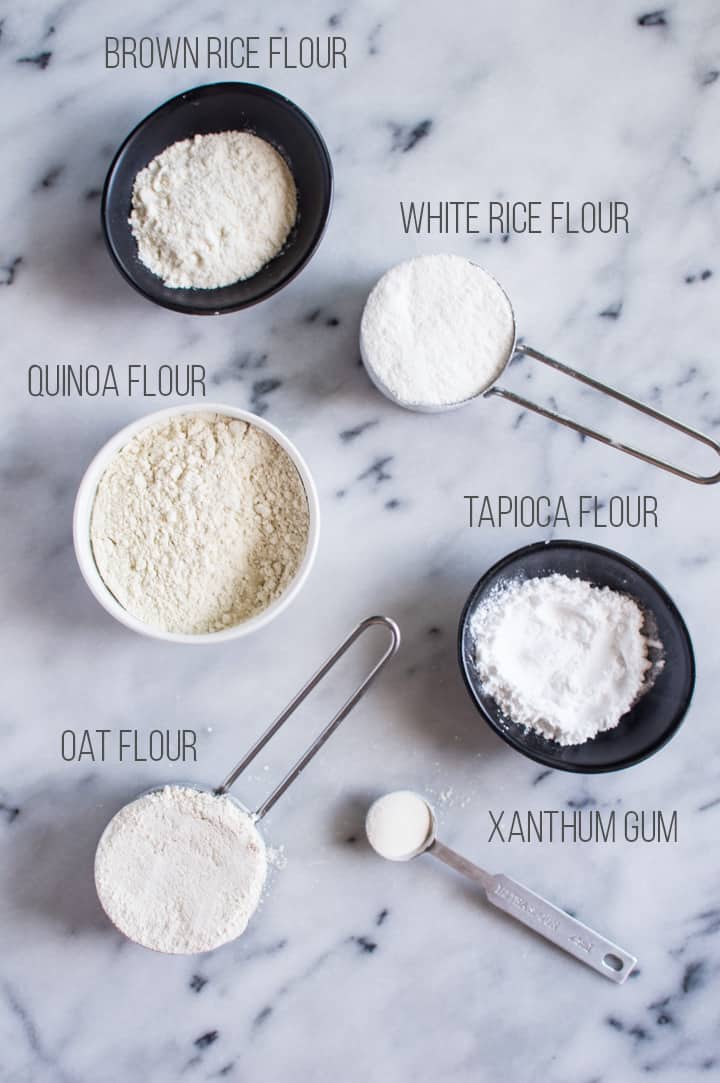 First, the crust. I haven't talked about this much on the blog yet, but reintroducing wheat into my diet has been a bit of a problem for my tummy. I can feel my body working harder to digest wheat, and there's some discomfort in my stomach. More on this in my recap post, but suffice to say, I'm going to try to keep things gluten-free here for a little bit longer.
I don't know anything about baking a gluten-free galette, but I'm so glad that my friend Sarah does. She made this beautiful apricot galette with a lovely flaky crust, and it looked like it would be perfect for my tomato version. The dough was a bit tricky for me to roll out and to fold over, but the extra effort is worth it. The flakiness of the crust was spot on, and I couldn't tell that it was gluten-free!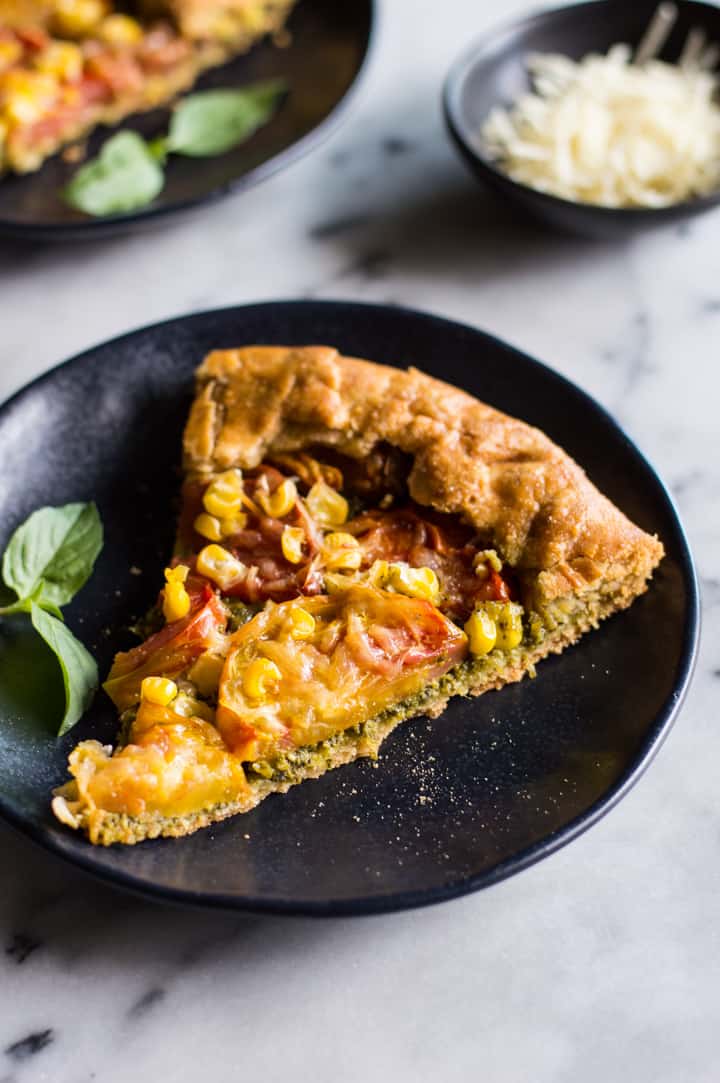 And yes, I know that this crust contains 8 tablespoons of butter. The standard formula for a galette is 1 1/4 cups of flour to 8 tablespoons of butter, and I didn't want reinvent the wheel and tinker with the formula. Instead, I lightened up the toppings with a healthier kale pesto and a small sprinkling of cheese on top.
I waited 4 weeks to make this flaky delight, and it was so worth the wait!
MASTER LISA'S MISTAKES (AKA COOKING NOTES)
Read the ingredients carefully because I didn't. Instead of adding 3 tablespoons of tapioca flour, I added 3 tablespoons of xanthum gum to the mixture my first time around this recipe. Bad call.
Even though you're rolling the dough out on parchment paper, make sure to flour it. You'll be able to lift the dough easier.
"But Lisa, what if I don't want to bother buying all those different types of flour?" No worries. As a food blogger, I tend to get carried away with food experimentation. You can make the dough with 1 1/4 cups of gluten-free all-purpose flour, 1/4 tsp of xanthum gum, 8 tablespoons of butter, and 4 to 6 tablespoons of iced water. You can also use regular all-purpose flour if not gluten free.
When you make this recipe, be sure to share your creation with me on Facebook, Twitter, or Instagram and use #hnbeats! I love it when you share your photos with me!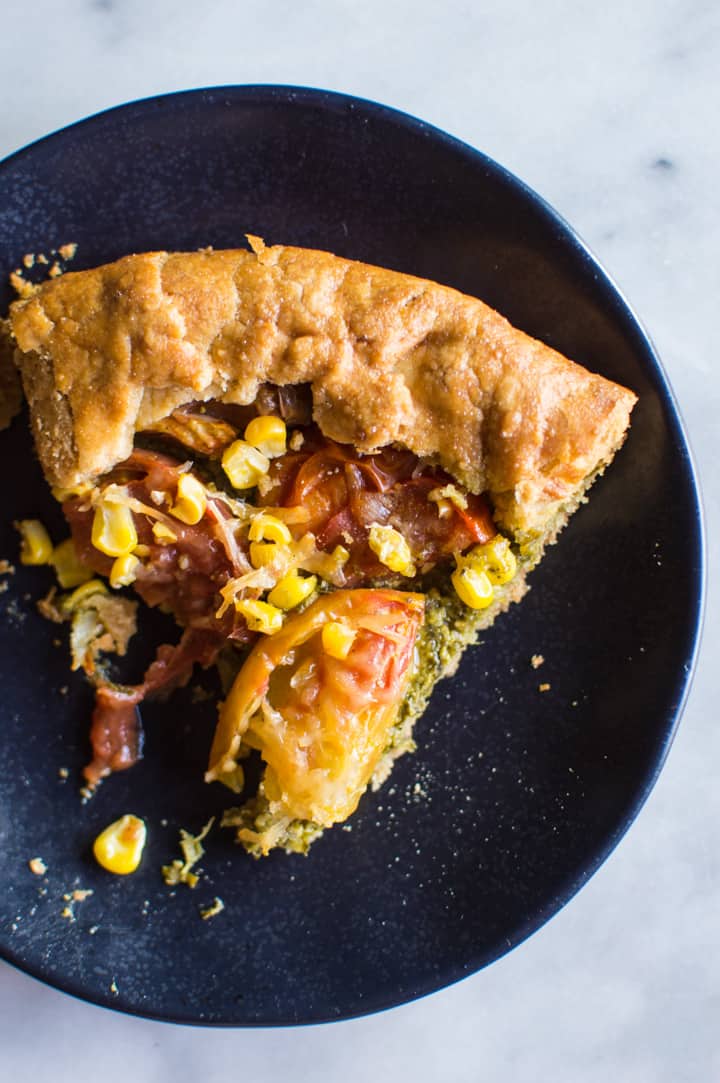 Gluten-Free Heirloom Tomato Galette with Kale Pesto
This delicious summery galette is filled with ripe heirloom tomatoes and kale pesto and set on top of a super flaky gluten-free crust. Savor the flavors of summer! Serves 6 to 8.
Ingredients
Dough (adapted from Snixy Kitchen)
1/3

cup

(50g) oat flour

1/4

cup

(45g) white rice flour

1/4

cup

(45g) brown rice flour

1/4

cup

(40g) quinoa flour

3

TBS

tapioca flour,

also known as tapioca starch

1/2

tsp

xanthum gum

1/4

tsp

salt

8

TBS

cold unsalted butter

,

cut into small cubes.

4 to 6

TBS

iced water
Kale Pesto
1/2

cup

packed kale leaves

,

2 large kale leaves

1/2

cup

packed basil leaves

,

small handful

2

TBS

pine nuts

,

or walnuts

2

TBS

olive oil

2

TBS

parmesan cheese

1 1/2

TBS

water

1/2

TBS

miso

1

tsp

lemon juice

1/4

tsp

salt
Tomato Filling
10

oz

heirloom tomatoes

1/4

cup

fresh yellow corn kernels

1/4

cup

to 1/3 cup (20 to 30g) parmesan cheese

1

egg

,

beaten

freshly ground black pepper

,

optional
Instructions
In a medium bowl, mix oat flour, white rice flour, brown rice flour, quinoa flour, tapioca flour, xanthum gum, and salt together.

Using a pastry cutter, incorporate the butter into the flour. When the pastry cutter gets clumped up, just use your fingers to break up the dough. Continue cutting the butter until the butter pieces are no bigger than the size of peas. You can also do this step by using a food processor or your hands to mix ingredients until the butter pieces are the size of peas.

Add 3 or 4 tablespoons of cold water to the bowl and stir ingredients with a fork or with your hands. You should see a very crumbly dough. Squeeze a small handful of dough together with your hands. If the dough stays together in one piece, your job is done. If the dough is still crumbly, add another tablespoon of water and stir. Keep doing this until your dough can clump up together.

Gather all the dough pieces together in a ball and flatten it into a disc. Wrap the dough in plastic wrap and refrigerate for 30 minutes.

While the dough is chilling, slice the tomatoes into 1/4-inch thick slices. Lay them over a dish or a baking sheet that is lined with paper towels. Sprinkle a pinch of kosher salt on top and set aside.

Prepare the kale pesto by blitzing all the ingredients together until you get a smooth mixture.

Preheat oven to 400 degrees F (205 degrees C).

Lay a sheet of parchment paper on a work surface. Sprinkle some white rice flour on top and flour your rolling pin. Take the dough out of the refrigerator and roll it until you get a circle that is about 12 inches wide. If the dough starts sticking to the pin, flour the pin more or sprinkle some flour directly on the dough. Trim off the uneven edges of the dough if you like. Slide the parchment paper on top of the baking sheet. I find it easiest to transfer the dough to the baking sheet at this stage.

Spread the pesto all over the dough, making sure to leave about 1 1/2 inches of space around the perimeter. Pat the tomato slices dry and lay them on top of the pesto spread. Sprinkle on corn kernels and parmesan cheese.

Fold in the edges of the galette. The dough was a bit crumbly for me and there were a few cracks here and there. I pinched the dough together along these cracks to close it up.

Crack the egg and beat it. Brush egg wash on the galette crust.

Bake for 35 to 40 minutes, until the crust is golden brown and the cheesy is bubbly.

Let galette cool for 15 minutes before serving.
Notes
1. Dough recipe adapted from Snixy Kitchen.[br][br]2. If you trimmed off any of the crust, you can bake it to make some super buttery crackers. Be careful though—these pieces will be done sooner than the galette. Pull them out when they are a nice golden brown.[br][br]3. SUBSTITUTIONS: If you're not gluten-free, just make the dough by mixing 1 1/4 cups of all-purpose flour, 8 tablespoons of butter, and 4 to 6 tablespoons of iced water together. You can also use 1 1/4 cups of gluten-free all-purpose flour and 1/4 tsp xanthum gum.
Did you make this recipe?
Tag @hellolisalin or leave a star rating and comment on the blog!
NOTE: This post contains affiliate links to some of the ingredients I used for this recipe. I've included them here in case those ingredients are difficult for you to find in grocery stores.