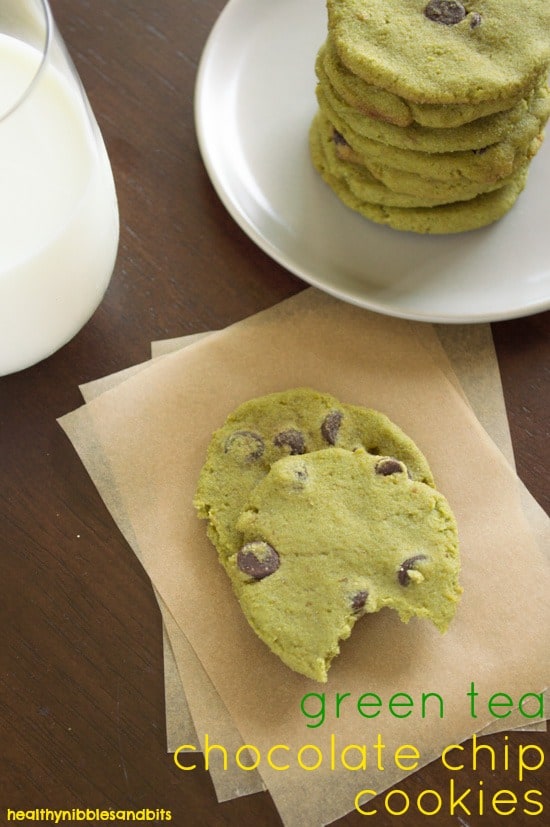 cookie conundrum ⋅ [DEFINITION]: a perplexing problem related to the preparation, baking, or consumption of cookies.
I found myself in a cookie conundrum a few days ago. I planned to bake green tea biscuits with chocolate chips for this month's Leftovers Club exchange. But in order for these plans to come to fruition, I should actually stock my pantry with the appropriate ingredients before cooking.
I was all ready to get going—baking sheets were lined; mixing bowls, measuring cups, and spoons were all out; the oven was preheated—until I realized that I had no eggs, butter, or all-purpose flour around the apartment. Undeterred by my lack of preparation, I dug around the cupboards and shelves and found enough ingredients to make gluten-free and vegan chocolate chip cookies. I was not entirely convinced that I could pull it off, but I told myself that I would bake another batch of cookies if these turned out awful.
When the cookies came out of the oven, I was pleasantly surprised. The chocolate chips were still melted, the dough was soft, and the cookies retained a lot of the vibrant color of the green tea matcha powder. As the cookies tasted delicious, I decided to stick with that batch.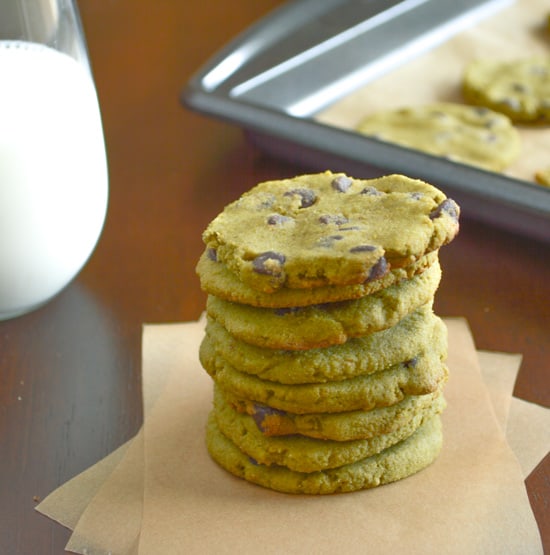 My partner for this month's Leftovers Club is Ashley from Spoonful of Flavor. She has a ton of scrumptious and colorful recipes on her blog, and I am particularly fond of her recipes for baked goods. Just take a look at these German chocolate cupcakes and triple berry lemon cookie cups. How can you refuse one of those?
Green Tea Chocolate Chip Cookies
Makes 35 cookies.
Ingredients
1

TBS

golden flaxseed meal

,

substitute the flaxseed meal and water for one large egg if not vegan

3

TBS

water

2

cups

brown rice flour or all-purpose flour if not gluten-free

2 1/2

TBS

green tea matcha powder

1/2

tsp

baking powder

pinch

of salt

2/3

cup

+ 1 TBS sugar

1/2

cup

unsweetened applesauce

5

TBS

unsalted vegan butter spread or regular unsalted butter if not vegan

2/3

cup

semi-sweet chocolate chips
Instructions
Preheat oven to 375ºF (~190ºC). Line two large baking sheets with parchment paper or silicone mats.

Make a flax egg. In a small bowl, mix 1 tablespoon of golden flaxseed meal with 3 tablespoons of water. Once it is mixed well, set it aside for about 10 minutes. The flax egg will turn into a gooey texture. If you are not making vegan cookies, just whisk a large egg.

In a medium-sized bowl, mix the brown rice flour, green tea matcha powder, baking powder, and salt together.

In a large bowl, mix the sugar, butter spread, applesauce, and flax egg until well incorporated. Gradually add the flour mixture with the wet ingredients. I usually add the flour in three batches, mixing the ingredients in between batches.

Fold in the semi-sweet chocolate chips.

Freeze the cookie dough for 30 minutes so that it is easier to handle and shape on top of the baking sheets.

Shape a heaping tablespoon of dough into a ball, and flatten it into a circular shape on the baking sheet. Repeat for the rest of the dough.

Bake the cookies for about 14-16 minutes or until the bottom of the cookies start to brown.

Let the cookies cool for a few minutes before eating.

Store the cookies in an air-tight container. If there are still any leftovers after two days, I suggest microwaving the cookies for about 10 to 15 seconds before eating. This softens the cookie and melts the chocolate chips again.
Notes
1. If you are using regular butter, make sure that it has been softened in room temperature before using it.[br]2. Shaping the cookie dough in my hands and flattening it with my fingers worked for me. I tried using a glass cup to flatten the cookies on the baking sheet, but the dough kept sticking to the glass.[br]3. The green tea matcha powder has a slightly bitter taste. Add a few more tablespoons of sugar if you want to balance out the matcha flavor.
Did you make this recipe?
Tag @hellolisalin or leave a star rating and comment on the blog!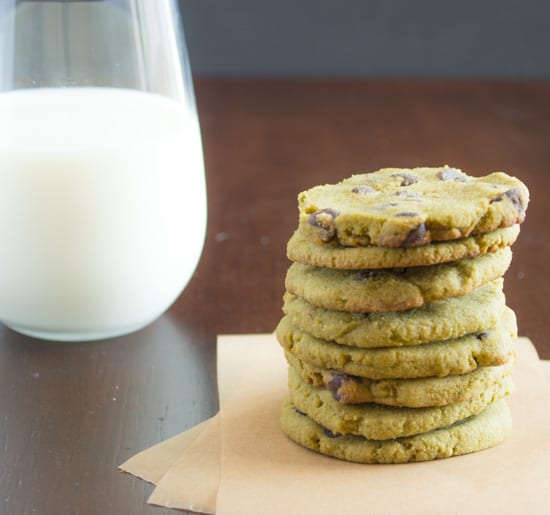 If you love food, and you love becoming foodie pen pals with other bloggers, join the Leftovers Club!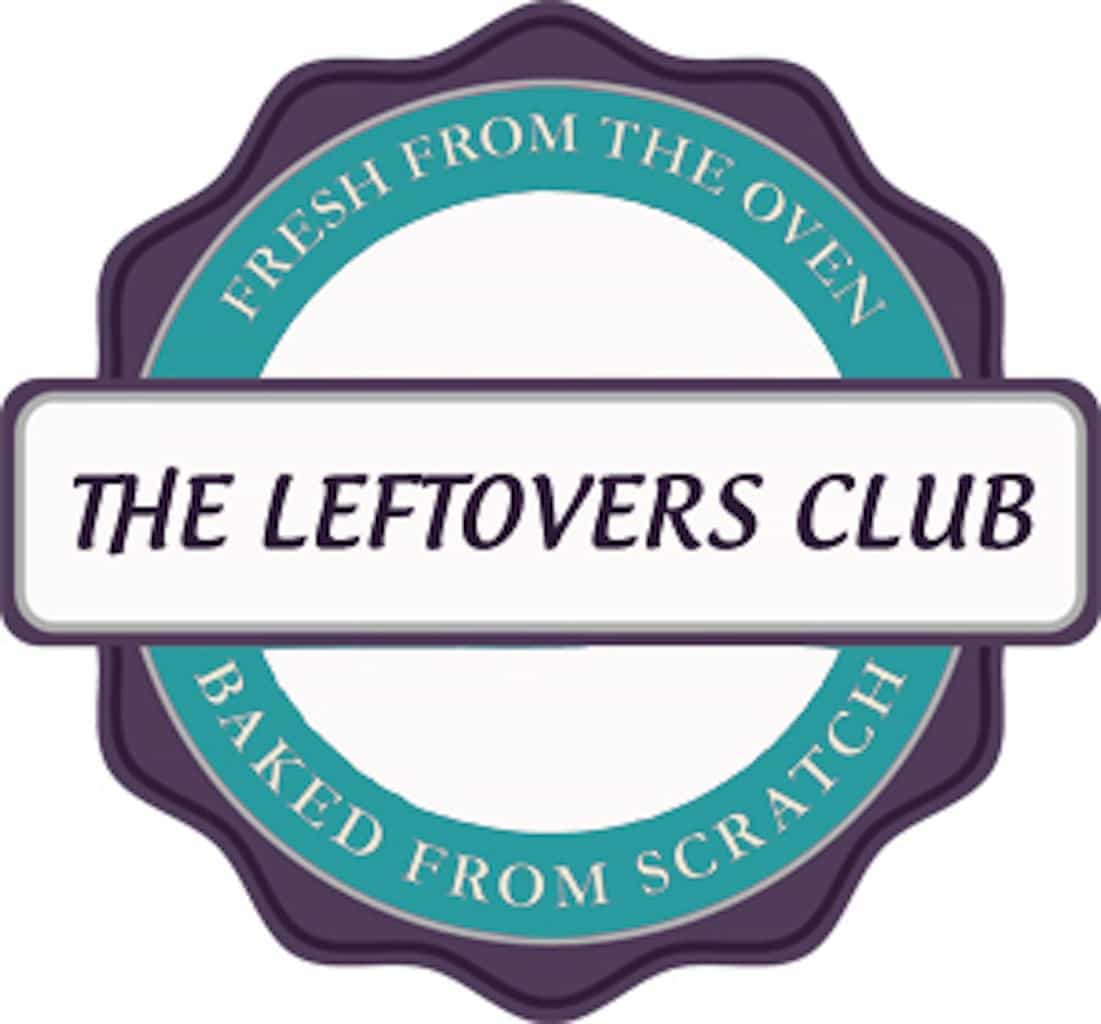 ');