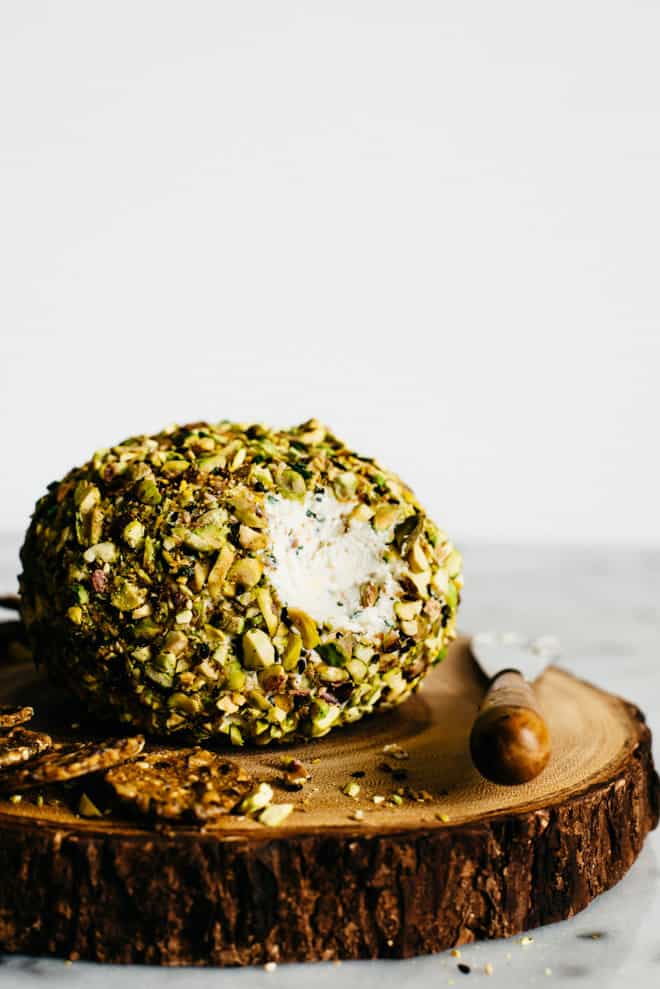 She doesn't know this yet, but I've already named my talented friend, Sarah, the Creative Cheese Officer (I swear I'll come up with a better title later.) She's a miracle worker with all the cheesy and gluten-free things. Just take a look at her seeded cheddar Brazilian cheese bread and her almost no-bake pumpkin cheesecake mousse. Scrumcheesylicious.
And guess what, you all came just in time to help welcome a new member to the cheese club: Sarah and Lucas's #cheesebabygirl! (Okay, so maybe she's not due until next month, but I'm already making #cheesebabygirl part of the club.)
To celebrate, a huge group of bloggers and I are getting together for a cheese and sweets soirée, the #cheesebabyshower. I hope you came with an empty stomach because you're going to want to snag a bite of all the dishes we're bringing to the party!
When I visited Sarah last year to make macarons, she and Lucas were so sweet and took me out for dinner at one of their favorite Japanese spots! (Seriously, guys, what did I do to deserve that?!) Besides the good food and company, I still remember my first Ici ice cream and being educated about criss-cross applesauce. Fun times.
Inspired by our Japanese feast, I'm bringing a Japanese-spiced cheese ball to the #cheesebabyshower. I've added a ton of furikake to the inside and outside of the cheeseball. You'll also find a tiny hint of spice from the shichimi togarashi—not enough to light your throat on fire but enough to make you wonder what you just tasted. Friends, I actually could not stop dipping into this cheese ball as I was shooting photos of it. My family couldn't help themselves either.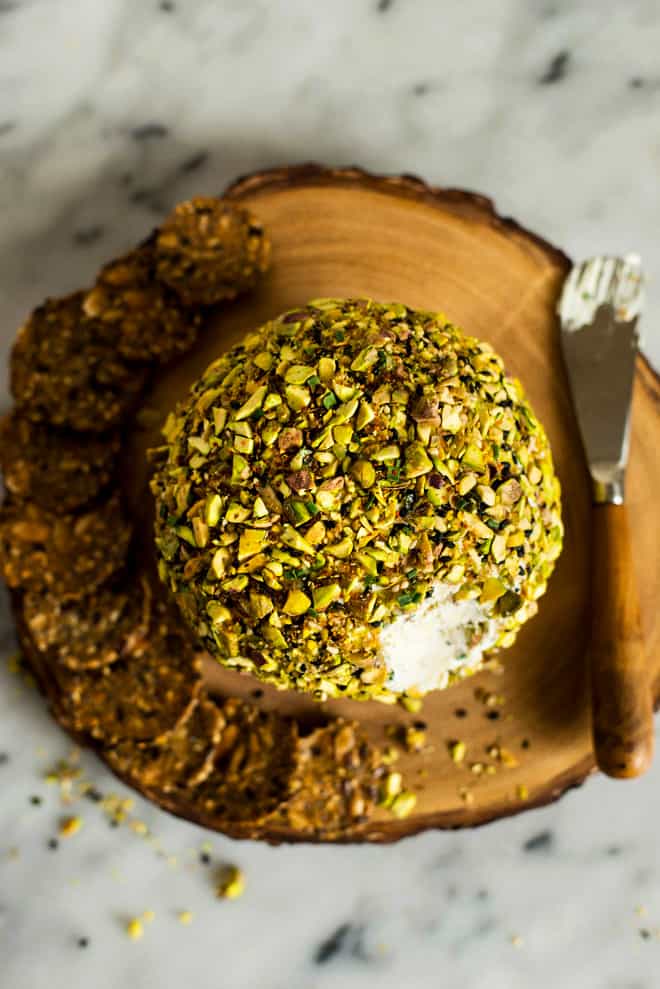 I hope you're ready to eat because here's a feast of cheese and sweet eats coming right at you:
Cheesy Things
Sweet Things
Cheesy & Sweet Things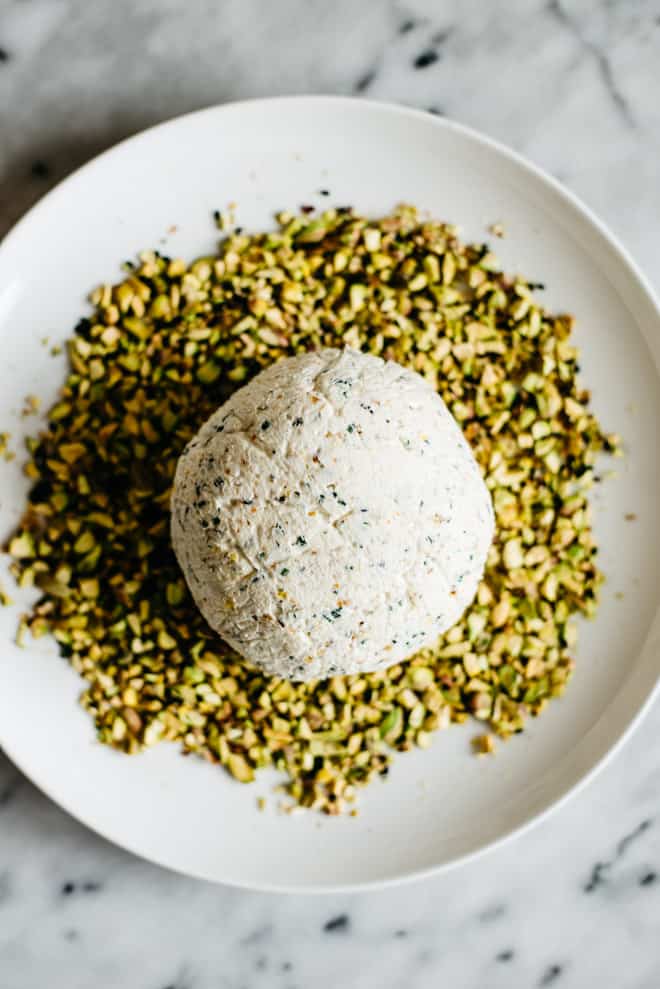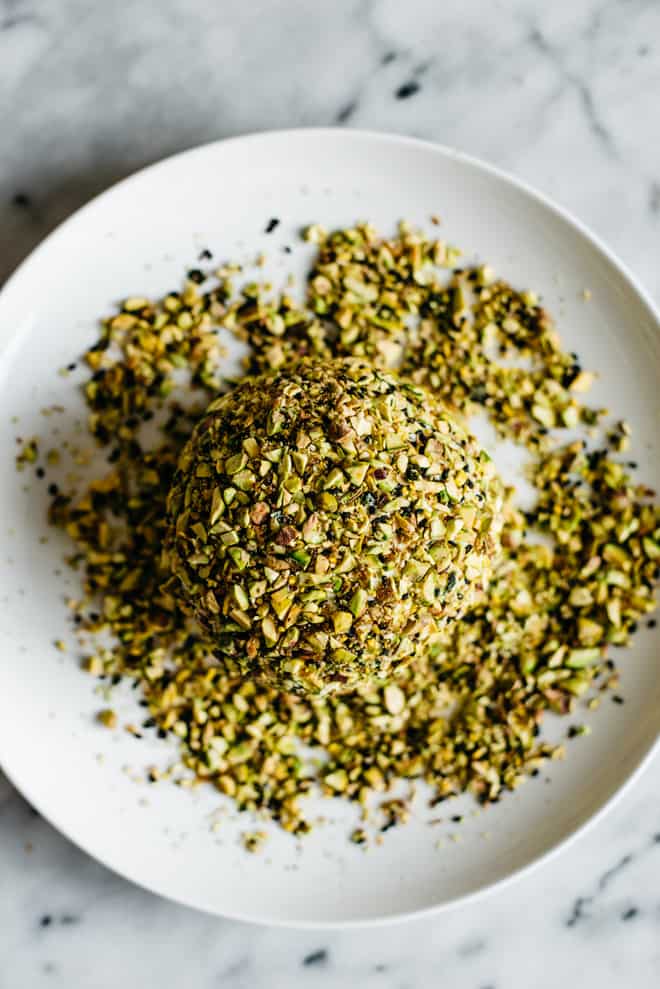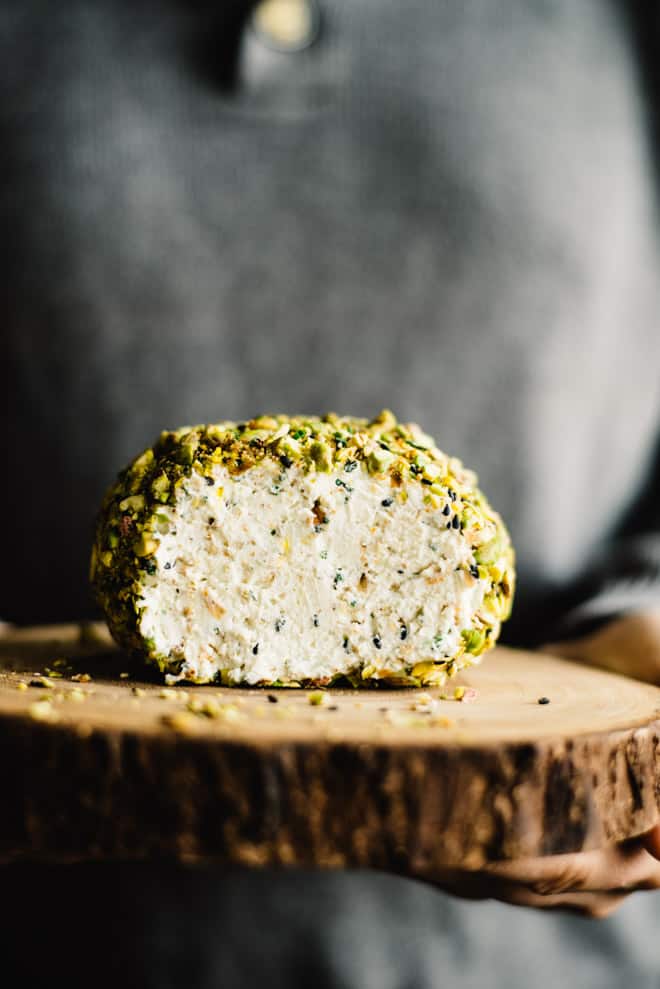 MASTER MY MISTAKES / COOKING NOTES
If you try this recipe, let me know how it goes by leaving a comment or sending me a message! Or take a photo of the food and tag me on Instagram so that I can give you a fist bump. I love seeing your creations!
P.S. For all inquiries about the cheese lovers' club, reach us at 1-800-CHEESE-4-U. (Kidding! But wouldn't it be awesome if that was a real number?)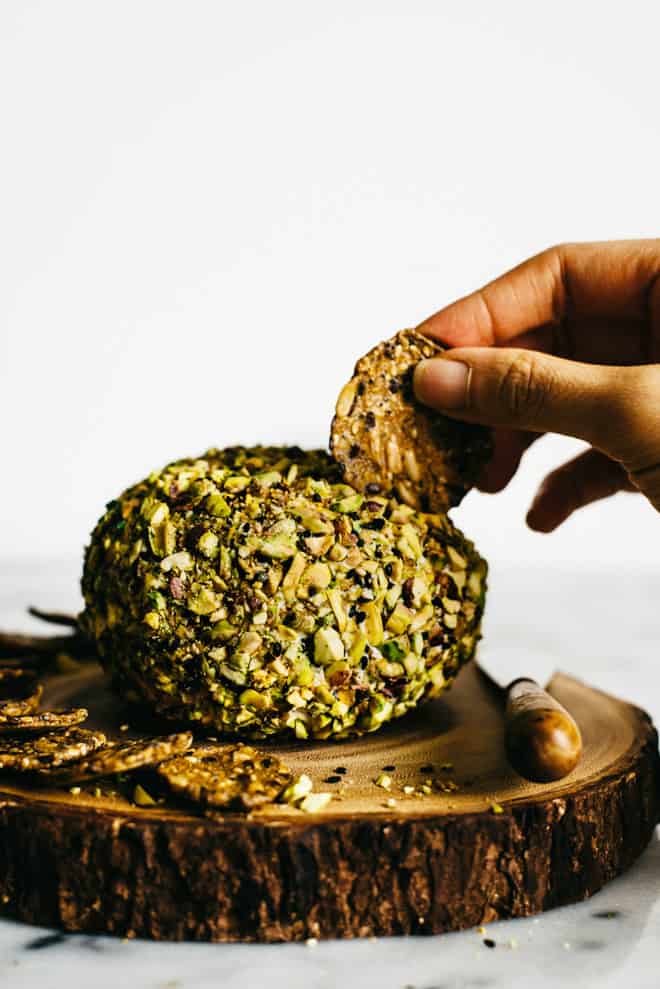 Japanese-Spiced Goat Cheese Ball with Pistachios
Ingredients
Cheese Ball Filling
8

oz

(225g) goat cheese, softened at room temperature

8

oz

(225g) neufchâtel cheese (or low-fat cream cheese), softened at room temperature

1 1/2

TBS

chopped chives

3

TBS

furikake,

seaweed rice seasoning

1

tsp

black sesame seeds

1/4 to 1/2

tsp

shichimi togarashi,

Japanese seven-spice

pinch

of salt

,

if necessary
Pistachio Crust
2/3

cup

(90g) shelled roasted pistachios, roughly chopped

1

TBS

black sesame seeds

1

TBS

furikake
Instructions
Mix the goat cheese and neufchâtel cheese in a bowl. Stir in chives, furikake, sesame seeds, and shichimi togarashi. Use 1/4 teaspoon of the shichimi togarashi if you want only a faint trace of heat in the cheese. I used 1/2 teaspoon. Add a pinch of salt, if you like. Scrape cheese onto a large sheet of plastic wrap and shape into a ball. Wrap cheese ball tightly and refrigerate for an hour.

Mix chopped pistachios, sesame seeds and furikake on a plate. Roll chilled cheese ball on the chopped nuts. Sprinkle more chives and shichimi togarashi on the cheese ball, if you like. Use leftover chopped pistachios for your salad or soup.

Serve immediately. Store leftover cheese in an airtight container for up to 5 days.
Did you make this recipe?
Tag @hellolisalin or leave a star rating and comment on the blog!
Disclosure: This post contains affiliate links. They're always on hand in my pantry.