This salad was made for fall. It's filled with kale, fuyu persimmons, peppers, pomegranates, goat cheese, and roasted chickpeas to give your tastebuds a nice sweet and savory bite.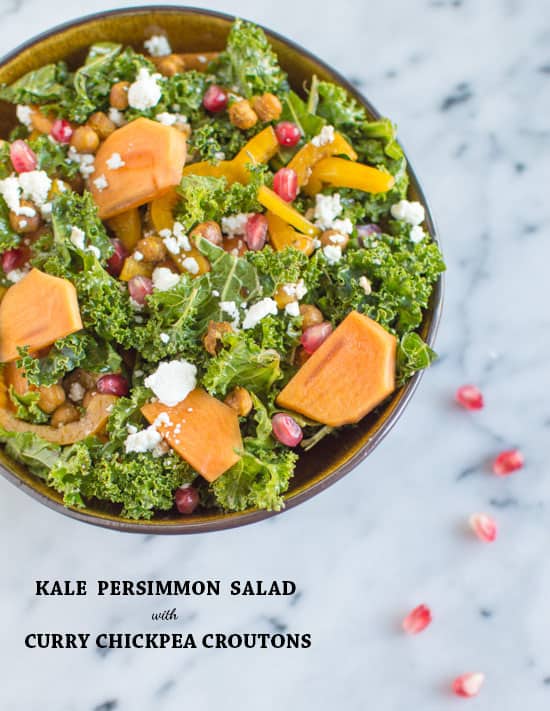 Do you see what I see? I see crisp orange fruits waiting to be stripped naked from its waxy exterior. They also like to play coy, making an appearance around fall to early winter and then hibernating the rest of the year.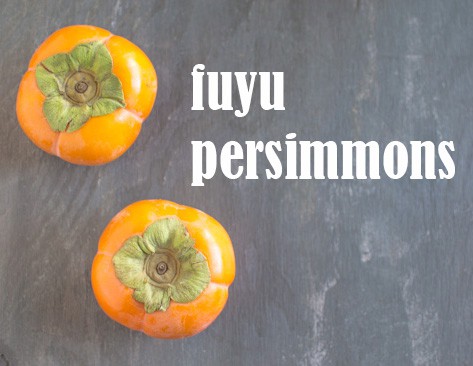 My mom used to lug home bags of these bright golden fruits all the way from Chinatown and kept them away from the rest of the family. "They're not ripe yet!" she claimed. She has a trick for coaxing these persimmons to reach their flavorful peak. She would bag some persimmons with one or two apples and put the bag inside a deep sauté pan and close the lid. Then, she stored that pan in the oven so that the persimmons could ripen (because who doesn't use an oven to store food?). Yes, in an Asian household, the ovens and dishwashers = storage for food or pots and pans. I nearly burned my kitchen down because of this strange logic, but that's a story for another day.
Like magic, those persimmons that my mom stored in the pan would turn from light marigold to a deeper shade of orange, a sign that they've reached their peak of ripeness. Of course, my cravings for those little golden nuggets would get the better of me, and I would sneak out a few persimmons when my mom wasn't looking. Yea, they didn't taste that great, especially unripe hachiya persimmons. Mama Lin's always right about these things.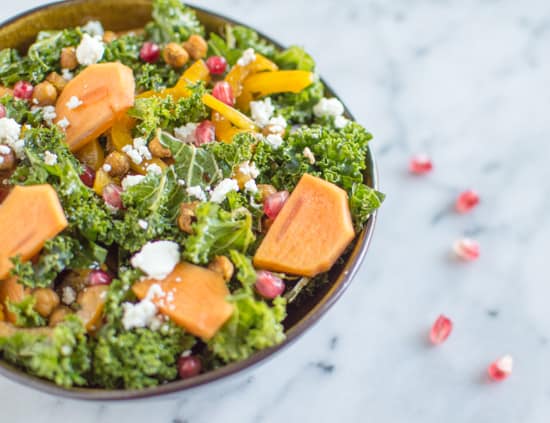 Between taste testing pear tarts and apple turnovers, I needed a break from the butter and the sugar. Gasp. Did I just say that?
If this salad doesn't cleanse the palette, then all I can do is throw my hands up in the air . . . and have another bite of that apple turnover.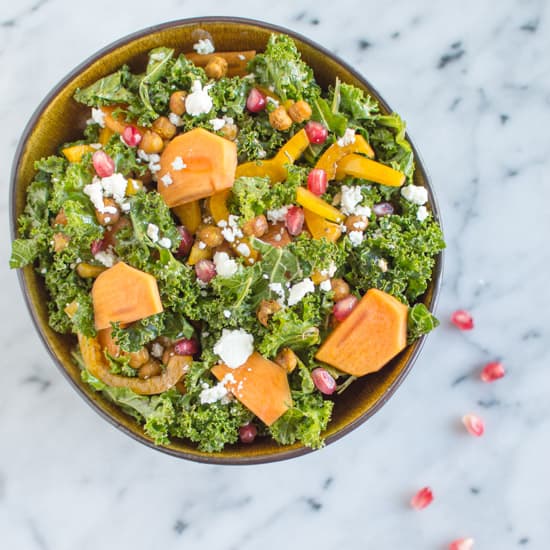 Print
Kale Persimmon Salad with Curry Chickpea Croutons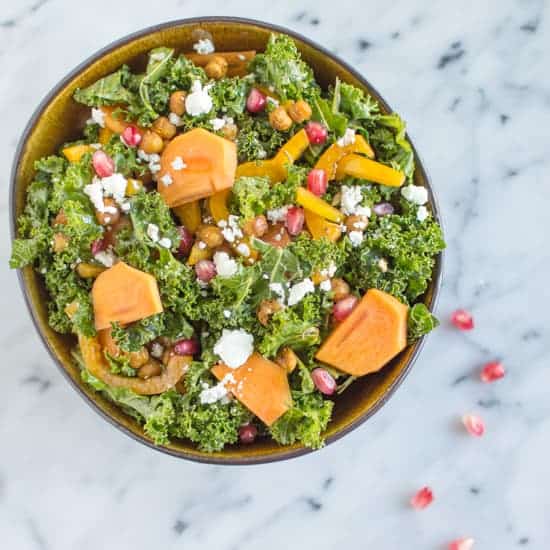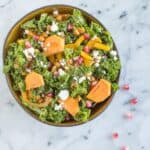 Author:
Prep Time:

10 minutes

Cook Time:

30 minutes

Total Time:

40 minutes

Category:

salad, gluten-free
Curry Chickpea Croutons
1

15-ounce (425g) can of chickpeas, drained and rinsed

1

and 1/2 TBS olive oil

1 tsp

curry powder
pinch of salt
Salad
10 cups

kale (about

4 oz

/

115g

)

1

large yellow pepper, sliced

2

small fuyu persimmons, peeled and sliced

1/3 cup

(~

70g

) crumbled goat cheese
small handful of pomegranate seeds
Balsamic Vinaigrette
1/2 cup

(120ml) balsamic vinegar

3

TBS olive oil

2 tsp

brown sugar

1/2 tsp

garlic powder

1/2 tsp

dried basil

1/2 tsp

dried parsley
Instructions
Preheat oven to 400 degrees F (205 degrees C). Line a baking sheet with parchment paper.
Spread the chickpeas between 2 paper towels, and rub the chickpeas to dry them out. To make the chickpeas crunchy, we want to try to get rid of the excess water.
In a small bowl, mix the chickpeas, olive oil, curry powder, and salt. Pour the chickpeas over the baking sheet and bake for 25 to 30 minutes. The chickpeas will look shrunken and browned when they're done.
While the chickpeas are baking, remove the kale leaves from the stem and rinse them. Roughly chop the kale. In a large bowl, mix the kale with the other salad ingredients.
In a small bowl, mix the balsamic vinaigrette ingredients together. I like to use a fork for this.
Toss the salad with a bit of the balsamic vinaigrette. Save the remaining vinaigrette for later. Top with goat cheese, pomegranate seeds, and the roasted chickpeas. Best served immediately!