A crunchy, nutty granola baked in lavender-infused maple syrup and tossed with sweet mango pieces. You'll go nuts over this tasty delight!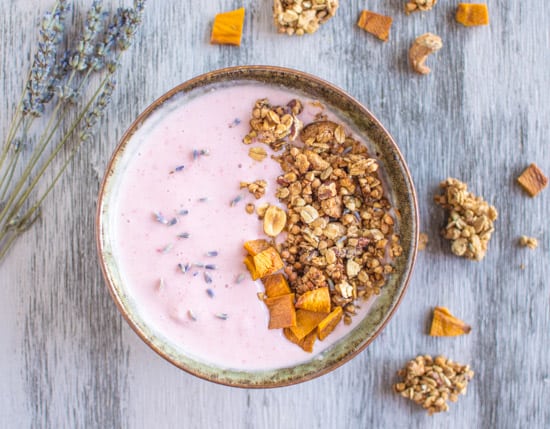 I know, I've made a lavender granola not too long ago, but I've just been wanting more of it lately. Well, part of the reason is that I need to use up the jar of dried lavender I have around the house, and I've already made cookies with them last month. This time, I cooked the granola differently. Instead of sprinkling dried lavender into the granola mixture before baking, I decided to infuse the lavender into maple syrup.
I got the idea to infuse lavender from a recent podcast of The Splendid Table. If you enjoy cooking, you'll love the podcast! My favorite part of the show is when listeners call in with kitchen questions because a lot of the time, they apply to me, too! Lynne Rossetto Kasper's impromptu recipe ideas are nothing short of genius. When I heard the idea of infusing lavender in liquid sweeteners (such as honey), I wanted to give it a try myself!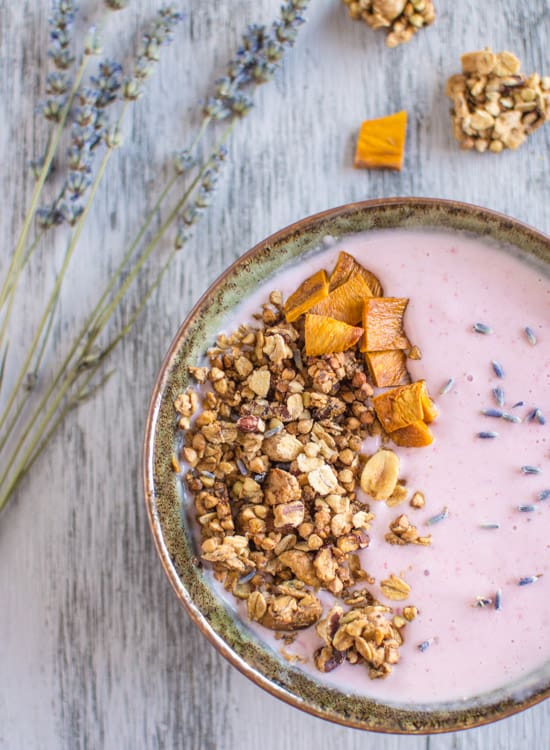 All I did was pour about 2/3 of a cup of maple syrup into a saucepan and threw in about 2 and 1/2 teaspoons of dried lavender. Then, I boiled down the syrup to about a 1/2 cup. I was a bit too eager to taste the maple syrup, so I may have burned my tongue a bit. Whoops!
I was quite surprised how the dried lavender mellowed out the maple syrup. I suppose I wasn't sure what to expect! I let the maple syrup stand for about 2 hours before using it to cook the granola, and I didn't bother straining out the lavender. I wanted to make sure that I could still taste the lavender in the granola after everything was said and done. I've got to say, this is a better way to make lavender granola! The lavender flavors just stuck with the granola much better this time around. Thanks, Lynne Rossetto Kasper for the suggestion (if you're even reading my blog)!
I think I might try this Potatoes with Lavender and Rosemary recipe next time!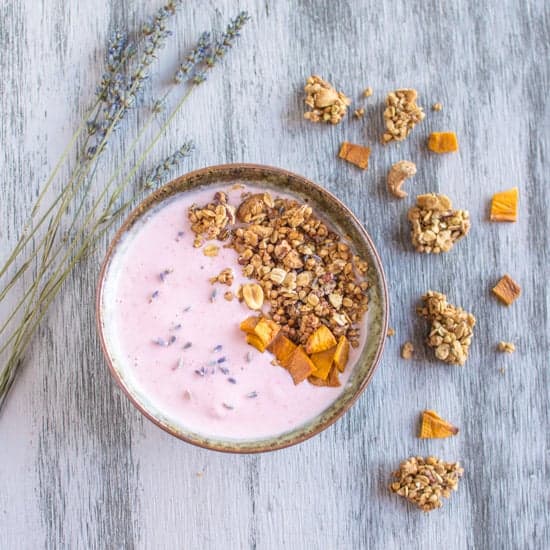 For the Leftovers Club this month, I was partnered with Kelly from Kelly Bakes. The food photography on her blog is fantastic! I am totally crushing over these Lemon Raspberry Madelines and Homemade Peppermint Joes right now. Also, the next time I have a party with my friends, I'm definitely going to make some of these Samoa Girl Scout Cookies Shots.
Print
Lavender Mango Granola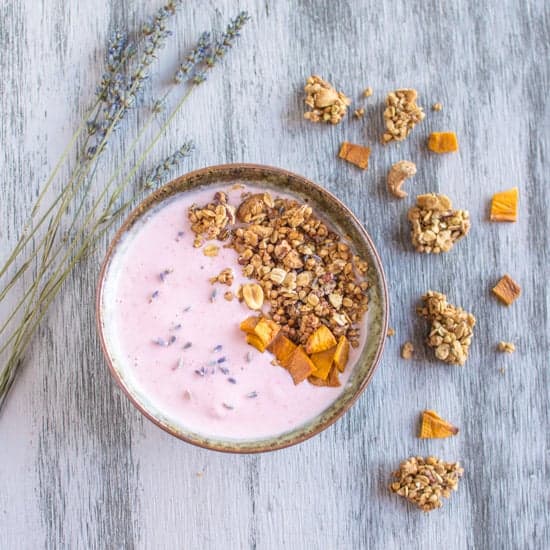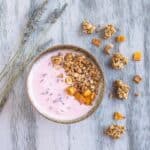 Author:
Prep Time:

2 hours 10 minutes

Cook Time:

45 minutes

Total Time:

2 hours 55 minutes

Category:

vegan, gluten-free, breakfast, snack
2/3 cup

(160ml) maple syrup

2

and 1/2 tsp dried culinary lavender*

1

and 1/4 cups (

240g

) buckwheat groats

1

and 1/4 cups (

100g

) rolled oats

1 cup

(

120g

) raw cashews

1/2 cup

(

55g

) chopped pecans

1/4 cup

(

30g

) roasted unsalted peanuts

1 tsp

cinnamon
small pinch of salt

2

TBS coconut oil

1 tsp

pure vanilla extract

3/4 cup

(

85g

) chopped dried mango
Instructions
Pour the maple syrup into a saucepan, and add the dried lavender. Heat the saucepan over medium-low heat. When the syrup starts to boil, stir it. Turn down the heat just a little and wait for the syrup to bubble again. When it starts bubbling, stir the syrup, and let it continue bubbling for about 2 minutes. Turn off the heat, and let the syrup stand for about 2 hours.
When the maple syrup has been infused with the lavender, preheat the oven to 325 degrees F (165 degrees C). Line a large baking sheet with parchment paper.
Mix all the dry ingredients in a large bowl (buckwheat groats, oatmeal, cashews, pecans, peanuts, cinnamon, and salt).
You'll notice that the maple syrup is very sticky and stiff. Heat the maple syrup with the coconut oil over medium-low heat, until the oil has melted and the liquid is runny. Turn off the heat and add in the vanilla. Pour the wet mixture with the dry ingredients, and stir everything until well incorporated.
Spread the granola mixture on the prepared baking sheet. Bake for 35 to 45 minutes, or until the granola is browned. Rotate the baking sheet once for even heat distribution.
Let the granola cool before breaking it up. Mix the dried mango with the granola when it is cool enough to handle.
Store the granola in an airtight container in room temperature for 1 to 2 weeks.
Notes
*Make sure that you are using edible lavender! The lavender you see in floral shops may have been sprayed with chemicals.