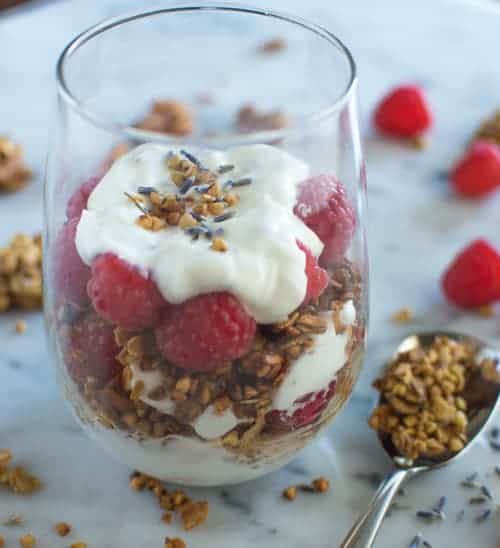 This is my first month participating in the Recipe Redux, a monthly recipe challenge hosted by registered dietitians. Every month, bloggers are challenged to create a healthy recipe around a theme, and this month's theme is floral flavors.
One of my favorite store-bought granolas is the Honey Lavender granola by
From the Fields
. The granola is filled with cashews and walnuts, and the lavender adds a subtle but noticeable flavor. But at $7.99 for 12 ounces, I can't afford to make the Honey Lavender granola a weekly purchase. Thank goodness I've learned how to make my own!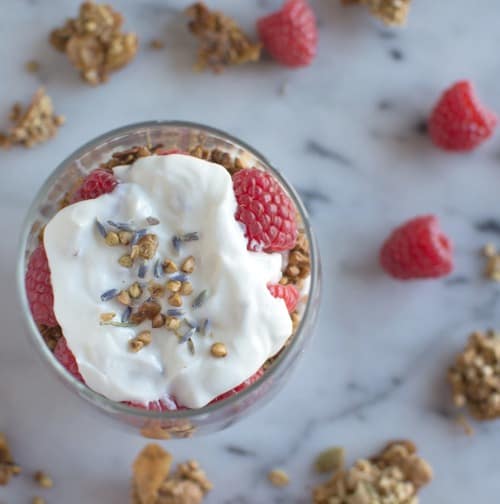 My initial problem was locating culinary lavender. Simply plucking the buds from lavender that you buy at a florist does not work because you're never sure if the flowers have been sprayed with chemicals. Although I had to drive 20 minutes to a specialty store to locate the culinary lavender, but I was glad I made the trek.
Penzey's Spices in Menlo Park is an absolute gem (no, they didn't pay me to say that)! Their store is quite big, and it is filled with any spice that you'll ever need, perhaps many that you've never heard of. I felt like a kid in a candy store. I managed to contain my excitement by picking up a few spices with the lavender, but I have a feeling that I will be going there again.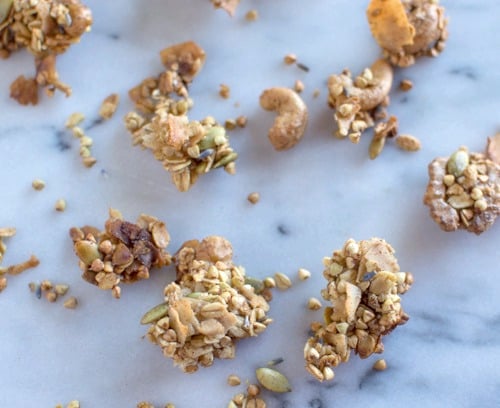 When it comes to granola, I'm a big fan of the clusters. I'm that person who digs out all the granola clusters in the bulk bins. In fact, I won't even bother buying granola unless I know there is a 1:1 ratio between the clusters and granola dregs.
But like Goldilocks and the Three Bears, I don't want my clusters to be too big or too small. I like them juuust right.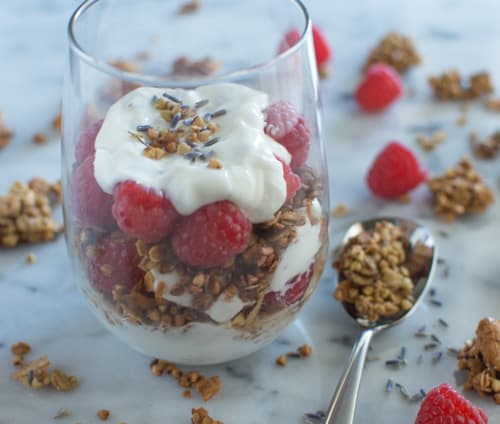 My next problem was that I had never mastered the art of baking my own granola clusters. I've made plenty of granola but few clusters ever made it out of the pan. So, I thought it was time to consult the experts.
I found a post on Food52 on How to Get Clumps in Your Granola, and it turns out that the key to creating granola clusters is minimal stirring and a whisked egg white. Before laying the granola onto a baking sheet, add a frothy egg white to the mixture and resist the temptation to stir the granola while it's cooking. Once the granola is done, wait until it has cooled completely before breaking them off. Voila! Granola clusters!
But as I mentioned before, I'm all about the 1:1 cluster-to-dregs ratio in my granola. I gave the granola a few nudges halfway through the baking time to make sure that some of the granola was loose. Let me tell ya, this is some good granola!
Lavender Yogurt Parfait
Layers of lavender infused yogurt, fresh raspberries, and lavender granola make this delicious parfait! Makes about 4 1/2 to 5 cups of granola.
Ingredients
Granola Ingredients
1

cup

(~70g) unsweetened flaked coconut

1

cup

(80g) rolled oats

1

cup

(190g) buckwheat groats

2/3

cup

(80g) unsalted cashews

2/3

cup

(80g) walnut halves

1/3

cup

(50g) pumpkin seeds

1/3

cup

(78ml) maple syrup (any other sweetener works also)

2

TBS

olive oil

1 1/2

tsp

dried lavender

,

divided

1

tsp

ground cinnamon

1

tsp

pure vanilla extract

small pinch of salt

1

large egg white
Parfait Ingredients
1 1/3

cup

(~300g) non-fat Greek yogurt

1/2 to 1

tsp

dried lavender

1/2

cup

raspberries

,

about a small handful
Instructions
Preheat oven to 325ºF (163ºC). Line a large baking sheet with parchment paper or a silicone mat. I prefer to use a silicone mat for baking granola to prevent burning.

In a large bowl, mix all the granola ingredients together except for the egg white.

Using an electric mixer with a whisk attachment, mix the egg white in a bowl until the egg whites become frothy. I mixed it for about a minute. Pour the egg white on top of the granola and stir everything gently to distribute the egg white.

Spread out the granola on top of the baking sheet.

Bake for 35 to 45 minutes or until the granola is browned. Rotate the baking sheet once for even heat distribution. Nudge the middle of the granola a few times if you want some loose granola as well as clusters. Let the granola cool completely before breaking it into clusters.

While the granola is baking, mix the Greek yogurt with 1/2 to 1 teaspoon of lavender, depending on your taste. Refrigerate the yogurt for at least 30 minutes before serving to allow the lavender flavor to set in.

To make the parfait, alternate layers of yogurt, granola, and raspberries.

Store leftover granola in an airtight container in room temperature.
Notes
1. If you can't find buckwheat groats, feel free to use oatmeal only.[br]2. I noticed that the granola around the edges started to brown quicker than the center. At about 30 minutes, I scooped out the well browned granola at the edges and put the rest of the granola back into the oven. [br]3. I prefer granola that is not too sweet. Feel free to add a few more tablespoons of maple syrup if you enjoy sweeter granola.
Did you make this recipe?
Tag @hellolisalin or leave a star rating and comment on the blog!
For more granola inspiration check out this Chocolate Cranberry Granola recipe: