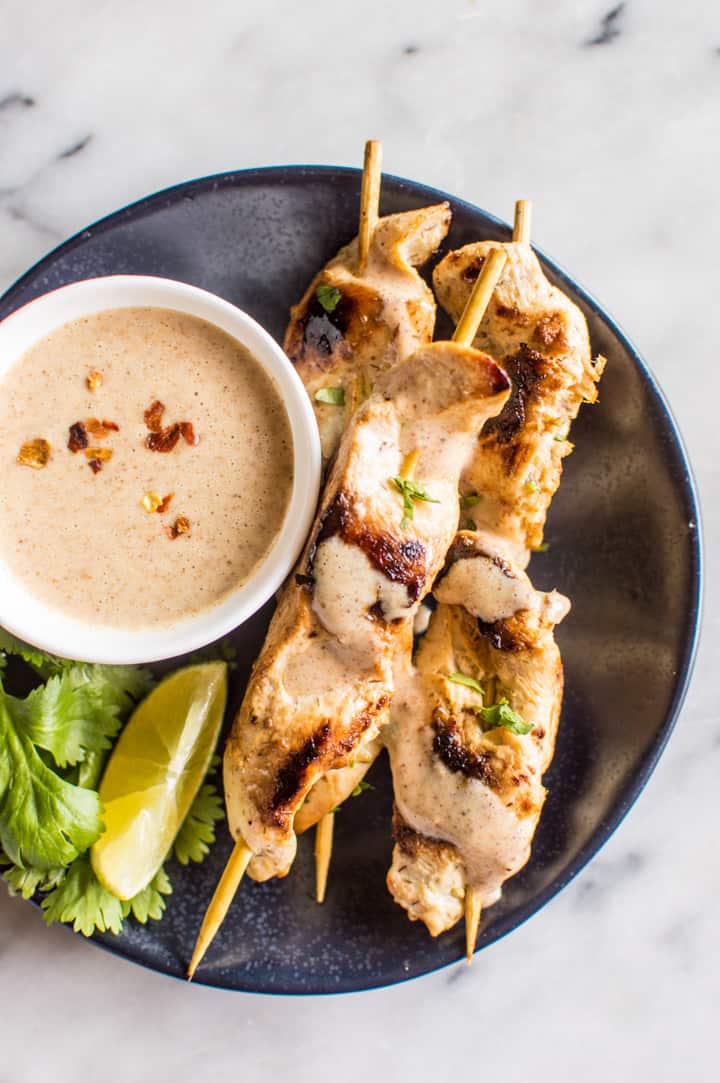 STAY FOCUSED. Eye of the tiger.
Moving on to this chicken satay . . .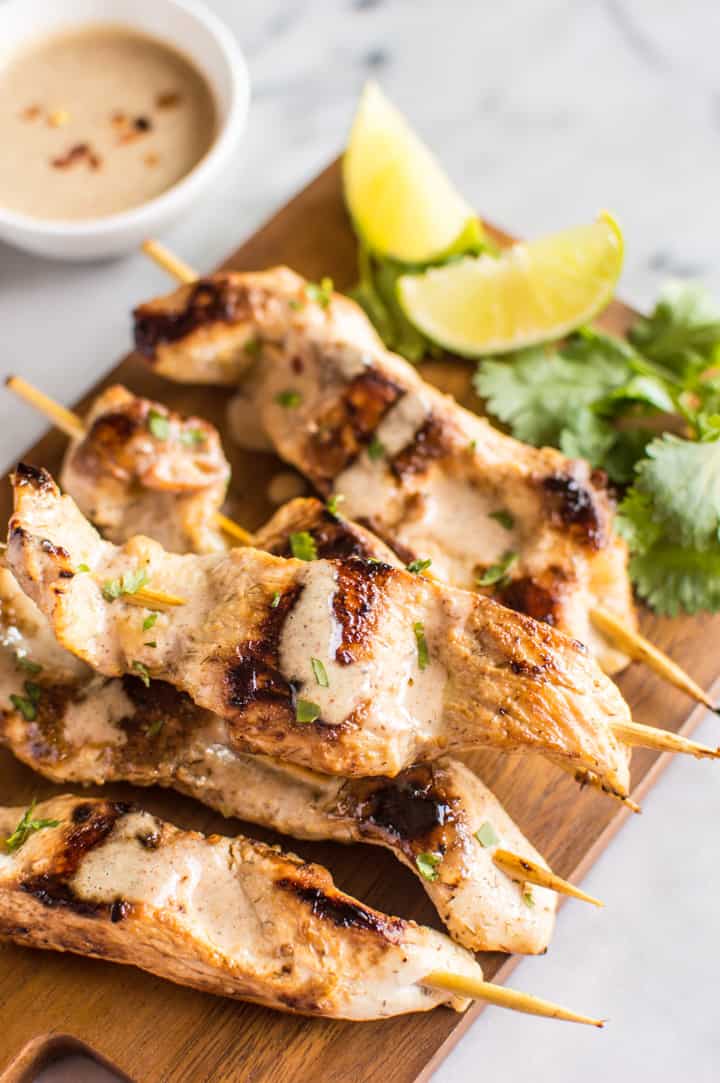 Whomever came up with the idea of threading pieces of meat on a stick and cooking them over a fire deserves a huge pat on the back. It means I can eat my meat anywhere and bring my messiness with me.
I am no dainty eater. I am Mama Lin's daughter, after all.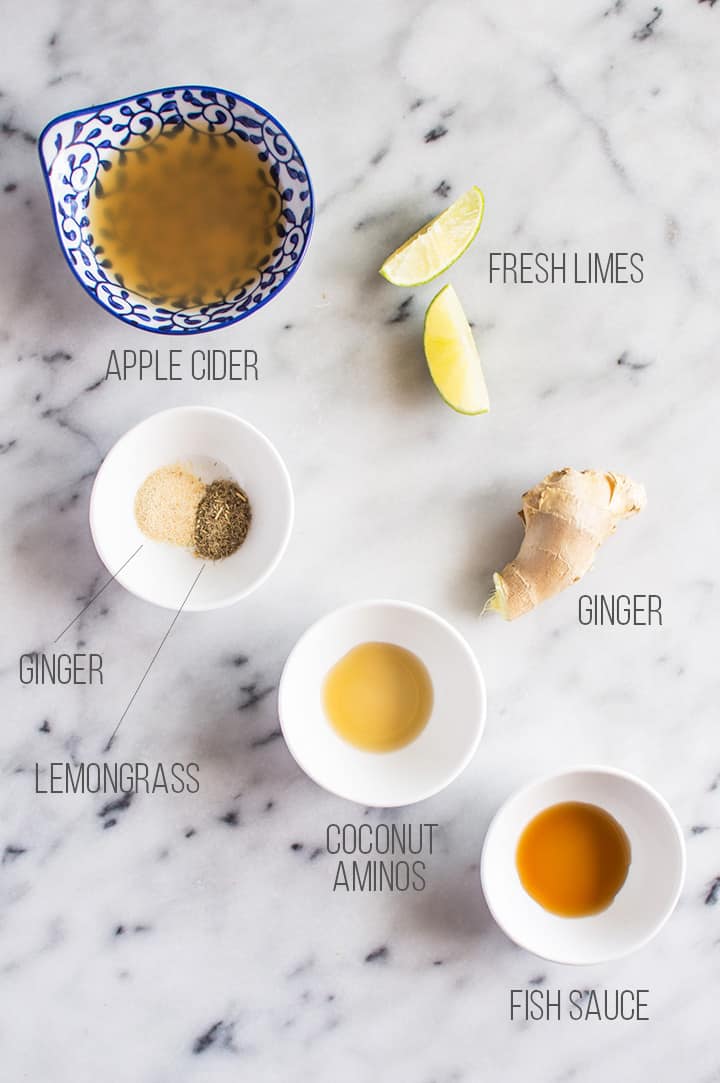 The secret to this chicken satay is marinading. That's where the chicken gets most of its awesome flavor. We all know now that I'm not the best at prepping food ahead of time. But the flavors of a quick marinade for this chicken doesn't even compare to the overnight method. The prep for the marinade takes no more than 10 minutes. If I can do it, so can you!
Lemongrass Chicken Satay with Almond Butter Dipping Sauce
This easy and healthy chicken satay is packed with lemongrass, lime, and ginger flavor. Pair it with the almond butter dipping sauce for the perfect appetizer! Serves 4.
Ingredients
Chicken Satay
1 1/2

pounds

(675g) thin sliced chicken breasts

1/3

cup

(80ml) apple cider

2

TBS

lime juice

2

TBS

fish sauce

1

tsp

freshly grated ginger

1

tsp

sesame oil

1/2

tsp

dried lemongrass

1/2

tsp

granulated garlic

around 20 skewers

,

soaked in water for 30 minutes

3 to 4

TBS

olive oil for cooking
Almond Butter Dipping Sauce
1/2

cup

(120g) almond butter

1/2

cup

(120ml) full-fat coconut milk

3

TBS

apple cider

1

TBS

coconut aminos

1/2

tsp

sesame oil

1/4

tsp

granulated garlic

1/4

tsp

onion powder

1/4

tsp

salt

red pepper flakes for garnish

,

optional

chopped cilantro for garnish

,

optional
Instructions
You want to start off with pretty thinly sliced chicken breasts. Aim for 1/3-inch thick slices. 1/2-inch slices are okay, but you'll need to cook the chicken for a few more minutes. Cut each slice of chicken breast into 1-inch wide strips.

In a medium bowl, mix the apple cider, lime juice, fish sauce, ginger, sesame oil, lemongrass, and garlic together. Add the chicken breasts and cover the bowl with plastic wrap. Refrigerate overnight.

Take marinated chicken out of the refrigerator. Thread chicken strips through the soaked skewers.

Heat a large skillet with 1 1/2 to 2 tablespoons of olive oil over medium to medium-high heat. Place about half of the chicken skewers on the skillet. Cook each side for about 3 minutes. If you are working with thicker chicken strips, you'll want to cook each side for 4 to 5 minutes. Set the first batch of cooked chicken onto a plate to cool. Add another 1 1/2 to 2 tablespoons of oil into the skillet. Place the remaining chicken in the skillet and cook each side for 3 minutes.

While the chicken is cooking, prepare the dipping sauce. Blend dipping sauce ingredients together until smooth. Top with red pepper flakes, if desired.

Let the chicken rest for a few minutes before serving. Enjoy with the dipping sauce.

Refrigerate leftover chicken for 4 to 5 days. Refrigerate dipping sauce for 1 week. The sauce will be thick when it's refrigerated. Leave it out in room temperature for 15 minutes before using it again or dip the container in a bowl of warm water for 5 minutes.
Did you make this recipe?
Tag @hellolisalin or leave a star rating and comment on the blog!
If you make this recipe, make sure to share your creation with me on Twitter or Instagram and hashtag #hnbeats! Also, be sure to follow me on Facebook and Instagram for more Whole30 recipes.