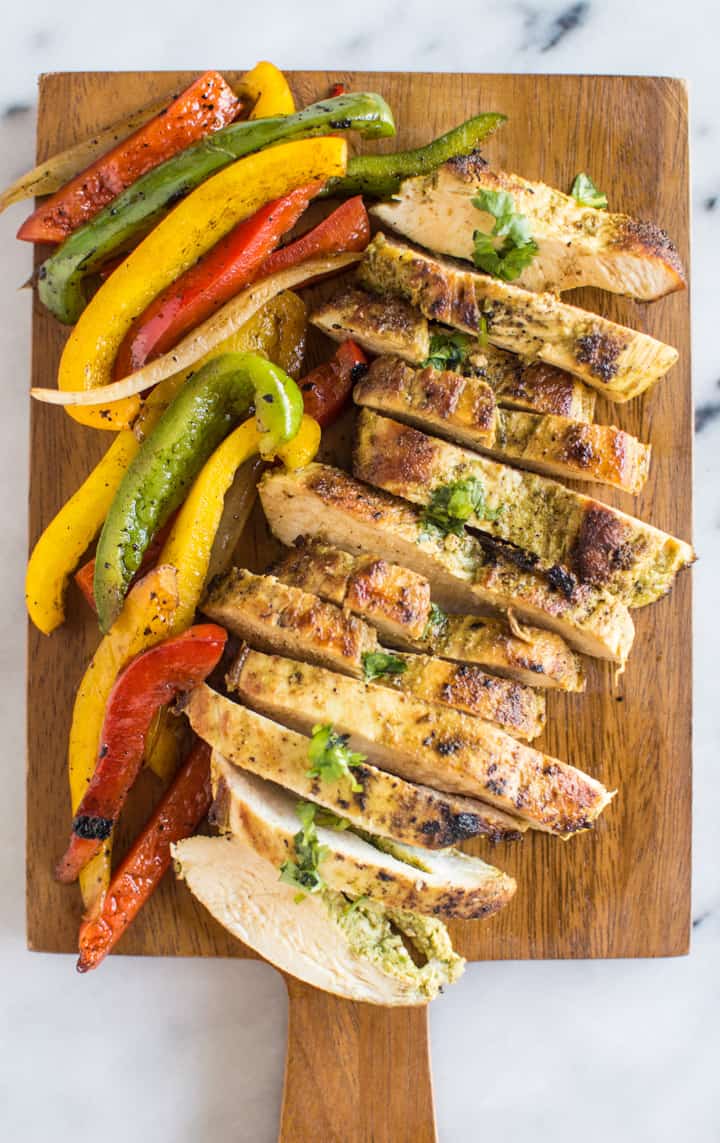 Being on the Whole30 changed my ways a little. There will always be that one food stinking item I forget at the store, but I'm more on top of my game when it comes to food prep. The thing is, I have to. I can't rely on buying something for lunch at work or ordering takeout for dinner and expect the food to be Whole30 compliant. In other words, either I cook or starve. Okay, maybe not that dramatic, but there's a touch of truth to that statement.
That's why at 6am in the morning, you'll find me roasting potatoes for lunch and dinner, and at 10pm, you'll actually see me marinading meat. Look at me, I feel a bit more like a grown-up now.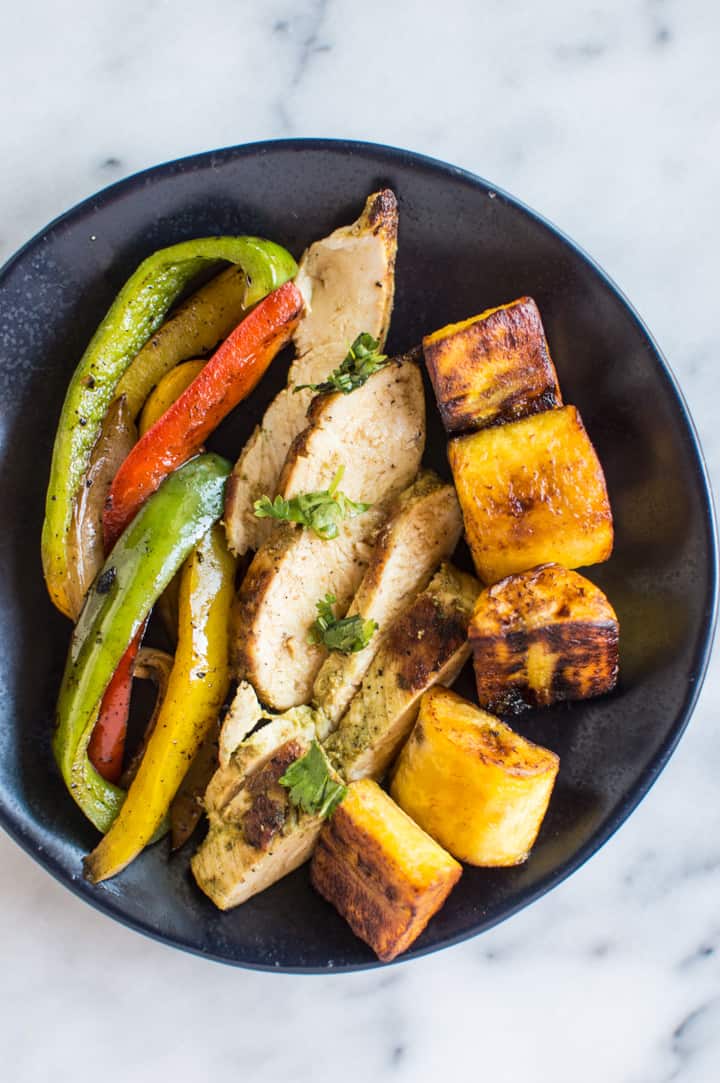 This chicken fajitas recipe is made for people like me. The prep is short and sweet. Just blend ingredients into a nice green marinade, rub up some breasts, stick it in the fridge, and grill those breasts. And for those of you who, like me, might forget to prep the chicken the night before, you can do a quick 30-minute marinade before cooking.
I adapted this recipe from Elise, and I love the trick she uses to finish her chicken. When the breasts are done, stack them and cover them in aluminum foil before cooking the vegetables and plantains. Not only does the foil help keep the chicken breasts warm, but it also preserves the juiciness of the meat.
Get ready for some delicious chicken, friends!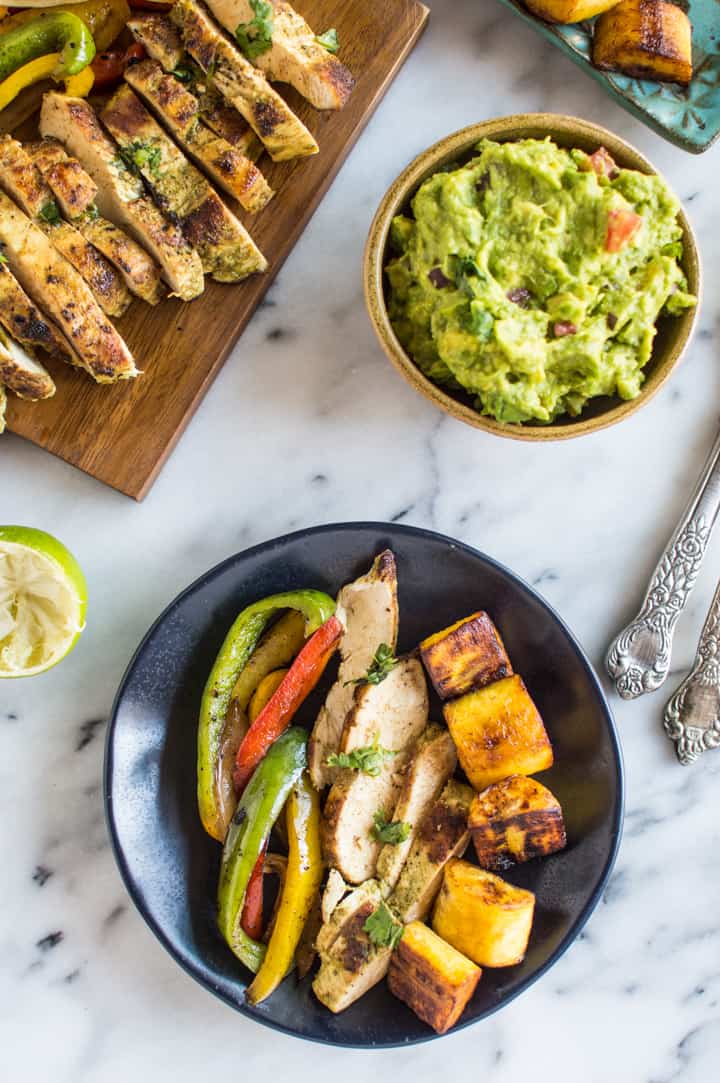 Cilantro Chicken Fajitas with Pan-Fried Plantains
Juicy, flavorful cilantro chicken fajitas are paired with vegetables and pan-fried plantains. This is a great easy weeknight meal! Serves 4.
Ingredients
Chicken
1 to 1 1/4

pounds

(450 to 550g) thin-cut chicken breasts

1/2

cup

cilantro

,

about 1/3 of a bunch

3

TBS

lime juice

2

TBS

cashew cream,

sour cream or yogurt if not paleo

1

TBS

olive oil

1

tsp

chile powder

1

tsp

cumin

1

tsp

salt

,

more for seasoning

1/2

tsp

ancho chile powder

1/2

tsp

garlic powder

2

TBS

olive oil
Vegetables
1

onion

,

sliced

1 1/2

cups

sliced bell peppers

,

about 1 1/2 large peppers

1

TBS

olive oil

salt for seasoning
Plantains
2

yellow plantains with black spots

2

TBS

coconut oil

salt for seasoning
Instructions
If you are working with large chicken breasts, you want to slice them across so that you get around 1/2-inch thick pieces.

Blend cilantro, lime juice, cashew cream (or sour cream/yogurt), olive oil, chili powder, cumin, salt, ancho chile powder, and garlic powder until smooth. In a bowl, marinade chicken with the sauce. Cover with plastic wrap and refrigerate overnight. If you are pressed for time, you can marinade the chicken for 30 minutes.

When you are ready to cook the chicken, wipe off most of the excess marinade and season chicken breasts with a pinch of salt.

Heat a large skillet with 2 tablespoons olive oil over medium-high heat. Place two chicken breast onto the skillet and cook each side for 3 to 4 minutes. When the chicken breasts are done, stack them and wrap in foil while you cook the remaining chicken breasts, vegetables, and plantains.

To cook the vegetables, add an 1 tablespoon of olive oil to the skillet and add all the vegetables with a pinch of salt. Sauté vegetables for 3 minutes. Serve on a plate.

To prepare the plantains, peel each plantain and chop them into 5 or 6 sections that are about 1 inch wide. Slice each section in half.

In a sauté pan, heat 2 tablespoons of coconut oil over medium heat. Place the plantains on the pan, cut side down. Cook and flip the plantain pieces until most sides are a deep golden brown.

Slice up the chicken breasts and enjoy with the vegetables and plantains!
Notes
1. Adapted from Simply Recipes. [br][br]2. The flavor of the fajitas tastes better when the chicken marinades overnight, but the 30-minute marinade is a great option when you are pressed for time. If you are doing the 30-minute version, I suggest adding another tablespoon of lime juice so that the flavor gets to the chicken.
Did you make this recipe?
Tag @hellolisalin or leave a star rating and comment on the blog!
NOTE: This post contains an affiliate link for the Whole30 book.
Looking for more Whole30 recipes? Follow me on Facebook and Instagram! I'm sharing many delicious recipes on there like this peach guacamole and easy peasy pasta sauce!