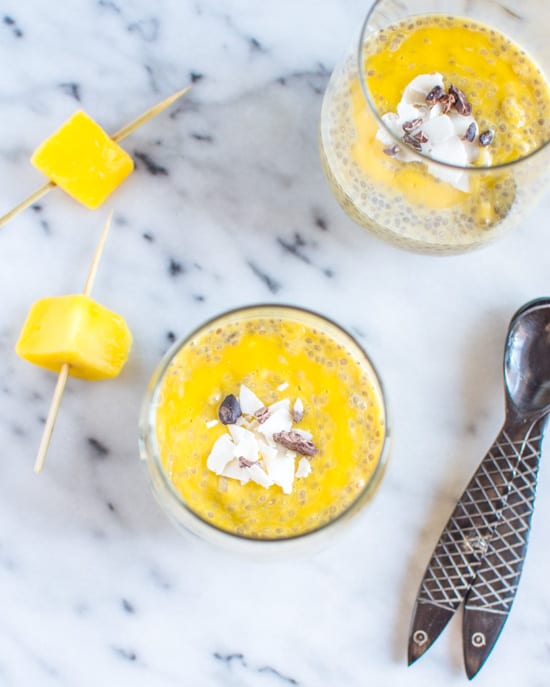 I just took a gander at my calendar. Yikes! I'm running a half-marathon in less than 2 months! Am I ready? Not in the slightest. I haven't been keeping up with my training schedule, though I do a long run once a week. Last week: 8 miles. This week: ??? I was actually quite proud of myself when I finished and that I managed to average less than 10 minutes per mile. I've never run such a long distance before. Ever. And, yet, I still have 5.1 more miles to go!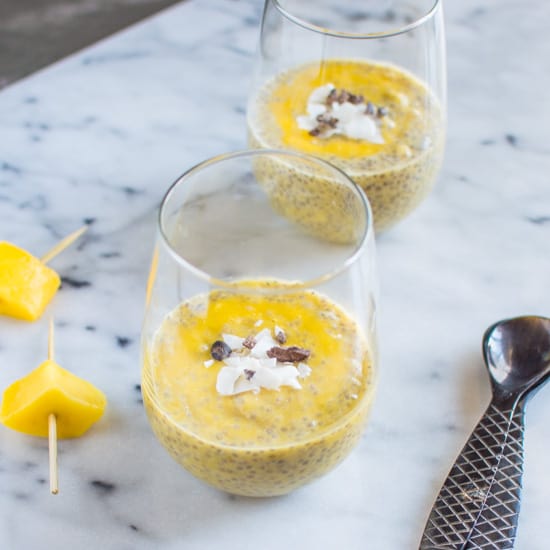 So, I'm back to my make-ahead breakfast kick, hoping that this will encourage me to wake up and exercise. With the sun coming up later now, morning workouts have been a losing battle for me. But in the words of Tim Gunn, it's time to "make it work!"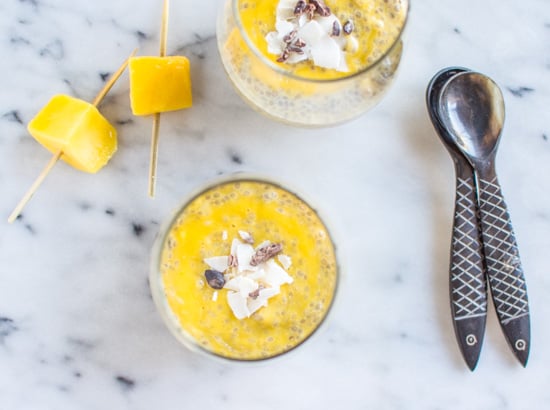 I love having chia pudding in the morning because it makes for a very light breakfast. I usually make vanilla chia pudding, but this time, I added some pureed mango to switch up the flavors. I used frozen mangoes, which I thawed in warm to hot water for 10 minutes. I just haven't found any great sweet mangoes lately!
Mango Chia Pudding
Ingredients
6

TBS

chia seeds

2

cups

(575 ml) unsweetened almond milk

2

TBS

agave nectar

,

or any other liquid sweetener

2

tsp

pure vanilla extract

2 1/2

cups

(~440g) frozen mango chunks
Instructions
In a medium bowl, mix the chia seeds and almond milk together and stir with a fork. Let it sit for 10 minutes and stir, breaking apart any large chunks. Let it sit again for another 5 to 10 minutes and stir.

Add the agave and vanilla extract and mix until well incorporated. Cover the bowl with plastic wrap and refrigerate for at least 4 hours. If you are planning to refrigerate this overnight, put the chia pudding in an airtight container and refrigerate.

When you are ready to eat the chia pudding, thaw the mangoes by immersing them in very warm water (the water should not be burning hot). Ten minutes was long enough to thaw the mangoes for me. Puree the mangoes in a food processor or blender.

Mix the pureed mango and chia pudding together.

Serve chilled and top the pudding with your favorite toppings!
Did you make this recipe?
Tag @hellolisalin or leave a star rating and comment on the blog!
I am much too disorganized with my life to post any sort of workout schedule on here, but here are my goals for the coming week:
Finish a long run (9 miles)
Run for pace once
Go for a casual, short run before boot camp class
Attend 2 yoga classes (one being the 6:30am class)
Get to bed by 11:30pm (this is going to be difficult)
Eat well and be mindful of late-night snacking (quite difficult considering all the free See's Candy I acquired recently)
Smile!
Who knows whether I'll be able to accomplish these goals, but I'll try!