Thank you to Nature's Intent Apple Cider Vinegar for sponsoring this post!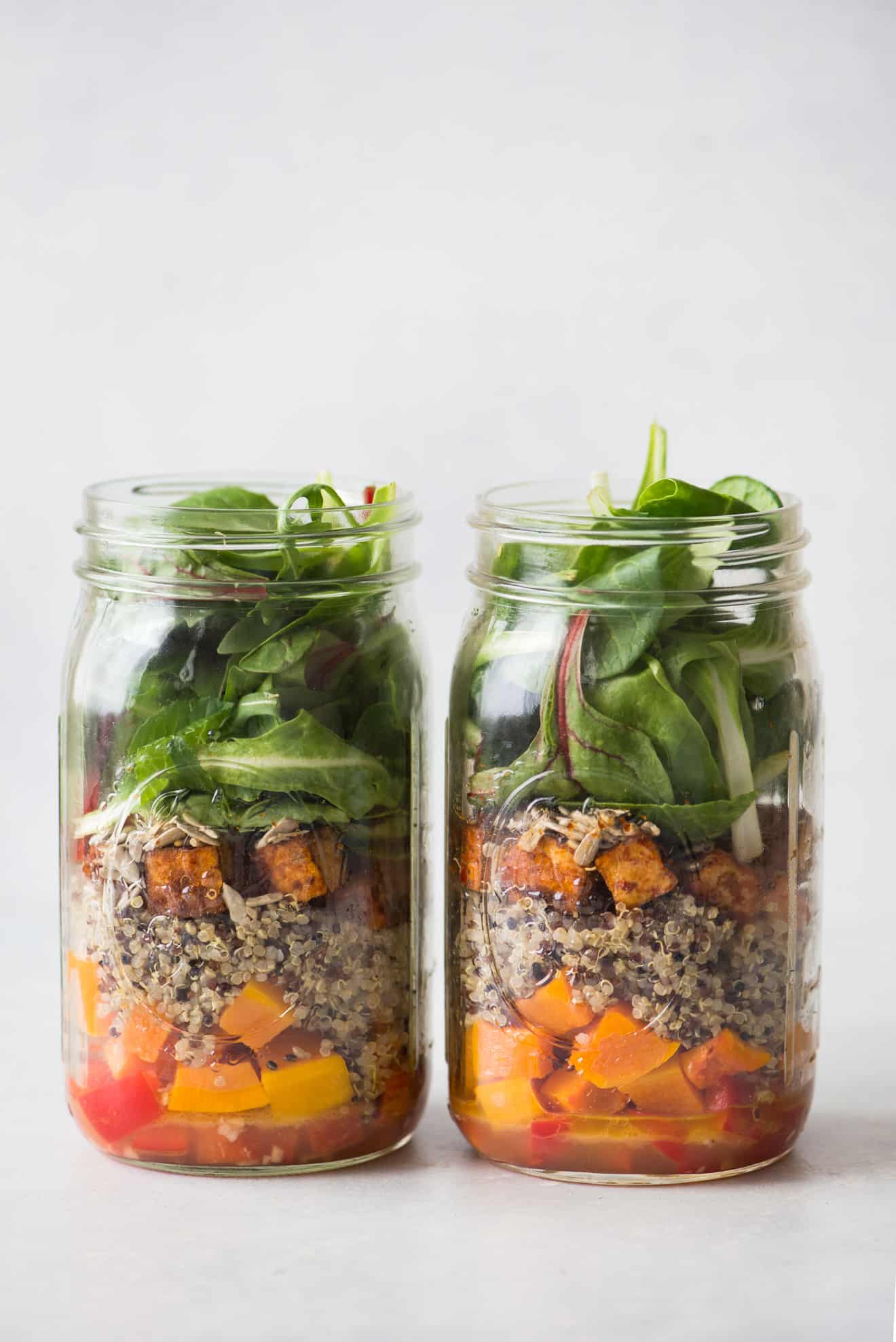 One of my big, big goals this year is to be more prepared about my meals during the week. I once thought that one of the perks of working from home was that I could live a healthier lifestyle. In theory, I have more flexibility to work out and cook healthy, home-cooked meals every day. Well, the truth is that I haven't been living up to that ideal. I find myself grazing all day because I don't have clearly defined meal times. To make matters worse, I actually went to the gym less often because I wanted to carry on working instead of exercising. By the end of last year, I felt sluggish and tired.
This year, I've been putting my best foot forward. Ever since I got back from my vacation in Europe, I go to bed between 9:30 and 10:30 and wake up at 6:00 in the morning. Then, I workout at 7:00 and start work right after that. I never thought I would be a consistent exercise-in-the-morning type of person, but this routine has left me feeling excellent so far. I just have much more energy to get through my work day!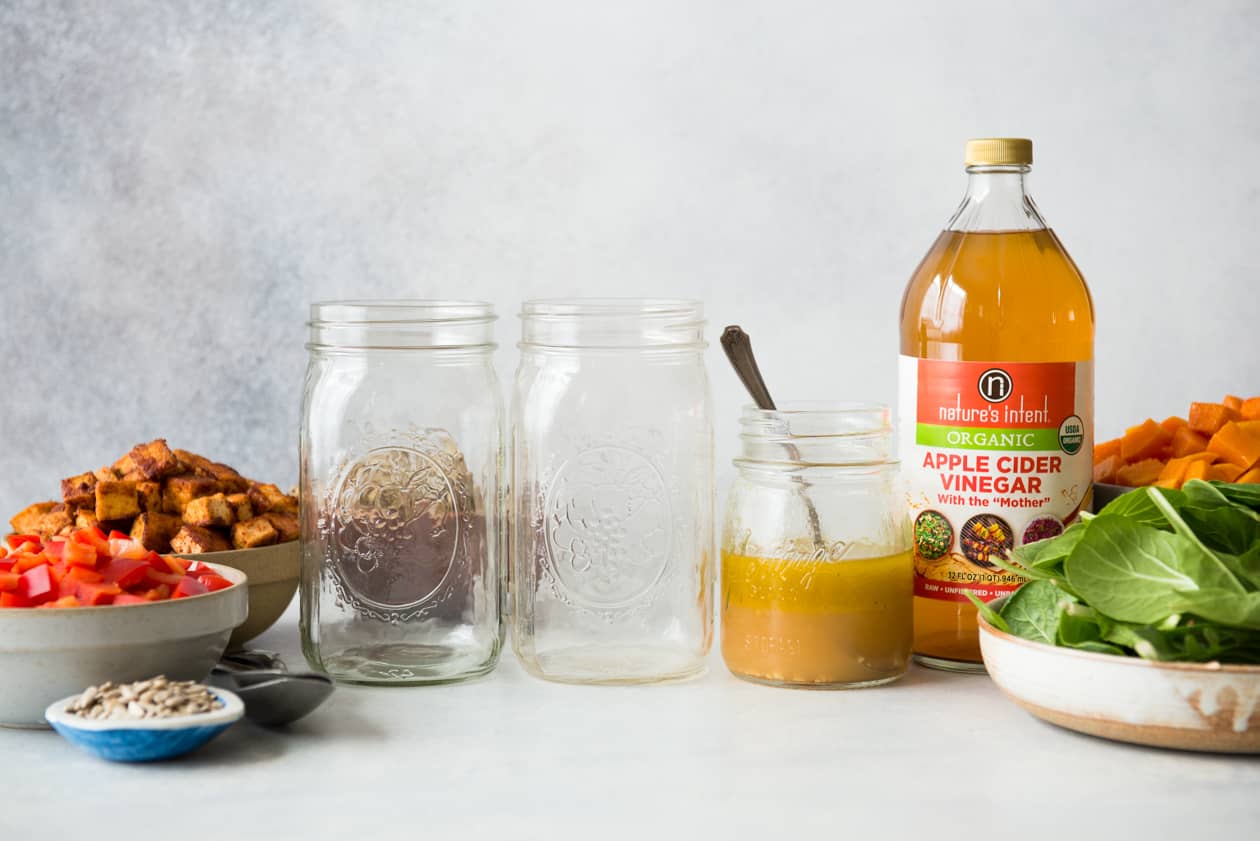 Another key to my healthier lifestyle is meal prepping on the weekends. I've committed my Sunday afternoons to chopping vegetables, cooking grains and legumes, and prepping as many meals as I can. Mason jar salads have been a phenomenal breakthrough for me. I prepare several veggie-packed mason jars at a time so that I have easy meals that I can plop onto a plate and enjoy throughout the week. Lunches no longer consist of me eating crackers and cheese!
In this basic mason jar salad recipe, I packed together roasted butternut squash, quinoa, vegetables, and tofu. To dress the salad, I made a vinaigrette using olive oil, Nature's Intent Apple Cider Vinegar, orange juice, sesame oil, garlic and salt and pepper. It's a light and tangy vinaigrette that goes well in any salad. You can tweak the vinaigrette recipe by adding dried oregano, chopped scallions or even finely diced shallots!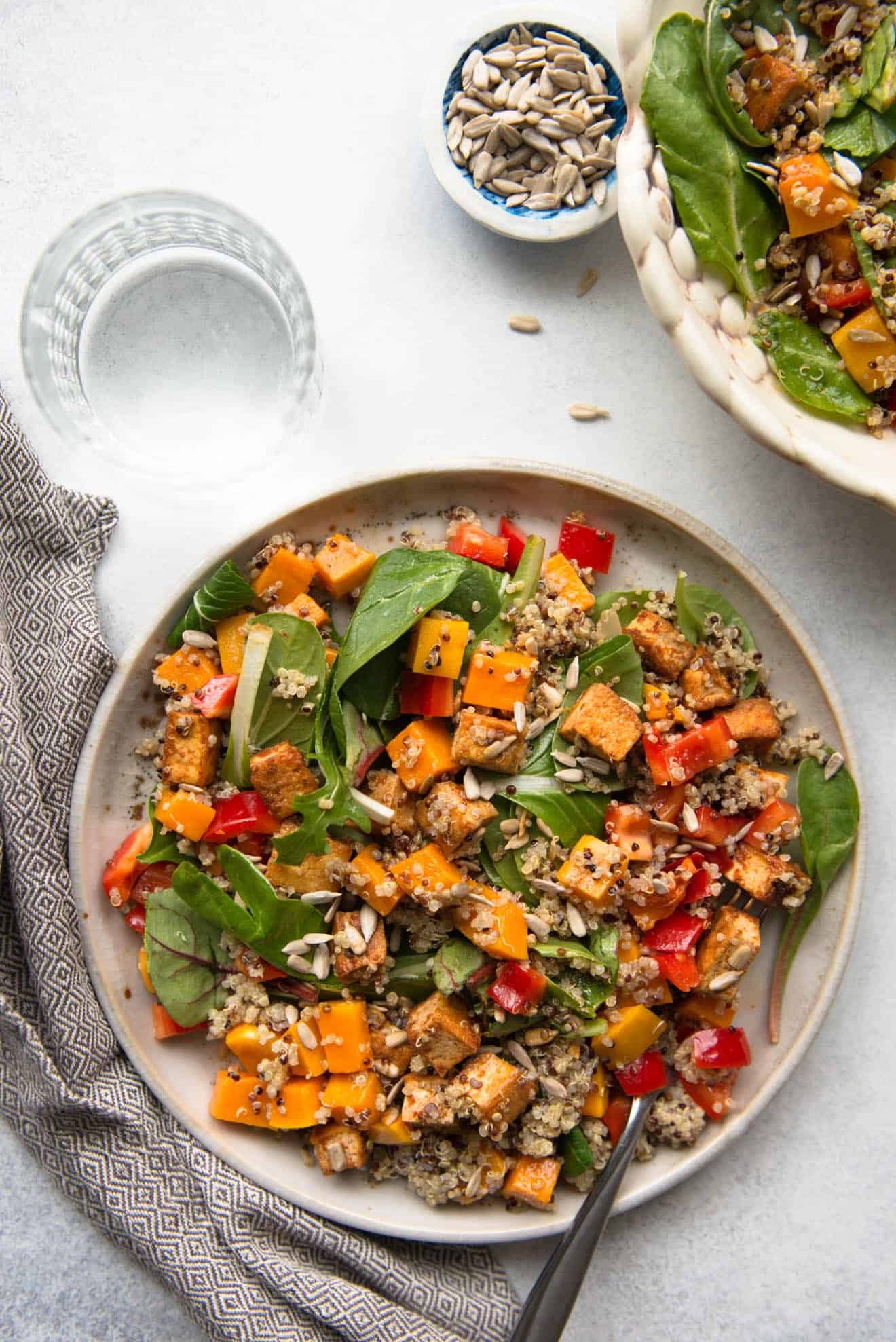 COOKING NOTES FOR THE MASON JAR SALAD
The order of packing the mason jar salad: Stick to the order I've outlined in the recipe. I poured the vinaigrette into the bottom of the jar so that it doesn't seep into the more delicate ingredients, such as the greens. Then, I layered on the firm vegetables—ingredients that won't absorb too much of the vinaigrette over time. After adding the grains, proteins, and seeds, I stuffed the top of the jars with greens so that they won't wilt as quickly.
Variations: The main protein in this salad is red curry tofu (it's SO GOOD, by the way). For those of you who aren't as keen on tofu, you can sauté the red curry sauce with beans, tempeh, chicken, shrimp, or whatever protein you prefer.
Mason Jar Salads with Butternut Squash, Tofu and Quinoa
You can mix and match your favorite protein and vegetables to these mason jar salads!
Ingredients
Orange and Apple Cider Vinaigrette
6

tablespoons

Nature's Intent Apple Cider Vinegar

6

tablespoons

olive oil

4

tablespoons

orange juice

1

tablespoon

toasted sesame oil

2

cloves

garlic

,

minced

1

teaspoon

kosher salt

pinch

of ground black pepper
Red Curry Tofu
2

(12-ounce)

packages of extra-firm tofu

3

tablespoons

olive oil

,

divided

1 1/2

tablespoons

red curry paste

2 1/2

tablespoons

soy sauce

,

or use tamari if gluten free

1

tablespoon

maple syrup

,

brown sugar or honey works, too

1

teaspoon

toasted sesame oil
Mason Jar Salads
4

(32-ounce)

wide-mouth canning jars

1

large red bell pepper

,

diced

2 to 3

cups

roasted butternut squash

,

cubed

2

cups

cooked quinoa

4

tablespoons

sunflower seeds

4 to 5

cups

mixed greens
Instructions
Prepare the vinaigrette: Combine all the vinaigrette ingredients into a jar. Cover with a lid and shake until the ingredients are combined. Taste and adjust the seasoning to your liking. Set it aside.

Prepare the tofu: Drain the tofu and wrap the tofu blocks around a layer of paper towels to dry the tofu even more. If you squeeze the block of tofu, and notice that it squishes pretty easily, you'll need to press the tofu. Place each wrapped tofu block onto a separate plate. Then, add a stack of plates over each block of tofu. Let it sit for 15 to 20 minutes to press out some of the liquid. Pressing isn't necessary if your tofu block feels firm.

Prepare the red curry sauce: Mix the red curry paste, soy sauce, maple syrup (or brown sugar/honey), and toasted sesame oil in a small bowl. Set it aside.

Cook the tofu: Cut the tofu into 1/2-inch cubes. Heat 2 large non-stick pans over medium-high heat with 1 1/2 tablespoons of olive oil in each pan. Add the tofu cubes and cook for 5 to 6 minutes, flipping the tofu a few times to brown some of the sides. Consolidate the tofu into one pan. Pour the red curry sauce into the pan and stir to coat the tofu with the sauce. Cook for an additional 1 to 2 minutes, until the sauce fully soaks into the tofu. Turn off the heat and let the tofu cool for 15 minutes.

Assemble the mason jar salads: Grab the vinaigrette. You'll notice that the oil has separated. Give the jar a good shake to combine the ingredients before assembling the salad. Gather all your mason jar salad ingredients together, as well as the 4 mason jars. Add the following ingredients into each jar in this order: 3 to 4 tablespoons of vinaigrette, 1/4 of the diced bell pepper, 1/2 to 2/3 cup roasted butternut squash, 1/2 cup cooked quinoa, 1/4 of the batch of red curry tofu, 1 tablespoon sunflower seeds, small handful of mixed greens (about 1 cup). Seal the jars and store them in the refrigerator for 3 to 4 days.
Notes
ROASTING BUTTERNUT SQUASH: If you don't have roasted butternut squash ready to go, start with a squash that is about 1 1/2-pounds. You can roast a larger one and use the leftover squash for something else. Peel, trim and deseed the squash. Chop the squash into 1/2-inch cubes. Toss with 1 tablespoon of olive oil and roast at 375ºF for 30 minutes, or until fork tender. For those of you who buy packages of cubed butternut squash, 10 ounces of the squash should be enough.
COOKING QUINOA: If you don't have the quinoa ready to go, grab a large saucepan and boil 1 cup of quinoa with 2 cups of water and a pinch of salt. Once the water boils, cover the saucepan, reduce the heat to low and simmer for about 15 to 18 minutes, until liquids are absorbed by the quinoa. Turn off the heat and let the quinoa sit for an additional 10 minutes before fluffing up with a fork.
It is essential that you use a non-stick pan to fry the tofu. Otherwise, it will stick to the bottom of your pans constantly, and that's just annoying.
Nutrition
Serving:
1
mason jar salad
|
Calories:
463
kcal
|
Carbohydrates:
43
g
|
Protein:
22.8
g
|
Fat:
25.3
g
|
Saturated Fat:
3.7
g
|
Cholesterol:
1
mg
|
Sodium:
625
mg
|
Fiber:
8.4
g
|
Sugar:
9.2
g
Did you make this recipe?
Tag @hellolisalin or leave a star rating and comment on the blog!
Disclosure: This post was sponsored by Nature's Intent Apple Cider Vinegar! To learn more about their apple cider vinegar and to get more recipe inspiration, visit their website or follow them on Instagram.