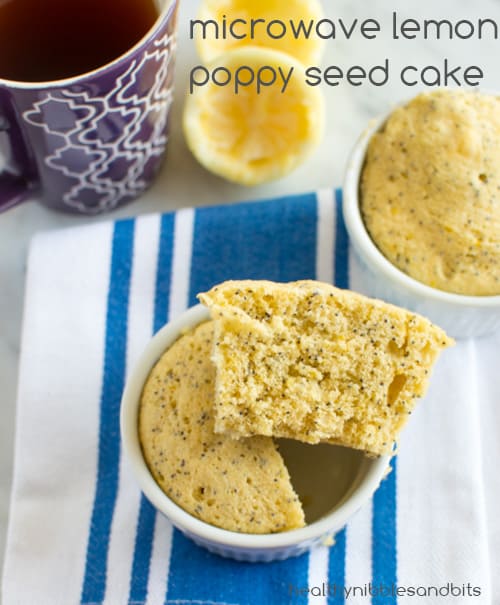 I am a girl on a mission. To make the perfect microwave cake. WHAT?!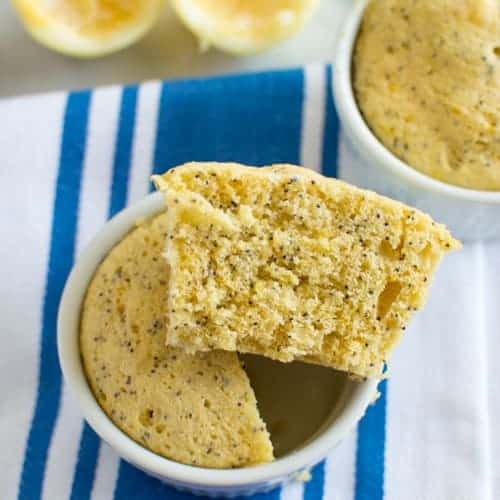 We use microwaves to reheat leftover Chinese food, cook frozen meals, and steam vegetables when we're too lazy to pull out the pots and pans. But cake making? You better believe it!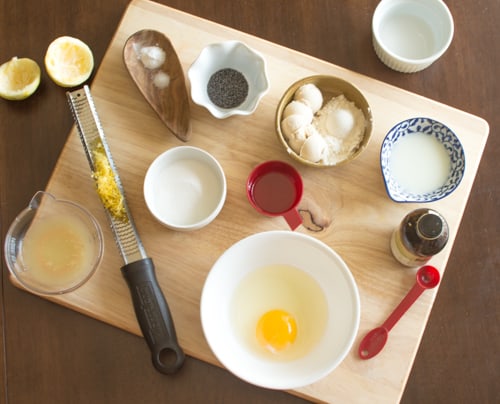 I tried 5 different versions of this cake before I found the perfect combination of ingredients. I've eaten so many overcooked, flavorless, and overly moist cakes that I didn't want to see another cake again after the third try. But I kept going, just for you.
The key to making lemon cakes work is a lot of lemon flavor, and I do mean a LOT. Here, I added 3 tablespoons of lemon juice and 2 tablespoons of lemon zest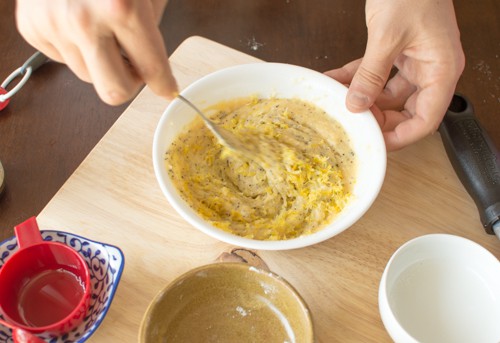 The vessel for holding the cake batter is just as critical. I found that the texture of the cake improved when I started using a ramekin to hold the batter instead of a mug. The batter usually does not reach the top of a standard mug, and I found that the cakes were being cooked twice—once by the heat from the microwave, and again from the steam forming in the mug.
Why did I decide to make a lemon cake, you ask? Because a dear friend brought over a bag of homegrown lemons to me last week! Seeing these fresh lemons reminds me that I need to start my own garden soon.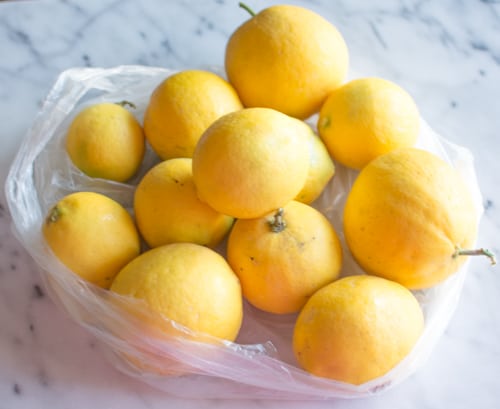 This recipe makes 2 small cakes, but share one only if you're feeling generous.
Microwave Lemon Poppy Seed Cake
Ingredients
1

large egg

3

TBS

lemon juice

2

TBS

non-fat milk

,

any other milk works also

2

TBS

sugar

1

TBS

canola oil

1

tsp

pure vanilla extract

2 1/2

TBS

coconut flour

1 1/2

TBS

all-purpose flour

1/4

tsp

baking soda

1/8

tsp

salt

,

tiny pinch

2

TBS

lemon zest

1

tsp

poppy seeds

Natural cooking spray or oil for greasing
Instructions
In a small bowl, mix the egg, lemon juice, milk, sugar, oil, and vanilla together.

Next, stir in the coconut and all-purpose flour, baking soda, and salt. Once everything is well-incorporated, add the lemon zest and poppy seeds.

Grease two ramekins with cooking spray or oil. Distribute the batter evenly between the two ramekins.

Microwave each ramekin one at a time. Some of the cake batter usually drips out of the ramekin while cooking, so place a folded paper towel underneath the ramekin. Cook for 1 minute 45 seconds or until the top of each cake is firm to touch.

Let the cakes cool off for a few minutes before serving.
Notes
1. If coconut flour is difficult to find, I suggest using a pancake or waffle mix as a substitute. You would use 4 tablespoons of waffle/pancake mix to replace the coconut and all-purpose flour.[br][br]2. If you don't have ramekins around the house, use a microwave-safe mug with a flat bottom. Because of the additional steam inside the mug, you might need to reduce the cooking time a bit.
Did you make this recipe?
Tag @hellolisalin or leave a star rating and comment on the blog!