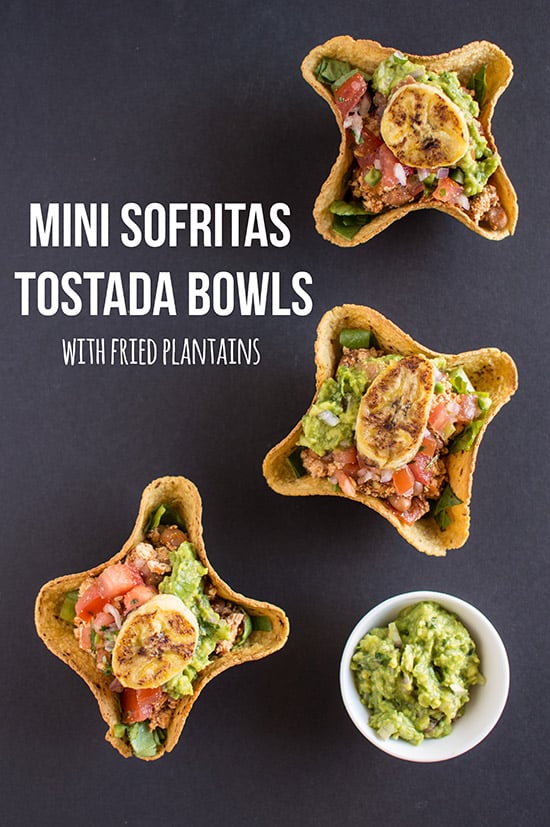 My introduction to Mexican food: a ground mystery meat and cheese burrito wrapped in plastic that I got for lunch in elementary school. Think Hot Pockets and its bright brown/orange glory, but in the shape of a burrito. Doesn't sound appetizing to you? You're right, they were kinda sorta absolutely disgusting, in a way that only public schools can achieve.
You would think that I gave up on Mexican food ages ago, but I have my high school BFF to thank for bringing me to the bRIGHT side. We frequented our neighborhood eats after school, and she suggested that we stop by our local taqueria one day. My reaction was lukewarm, to say the least. We walked into the taqueria, and I thought we stepped into a factory assembly line. There were two people working the grill, two people scooping the rice and beans, two people on the meats and fixins, and one on the cash register who was also in charge of the chips. Everyone seemed to move at a manic pace, and I couldn't figure out what I was supposed to do! Thank goodness my BFF was their to guide me through everything.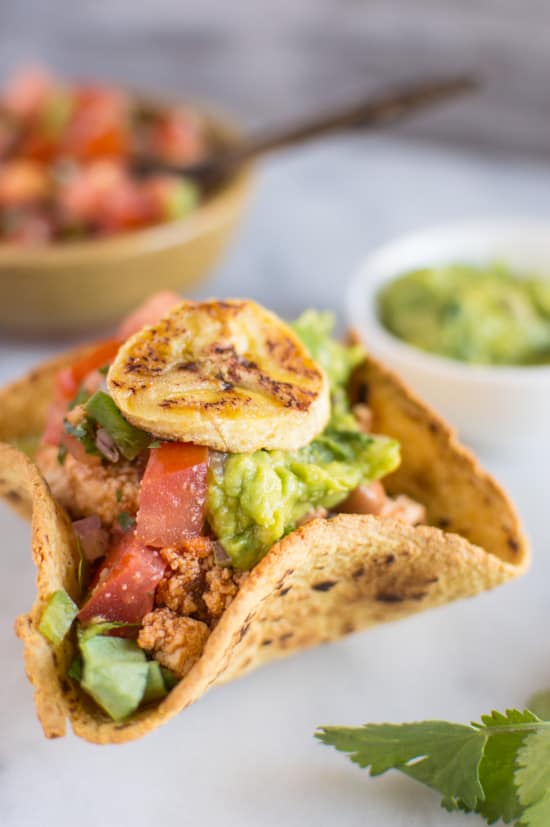 Out of the corner of my eye, I saw a stack of what looked like fried tortillas in the shape of a bowl. "What on earth is that?" I asked. "Bowls for the super tostadas." So began my love affair with all things having to do with tostada bowls. Who can resist an edible bowl that's pretty much one huge tortilla chip? Not me.
I some serious cravings for tostadas last week, so I had to make some at home. Most people don't have a tortilla shell pan and I don't either. I learned this neat trick from Eating Well on how to make tostada bowls at home. All you need is your muffin pan and a bit of cooking spray. I found that only three tortillas fit well on the pan. Be prepared to bake these in batches.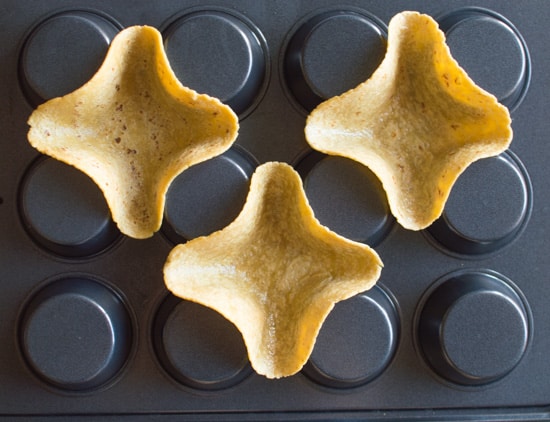 Bake for 13 to 15 minutes and you get a nice crunchy vessel for your food.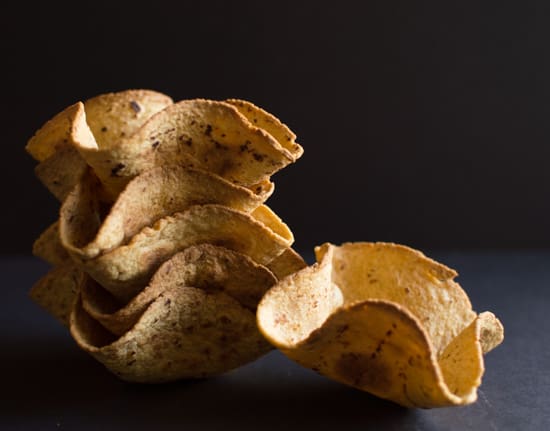 Some of you may be familiar with the sofritas from Chipotle. I discovered it last summer, and I have fallen so much in love with it that I only order sofritas at Chipotle now. Yes, I go there when I'm too lazy to cook. Don't judge me.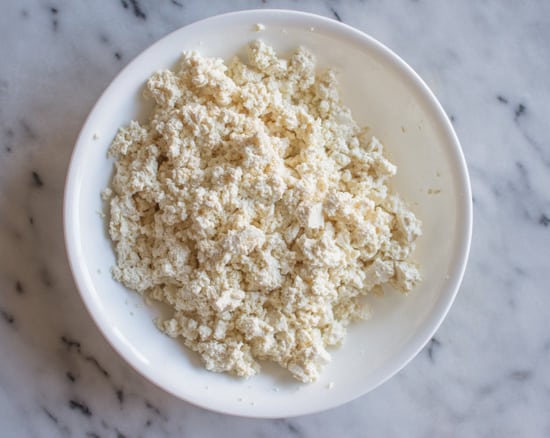 To make the sofritas, I crumbled a block of extra firm tofu until no visible solid chunks were left. I did everything with my hands, which was a lot of fun. But if you're not into getting down and dirty today, a potato masher or a fork should work well here.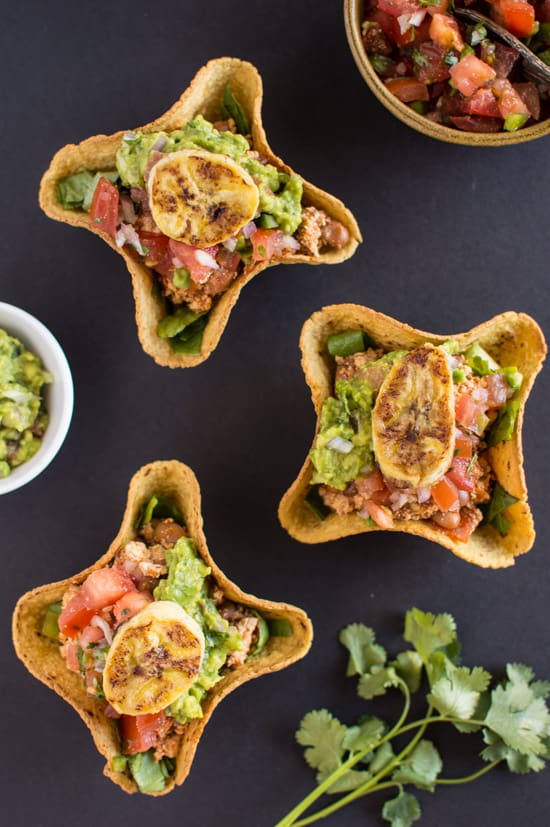 Mini Sofritas Tostada Bowls with Fried Platains
Serves 2 to 3.
Ingredients
Tostada Bowls
6

6-inch corn tortillas

,

the very small kind

cooking spray

12

muffin pan
Sauce
1 1/2

TBS

olive oil

1/2

small yellow onion

,

diced (about 1/4 cup)

1

large tomato

,

diced (about 1/2 cup)

4

TBS

canned green chiles

1/4

cup

(45g) chipotle paste* (SEE NOTE)

1

TBS

dried oregano

2

tsp

sugar

1/2

tsp

granulated garlic

1/4

tsp

ground cumin
Sofritas
1 15-

ounce

(425g) package extra firm tofu

1

cup

(200g) canned pinto beans, rinsed and drained

2/3

cup

water
Plantains
1/2

yellow plantain

,

sliced to 1/4 inch slices

cooking spray
Extras
4

romaine leaves

,

chopped

Salsa

,

about 1/2 cup

guacamole

,

about 1/3 cup
Instructions
Preheat oven to 375 degrees F (190 degrees C).

Drain the water from the package of tofu, and wrap the tofu block with paper towels. Press the tofu between two plates, weighing down the top plate with something heavy, like a large bag of sugar. Let the tofu sit there for at least 15 minutes.

Lightly coat 3 corn tortillas with cooking spray on both sides. Flip over the muffin pan so that the cups are facing down. Fit a tortilla into one of the empty spaces. The tortilla should look like it's forming a loose "X" shape. Repeat with the other two tortillas. Bake for 13 to 15 minutes. Repeat with the remaining tortillas.

Prep the Sauce: In a large saute pan, heat the olive oil over medium-low heat. When the pan is hot, add the onions and let it sweat out for about 5 minutes. The onions should look translucent but not burned. Add the tomatoes, and let them cook for about 3 minutes. Add the chilies, chipotle paste, and the rest of the spices. Let everything cook for another 2 minutes.

Unwrap the tofu and crumble it with your hands.

Cook the Sofritas: Add 1/2 cup water to the sauce, and let it cook down for 2 minutes. Add the crumbled tofu and beans and let everything simmer for 10 minutes. Make sure the sofritas doesn't look too watery. Turn off the heat.

Cook the Plantains: Spray a small pan with cooking spray and put it over medium-high heat. Arrange the sliced platains in a single layer on the pan. Cook for 1 to 2 minutes (until the bottom side is brown), then flip the slices over and cook for another minute.

Assemble the bowls by placing some chopped romaine at the bottom, then layering with some sofritas, salsa, guacamole, and fried plantain.

Best served immediately.
Notes
1. Tostada bowl recipe from Eating Well. Sofritas recipe adapted from Pinch of Yum.[br][br]2. Chipotle paste may be difficult to find. If you can't find it, get a can of chipotle peppers in adobo sauce. Chop up 2 to 3 chipotle peppers (depending on how spicy you want the dish) and use 2 tablespoons of the adobo sauce.
Did you make this recipe?
Tag @hellolisalin or leave a star rating and comment on the blog!