Soft strawberry scones are paired with a creamy, perfectly sweetened red bean paste. These seasonal bites are a great addition to your brunch menu!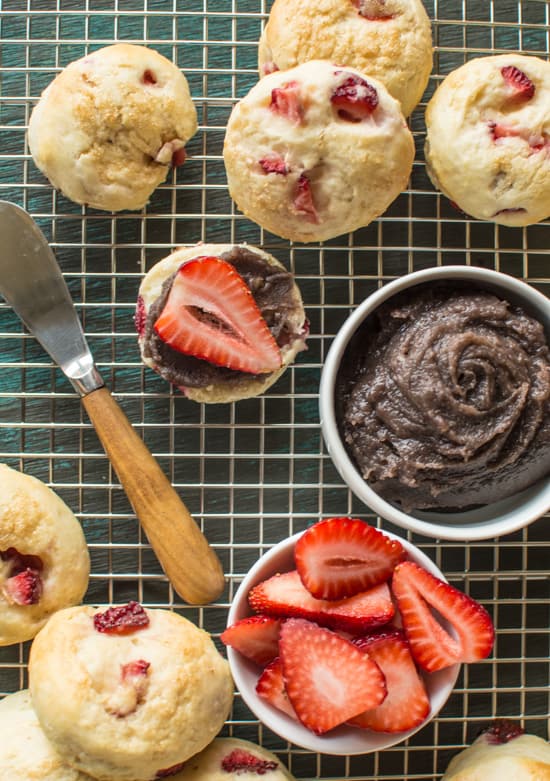 In the past few weeks, I've done 2 big things:
1. I finally told a former mentor that I've become a food blogger.
2. I made my own sweet red bean paste from scratch.
Both big moments. Both worth talking about.
Lately, I've been thinking a lot about personal connections—about how awful I am with staying in touch with friends. I moved around in the last seven years and have met so many fine people along the way. I now have friends and mentors all over the world, literally, but I am awful at keeping up from everyone. Strangely, I always think about them when I'm in a yoga class. During savasana, the final resting pose, my mind wanders. I wonder how E. and O. are doing in Iraq, whether P. is married yet, how my boys are doing in China and when the hell they are coming back to the U.S., and whether my old roommate K. needs another Chinese candy/cookie care package. All these thoughts are firing off in my head when I'm supposed to be resting. But I always find this to be the most peaceful time to ponder about my friends.
Last week, I finally decided to do the thing that a sensible person would have done a long time ago: send a damn message to my friends. Well, one of these people that I contacted was my former law professor and mentor. Boy, was I nervous sending her that message. How exactly do you convey this to your mentor: "You know all those years I invested into law school and the time you spent to help me be a good lawyer? I'm not doing that whole thing anymore. I'm a food blogger."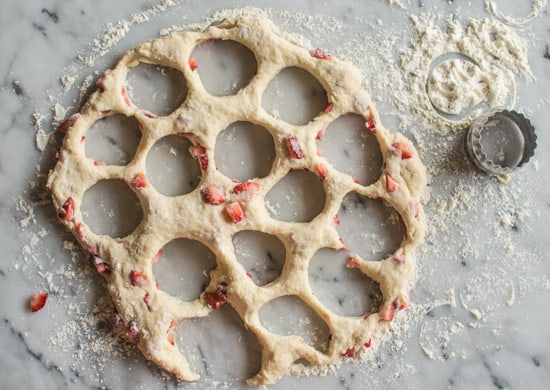 A food blogger. Now, I have nothing but respect for the work that my fellow food bloggers put in, but I never know what other people think. With a slight bit of trepidation, I sent the link of this blog to my mentor with the following message: "You'll have to excuse the conversational tone of my blog!" Bear in mind that the only writing of mine she's read is my 30-page legal research paper. I felt like I had to prepare her for all the slangs and made-up words I use here. To my pleasant surprise, not only did she love my blog, but she also said, "What is there to excuse? You don't want to sound like a lawyer on a food blog." Ain't that the truth.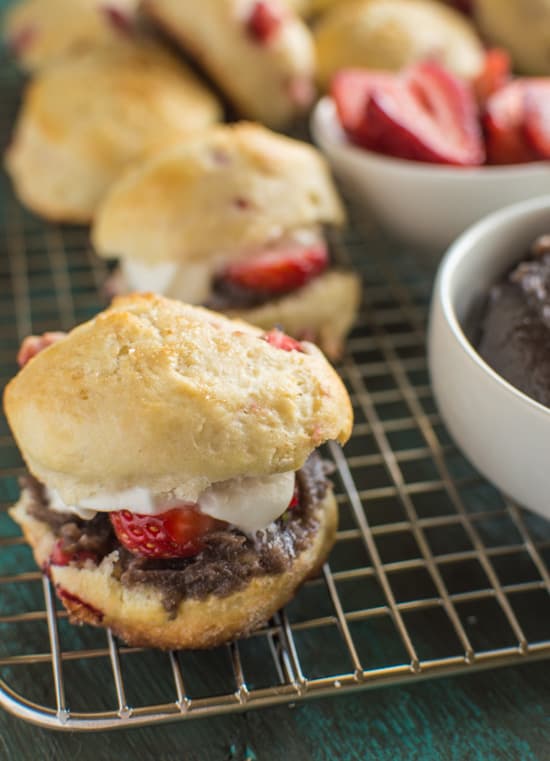 Now, onto the other big accomplishment around here lately: this red bean paste. Have you ever tried red bean paste before? It's quite popular in Asian desserts. You take a whole lotta adzuki beans, boil them down until they get mushy, smash everything together, swirl in some melted sugar, and you'll be in for a delicious treat. The steps are simple but this paste will take a while to make. There's no sugar coating it. I even added the extra step of pressing the cooked beans through a fine mesh to screen out some of the skin on the beans. It's much easier to do push the beans through the screen by hand versus a sppon, so channel your inner Rosie the Riveter or Popeye—whatever works for you. This step is essential for a smoother paste, but you can just mix the beans up in a blender.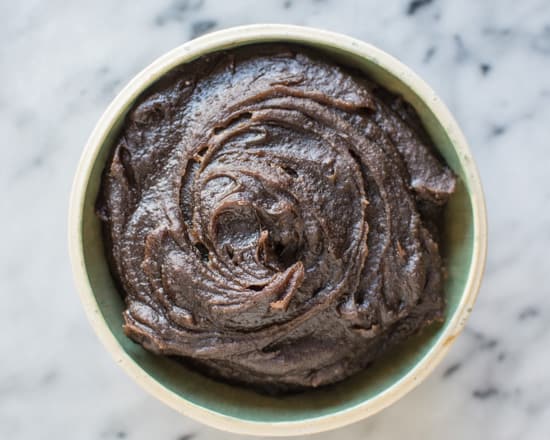 Since I've made this red bean paste, I've been putting it on anything where spreadable foods belong. I slap some on crackers, make a PB and red bean paste sandwich, and used it to add pizzazz to my scones. I was feeling a bit of an East meets West vibe to my cooking lately, hence the scone and red bean paste combo. It's dangerously good with whipped cream and some fresh fruit.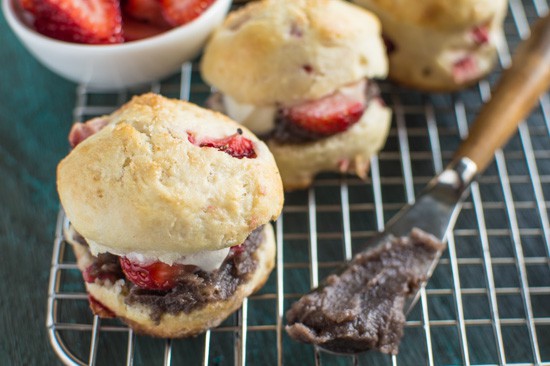 We don't talk a lot about life lessons, but here are two things I've learned:
1. It's never too late to reconnect with acquaintances;
2. Homemade red bean paste should have happened in my life a looong time ago.
Hope you enjoy these scones as much as I did!
Print
Mini Strawberry Scones with Sweet Red Bean Paste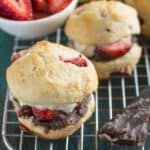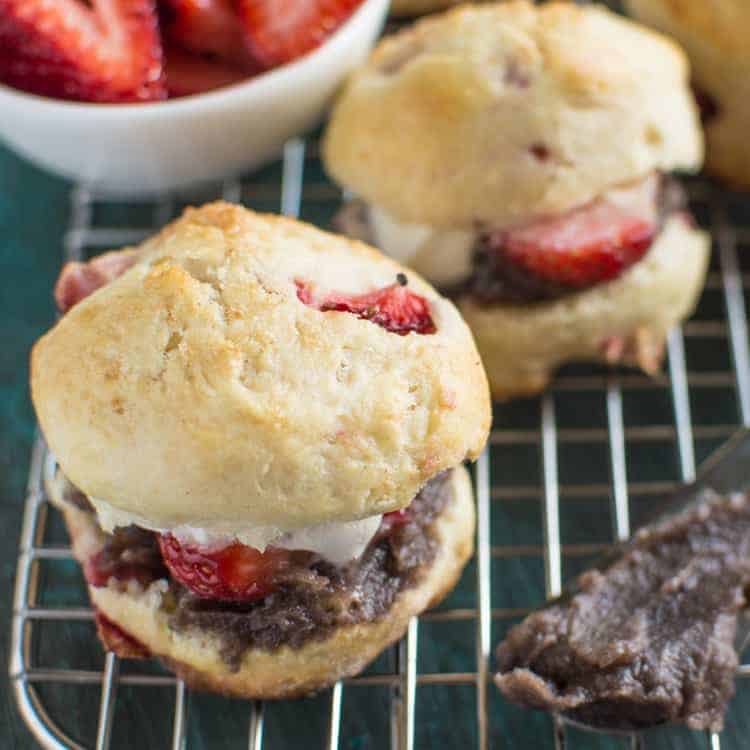 Makes about 25 to 28 scones. (Prep time does not include time for soaking beans overnight.)
Author:
Prep Time:

1 hour

Cook Time:

1 hour 30 minutes

Total Time:

2 hours 30 minutes

Category:

breakfast, brunch, dessert
Scale
Ingredients
Red Bean Paste
10 oz

. dried adzuki beans

1 1/3 cups

granulated sugar

1

TBS coconut oil
Strawberry Scones
3 cups

all-purpose flour (add

1/4 cup

if dough is too wet)

1 tsp

baking powder

1 tsp

salt

1/3 cup

sugar

4

TBS butter, softened at room temperature

1 1/3 cups

whole milk + more for brushing

1 tsp

pure vanilla extract

3/4 cup

chopped fresh strawberries
turbinado sugar for topping (optional)
Toppings
8

to

10

large strawberries, sliced
whipped cream
Instructions
PREPARE THE BEAN PASTE:
Soak the beans overnight. You can skip this step, but the cooking time will be longer.
Pour the beans in a small pot and add enough water so that there's about two inches above the beans.
Boil water and turn it to a low simmer. Let it simmer for 50 minutes to an hour, until the beans are soft and easy to mash. If you didn't soak the beans overnight, keep checking the beans at 15 minute intervals to see if they are ready yet.
Drain water and let beans cool for about 20 to 30 minutes. Place a large fine mesh strainer or sieve above a medium bowl. Press the beans through the mesh with your hands. This helps separate the bean's skin from the paste. You can also skip this pressing step and just blend the beans in a blender or food processor until smooth.
In a small saucepan, melt the coconut oil. Mix the bean paste with the sugar on medium-low heat. Start stirring once you notice that the sugar has started to melt. Continue whisking until all the sugar is melted. Remove from heat. There were a few pieces of hardened sugar lumps in mine, so I pressed the paste through the strainer again.
PREPARE SCONES
Preheat oven to 425 degrees F. Line 2 baking sheets with parchment paper.
Sift the flour, baking powder, and salt together. Add the sugar and mix. Stir in the softened butter. I used my hands to mix the butter and flour. Keep incorporating ingredients until the butter and flour pieces are about the size of small peas.
In a small bowl, mix the milk and vanilla together. Add the milk to the dry ingredients. Stir until all ingredients are well combined. Fold in chopped strawberries. The dough was quite sticky at this point, so I added 1/4 cup of flour (I used 3 1/4 cups flour total).
Lightly flour a work surface and knead the dough a little. Gather the dough into a disk, roll it out to about 3/4 inches thick. Use a small cookie or biscuit cutter to cut small dough circles.
Place circles onto the baking sheet. Make sure to leave about an inch of space between each circle to prevent them from baking into each other. Brush milk on the top of dough and sprinkle turbinado sugar on top. Bake for 12 to 14 minutes.
Let the scones cool for 5 to 10 minutes before eating. Cut open the scones and spread some red bean paste over one half of the scone. Add a slice of strawberry and some whipped cream, and top with the other half of the scone.
Store leftover scones in an airtight container at room temperature for a few days