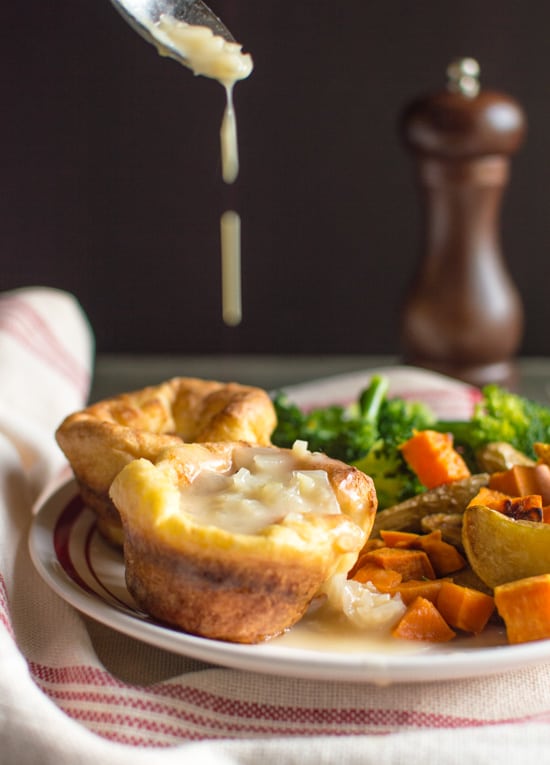 The first time I ever saw a Yorkshire pudding, I was in for a big surprise. Actually, let's back it up a bit.
What comes to mind when you hear the word, "pudding"? I think of a creamy sweet mixture that I loved as a child. Sometimes it came in little pre-packaged plastic cups from supermarket, sometimes it came from powder in a tiny box. But if we want to talk about bread pudding, I think of warmed sticky bread covered in sugar, best served à la mode. Then, there's black pudding. Ew. That's pretty much the only word I can conjure up when I think about it.
Never in a million years would I have imagined that a Yorkshire pudding would look like a bread cup—a doughy muffin with a big well down the middle. (I suppose the traditional Yorkshire puddings look more like a massive, often times misshaped, bread bowl.) The first time I ever ate one of these things, I was ready to tear it open like a roll and butter it up. I remember looking around, and everyone else was pouring gravy into it and digging in with a knife and fork. Leave it to the American to look like a pleb at the dinner table.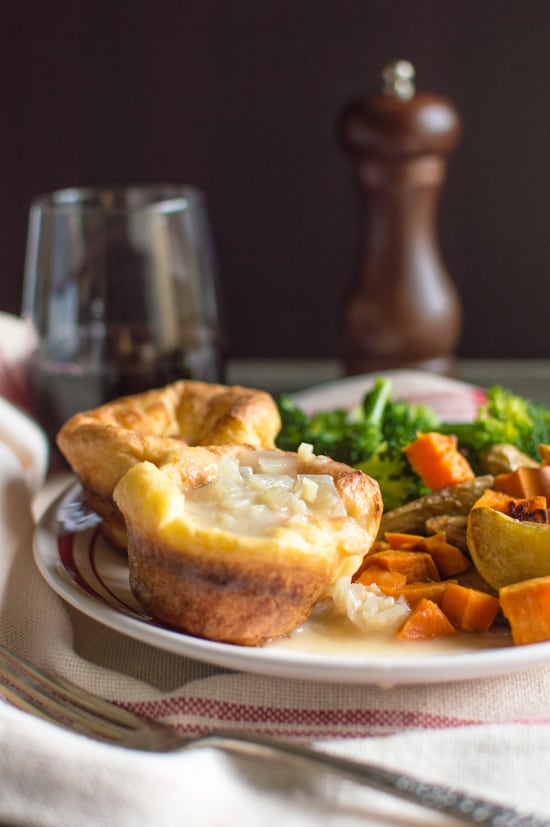 So, what makes a Yorkshire pudding "Yorkshire"? I tried looking for the answer to this question, but no one really knows. I did find out that the first recorded recipe was from 1737, and it was called a "dripping pudding" because the batter was put in a pan underneath some roasting meat. The drippings would fall into the pan to create a pudding! The more you know . . .
I served the puddings with a stovetop shallot gravy, but I could imagine eating this with anything. I've seen recipes that stuff a salmon creme in the middle and others that are drizzled with chocolate. Guess what I'm going to make next time!
Mini Yorkshire Puddings
Ingredients
4

TBS

vegetable oil

1 1/4

cups

(150g) all-purpose flour

1 1/4

cups

(300ml) milk (I used 2% milk)

small pinch of salt

3

large eggs

,

beaten
Instructions
Preheat oven to 450 degrees F (230 degrees C).

Take a 12-hole muffin tin, and drop a teaspoon of oil in each of the holes. Place the muffin tin into the hot oven for 5-10 minutes, or until the oil starts to smoke.

Meanwhile, stir the flour, milk, salt, and eggs together. Take the muffin tin out of the oven, and pour batter into each of the holes. Bake for about 15-18 minutes or until the edges are a deep golden brown. Resist the urge to open door before the puddings are ready because they could deflate!! Just check them by turning on your oven light.

Serve with gravy (or whatever else you prefer) immediately.
Did you make this recipe?
Tag @hellolisalin or leave a star rating and comment on the blog!