This gluten-free muhammara is a tasty, low fat Middle Eastern dip that's filled with tangy and sweet flavors. Perfect for snacking or for gatherings!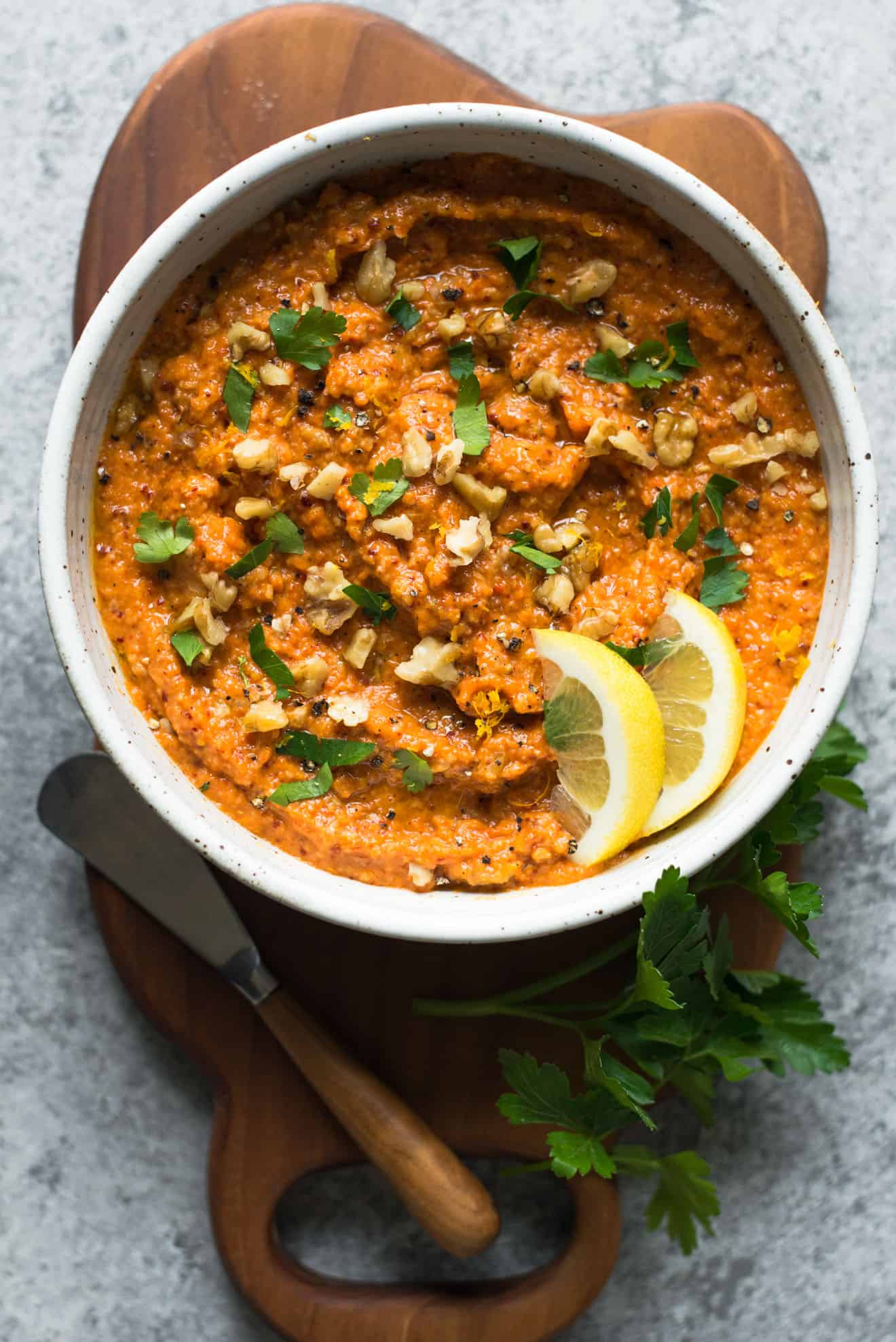 Food has the power to unite people, families and communities.
– Jamie Oliver
One of the big reasons why I love cooking is because it is my window into another culture. I may not be fortunate enough to travel everywhere on my bucket list, but at the very least, I can get a sense of another country, of another society, through food.
In light of current events, I picked up the #CookForSyria Recipe Book (thanks to Lily's recommendation). My goal was very simple: to learn more about a country that is often discussed in the media, but whose culture we often misunderstand. The cookbook is a collection of recipes that are created by top British chefs and influencers and inspired by Syrian cuisine. Page after page, the book is filled with mouthwatering recipes. The best part of the book is that all the proceeds go to UNICEF's humanitarian efforts in Syria!
As I flipped through the cookbook, Yotam Ottolenghi's muhammara caught my eye. It was one of my favorite dips that I bought at the San Mateo farmer's market, back when I still lived in the Bay Area. I made a few modifications to the original recipe, the biggest one being the preparation method. Ottolenghi's recipe instructed me to pound the bell peppers into a paste with a pestle and mortar, and I definitely did not have the patience for that! The food processor does a wonderful job at blending all the ingredients, so let's just leave it at that. I also thought that the dip could use a little more tanginess, so I added a splash of balsamic vinegar to the dip.
I have enjoyed the muhammara as a snack with carrots and crackers and used it as a paste to flavor leftover cooked millet. The dip is incredibly versatile!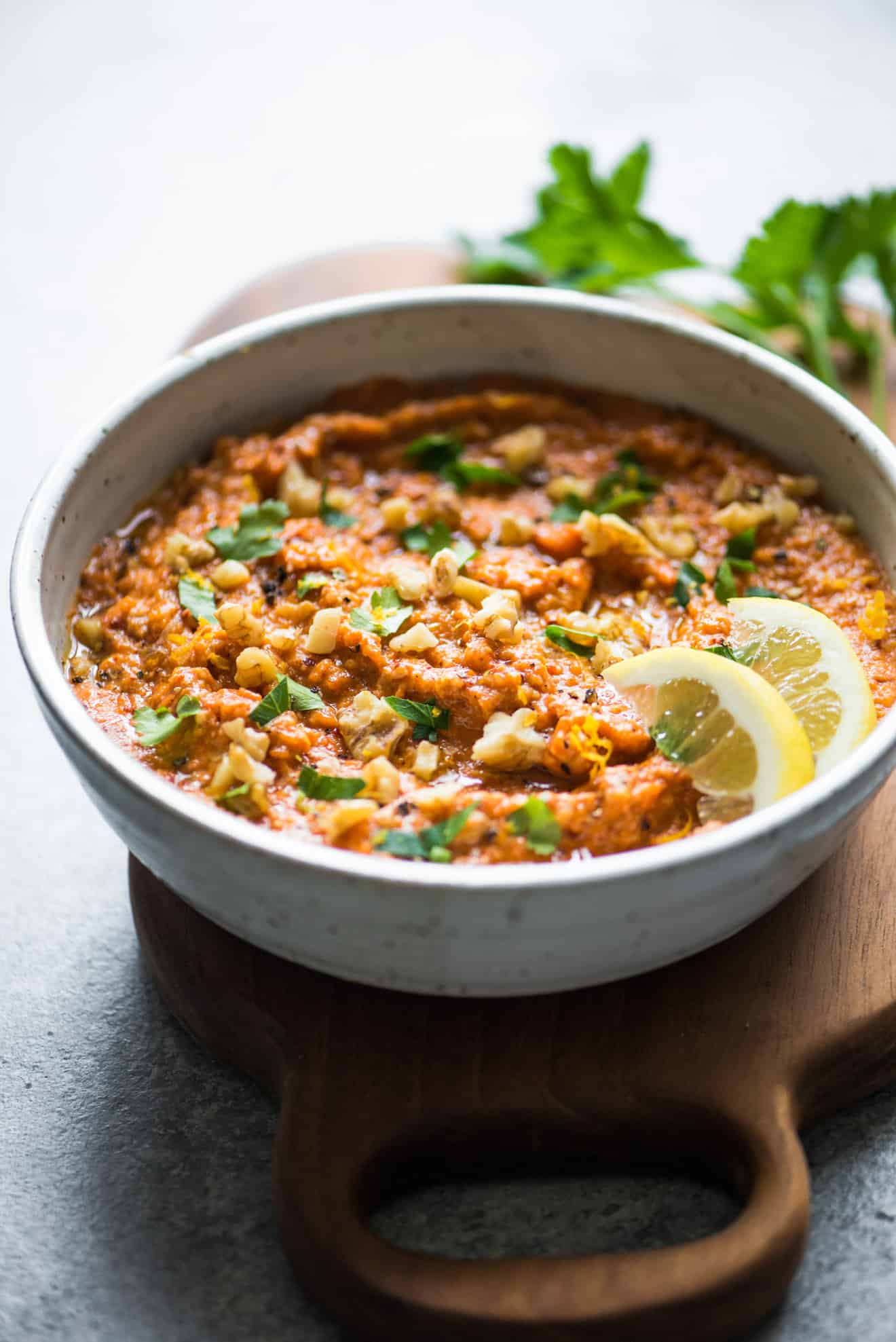 MASTERING MY MISTAKES / COOKING NOTES
Roasting the bell peppers: You will need a gas oven in order to roast the peppers in the oven so that the skin blackens. I've tried roasting them in an electric oven before and it didn't work, even after I stuck everything under the broiler. If you can't roast bell peppers easily, I recommend buying jarred roasted bell peppers. You'll need about 1 1/2 cups of it.
Substitutions: The original recipe uses a few ingredients that are no easy to find at a standard grocery store. One of them is pomegranate molasses. You can follow my recipe to make your own or you can substitute the molasses with 2 teaspoons of honey and 2 teaspoons of balsamic vinegar (in addition to the balsamic vinegar that's already in the recipe). Another difficult-to-find ingredient is aleppo pepper. I used 1/2 tablespoon of red pepper flakes instead and it tasted great. You can add more pepper flakes if you want more heat.
TOOLS + INGREDIENTS USED
Food processor: If you are looking to buy a food processor, I highly recommend buying this one. It's not the cheapest on the market, but it has a lot of power and it doesn't break down easily. You can certainly find larger food processors, but this one stores neatly in my cabinet. Besides, you don't want food processors that are too large because they won't be able to blend smaller quantities of food as well.
Print
Muhammara (Syrian Red Pepper Dip)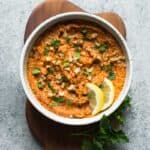 This muhammara is great as a dip or served with rice or your favorite grains. I also like smearing it inside my sandwiches or wraps. 
You will need to use a gas oven in order to blacken the peppers inside the oven. Another option is to use jarred roasted red peppers, about 1 1/2 cups total. 
Author:
Prep Time:

10 minutes

Cook Time:

35 minutes

Total Time:

1 hour 25 minutes (+ inactive time)

Yield: Serves

6

1

x
Scale
Ingredients
3

medium red bell peppers

1/2 cup

gluten-free breadcrumbs*

1

clove of garlic

2 teaspoon

s lemon juice

1/2 tablespoon

pomegranate molasses

1 1/2 teaspoon

s balsamic vinegar

1/2 teaspoon

salt

1/2 tablespoon

red pepper flakes

1 teaspoon

cumin

1 tablespoon

olive oil, plus more for drizzling

1/3 cup

walnut halves, finely chopped
Optional Toppings
chopped parsley
lemon zest
freshly ground black pepper
Instructions
Preheat the oven to 400ºF (200ºC) and position an oven rack to the center position. Line a baking sheet pan with foil.
Put the bell peppers on the sheet pan and bake for 30 to 35 minutes, turning occasionally, until the outer skin is blackened. Once the peppers are roasted, transfer them to a heat-safe bowl and cover it with plastic wrap. Let the peppers sit for about 30 minutes. Once the peppers are cool enough to handle, remove the skin, stem, seeds and ribs.
Add the peppers, breadcrumbs, garlic, lemon juice, pomegranate molasses, vinegar, salt, red pepper flakes, cumin and olive oil into the bowl of a food processor. Blend everything until smooth. Taste and adjust the seasonings to your liking. Empty the red pepper mixture into a bowl.
Stir in the chopped walnuts, saving 1 or 2 tablespoons for topping. Sprinkle the rest of the chopped walnuts, parsley, lemon zest and black pepper on top of the muhammara. Drizzle with a tiny bit of olive oil. Serve immediately. The dip is best consumed within 3 to 4 days.
Notes
NUTRITION INFORMATION: Makes about 6 Servings. Amount per serving: Calories: 106, Total Fat 6g, Saturated Fat: 1g, Sodium: 276mg, Cholesterol: 0mg, Total Carbohydrate: 12g, Dietary Fiber: 2g, Sugar: 4g, Protein 2g
SUBSTITUTIONS: (1) If you can't find gluten-free bread crumbs, just crush crackers until they become small crumbs. (2) If you do not have pomegranate molasses, you can substitute with 2 teaspoons of honey and 2 teaspoons of balsamic vinegar.