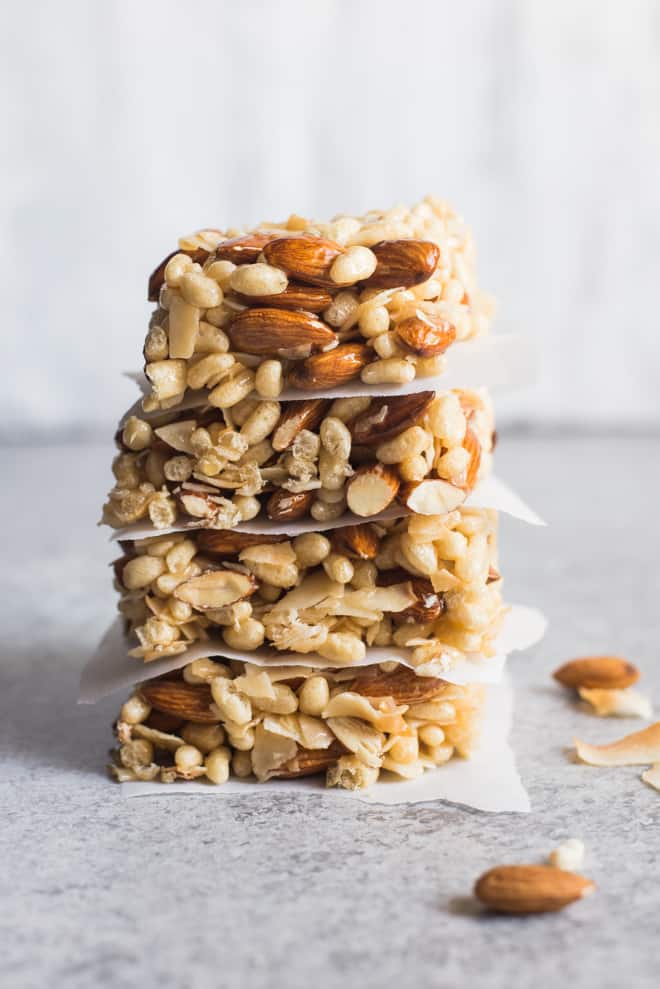 Thank you Blue Diamond Almonds for sponsoring this post!
When I was young, Mama Lin made a mean snack bar. Literally translated, it was called "crispy rice with melted sugar," and it was something that she made in China for special occasions. What made Mama Lin's snack bars distinctive was the addition of ginger and coconut. She's a firm believer that ginger brightens up the flavors of sweets, and I tend to agree with her.
I have been craving her snack bars a lot lately, so I decided to make my own version of it. Mama Lin's snack bars involve melting sugar in a wok until it turns into a syrupy form. The process of melting sugar into a syrup takes quite a long time, and it's a lot trickier than it sounds. If you don't watch the sugar carefully, you can burn the syrup before you know it, and you'll be left with a liquid that has a bitter aftertaste. Yuck, no one wants that!
To simplify the cooking process, I used brown rice syrup instead. All you need to do is melt it in a saucepan for about 2 to 3 minutes to make it more malleable for mixing. Brown rice syrup doesn't harden as quickly as sugar, so it'll buy you a little more time for stirring and shaping the snack bars.
Just like Mama Lin's bars, I've added ginger flavor and coconut flakes. To make the snack bars into a more satiating treat, I've added some Blue Diamond Whole Natural Almonds to the mix. These bars are quite filling, and a small piece got me through an entire afternoon!
To start, I toasted the whole natural almonds for 10 minutes to give it an extra crunch. You can skip this step, but you'll be toasting the coconut anyway, so you may as well throw it into the oven, too.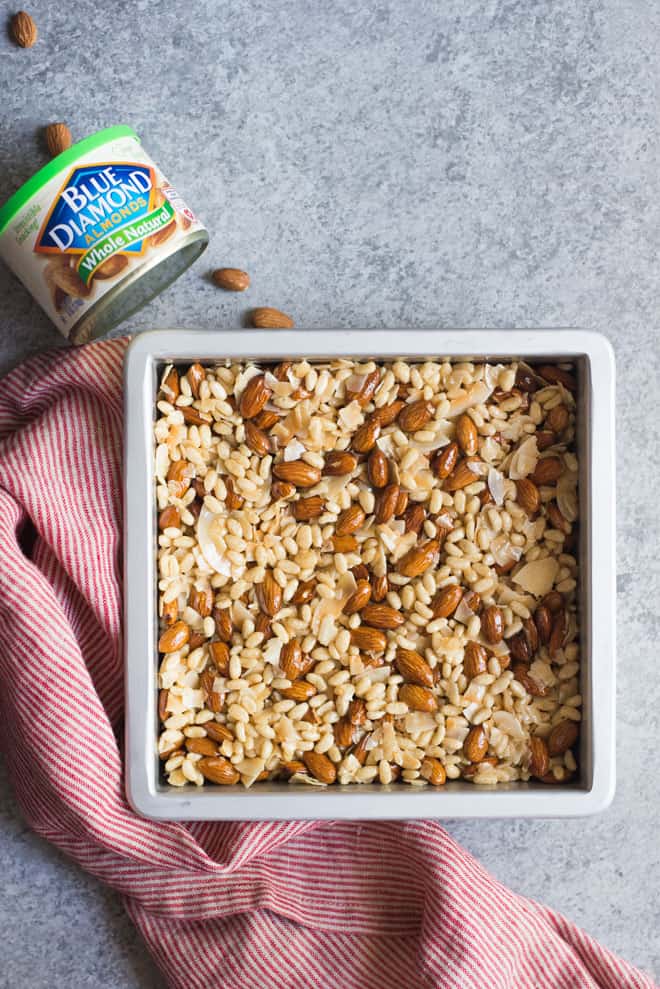 I'm partnering with Blue Diamond Almonds to bring you some delicious, healthy snacks to help fuel your day. I've shared some tasty trail mix recipes using Blue Diamond Whole Natural Almonds, including mango chili, apple blueberry, chocolate cranberry and tropical delight. Be sure to check out those recipes for healthy snack ideas!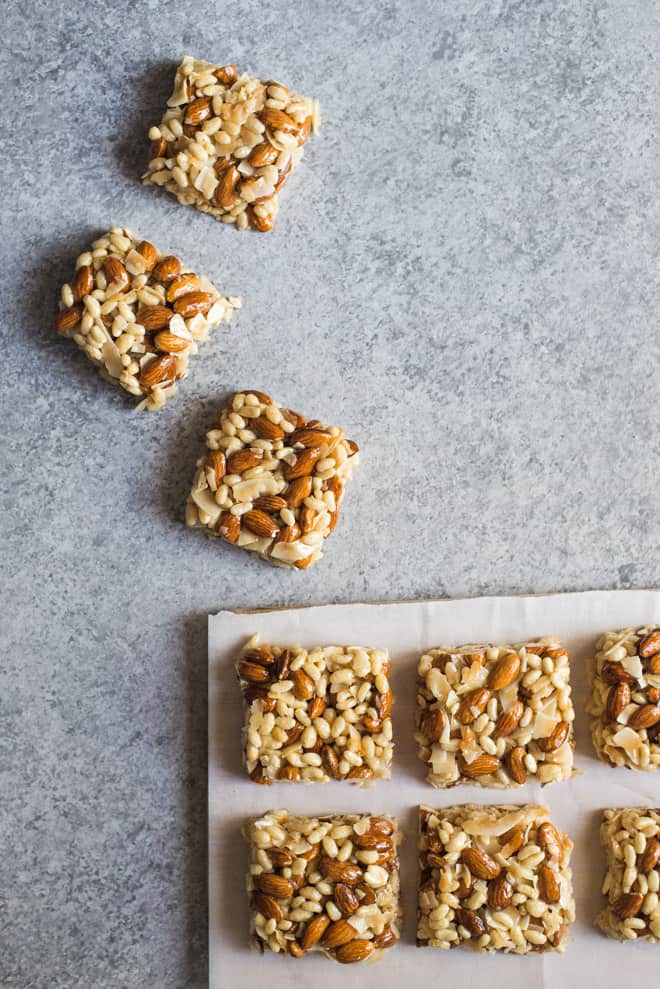 MASTERING MISTAKES / COOKING NOTES
Why I used brown rice syrup: Initially, I used a mixture of honey and brown rice syrup for these snack bars, but they turned out too sweet and too sticky. The flavors of brown rice syrup are much more mellow, so I decided to use it as the only sweetener for these bars. I haven't tried it, but I don't think that maple syrup would work with this recipe because it's not sticky enough to hold everything together.
Toast coconut carefully: I burned many batches of coconut when I tested this recipe. The main reason was the baking sheet I used for toasting coconut. The coconut burned very quickly when I baked it on a dark baking sheet, and they were perfect when I baked them on a light sheet. I recommend using a light-colored baking sheet for toasting the coconut, if possible. Otherwise, just shorten the baking time and watch the oven carefully.
Use a sharp knife to cut the bars: For some inexplicable reason, I decided to cut the bars with a bench scraper the first few times, and it wouldn't cut through the almonds! For the cleanest cuts, I recommend freezing the bars for about 15 minutes and then cutting them with a sharp knife.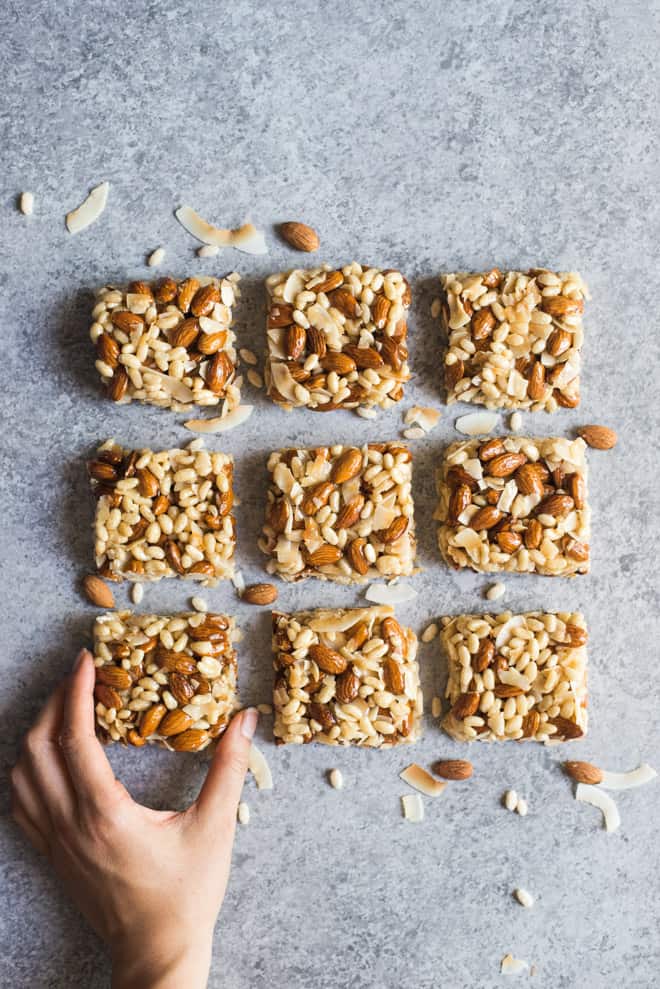 If you make this recipe, let me know! Take a photo of your creation and tag me on Instagram so that I can give you a fist bump!
No-Bake Almond Coconut Crispy Rice Bars
Ingredients
1 3/4

cups

(265g) Blue Diamond Whole Natural Almonds

1 1/3

cups

(60g) unsweetened coconut flakes

1 1/2

cups

(65g) crispy rice cereal

cooking spray

1/2

cup

(120ml) brown rice syrup

1

teaspoon

pure vanilla extract

1/2

teaspoon

ground ginger

1/2

teaspoon

sea salt
Instructions
Preheat oven to 325ºF (160ºC). Pour almonds and coconut flakes onto separate baking sheets. If possible, use a light-colored baking sheet for the coconut. The coconut will burn a lot quicker if you use a dark-colored baking sheet. Bake coconut for 3 to 5 minutes. Bake almonds for 10 minutes. You can do this step several days ahead.

Mix almonds, coconut flakes and rice cereal in a large bowl. Set aside.

Spray an 8 x 8-inch pan with cooking spray. Greasing the pan will make it easier to release the bars.

Add rice syrup, vanilla, ground ginger and sea salt into a saucepan. Give everything a stir. Heat saucepan over medium heat. Once the liquid starts bubbling, reduce heat to a medium low. Let it simmer for about a minute. If you have a candy thermometer, you want the syrup mixture to reach 240ºF (115ºC). Turn off heat.

Pour syrup mixture into the bowl with the almonds and coconut. Coat a rubber spatula with cooking spray and use it to combine the wet and dry ingredients together. Pour everything into the prepared baking pan and press the mixture into the pan evenly. Let everything cool for 30 minutes before cutting into them.

To make clean cuts, freeze the pan for about 15 minutes before cutting everything into 12 bars. Make sure to use a very sharp knife for this because you will be cutting into the almonds.

Store them in an airtight container at room temperature. The rice cereal should stay crispy for a few days.
Notes
NUTRITION INFORMATION: Makes 12 Bars. Amount Per Bar: Calories: 182, Total Fat 13g, Saturated Fat: 6g, Sodium: 5mg, Cholesterol: 0mg, Total Carbohydrate: 16g, Dietary Fiber: 3g, Sugar: 9g, Protein 4g
Did you make this recipe?
Tag @hellolisalin or leave a star rating and comment on the blog!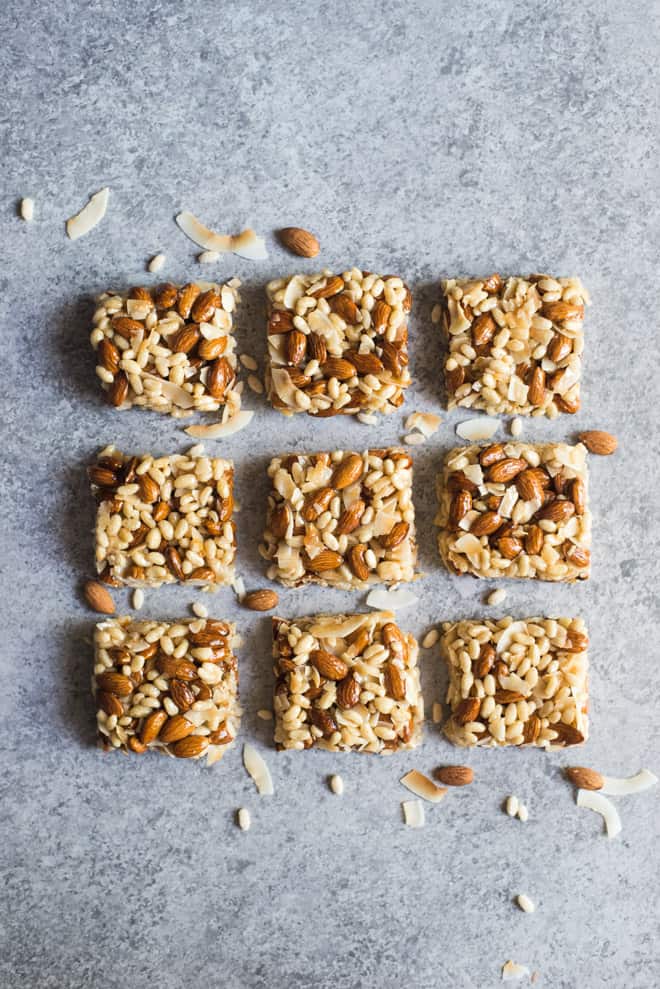 Disclosure: This post is sponsored by Blue Diamond Almonds.