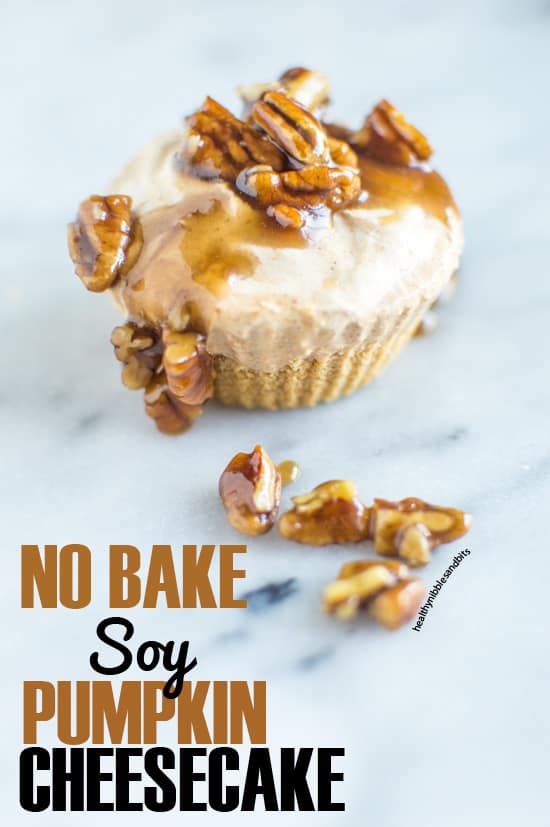 Disclosure: I was asked to participate in the "#SoyInspired for Thanksgiving" campaign as a member of the Healthy Aperture Blogger Network. I was compensated for my time. All thoughts are 100% my own.
You didn't think I was going to leave out the pumpkin for my friendsgiving gatherings, right? Of course you didn't. You know me too well.
Growing up, Mama Lin always stir fried pumpkin with a bit of lean pork. It tasted fine, but that didn't help me develop a strong affinity for pumpkin. Let's be honest, savory pumpkin + pork doesn't exactly scream "EAT ME" to a child.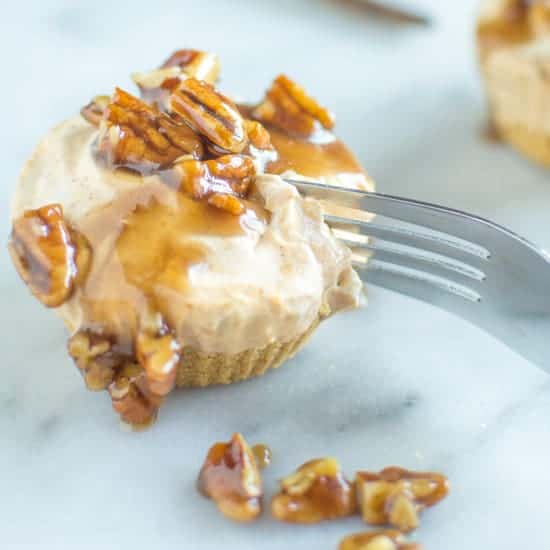 My first taste of pumpkin pie years later completely broadened my pumpkin horizons. That rich and creamy orange stuff laced with cinnamon, nutmeg, ginger, cloves, and all-spice tingled my tastebuds and stole my heart. If only Mama Lin had tried her hand at making a pumpkin pie. Too bad she doesn't like the taste of cinnamon, nutmeg, cloves, or all-spice. You'll have to forgive her though—eating Vietnamese or Thai food is already an adventure.
It wasn't until high school when I experienced a full-on traditional Thanksgiving dinner. I bonded with my high school bestie over a box of Kix cereal, and months later, she invited me to Thanksgiving dinner with her family! After hours of stringing pounds of green beans and waiting patiently for the turkey to finish roasting, we devoured our day's labor in minutes. These Thanksgiving dinners with my bestie firmly cemented in my mind that no Thanksgiving is complete without a pumpkin treat. (Oh, it rhymes!)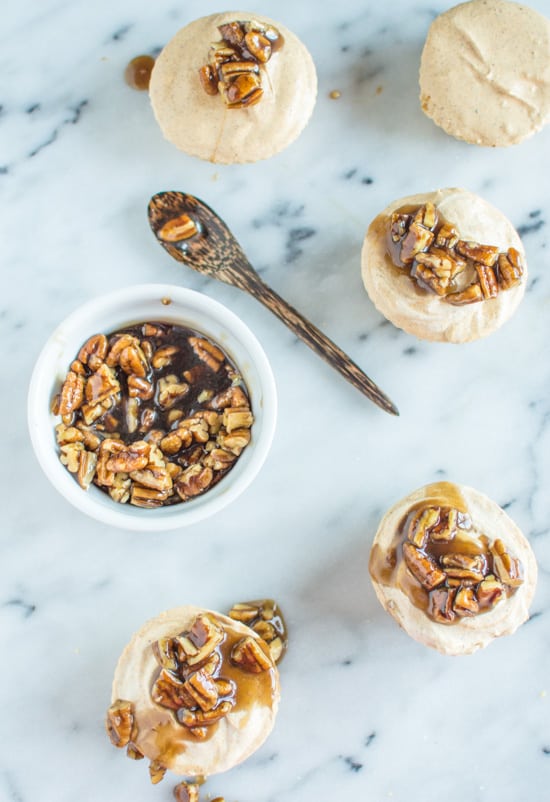 This year, The Soyfoods Council asked me to create a #SoyInspired dish for Thanksgiving. You know that I'm a huge fan of soy products because of its nutritional value, but I never thought of using soy in my Thanksgiving dinner. Kitchen experiments, here I come!
Because pumpkin pie is the one dish I look forward to every Thanksgiving, I wanted to create a pumpkin treat using soy products. And while I'm at it, why not make it into a vegan dessert so that everyone can enjoy it? Instead of going down the traditional pumpkin pie route, I decided to create a no-bake cheesecake recipe. Most of us will probably be stressin' out about the turkey and the 500 sides cooking in the oven or on the stovetop. We don't need to add another oven dish if we can avoid it.
3 batches of soy cheesecakes and graham cracker crusts later, I made one MEAN pumpkin dessert. Friends, these cheesecakes are SUBLIME. It's a major flavor explosion of:
Cinnamon
Ginger
Nutmeg
All-Spice
Cloves
Cardamom
Must you use all of these spices? YES! Skip the cardamom and maybe the cloves if you must. But it's really this panoply of pumpkin spices together that make these mini cheescakes shine.
To make these cheesecakes, we're going to start with the crust. Pulse all the ingredients together so that everything starts to look like the consistency of wet sand.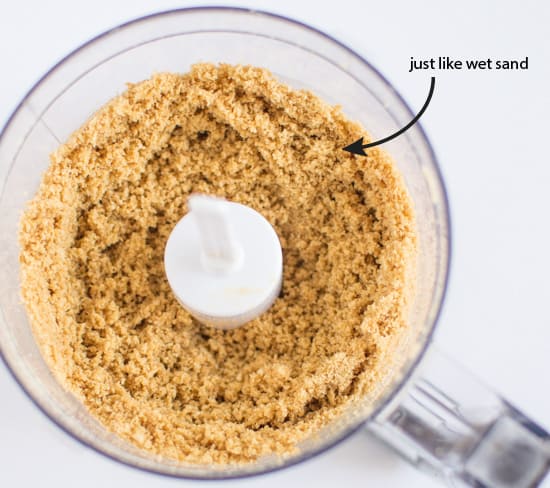 Then, you'll pack the crust inside 12 muffin lined tins.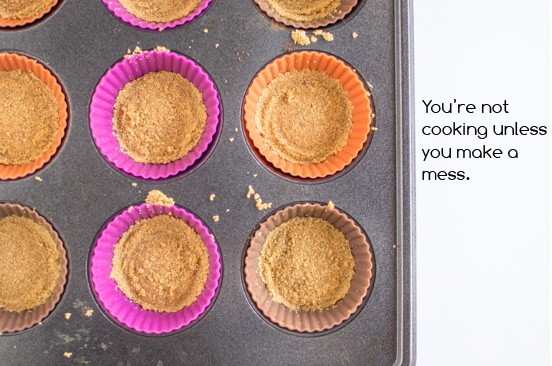 Blend the cheesecake filling, top it on these crusts, freeze, and take them out when you're ready to eat them. Easy peasy!
No Bake Soy Pumpkin Cheesecake
Ingredients
Graham Cracker Crust
8-9

sheets

graham crackers

,

makes about 1 cup of crushed graham crackers

1/4

cup

(60ml) coconut oil, melted

2

TBS

sugar

1/8

tsp

salt
Pumpkin Cheesecake
1

cup

(240g) soy cream cheese

3/4

cup

(180g) pumpkin puree

1/4

cup

(50g) sugar

2

tsp

cinnamon

1

tsp

ground ginger

1/2

tsp

nutmeg

1/2

tsp

all-spice

1/4

tsp

cloves

1/4

tsp

cardamom

1

cup

(100g) coconut whipped cream, thawed
Pecan Caramel Sauce
1/4

cup

(50g) brown sugar

3

TBS

vegan butter spread

3

TBS

soy milk

1/2

cup

(55g) pecans

,

chopped
Instructions
Pulse the graham crackers in a food processor until it looks like flour. It's okay if there are a few larger pieces in there. Add the melted coconut oil, sugar, and salt, and pulse until everything is well incorporated. The mixture should look a bit like wet sand.

Line 12 muffin tins with liners. I liked using silicone liners over paper ones. Pour about 1 and 1/2 tablespoons of the crust into each muffin tin and pack the graham crackers down the bottom. Freeze the crust until you're ready to spoon the cheesecake filling on top. You might have a bit of the graham cracker mixture leftover.

Clean the food processor and then add the cream cheese, pumpkin puree, and all the spices. Mix until everything is well incorporated. Pour the filling out into a medium bowl, and fold in the whipped cream. Take the crusts out of the freezer, and fill each cup with the cheesecake mixture (about two large spoonfuls per cup). Freeze for 1 to 1.5 hours or until the cheesecake is set.

When you're about ready to eat the cheesecakes, prepare the pecan caramel sauce by melting the brown sugar, vegan butter, and soy milk together in a small saucepan over medium heat. Once the mixture bubbles, turn off the heat. Stir in the pecans. Let the sauce cool for 5-10 minutes before serving.

Serve the cheesecakes with a bit of pecan caramel sauce. These cheesecakes can stay frozen in a sealed bag for a few weeks.
Notes
1. SERVING TIPS: Make this ahead and store it in the freezer. Let the cheesecakes sit in room temperature for about 15 to 20 minutes to thaw before serving.[br][br]2. SUBSTITUTIONS: If you don't like whipped cream, or coconut whipped cream is difficult to find, substitute it with 1 cup of silken tofu. It'll still taste great![br][br]3. LEFTOVER GRAHAM CRACKERS: Have a bit of the crust leftover? Just sprinkle it on top of your yogurt!
Did you make this recipe?
Tag @hellolisalin or leave a star rating and comment on the blog!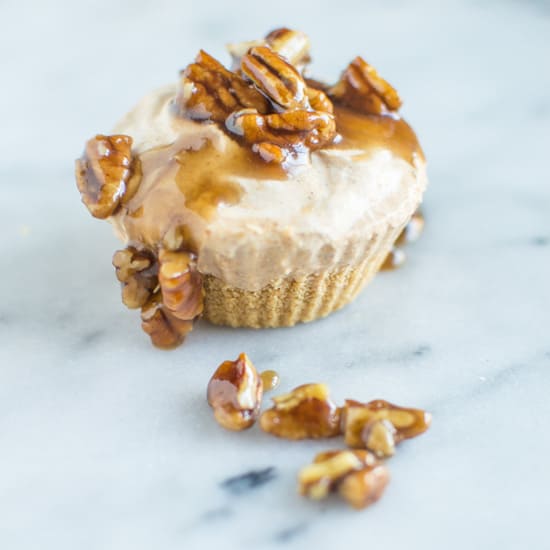 To learn more about the nutritional benefits of soy and get more recipe ideas, check out The Soyfoods Council's website.