Disclosure: This post was sponsored by Pompeian, and I was compensated for my time. All views expressed in this post are my own.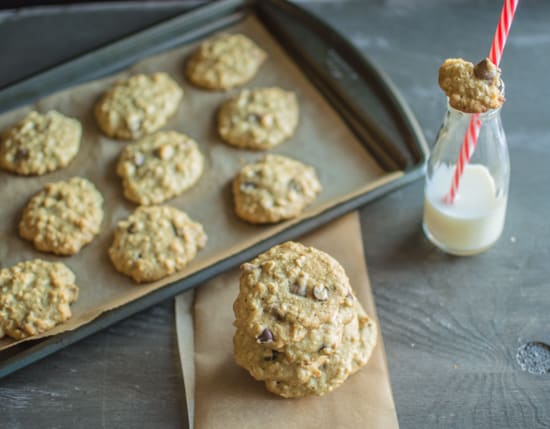 Several weeks ago, I perused a used bookstore in Monterey (as I do) and came across a charming cookbook called The Margaret Rudkin Pepperidge Farm Cookbook. That's right, the woman who started Pepperidge Farm, the same company that creates those addictive Goldfish snacks and Milano cookies.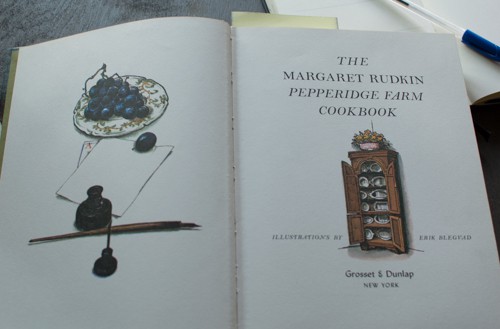 Because it was published in the 1960s, it was no surprise to me I wouldn't find any food photos in the entire cookbook. Instead, the book was filled with beautiful illustrations (many of which were in color) of still life and people, sprinkled with Rudkin's personal stories in the beginning of each section.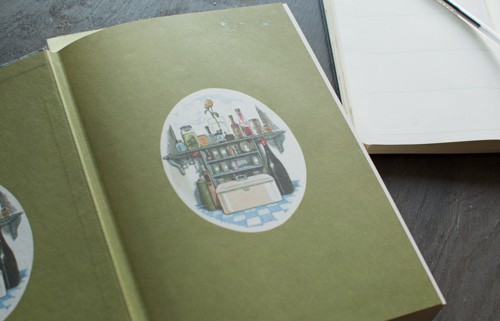 When I picked up this precious find at the bookstore, I immediately thought of starting series on this blog where I try to add a contemporary twist to the recipes in the Pepperidge Farm Cookbook (and there are a lot). Think The Julie/Julia Project, except I have no intention of finishing the entire cookbook in 365 days. Rather, I'll draw inspiration from these recipes occasionally and let this blog series grow organically.
With that, we begin with oatmeal cookies.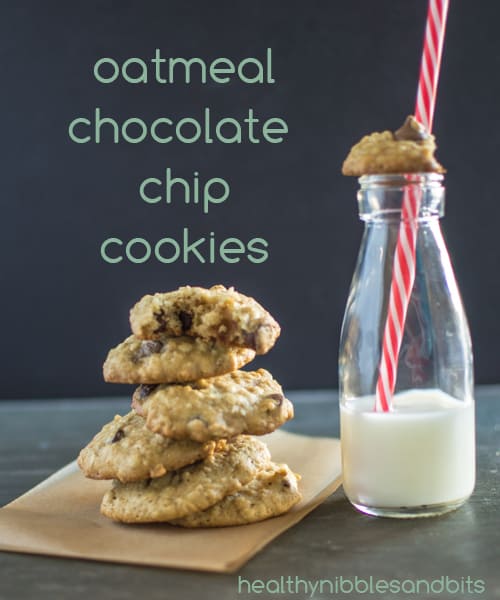 The recipe I selected was one for oatmeal raisin cookies. Unfortunately, there are a few crazies in my family who refuse to eat raisins. The nerve, right? So, one of the modifications I made was to swap raisins for chocolate chips. Another major substitution I made to the recipe was to make it healthier by swapping out butter for olive oil.
If you've followed this blog for a while, you'll notice that I don't usually cook with butter, except when I'm baking tarts or decadent cookies. Because August is National Olive Oil Month, Pompeian is encouraging everyone to take the Pompeian Pledge to switch from butter to olive oil this month. Me, I'm taking on this challenge by baking a nice batch of cookies using olive oil instead of butter.
We often equate baking with butter, but olive oil is actually an excellent and healthy ingredient for baked goods. You just need to know the right amount of olive oil to add to the recipe. Here, the original oatmeal cookies recipe called for 1/2 cup of butter. Using this conversion chart, I swapped that butter for a 1/4 cup + 2 TBS of olive oil.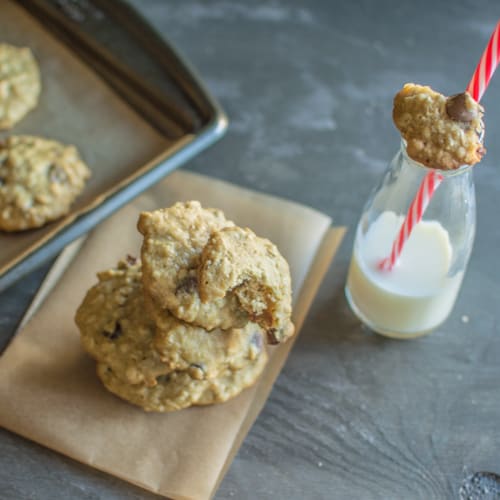 The thing to keep in mind when you're baking cookies is that whenever you reduce the amount of wet ingredients (e.g., butter), you need to add some other wet ingredient so that the wet-dry ingredient ratio is balanced. Because I swapped only 1/4 cup + 2 TBS olive oil for the 1/2 cup of melted butter, I added 2 TBS unsweetened applesauce to the recipe.
Oatmeal Chocolate Chip Cookies
Makes Around 20-22 Cookies.
Ingredients
1

large egg

1/2

cup

96g sugar (I used unrefined cane sugar)

1/4

cup

+ 2 TBS (89ml) olive oil

2

TBS

maple syrup

,

any other liquid sweetener works also

2

TBS

hot water

1

tsp

pure vanilla extract

1

cup

(120g) all-purpose flour

1/2

cup

(56g) almond meal

1

cup

(80g) rolled oats

1/2

tsp

baking soda

1/2

tsp

cinnamon

1/4

tsp

salt

2/3

cup

(115g) milk chocolate chips

,

semi-sweet chips work also
Instructions
Preheat the oven to 325 degrees F (160 degrees C). Line 2 large baking sheets with parchment paper or silicone mats.

In a large bowl, mix the egg, sugar, oil, maple syrup, water, and vanilla extract. In a medium bowl, mix the all-purpose flour, almond meal, rolled oats, baking soda, cinnamon, and salt together. Gradually add the dry mixture to the wet mixture and stir until well combined. Mix in the chocolate chips.

Drop about 2 tablespoonsful of the dough onto the cookie sheets, leaving at least an inch of space between them.

Bake for 15-17 minutes, or until the edges of the cookies start to turn golden. Let them cool for several minutes before serving or else you'll get a bite of scalding hot chocolate chips! I've learned my lesson.

Store in room temperature in an airtight container for a few days.
Did you make this recipe?
Tag @hellolisalin or leave a star rating and comment on the blog!
These cookies were ridiculously good, just as good as if they were made with butter! If you also want to take part in the Pompeian Pledge, sign up for it on Facebook. 1,000 people who take the pledge will be randomly selected to receive:
A free bottle of Pompeian Extra Virgin Olive oil; and
A free redemption code for a movie rental.
In addition, every week, 5 fans will receive a prize pack on the Facebook timeline!
So tell me, have you ever swapped butter for olive oil in a recipe?
Disclosure: This post was written by me on behalf of Pompeian.