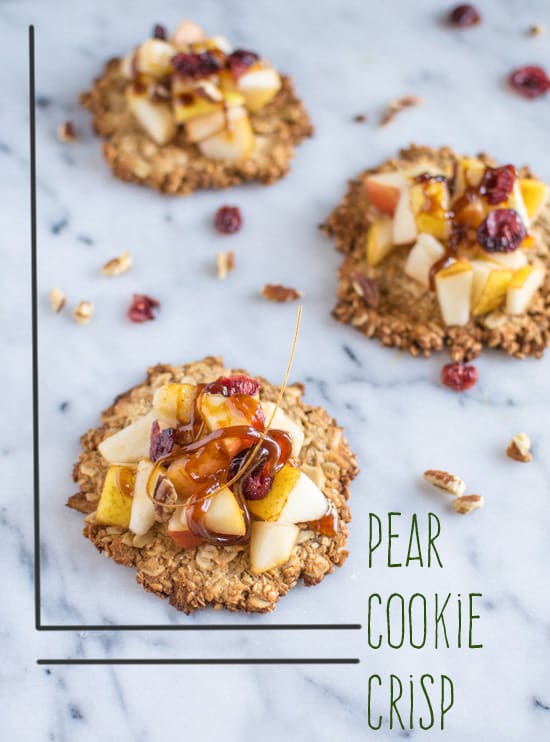 It's ok if I make sweets to congratulate myself for a long run, right? 10 miles and two hill intervals later, I live to tell the tale. Just barely. I'm going to need a serious massage when all this is over.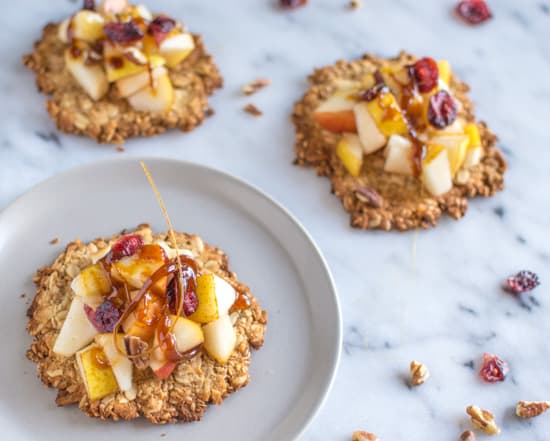 These pear cookie crisps were my reward for training this week. As the name suggests, these cookies are crispy—the perfect contrast to the ripe and soft pears on top. Why didn't I make something more decadent, you ask? I'll save that for after the actual half-marathon.
I wanted to make these pear cookie crisps a bit more fancy by drizzling caramel on top, so I melted some coconut sugar and coconut oil together. Remember how I told you that I have electric burners in my kitchen? Well, they got the better of me, again. I was following along a recipe to create a caramel sauce, and I followed the directions to a T. Before I knew it, I overcooked the caramel sauce. It wasn't a problem at first, but when I tried to "drizzle" the sauce on top of these cookies, I suddenly realized how stiff the sauce had become. A few minutes later, this happened:
The caramel "sauce" wouldn't budge, even when I growled at it.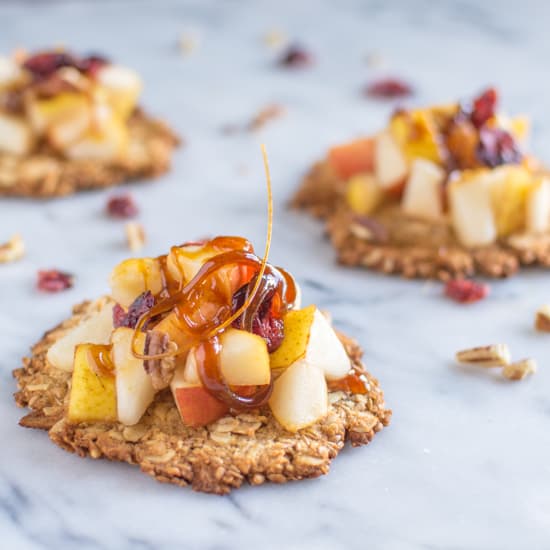 Inadvertently, I created a bit of nice sugar art on these crisps! See that pointed bit of sugar going upwards? I'd like to think that was my plan all along . . .
Pear Cookie Crisps
Ingredients
Cookie Ingredients
2/3

cup

(55g) rolled oats

1/2

cup

(60g) flax seeds

1/3

cup

(20g) unsweetened flaked coconut

2

TBS

coconut flour

2

TBS

finely chopped candied ginger

,

or substitute with 2 tsp to 1 TBS ground ginger

1

tsp

cinnamon

pinch

of salt

3

TBS

coconut oil

1/3

cup

(80ml) unsweetened almond milk

1/4

cup

(60ml) maple syrup

1

tsp

pure vanilla extract
Toppings
2

medium bartlett pears

3

TBS

pecans

3

TBS

dried cranberries

caramel sauce

,

optional
Instructions
Preheat oven to 350 degrees F (175 degrees C). Line two baking sheets with parchment paper or silicone mats.

In a large bowl, mix all the dry ingredients together.

Microwave the coconut oil for 10 seconds. This should be enough to melt it. Add the oil, milk, maple syrup, and vanilla with the dry ingredients and mix well. You will end up with a crumbly "dough."

Scoop out about 2 tablespoons of the mixture and transfer to the baking sheet. Flatten the mixture into a thin layer. I find it best to just use my fingers for this.

Bake the crisps for about 15-18 minutes, until the edges are a nice golden brown. The center of the cookie will harden after they are out of the oven.

While the crisps are cooling, chop the pear into small pieces. Top each crisp with the pears. Then, add the pecans and cranberries. Drizzle a bit of caramel sauce, if you like.
Notes
For my caramel sauce, I used a 1/2 cup of coconut sugar and 2 tablespoons of coconut oil. Heat these ingredients in a saucepan over low heat, and wait for a thick sauce to form. Hopefully you have better luck with this than I did!
Did you make this recipe?
Tag @hellolisalin or leave a star rating and comment on the blog!