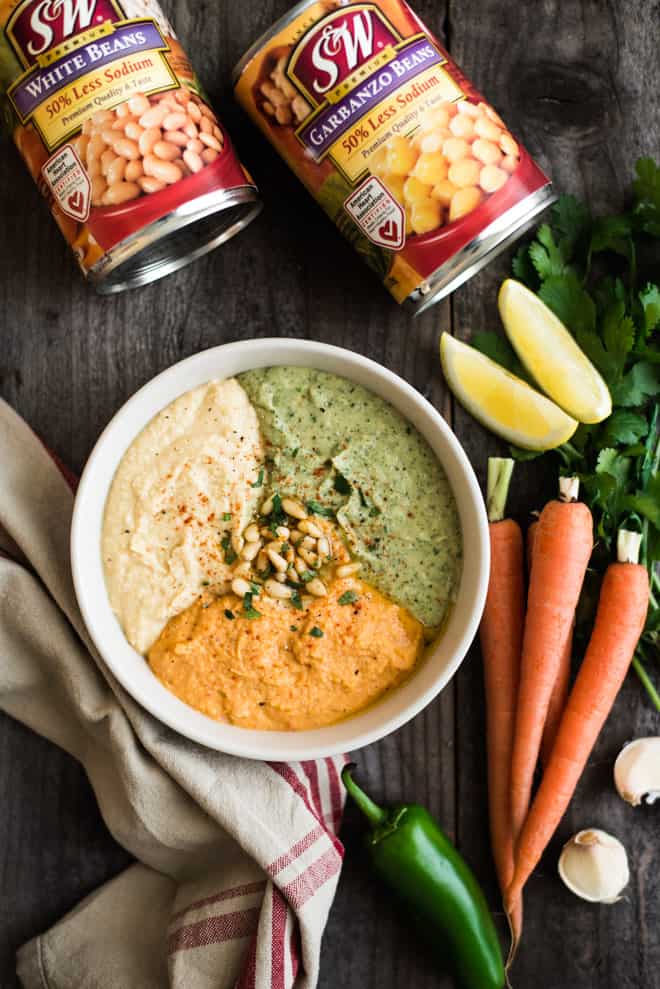 A huge thank you and virtual hug to S&W Beans for sponsoring this post!
When I was in middle school, there was one thing I absolutely dreaded. It wasn't exams. It wasn't talking in front of people. Heck, it wasn't even speaking to my teenage crush. It was P.E. class.
Those 60 minutes of torture every day was just another opportunity for me to embarrass myself in front of EVERYONE. I couldn't run a full mile, and I had no innate sporting abilities. I particularly hated the fitness assessments where female P.E. teachers pinched my bingo wings with what looked like plastic tongs and announced my body fat percentage aloud. Thanks, Ms. Gym Teacher!
It wasn't until after college, when I started to incorporate healthy habits into my life, that I finally found myself enjoying exercise! What?! I once heard someone say that achieving success is addictive, and it couldn't be more true in my case. Once I was able to run 2 miles without stopping, I pushed myself to do 3, then 4, until I was able to finish a half-marathon 2 years ago! I still can't believe I did it.
This year, I have my mind set on a few other goals: completing 5 pull-ups in a row, doing a handstand, and slaying this obstacle course race. (I'm nowhere near finishing those goals, by the way.) Right now, I've been focusing on doing more strength and agility-based workouts and just making sure that I properly nourish my muscles with healthy, protein-packed foods. I must admit that I am no fan of drinking protein shakes. I would much rather get protein from actual food. That's where this hummus comes in.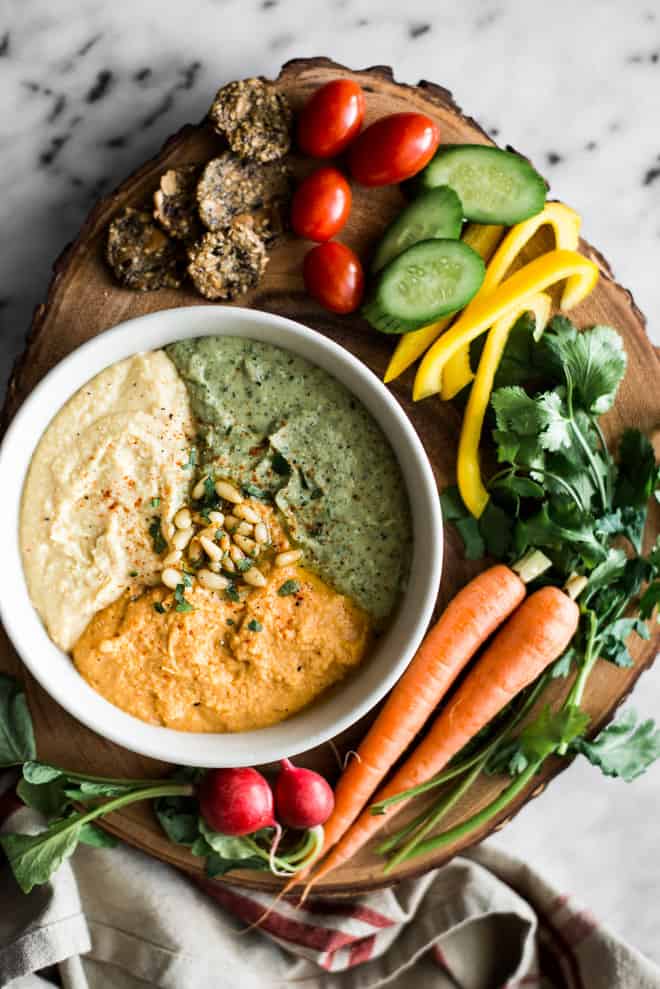 Beans are a slow-digesting carbohydrate and can provide sustained energy to get you through a good workout. That's why when I'm going to one of my morning boxing or boot camp classes, I like eating a slice of toast with hummus before I head out. A small nutritious breakfast really helps me get through my workouts. When I'm done, I'll head home and snack on hummus and raw vegetables to help my post-workout recovery and build those muscles that I desperately need for pull ups.
I love using S&W Beans because they're a quality brand that I can easily find in any major grocery store. They check the quality of their product every half hour, so no bad beans here!
In my little bean dip number, I'm using three different varieties of S&W Beans. First, there's the roasted garlic hummus made with garbanzo beans (or chickpeas); next is the roasted carrot harissa hummus made with white bans; finally, there's the cilantro jalapeño hummus that is made with cannellini beans. They're great alone, and amazing all together. I usually whip up a big batch of these hummus dips over the weekend and have them ready to fuel my workouts throughout the week. Pull ups, here I come!
MASTER MY MISTAKES / COOKING NOTES
Roasting garlic: I've been known to be heavy handed with garlic, which is why I roasted 2 bulbs of garlic for the three hummus dips. Garlic, once it's roasted, mellows out a lot. Don't be afraid to use all two bulbs in this recipe!
If you make this recipe, please let me know! Take a photo of your creation and tag me on Instagram so that I can give you a fist bump! Seeing your creations make my day!
Print
Roasted Garlic Hummus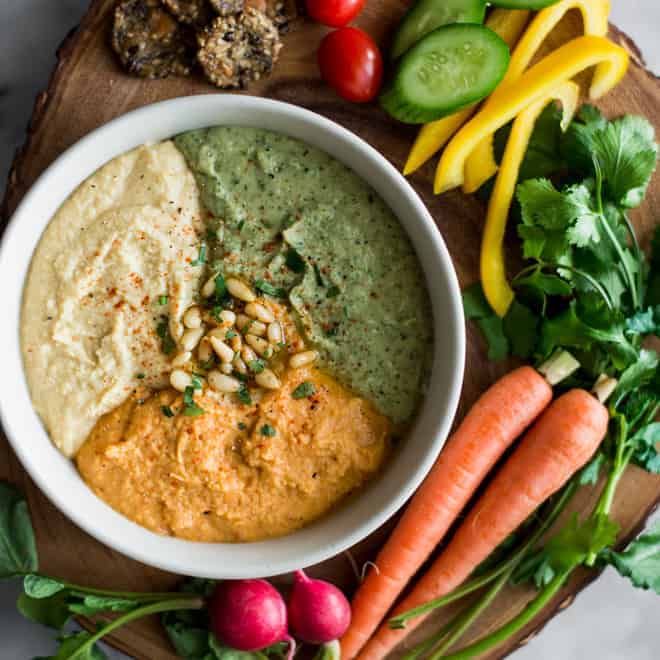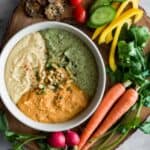 Author:
Prep Time:

15 minutes

Cook Time:

40 minutes

Total Time:

55 minutes

Yield:

3

batches of hummus

1

x
Roasted Garlic Hummus
1

bulbs of garlic

1

can of garbanzo beans (about

15.5 oz

/

440g

), drained, liquid reserved

2

TBS lemon juice

2

to

3

TBS water or liquid reserved from chickpeas

1 1/2

TBS tahini

1 1/2

TBS olive oil, plus more for drizzling on garlic
Carrot Harissa Hummus
1

large carrot

1/2

bulb of garlic

1 1/2

TBS olive oil, plus more for drizzling on carrots and garlic

1/2 tsp

salt, plus a small pinch for roasting carrots

1

can of white beans (about

15 oz

/

425g

), drained, liquid reserved

2

TBS lemon juice

2

to

3

TBS water or liquid reserved from white beans

1 1/2

TBS tahini

1/2

to

1

TBS harissa

1/2 tsp

salt
Cilantro Jalapeño Hummus
1

can of cannellini beans (about

15 oz

/

425g

), drained, liquid reserved

1/3 cup

packed cilantro (leaves and tender stems)

1

jalapeno pepper, seeded

1/2

bulb of garlic

2

TBS lemon juice

2

to

3

TBS water or liquid reserved from cannellini beans

1 1/2

TBS olive oil

1/4 tsp

salt
Optional Toppings
olive oil
pine nuts

1/4 tsp

salt
Instructions
Preheat oven to 375 degrees F (190 degrees C). Line a small baking sheet with parchment paper.
Chop off the top of the 2 bulbs of garlic. Drizzle a tiny bit of olive oil on each bulb and wrap in aluminum foil. Drizzle a bit of oil on the carrot and sprinkle a small pinch of salt. I actually roasted a whole bunch of carrots because it seemed silly to roast only one. Bake for about 35 to 40 minutes until the garlic has softened and the carrots can be easily pierced with a fork.
Unwrap garlic bulbs from inside the foil and let it cool for 10 minutes before handling.
Take one bulb of garlic. In a medium bowl, squeeze out each clove from its papery skin. Add the rest of the ingredients for the garlic hummus into the bowl and blend with an immersion blender until smooth. You can also blend all ingredients in a food processor. Use more or less water to get the right consistency for your hummus.
Chop up the large roasted carrot and place carrot pieces in another bowl (or food processor). Add half of the roasted garlic cloves from the other bulb. Add remaining ingredients for the carrot harissa hummus and blend everything until smooth.
In a third bowl (or food processor), add remaining roasted garlic bulbs and ingredients for the cilantro jalapeño hummus. Blend everything until smooth.
Serve all three hummus dips together or separately. Top with an extra drizzle of olive oil, pine nuts, cilantro, paprika, and pepper, if you like.
Nutrition
Calories:

0

Sugar:

0 g

Sodium:

0 mg

Fat:

0 g

Saturated Fat:

0 g

Unsaturated Fat:

0 g

Trans Fat:

0 g

Carbohydrates:

0 g

Fiber:

0 g

Protein:

0 g

Cholesterol:

0 mg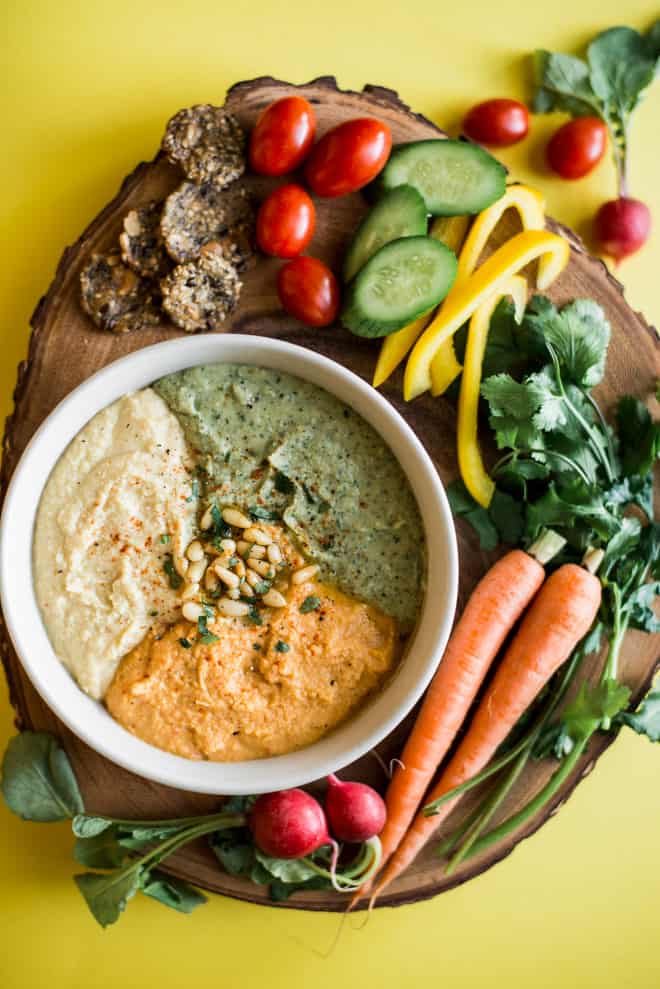 This post is sponsored by FitFluential on behalf of S&W Beans.