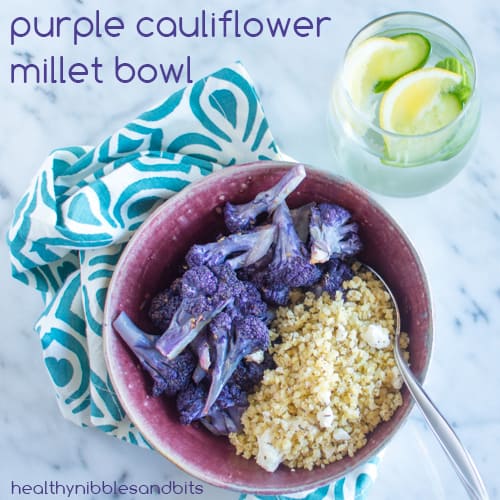 It just so happens that my favorite color is also the color of royalty. From my jacket to my water bottle, to my computer case, to my yoga pants, I am cloaked in and surrounded by purple every day. Some people might call my love of purple an obsession. I just think I have regal taste.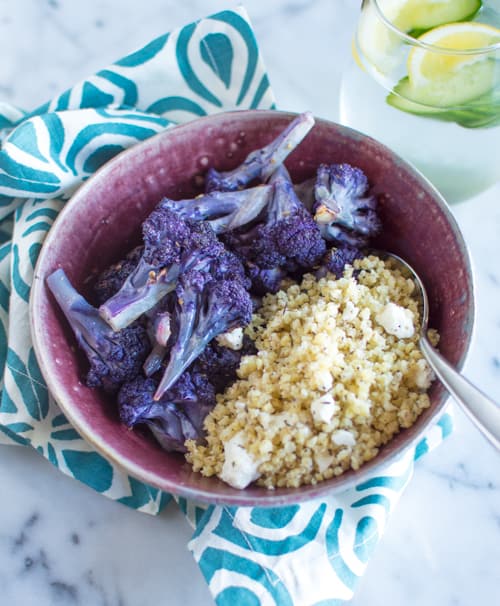 Indeed, there is no better way to celebrate my love for purple than to create a recipe featuring a vibrant purple vegetable.
Purple cauliflower is part of the Romanesco family, along with its green and yellow/orange cousins. To me, they taste just like regular cauliflower, but their gorgeous color sets them miles apart from the white variety.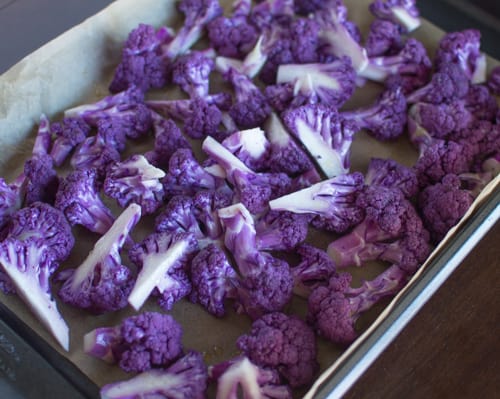 For some reason, this cauliflower reminds me of the "funky purple" ketchup that Heinz marketed in the 90s. That was a failure. Purple cauliflower, not so much.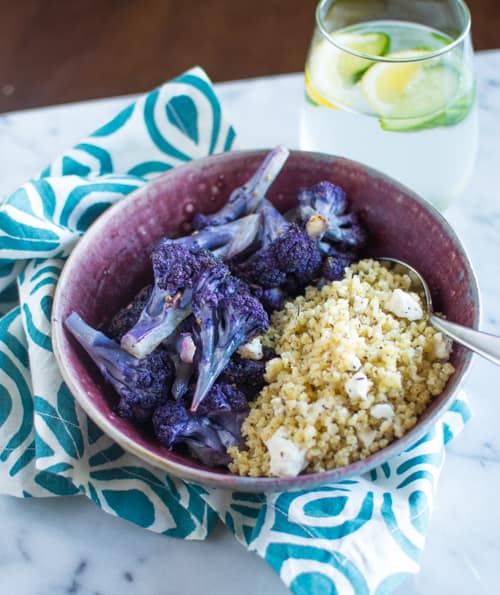 I used some leftover millet and added za'atar (a common eastern Mediterranean spice) and feta to give bold flavors to this dish. All I have to say is that I can't believe I made this dish with 5 ingredients!
Purple Cauliflower Millet Bowl
Ingredients
1

large head of purple cauliflower

,

~2.5 lbs/~1 kg, rinsed

3

TBS

olive oil

,

divided

2 1/2

TBS

za'atar

,

divided

1

TBS

sea salt

,

divided

5

TBS

feta cheese
Instructions
Preheat the oven to 400ºF (~205ºC). Line a large baking sheet with a silicone mat or parchment paper.

Chop the cauliflower into small florets. I like to chop the florets in half or into quarters, depending on the size of each floret.

In a large bowl, mix the florets, 1 and 1/2 tablespoons of olive oil, 1/2 tablespoon of za'atar, and 1 teaspoon of sea salt together. Place the florets on the baking sheet and bake for about 25 minutes, or until they are slightly browned.

Pour 3 cups of cooked millet into the same bowl that you used to toss the cauliflower. Feel free to substitute the millet with your favorite grains.

Mix the millet with the rest of the oil, za'atar, salt, and feta.

Serve the millet with the roasted cauliflower and enjoy it as a side dish. Refrigerate any leftovers in an airtight container.
Did you make this recipe?
Tag @hellolisalin or leave a star rating and comment on the blog!
Looking for more recipes that use Romanesco cauliflower? Try these swiss chard wraps made with yellow/orange cauliflower!