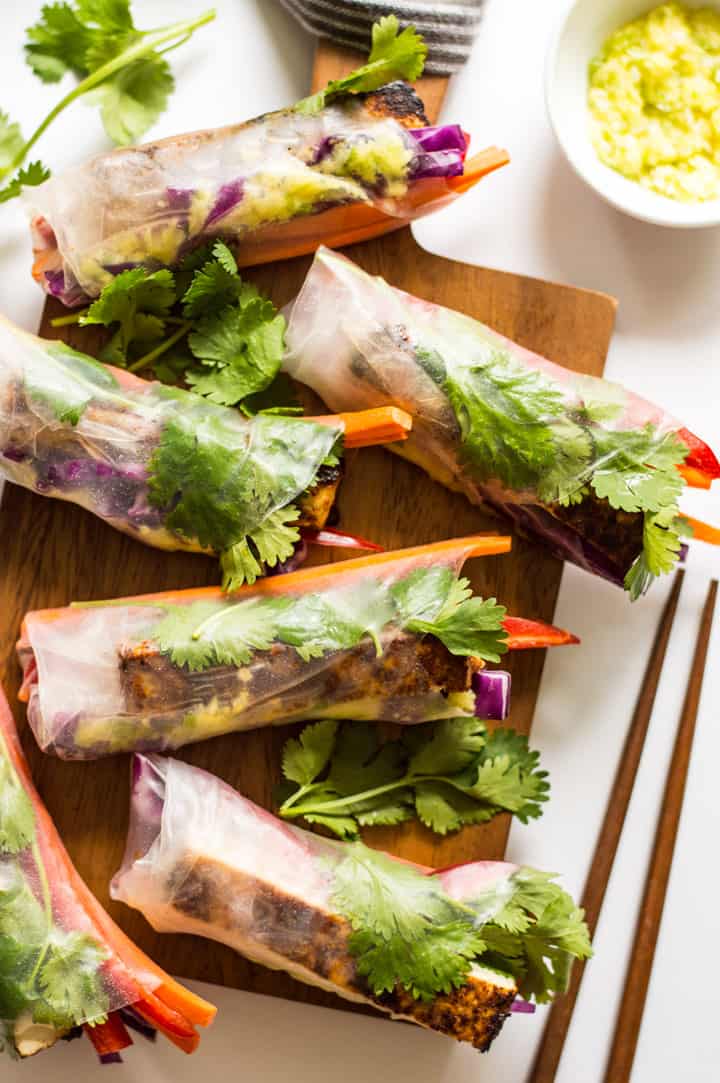 I keep cookbooks there partly for show. Don't lie, some of you display certain books on your bookshelf to show off to guests, right? But the main reason why I keep cookbooks around is because I find them very therapeutic. Some people meditate to calm the mind. I like to look at more photos of food.
I have been cooking my way through a lot of cookbooks lately:
For those of you who are not familiar with Heidi Swanson, she's someone who makes vegetarian cooking cool. The flavor combinations in her recipes are always spot on, and her recipes make even the most carnivorous eaters forget about meat for a day. I've seen it happen with my own eyes!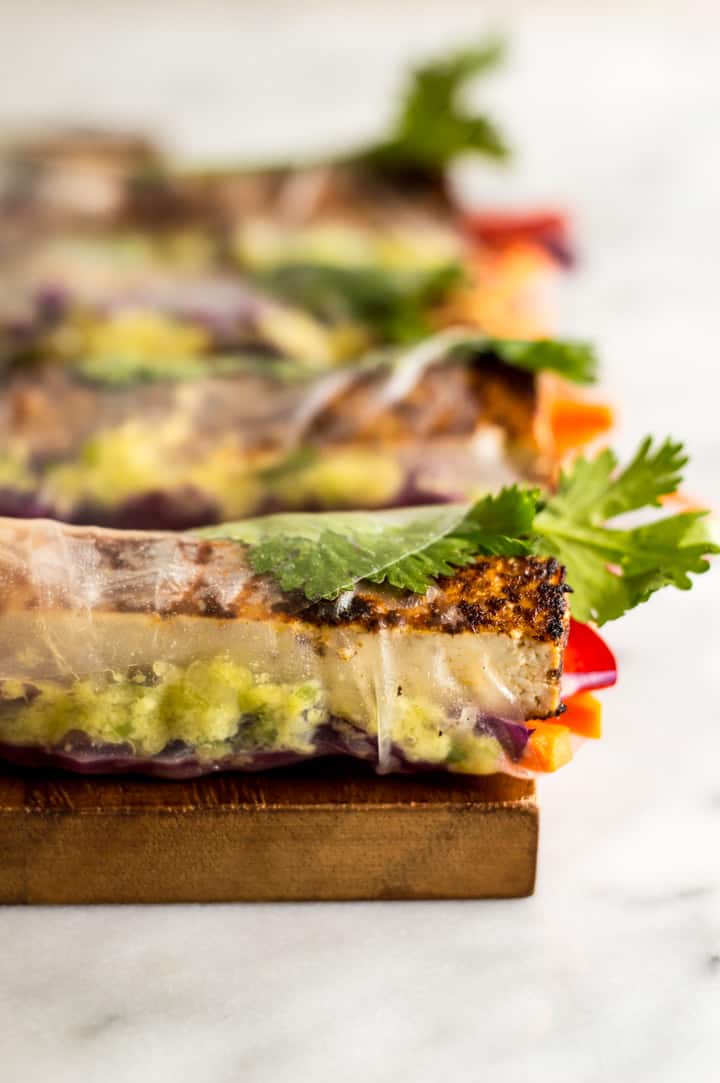 In her most recent cookbook, Near & Far, Heidi has a spring rolls recipe featuring a delicious ginger onion paste that reminded me of a Chinese ginger scallion oil. There is a popular Cantonese poached chicken dish that is always paired with ginger scallion oil. That oil, in my opinion, the best part. But never would I have thought to use that same oil to flavor spring rolls! Heidi's a genius.
For my spring rolls, I modified Heidi's recipe a bit. I added red curry and tamarind paste to give the tofu more tang. Also, the ginger onion paste I'm sharing here is closer to the traditional Chinese version, which does not use shallots. Finally, I decided to use fresh vegetables instead of cooked mushrooms to give the spring rolls more pop in color. You know that I love color in my food!
Alright, enough talking, let's get to the cooking!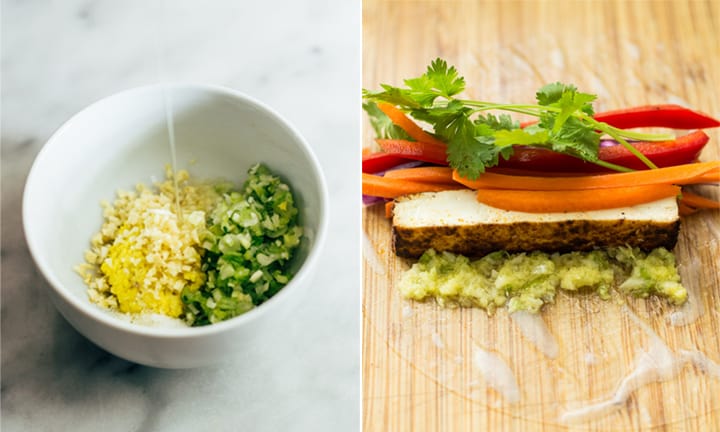 MASTER LISA'S MISTAKES + COOKING NOTES
Handling the oil: First and foremost, HEAT THE OIL! I completely forgot this step during one of my test runs, which was a bad mistake. Second, most recipes suggest pouring the minced ginger/garlic/onion mixture into the saucepan with the oil, but I did the exact opposite. I placed my ginger mixture into a ceramic bowl and poured the hot oil into the bowl. The spices are so delicate, and I don't want to run the risk of frying them in the saucepan. Finally, when you drain the oil from the ginger mixture, be sure to save it! It will be amazing for stir fries.
Use an oil with a neutral flavor: You're not going to want to use your olive oil for this one! I used safflower oil, but you can always use something else.
Prepping ahead: You can marinade the tofu overnight to get more flavor into it. Also, you can prep the ginger onion paste a day ahead, but make sure that it is served at room temperature.
Keep your work surface wet: Make sure that the surface you are using to wrap your spring rolls is constantly damp. Wet rice wrappers will stick to dry surfaces like glue, and it can quickly turn your spring roll making experience into a nightmare. Be sure to sprinkle water onto your surface after each completed spring roll.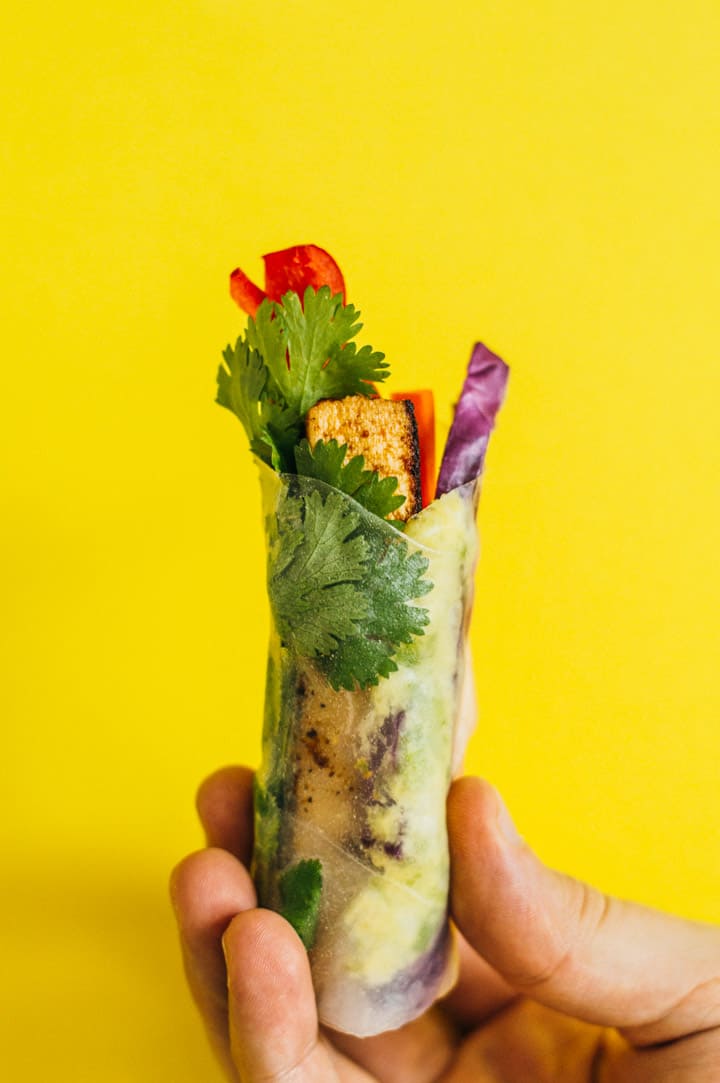 COMFORT IN A MUG E-BOOK + READER SURVEY
As I announced on my blog last week, I'm writing an e-book! For those of you who are interested in getting updates on Comfort in a Mug, please sign up here. I'm also looking for recipe testers! Let me know if you are interested. Finally, I would love for you to fill out my reader survey! It will help me figure out how to make my blog better for you, and it will only take a minute!
Red Curry and Brown Sugar Tofu Spring Rolls
These spring rolls are tangy, gingery, garlicky and absolutely irresistible. Perfect as an appetizer for gatherings! Adapted from Heidi Swanson's
Near & Far
. Makes 18 spring rolls.
Ingredients
Ginger Onion Paste
2

tablespoons

grated ginger

2

garlic cloves

,

minced

3

stalks of green onions

,

minced (white and light green parts only)

1/2

teaspoon

salt

4

tablespoons

safflower oil

,

this is just for cooking the paste, you'll drain and save the oil for later
Red Curry and Brown Sugar Tofu
1

14-ounce

(400g) package extra-firm tofu

2

tablespoons

safflower oil

1

tablespoon

red curry paste

4

teaspoons

light brown sugar

,

I used muscovado sugar

1

teaspoon

tamarind paste

,

optional

1

teaspoon

salt

1/2

teaspoon

granulated garlic
Spring Rolls
18

spring roll wrappers

1

large carrot

,

peeled and cut to matchstick slices

1

large red pepper

,

thinly sliced

1

cup

shredded red cabbage

cilantro
Instructions
Drain tofu and wrap it in 2 paper towels. Place it between 2 plates and set something relatively heavy on the top plate. I used a sack of flour as a weight. Set tofu aside.

Mix the grated ginger, garlic, green onions, and salt in a heat-proof bowl. In a saucepan, heat 4 tablespoons of safflower oil. When the oil is hot enough for cooking something in it, turn off the heat. Pour hot oil into the ginger mixture. You'll hear a nice sizzling sound. Let it cool while you finish preparing the tofu.

In a small bowl, mix the remaining ingredients for the tofu (from the oil to the granulated garlic).

Unwrap the tofu from the paper towels, and make 6 slices along the long side of the tofu block. Spread curry mixture all over each slice of tofu.

Heat a sauté pan over medium-high heat. When the pan is hot, lay the slices of tofu on the pan. Cook each side for 4 to 5 minutes, or until well browned. You should not need more oil for this. Remove tofu slices from heat. Cut each slice of tofu into 3 long strips.

Drain and save the oil from the ginger onion mixture. Use the oil for stir fries.

Fill a wide bowl with warm water. Sprinkle a generous amount of water over a cutting board. Quickly dip a spring roll wrapper into the water for about 2 to 3 seconds. Make sure that the entire surface area of the wrapper has been submerged in the water. Place wrapper onto the wet cutting board. Fill wrapper with vegetables, a strip of tofu and about 1/4 to 1/2 teaspoon of the ginger onion paste. You can either put the filling right in the middle of the wrapper and fold the sides of the wrapper towards the middle to make closed spring rolls. To make open spring rolls (like in the photos), lay the filling towards the left of the wrapper and fold the other three sides wrap towards the center. Repeat until you've rolled 18 spring rolls.

Serve immediately.
Notes
1. Heidi uses fresh garlic for her tofu marinade, but I thought that granulated garlic was much easier to work with.[br][br]3. Make sure to always keep your work surface wet when rolling up the spring rolls!
Did you make this recipe?
Tag @hellolisalin or leave a star rating and comment on the blog!
Disclosure: The links to the cookbooks are affiliate links.