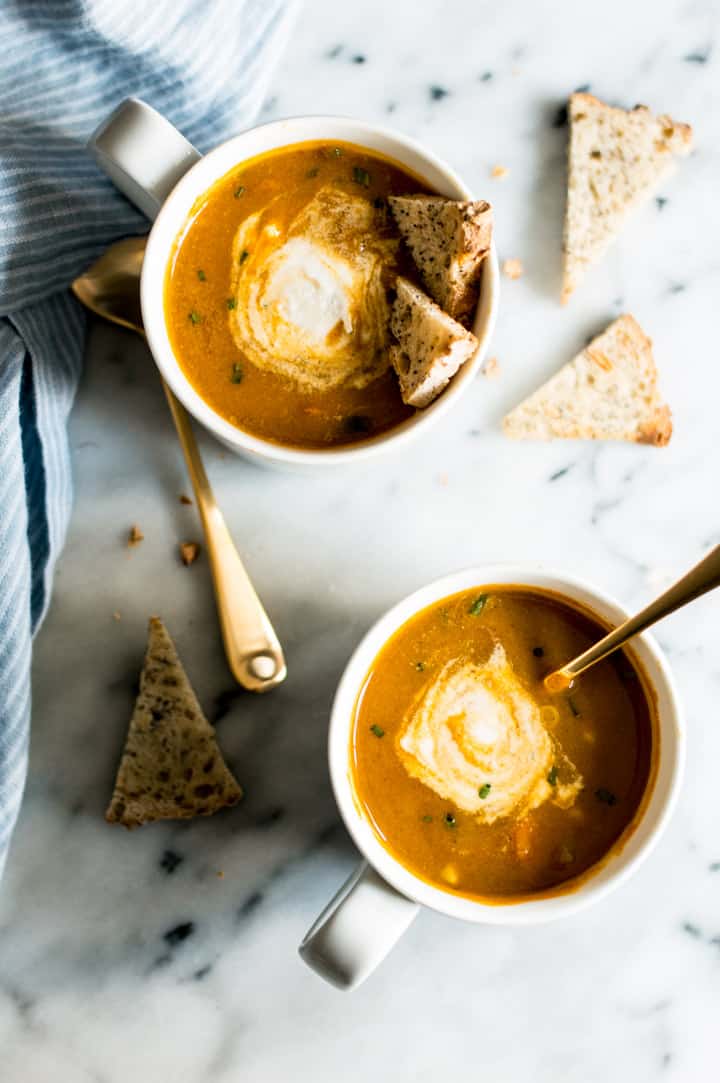 The first microwave meal I ever made was chicken flavored Maruchan instant ramen in a cup. I must have been 8 or 9, and I was home with my grandmother. We hung out a lot on weekends. Well, on that particular day, I was craving those Maruchan noodles and all of its MSG glory. As usual, my grandmother offered to cook it for me, but I was having a big girl moment that day. Big girls cook their own food, and I was determined to do it all on my own. I must have done 10 things wrong along the way, but I was so proud of my cooked noodles. So was my grandma.
I've come a long way with microwave cooking. Gone are the days of instant ramen and frozen meals, which have been replaced by single serving fried rice, lasagna, and soup dishes. I used to think that the microwave was just for reheating leftovers and making popcorn, but as I've discovered over the last year, that is not the case.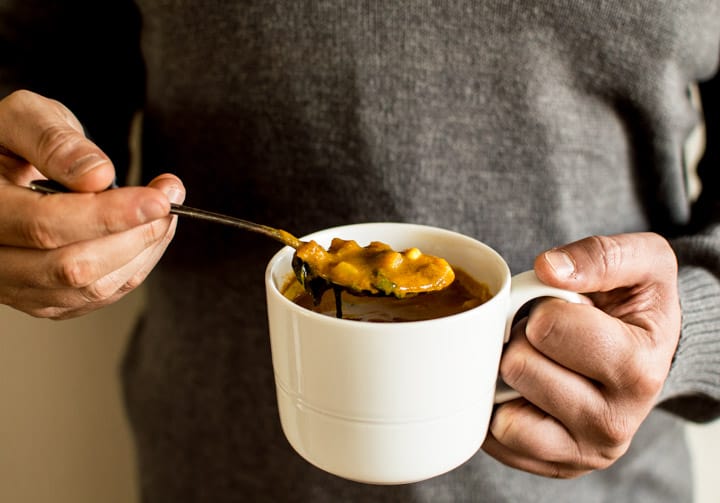 Guys, I'm going to do something a little crazy. I'm planning on writing an e-cookbook called "Comfort in a Mug", a collection of, you guessed it, comfort food recipes in a mug. For now, the recipes will be gluten free and vegetarian, but this all can change as I go along. I have no idea where to begin with writing an e-book, but I'm looking for a good little challenge right now. The goal is to finish the e-book before the year is over, and if you don't hear anything from me in December, I want all of you to light a fire under my butt and tell me to get a move on it!
If you are interested in the "Comfort in a Mug" e-cookbook, sign up here!
Speaking of meals in a mug, let's get on with this pumpkin chowder.
Seven must be my lucky number because it took me seven tries before I got this recipe down. Initially, I cooked this recipe at full power, and the soup kept overflowing EVERY SINGLE TIME. The batches of soup tasted spectacular, but what a mess they created! I actually threw in the towel and gave up on this recipe, until I spoke with Liz about it earlier this week. She asked me if I tried cooking the recipe at a lower power setting, which triggered a "Duh, why didn't I think of that" moment from me. Lowering the power of the microwave made all the difference in the world! Just like we vary heat when we're cooking on the stove, we need to vary the power output when cooking in the microwave, too!
Are you ready to try this? Make sure to read my notes below to make the perfect soup!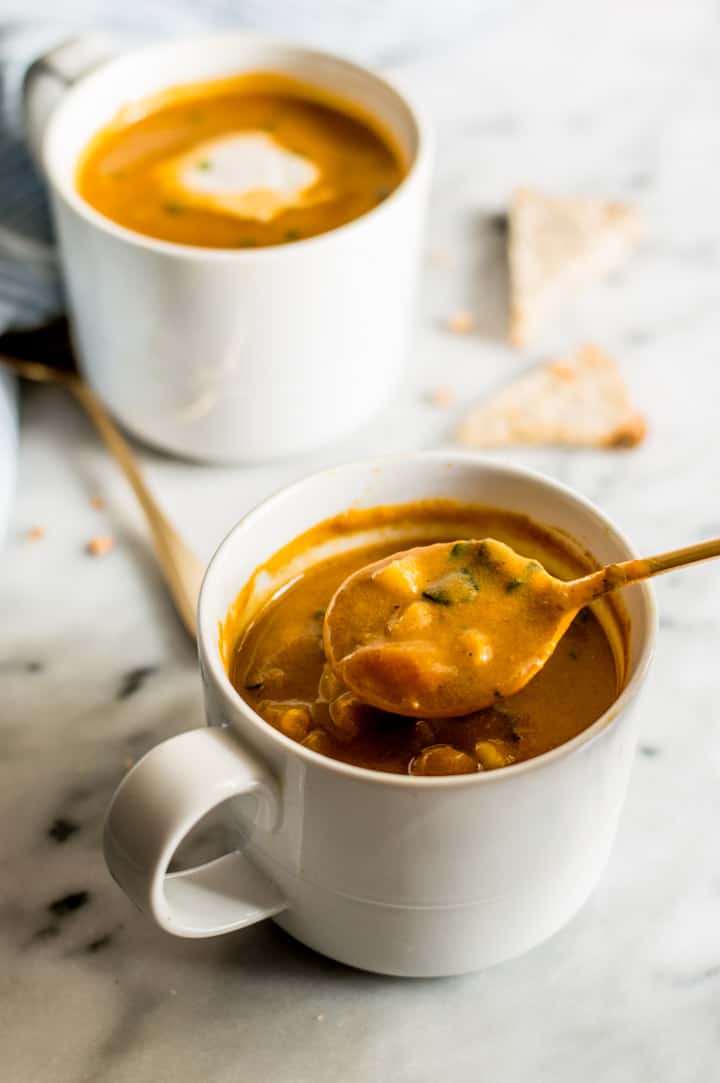 MASTER LISA'S MISTAKES (AKA COOKING NOTES)
Set the mug on a plate: After making 6 batches of overflowing soups, I've learned that it is a good idea to set a large plate underneath the mug to catch any liquids. This makes cleaning up messes so much easier!
Pay attention to your microwave's power settings: You don't want to cook this at you microwave's highest power setting. What happens is that when the liquids reach a boiling point, it will want to bubble and flow over the mug. MESSY! Ick. We want to cook this at lower power settings so that the vegetables in the soup will have time to cook, but you won't end up with pumpkin soup everywhere. Get to know your microwave and see what the different power settings are!
Chopping: Try to chop your potatoes into 1/4-inch cubes so that they're easier to cook.
SHORTCUT: You can always use frozen vegetables instead of fresh ones for the recipe. This will definitely cut down your prep time.
Lisa Lin
10-Minute Spicy Pumpkin Curry Chowder in a Mug
Easy 10-minute spicy pumpkin curry chowder in a mug. This delicious chowder is vegan and gluten free! Serves 1.
4 minPrep Time
6 minCook Time
10 minTotal Time
Ingredients
3 TBS diced potatoes (they should be around 1/4-inch cubes)
3 TBS chopped kale
2 baby carrots, thinly sliced
2 TBS corn
1/2 cup (120ml) vegetable broth
1/4 cup (60g) pumpkin puree (NOT pumpkin pie puree)
1/3 cup (80ml) unsweetened soy milk
2 tsp to 1 TBS maple syrup (depending on your taste)
1 tsp curry powder
1/2 tsp kosher salt, add more if necessary
1/8 tsp granulated garlic
pinch of cayenne powder
cashew cream for topping (optional)
chopped chives for topping (optional)
Instructions
Place potatoes, kale carrots, and corn in a microwave-safe mug. Pour in the vegetable broth. Cover mug with microwave-safe plastic wrap and poke a few holes on it with a knife.
Place mug on a plate. With your microwave at medium-high powder, microwave the vegetables for 1 minute 30 seconds. The power output of my microwave is calibrated from numbers 1 to 10, and I set it to 7 for this step. Take mug out of the microwave and stir the vegetables a little. Microwave for another 45 seconds.
Take mug out and let it sit and stir in the pumpkin, soy milk, curry, salt, garlic, and cayenne. Alternatively, you can stir the remaining ingredients in a separate bowl and then pour it into the mug. Cover the mug with plastic wrap again.
With the microwave at a lower power setting (5/10 in my microwave), cook the soup for 1 minute. Take soup out and give everything a stir so that the vegetables cook evenly. Repeat this step 2 more times. Let the soup rest for 2 minutes before eating. This allows the vegetables to finish cooking. Top with cashew cream and chives if you like.
Notes
1. Make sure to use microwave-safe mugs and plastic wrap for this. I used Glad cling wrap.

2. It's crucial to stir the vegetables in between microwave blasts so that the vegetables cook evenly.

3. If you find that the soup is overflowing before it is done, cook the soup at a lower power setting. All microwaves are different, so you may need to tinker with the power settings to get the right temperature.

4. To make cashew cream, soak 1/2 cup of cashews in water overnight. Drain water. Blend soaked cashews with another 1/2 cup water until smooth.
7.6.4
485
https://healthynibblesandbits.com/10-minute-spicy-pumpkin-curry-chowder-in-a-mug/
If you make this recipe, be sure to tag me and use #hnbeats! I love seeing your creations!
LOOKING FOR MORE MUG RECIPES? TRY THESE: