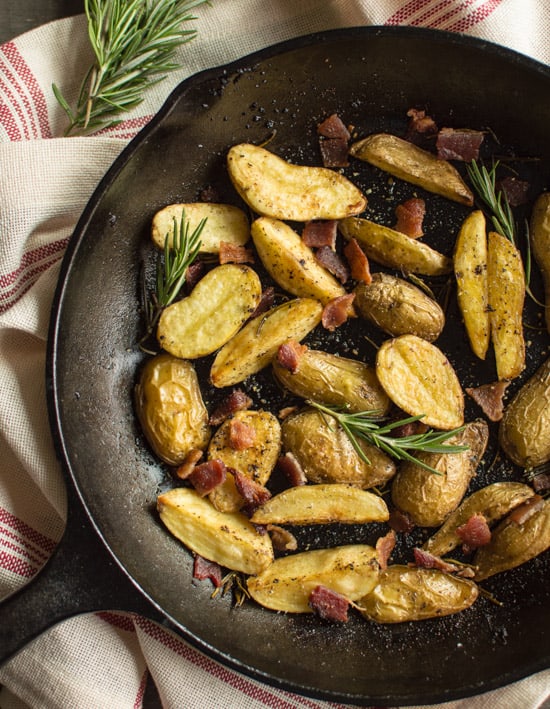 I'm keeping things short and sweet today because what I'm about to talk about needs no long introduction: bacon. That crispy, salty, curly-when-fried cured meat that I don't usually care for but desperately craved the other day. And when I say bacon, I'm referring to those strips that are half fat, half meat. There is no room for that imitation turkey stuff. Not today.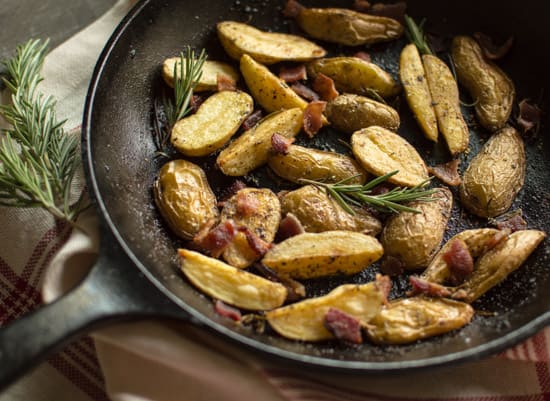 You're going to want to use some pretty fatty bacon. Mine had about a 60-40 fat-to-meat ratio. This way, you'll actually have enough fat for roasting potatoes. It's the weekend. We're allowed to let loose and cook our potatoes in bacon fat if we want to.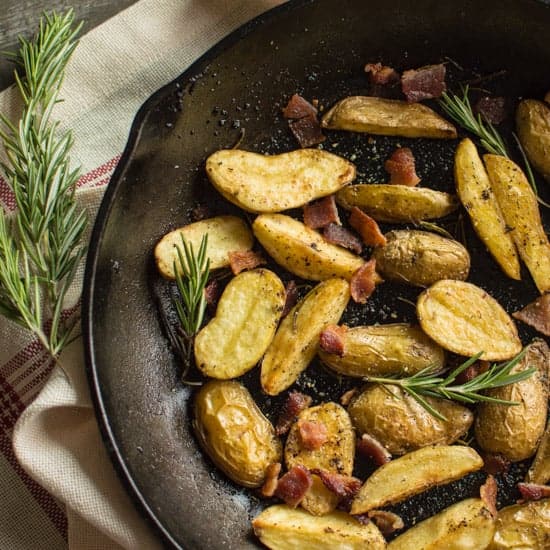 Speaking of frying bacon, did you catch this study several months ago on why bacon smells so good? As it turns out, there are about 150 organic compounds that are activated when that fat hits the hot pan. No wonder my apartment smelled like bacon for hours!
Rosemary Roasted Potatoes with Bacon
Serves 2-3.
Ingredients
2

thick strips of fatty bacon

,

use 3 if you want more bacon bits for later

3/4

lbs

340g fingerling potatoes

1

TBS

fresh rosemary

1/2

tsp

garlic powder

1

generous pinch of kosher salt
Instructions
Preheat oven to 385 degrees F (195 degrees C).

Fry the bacon in a cast iron skillet over medium heat. Flip the bacon frequently until most of the fat has burned off. Turn off the heat. This should take between 5 to 10 minutes. Line a plate with a paper towel, and place the cooked bacon on the lined plate.

Add the rosemary into the bacon fat, and give everything a quick stir to infuse the rosemary flavor.

Rinse the fingerling potatoes and dry them completely. Slice them in half. If the potato is fairly large, cut it into quarters. Place them cut side down in the skillet. Spoon and drizzle any extra bacon fat on top of the potatoes. Sprinkle the garlic and salt on top.

Bake for 25 minutes. You can flip some of the potatoes if you want more sides to be browned. Then, turn the heat up to 400 degrees F (205 degrees C) and bake for another 5 to 7 minutes. The potatoes will be done when they're easily pierced with a fork. While the potatoes are baking, rip off any extra fat from the cooked bacon, and chop it into small pieces.

When the potatoes are done, sprinkle the extra bacon on top. Best served warm.
Notes
I found that 2 strips of thick bacon produced enough grease for the potatoes. If you want a bit more, use 3 strips.
Did you make this recipe?
Tag @hellolisalin or leave a star rating and comment on the blog!