Disclosure: By posting this recipe I am entering a recipe contest (Krusteaz Gluten-Free Blogger Bake-Off) that is sponsored by Krusteaz. I am eligible to win prizes associated with the contest, and received products to develop this recipe. As always, all opinions expressed are my own, and I only recommend products that I truly enjoy. Thanks for supporting the brands that keep me going in the kitchen!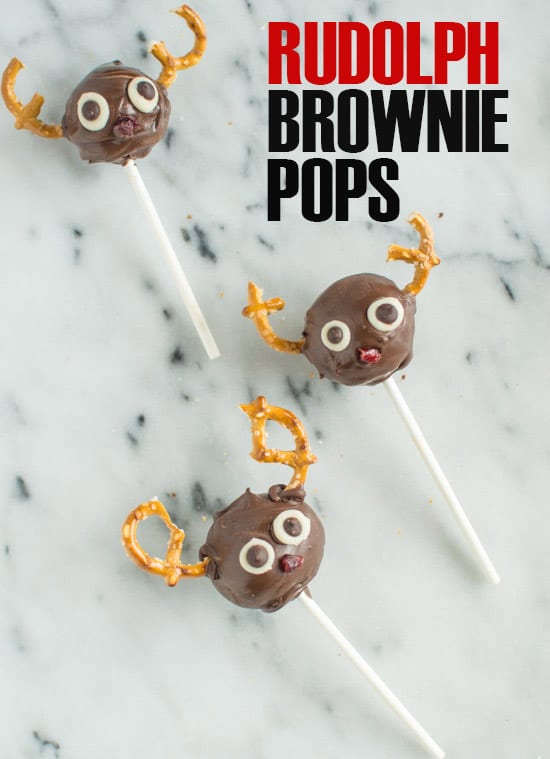 Rudolph the Red-Nosed Reindeer,
Had a small cranberry nose,
And if you ever saw it,
You would even say it glows.
It's true. If you hold up one of these Rudolph pops against a light source, you'll notice that the cranberries do "glow" a little.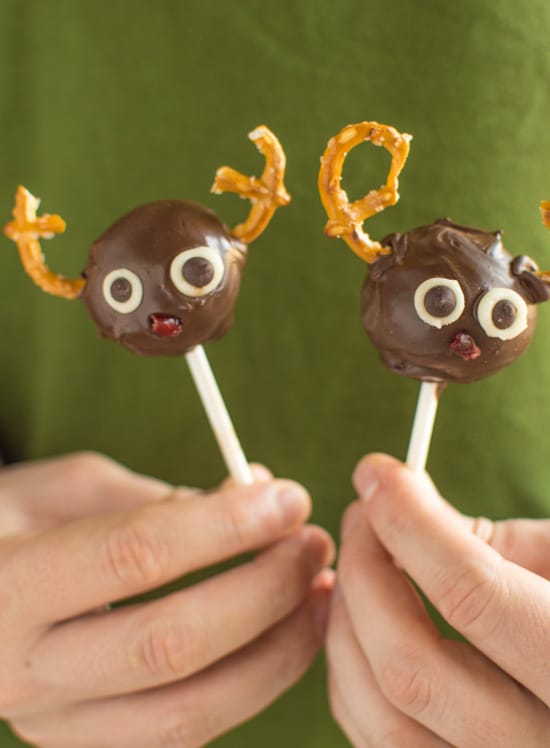 Rudolph has a special place in my heart because I had to sing about him during a 5th grade winter concert. Tell me, who hasn't been forced to sing Christmas songs (or any well-known children's song) in front of a large group of parents? I'm not exactly tone deaf, but I doubt that I belted out a Beyoncé-like performance. Thankfully, camcorders and mobile phones with video-recording capabilities weren't prevalent back when I was a kid. Otherwise, there would be a huge library of embarrassing footage of myself that I may want to burn.
But let's forget about embarrassing childhood performances and bake something that conjures up good Christmas memories. Let's make gluten-free Rudolph brownie pops!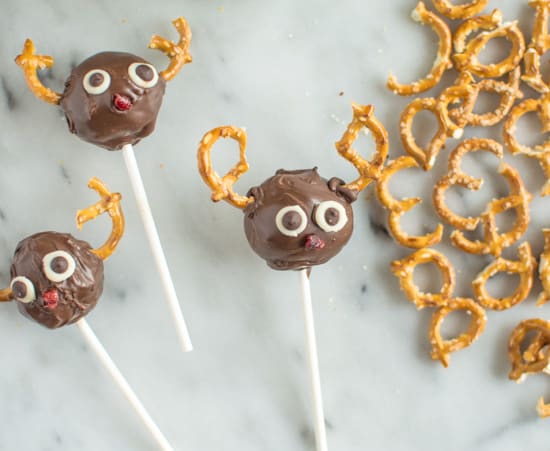 Yes, gluten-free brownies! Some of you may be familiar with Krusteaz baking mixes already, but they just came out with a gluten-free line! The new line includes:
Gluten-free honey cornbread mix,
Gluten-free buttermilk pancake mix,
Gluten-free blueberry muffins mix, and
Gluten-free double chocolate brownies mix!
A lucky winner will get to try all of these mixes! Details about the giveaway below. So far, I've tried the honey cornbread and the brownie mixes and they both taste great. Actually, the brownies are phenomenal! They're fudgy, filled with chocolate chips, perfectly sweet, and have that thin crispy top layer that all good brownies must have. By the way, I snuck in many bites of these delicious brownies as I'm wrote this post so I can describe them properly. Really, I'm doing this for you.
When I was invited to participate in the Krusteaz Gluten-Free Blogger Bake-Off, I knew I wanted to do something with the brownies. I'm a sucker for anything with chocolate, as you well know. After weeks of pondering, I finally came up with the idea for these Rudolph brownie pops. I'm not going to lie, this is a 2-day kind of kitchen project. But considering how cute the final product looks, your efforts will be well worth it!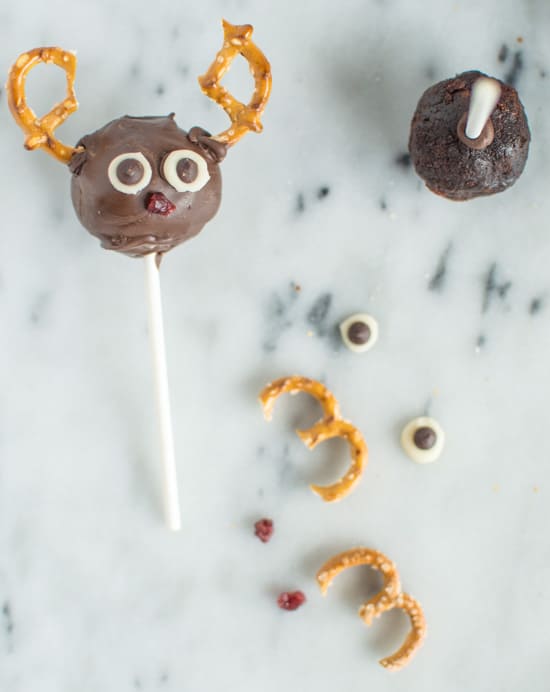 Notes for the brownie pops:
1. For the brownies, I made them more cakey by using two eggs instead of one (the package suggests using one). I thought that the cakier texture would be better for shaping into cake balls. Before crumbling up the brownies, I sliced off that crusty top layer from the brownies, which I subsequently ate (YUM). The crusty top layer to make the ball-shaping easier. Also, when you're dipping the brownie balls, you want to work with 2 balls at a time. You want to keep them relatively cold so that the melted chocolate sets faster.
2. To make the googly eyes, I adapted this recipe from Fork & Beans. I replaced the corn syrup with brown rice syrup and used almond milk, which worked fine. You'll definitely need to prepare these a day ahead so that the eyes have time to set. If you don't want the hassle, feel free to use white chocolate chips instead!
For some reason, the googly eyes made me think of Big Brother.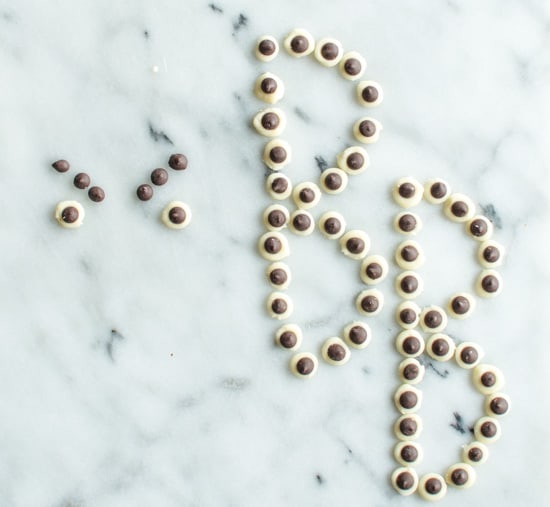 3. To stick the pretzel sticks onto the dipped brownie balls, there are two ways. You could either stick the pretzel pieces perpendicular to the balls, which is more difficult and could cause the balls to rip apart (see photo below0. I thought the Rudolph pops looked better this way, but it was definitely tricky. You could also lay the pretzel piece flat onto the dipped balls, which is waaay easier.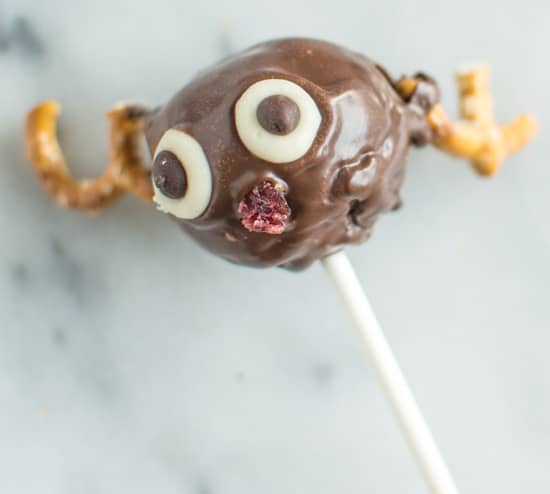 4. Your fingers/lollipop sticks will be covered in chocolate. Just accept it now.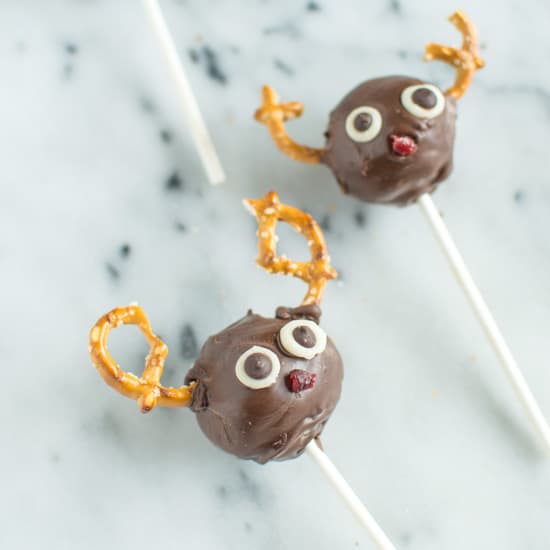 Without further ado, let's bake!
Rudolph Brownie Pops
Makes 24 brownie pops.
Ingredients
Googly Eyes
1

cup

powdered sugar

1

tsp

cornstarch

1

TBS

brown rice syrup

,

or corn syrup

2

tsp

almond milk

1/4

tsp

almond extract

,

optional

mini chocolate chips
Brownie Pops
1

package

Krusteaz Gluten-Free Double Chocolate Brownie Mix

1/3

cup

water

1/3

cup

vegetable oil

2

large eggs

1

14-oz bag

semi-sweet chocolate chips

dried cranberries (for the nose)

mini pretzels (for the ears)

coconut oil (optional, if you want to thin out the chocolate)

24

lollipop sticks
Instructions
Googly Eyes
Prepare the googly eyes the day before you assemble the brownie pops. In a small bowl, mix the powdered sugar and cornstarch. Add the brown rice syrup, almond milk, and almond extract and stir. It might not look like a lot of liquid at first, but keep stirring. All the ingredients will bind together into a thick, sticky paste. Add a tiny bit more almond milk if the ingredients aren't binding.

Line a baking sheet with parchment paper. Take a sandwich bag, and cut off a bit of the corner. Fill the bag with the paste, and pipe small dots onto the parchment paper. Don't worry if they're not perfectly circular as you're piping. Top each dot with a mini chocolate chip, and use your fingers to shape the dots. Repeat until you've piped all the paste. You will end up with more googly eyes than you need for the brownie pops.

Remove the eyes from the baking sheet the next day.
Brownie Pops
Preheat oven to 325 degrees F (160 degrees C). Grease an 8×8 inch baking pan with cooking spray or olive oil.

Stir the brownie mix with the water, oil, and eggs until well incorporated. Pour batter into prepared pan and bake for 48 to 52 minutes. Let it cool for an hour to an hour and a half before making the brownie pops.

Trim the hardened edges of the brownies and eat them. You won't be using them for the pops, and you deserve a treat. Crumble up the brownies. Take a very small handful of the crumbled brownies and shape them into a 1-inch ball. Freeze the balls for 30 minutes.

While the balls are freezing, take a cardboard box, and using a knife, create tiny slats. You're going to stick the pops into these slats right dip them to allow the melted chocolate to set. If you're not too fussed about the way the pops look, skip the cardboard box and line a large baking sheet with parchment paper.

To create the nose, tear up several pieces of dried cranberries. Pinch the pieces so that they look like a nose. To create the ears, break up the mini pretzels in half. Some pieces will break off into perfectly shaped Rudolph ears, but there will be many duds.

Microwave the chocolate chips in a microwave-safe bowl for a minute. Continue microwaving at 15-second intervals until all the chocolate chips are glossy. Stir the chips until you get a smooth chocolate mixture. I added 1 to 2 teaspoons of coconut oil into the chocolate to thin it out.

Take out two brownie balls from the freezer. Dip the end of a lollipop stick in the chocolate, and stick it in the center of the brownie balls until it's about halfway through. Dip the brownie into the melted chocolate until it's covered.

Stick the googly eyes, nose, and pretzel ears onto the brownie pop. If the chocolate has cooled off before you've stuck on the appendages, just dip them into the melted chocolate and then stick them onto the pop. Lay the brownie pops flat on a lined baking sheet or stick them into the prepared cardboard box. You can remove them once the chocolate sets (it should take no more than 10 minutes). Take out another 2 brownie balls from the freezer and repeat until you're done dipping all of them.

Store them in a sealed container (I used a freezer bag) in room temperature for a few days.
Notes
1. Googly Eyes adapted from Fork & Beans.[br]2. Make sure that you're using a relatively thick sandwich bag for piping the googly eyes. Thinner bags with a seam at the bottom will burst (as I discovered).
Did you make this recipe?
Tag @hellolisalin or leave a star rating and comment on the blog!