I have a problem. It's called phone addiction. I find my fingers thumbing over the "home" button constantly, almost by reflex. There's usually no good reason for me to pick up my phone. I just want to see whether my old roommate posted any new cat photos, or whether anyone cared about that fried rice I posted several hours beforehand. I'm desperately seeking an excuse to distract myself. (I suppose you can argue that looking at adorable cat photos is a valid reason for tearing yourself away from work.)
For the record, I checked my phone a total of 19 times while creating this post. I know, my problem runs deep.
In an effort to be more mindful and focused, I'm starting a few new habits:
Hide the phone during the day.
Hide the phone during the day. This point bears repeating.
Start journaling regularly.
Perhaps this website is a bit of a food journal for me, but I want to establish a practice that doesn't involve staring into a brightly lit screen where distractions abound.
Over the past week, I have started journaling more, and it's very cathartic to release all of my thoughts onto a 5×8 piece of paper. My moments of journaling zen are often accompanied by a warm beverage. Lately, it's been golden milk.
For those of you who have never heard of golden milk, it is essentially a warm beverage with turmeric, milk and spices. Besides nourishing our mind and body, golden milk is filled with antioxidants and anti-inflammatory goodness. We can thank the turmeric for that.
Turmeric has a bitter aftertaste. If you have never tried golden milk before, I recommend going slow with just a 1/4 teaspoon of ground turmeric to 1 1/4 cups of milk. Once you are accustomed to the taste, start adding more turmeric. Do note that turmeric doesn't dissolve well in liquids. If you add too much, the turmeric will just settle at the bottom and you'll find a thick layer of turmeric when you reach your final sip.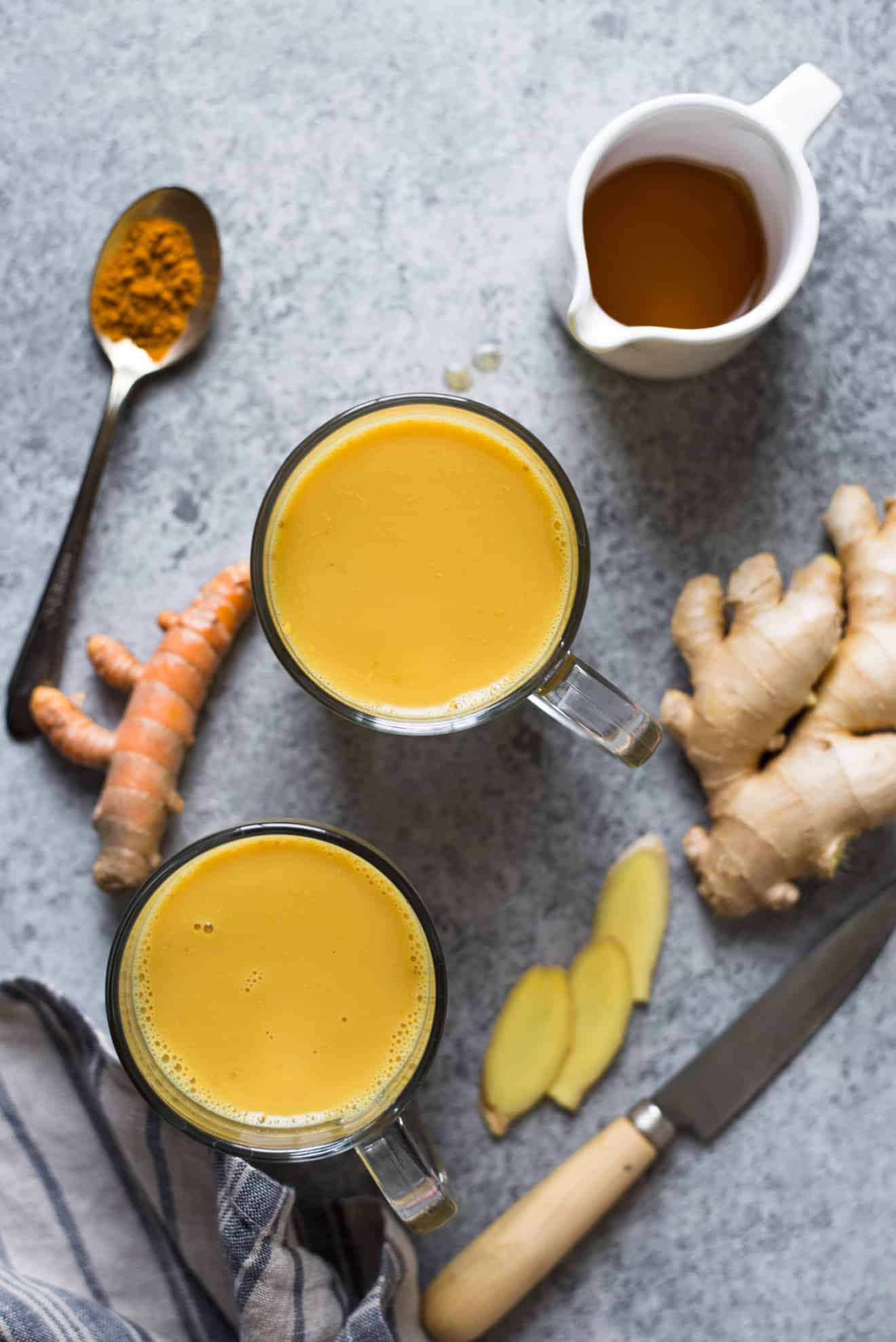 COOKING NOTES FOR THE GOLDEN MILK
Fresh versus ground turmeric: Because fresh turmeric can be difficult to find, I decided to develop the recipe with ground turmeric. In terms of taste, I prefer fresh turmeric slightly more because the flavors are more gentle and I don't have to worry about turmeric powder settling at the bottom of my cup. In terms of aesthetics, the color of golden milk made with ground turmeric is the prettiest. It all goes down to personal preference. If you use freshly grated turmeric, I would use about 3/4 to 1 teaspoon for this recipe.
Warm up milk on low heat: Make sure to heat up the milk on low heat. I have found that warming up the milk on low heat is the best way to preserve the bright color of the golden milk and helps prevent the milk from burning.
You can use any kind of milk: I used almond milk in the recipe because of its neutral flavor. Feel free to use any other kind of milk that you prefer.
How to get rid of turmeric stains: I have never cooked with turmeric without staining every surface in sight. (CONFESSION: There were splotches of yellow stains on my photo surface after filming the video for this recipe. Oops.) Turmeric is one of the toughest stains to clean. Fortunately, I have found a good solution for cleaning up the mess. Make a fairly thick paste with baking soda and water. Add a little squeeze of toothpaste to the mixture. Rub this mixture over the stained area and let it sit there for 8 to 10 minutes. Use a damp cloth to wipe away the stain.
MORE TURMERIC RECIPES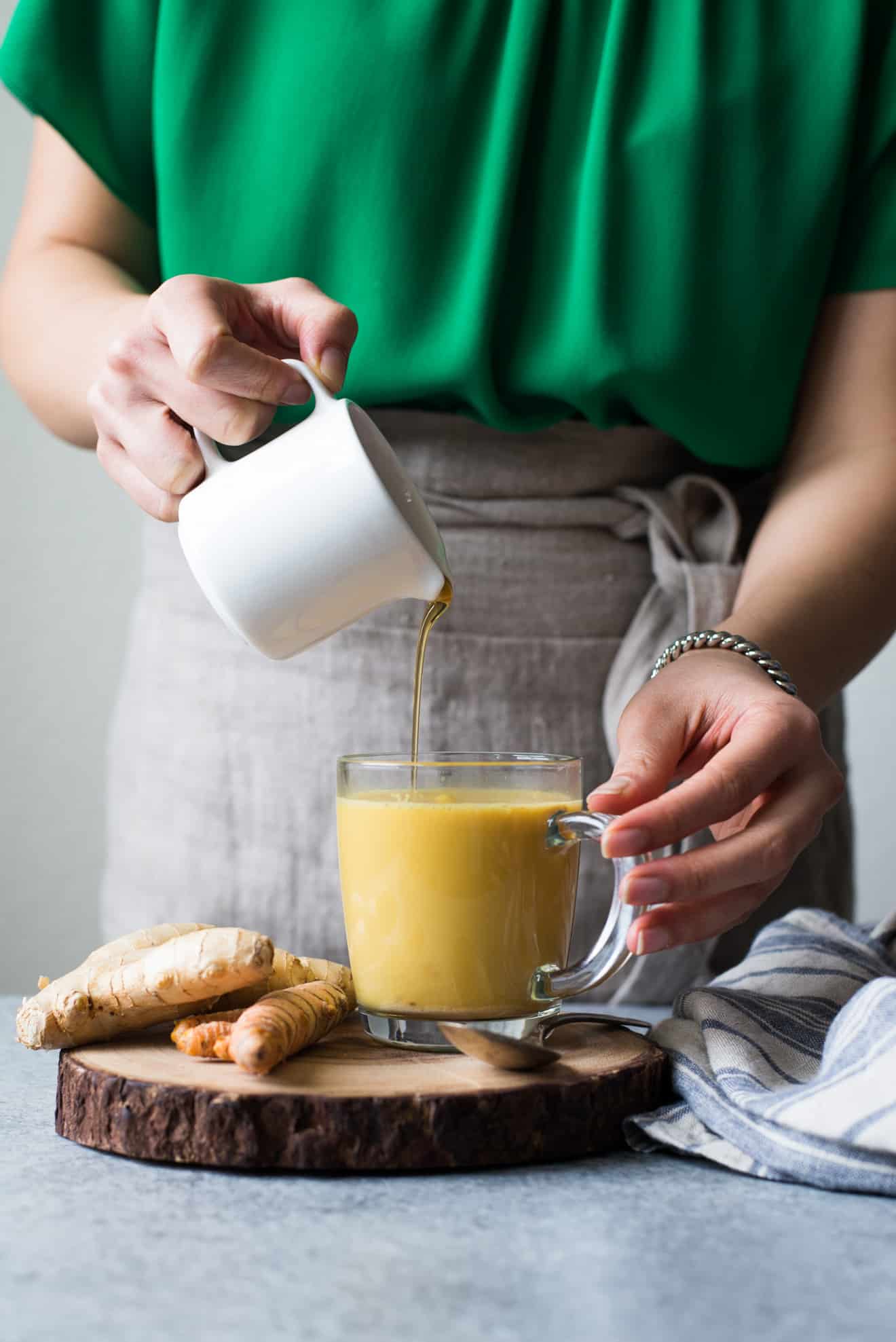 WATCH HOW TO MAKE GOLDEN MILK
Spiced Golden Milk
The golden milk is best consumed while it's still warm. You can always spice it up more by adding a dash of freshly ground black pepper or cardamom when you are warming up the milk. For a bit of decadence, mix in a 1/4 to 1/2 teaspoon of virgin coconut oil right before drinking. I used maple syrup to sweeten the golden milk, but feel free to use whatever sweetener you prefer. 
Ingredients
2 1/2

cups

(600ml) unsweetened almond milk

1/2

teaspoon

ground turmeric

1/4

teaspoon

ground cinnamon

a few slices of ginger

1 1/2 to 2

tablespoons

maple syrup

,

depending on your taste
Instructions
Add the almond milk, turmeric, cinnamon and ginger slices into a saucepan. Stir to combine the ingredients. Heat the milk on low and bring to a low simmer. This will take about 5 minutes.

Once the milk bubbles in the center, continue to let it simmer for another 4 to 5 minutes. Remove the saucepan from heat.

Using a mesh sieve, strain out the solids over

a measuring cup with a spout

. This will make it easier for you to pour the golden milk into cups.

Pour the golden milk into 2 cups. Drink while the milk is still warm. Read the notes above for spice variations.
Notes
NUTRITION INFORMATION: Amount Per Drink: Calories: 100, Total Fat 3g, Saturated Fat: 1g, Sodium: 216mg, Cholesterol: 0mg, Total Carbohydrate: 16g, Dietary Fiber: 4g, Sugar: 12g, Protein 2g
Did you make this recipe?
Tag @hellolisalin or leave a star rating and comment on the blog!