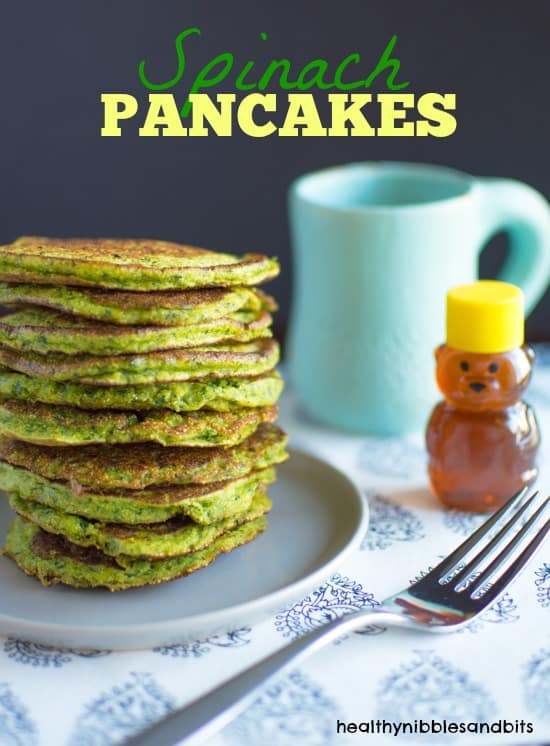 Perseverance. Patience. Respect. Those were the three virtues that I cultivated while making my spinach pancakes yesterday.
PERSEVERANCE: When I was making the batter, I had to blend the spinach together with other ingredients. I've mentioned this before, but my food processor is tiny. Blending 2 1/2 cups of spinach with 1 cup of Greek yogurt in that thing was too much for my processor to handle. I tried to blend the mixture in batches, but that just created a bigger mess.
Then, I remembered that I have a blender! It's been falling out of favor in my kitchen lately because I find it difficult to mash food in a conventional blender, as the food gets stuck in the bottom quite easily. But with the combination of milk and yogurt in the pancake batter, blending the ingredients together was much easier!
Of course, what I really need is a Vitamix/Blendtec blender. That and a Kitchen Aid standing mixer. A girl can dream . . .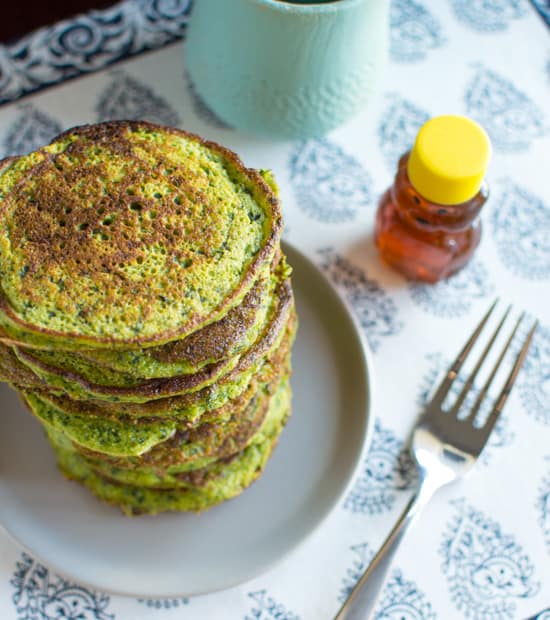 PATIENCE: I don't make pancakes that often, but whenever I do, I always mess up somewhere. Generally, I use medium-high heat whenever I cook anything. Pancakes, on the other hand, require a bit more patience and TLC. Unless you enjoy eating "well-toasted" pancakes.
I quickly realized that the pan was too hot when the sides of a batch of pancakes turned coffee brown in 1-2 minutes. Oops. Medium-low heat is the way to go.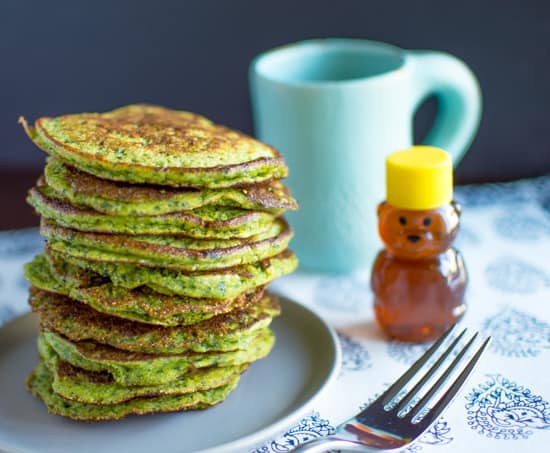 RESPECT: Respect the pancake! Don't go shoving a spatula underneath the cakes and flip them over in haste, unless you want pancake lumps.
When I realized the error in my ways, I started to shimmy the spatula gently underneath the pancake until a significant portion was on top of the spatula. Then, I flipped them over. Success! Oil helps with the shimmying, too. I made sure that the pan was coated with cooking spray before cooking the pancakes.
So, there you have it. How cooking pancakes taught me more about perseverance, patience, and respect.
I thought that the pancakes looked pretty good, but the tiny honey bear that I picked up at the farmers market definitely stole the show.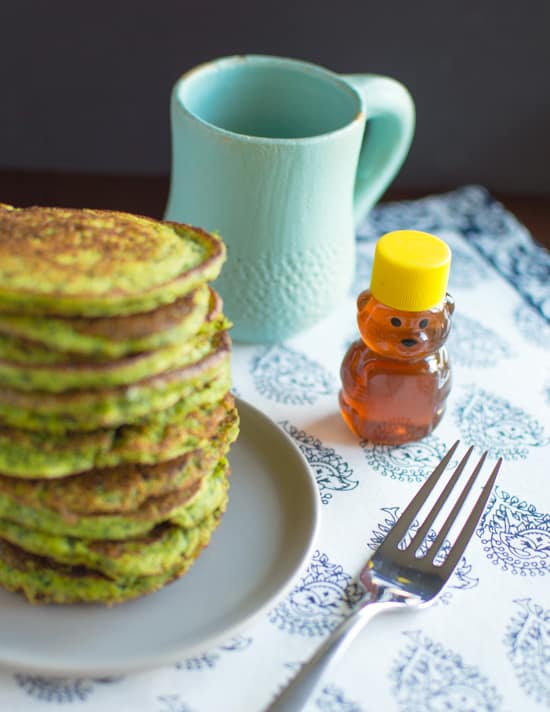 Spinach Pancakes
Makes 16-18 small pancakes.
Ingredients
2 1/2

cups

(125g) baby spinach

1

cup

(227g) non-fat Greek yogurt

3/4

cup

(177ml) unsweetened almond milk (any other milk works also)

3/4

cup

(115g) finely ground corn meal

3/4

cup

(110g) chickpea flour (all-purpose or whole wheat flour works also)

1

large egg

1

TBS

olive oil

1

TBS

honey

,

add more if you like sweeter pancakes

1/2

tsp

baking powder

1/2

tsp

baking soda

1/4

tsp

salt

natural cooking spray
Instructions
In a food processor or a blender, mix together the spinach, yogurt, and almond milk until smooth.

Pour the batter into a large mixing bowl, and stir in the rest of the ingredients except the cooking spray.

Coat one or two pans with cooking spray and place the pan over medium-low heat. I used two pans so that I could cook more pancakes at once.

Pour about 2-3 tablespoons of batter onto the pan for each pancake. A 1/8 cup measuring spoon works very well for this.

Cook a side for about 2-3 minutes. Once the edges of the pancakes are no longer runny, and you can slide a spatula easily underneath, they're ready to be flipped. Cook for another 2 minutes.

Enjoy them on their own or serve with some honey or maple syrup.

Refrigerate any leftovers in an airtight container.
Notes
1. Loosely adapted from The Roasted Root and Chocolate & Carrots.[br]2. If you're not concerned with making gluten-free pancakes, just replace the corn meal and chickpea flour with all-purpose or whole wheat flour (or a blend of both).[br]3. I reapplied cooking spray after each batch of pancakes I made. That way, the pancakes won't stick to the bottom of the pan.
Did you make this recipe?
Tag @hellolisalin or leave a star rating and comment on the blog!