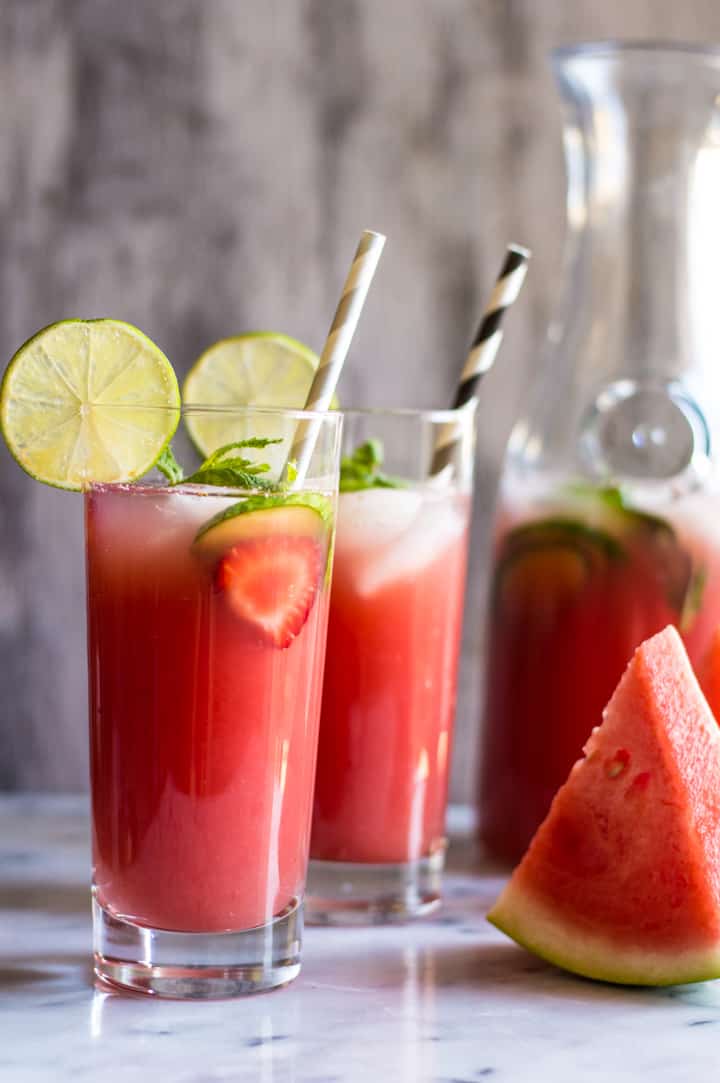 Hello from Colorado, friends!
Yes, I'm on another vacation because it's the summer of Lisa, and I'm milking every minute of it. My to-do list this weekend is short and sweet:
Drink
Hike
Eat
Laugh
Drink
I hope your weekend will look a little something like that, too.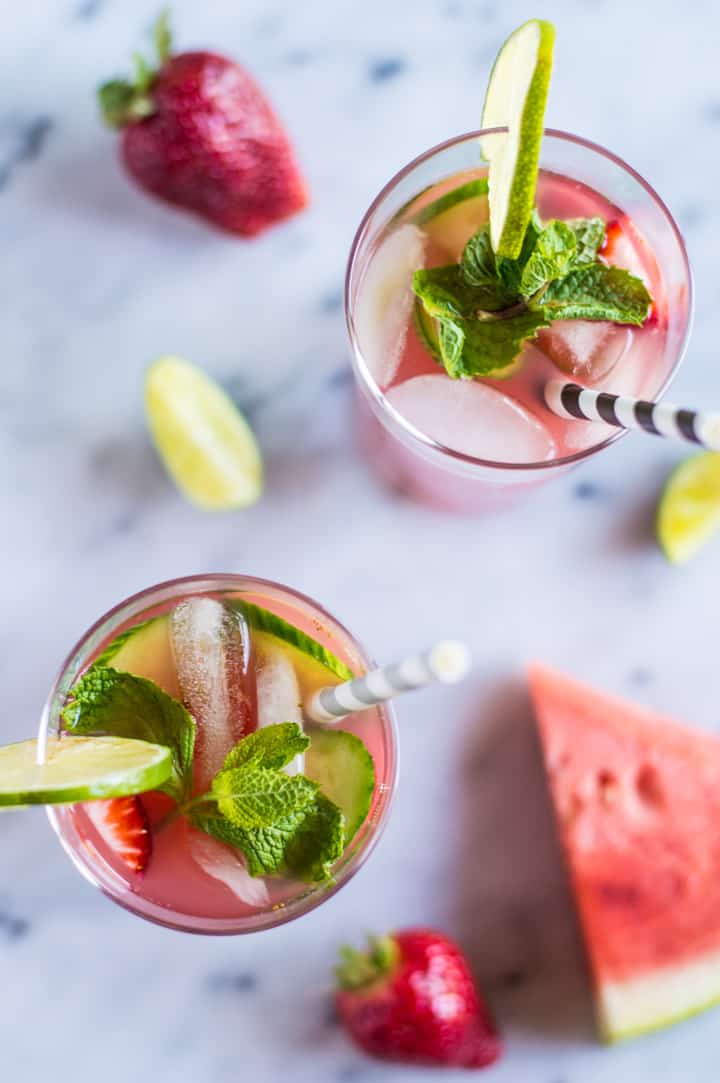 Before I sail off into the sunset with a pint of microbrew, let's talk about this perfect summer beverage.
When I was still wee little Lisa, my favorite beverage in the world was fruit punch. In particular, Hawaiian Punch. More specifically, Hawaiian Punch in powdered form. I mixed 4 tablespoons of it to a cup of water. I used my fingers as a dipstick and stuck them straight into the jar of powdery red brilliance. That punch was the stuff that childhood dreams were made of. I downed that sugary mix as my tongue turned brighter red by the minute. Hawaiian Punch: the ambrosia for 5 year olds.
My Hawaiian Punch days were over the day I learned to read nutrition facts labels. The sugar high was not worth the 50+ grams of sugar per can nor the constant visits to the scary dentist who liked to drill into my teeth. See what age does to your reasoning abilities?
Now, I my bevvies of choice are naturally or mildly sweetened. (But I do have a higher tolerance for sugar when alcohol is involved. No surprise there.) You're not going to find a single spoonful of sugar in these watermelon strawberry agua frescas. Just nature's candy.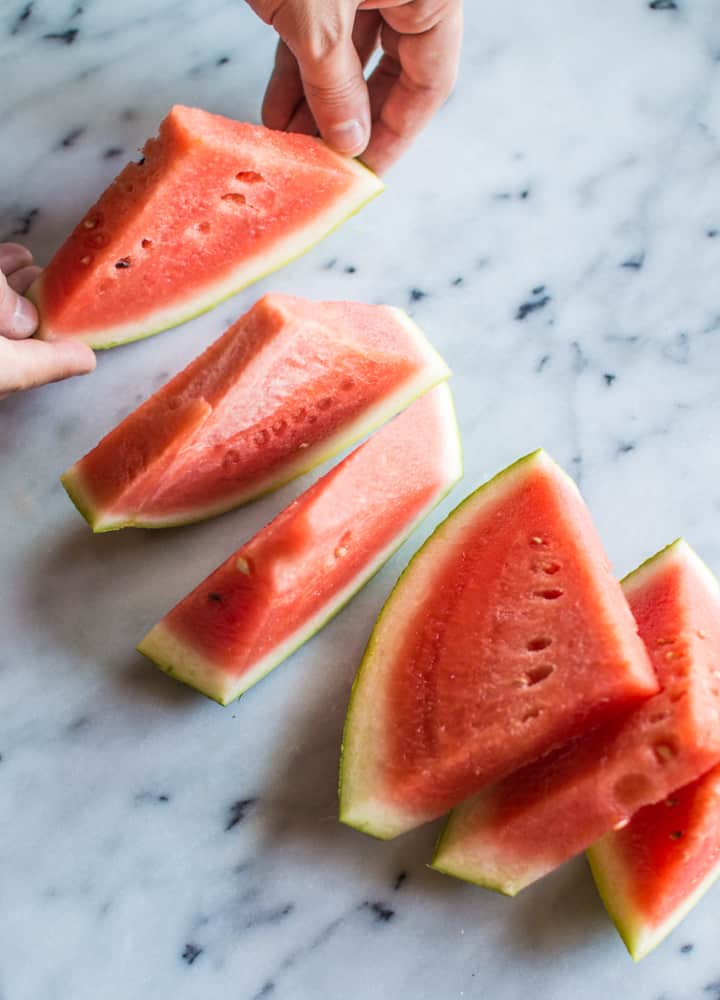 I know kids are already making their way back to school now, but I'm still hanging on to my final days of summer. There's no better way to enjoy the last days of summer than with a load of fresh watermelon and watermelon facials. You mean you don't massage your face with the watermelon rind like I do? It's completely awkward but also unbelievably refreshing. You really only need five ingredients for this recipe: watermelon, strawberries, lime juice, apple cider, and water. The rest is just garnish to make you drinks all fancy. Paper straws are a must, and you get bonus points if you use color-changing straws.
Go forth: drink, refresh, and be merry!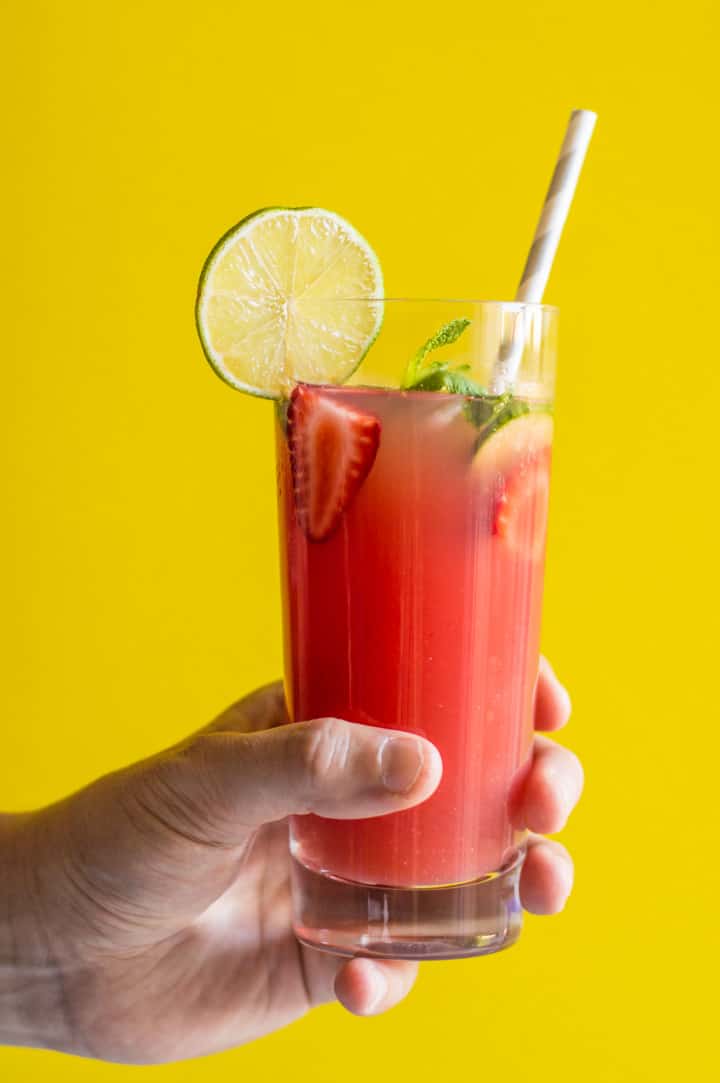 Sugar-Free Watermelon Strawberry Agua Fresca
This recipe serves 4 to 5. You can easily double this recipe to make a larger batch.
Ingredients
Agua Fresca
5

cups

(500g) cubed watermelon

1

cup

chopped strawberries

1

TBS

lime juice

3/4

(180ml) cup unsweetened apple cider

2

cups

(480ml) water

ice cubes
Optional Garnish
lime slices

cucumber slices

mint leaves
Instructions
Blend watermelon, strawberries, lime juice, apple cider, and water until smooth. Taste to see of the sweetness is to your liking. Feel free to add more watermelon or apple cider if you want a sweeter beverage.

You can serve the drink immediately or refrigerate it for an hour to let the flavors set. If you are refrigerating it, I like to add some cucumber slices and a few sprigs of mint to the agua fresca to give it more flavor.

Serve agua frescas with ice and garnish with lime slices, cucumber slices, and mint leaves.

Refrigerate leftovers for up to 3 days.
Did you make this recipe?
Tag @hellolisalin or leave a star rating and comment on the blog!